NFL Nation:

2013 Week 5 NOR at CHI
October, 6, 2013
10/06/13
8:26
PM ET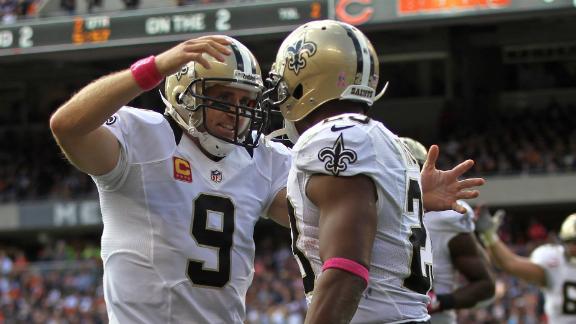 CHICAGO -- Meet the patient, methodical version of the
New Orleans Saints
.
This week's incarnation of the still-perfect Saints (5-0) relied on ball security and a ball-control offense to finally win a game in Soldier Field, 26-18 over the
Chicago Bears
on Sunday.
They're different than the Saints we saw six days earlier, torching the
Miami Dolphins
for more than 400 passing yards inside the Superdome. And they'll probably look a little different next week, too, when they face another "prove it" game on the road against the
New England Patriots
.
And that's why New Orleans might be the most dangerous team in the NFC right now.
[+] Enlarge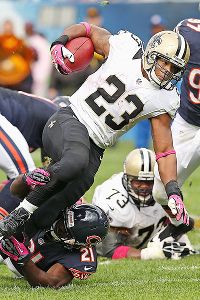 Jonathan Daniel/Getty ImagesPierre Thomas carried the load for the Saints, hauling in nine catches for two TDs and rushing 19 times.
The Saints are now the only unbeaten team in the conference because they did something the
Seattle Seahawks
(4-1) couldn't do Sunday -- win on the road, outside of their comfort zone, against a tough opponent.
The Saints are finding different ways to win every week, whether it's a goal-line stand against the
Atlanta Falcons
in Week 1, a last-second field goal in a 16-14 scuffle at Tampa Bay in Week 2, dominant offensive outbursts at home in Week 3 and 4 or a patient attack on the road at Chicago in Week 5.
"Winning teams do certain things that give them a chance to win every week," said Saints coach Sean Payton, who repeatedly credited his team and quarterback
Drew Brees
for playing "smart" on Sunday.
"It hasn't been perfect," Brees said. "But I think what we have done is we've found different ways to win each week."
This particular road game meant a lot to the Saints. Soldier Field was a place that had tormented them in the past.
The Saints lost three straight games here -- in the 2006 NFC Championship Game and during the '07 and '08 regular seasons -- mostly because of turnovers and impatience and the inability to win the battles for field position and the time of possession.
All week long, players repeated Payton's message, "To do things you've never done before, you have to do things you've never done before."
On Sunday they delivered, winning the turnover battle 1-0 against a Bears team that has led the NFL in takeaways for the past two years. And they won the time-of-possession battle, 36 minutes to 24 minutes, stubbornly sticking with the run game even though it only averaged 2.4 yards per carry.
"It's about that time," Brees said, laughing when asked about what it meant for him to finally win in Chicago after going 0-for-4 in his career at Soldier Field. "Man, we've come up here quite a few times, in some big games, and unfortunately we were never able to walk away with a victory.
"And you know what their formula is for winning. It's taking the ball away, it's getting their offense opportunities. It's making you try to get impatient. ... You've got to know the formula of the team you're playing. Where have people fallen into the trap, and how can we avoid doing that?"
Brees' NFL-record streak of nine consecutive 300-yard passing games came to an end Sunday. He "only" threw for 288 yards while completing 29 of 35 passes with two touchdowns and zero interceptions. And he didn't care.
"No, those stats don't matter one bit," Brees said. "Especially in this game."
Brees' go-to target,
Jimmy Graham
, still caught 10 passes for 135 yards -- usually against tight coverage. But the Saints' receivers were barely targeted.
Instead, they relied heavily on running back
Pierre Thomas
, a Chicago native who has thrived in Soldier Field before. Thomas caught nine passes for 55 yards and two touchdowns Sunday and ran the ball 19 times, albeit for just 36 yards.
"It showed that they have a lot of trust in me, and that's something I really appreciate," said Thomas, who made two terrific plays on his touchdowns, stiff-arming his way around the corner on a 2-yard swing pass and cruising behind his blockers on a 25-yard screen pass before halftime. "And I told myself, this is your chance to show them that you can be that guy that can carry it out till the end of the game."
The Saints' defense also mixed things up Sunday, catching the Bears off guard with frequent blitzes.
The Saints blitzed much more than they had during the first four weeks, which led to first-half sacks by safeties
Malcolm Jenkins
and
Kenny Vaccaro
and inside linebacker
David Hawthorne
. Jenkins forced a fumble on his sack, setting up a first-quarter field goal.
"I think it was just a little wrinkle we wanted to throw in this week. And it showed up big for us early in the game," said Jenkins, who thought defensive coordinator Rob Ryan's switch-up in Week 5 was "perfect timing."
"Those things, Rob is gonna come up with these blitzes, he's gonna come up with things that affect the quarterback, and it's gonna be different every week," Jenkins said. "And I think that was a good one."
The Saints also leaned heavily on their special teams in a complete effort. Kicker
Garrett Hartley
was a perfect 4-for-4 on field goals. Punter
Thomas Morstead
was outstanding as usual, booming one kick 55 yards and out of bounds at the 2-yard line, making dangerous return man
Devin Hester
a nonfactor.
"You can look at every one of our games and point to something different," Brees said. "You see constant improvement, and that's really what we're looking for at this point."
And it's looking awfully scary to the rest of the NFC contenders.
October, 6, 2013
10/06/13
7:30
PM ET
CHICAGO -- Second-year wide receiver
Alshon Jeffery
broke a 59-year-old
Chicago Bears
record in the team's
26-18 loss
to the
New Orleans Saints
on Sunday by finishing with 218 yards on 10 receptions.
Jeffery
Jeffery broke the previous single-game mark of 214 receiving yards set in 1954 by Harlon Hill, and became just the third player in franchise history to finish with 200 yards in game. Jeffery also established a career high in receptions (10), and has caught 15 passes for 325 yards and two touchdowns in his last two contests.
"It's not about what I did; it's about what the team did, and we didn't get the win," Jeffery said. "So that's what I focus on. I feel like what I did out there. … I'm more concerned about the W, not about what I did. It's a team thing. There were eleven guys that took for me to get 200-plus yards or whatever I had."
On the season, Jeffery leads the team in receiving yardage (429 yards) and ranks second in receptions (28) behind
Brandon Marshall
.
"Alshon Jeffery, man, he's coming. That's one of the reasons why I wanted to bring him down to South Florida with me, because of times like this," Marshall said. "I didn't think the season was gonna be like this, where it was gonna be hard to get me the ball. But at times, man, you need another guy on the other side. This guy had a career day; over 200 yards. It's just awesome to see this guy mature right before your eyes. I've always said this guy can be one of the best that ever done it. He's probably gonna shatter all the Bears records by the time he's done at the receiver position. That's one of the only positives from our offensive side today."
October, 6, 2013
10/06/13
7:08
PM ET
CHICAGO --
Jay Cutler
experienced a rarity Sunday against the
New Orleans Saints
. He posted a passer rating of 100 or better, and his team lost.
"Overall, when we look at the tape and we ask ourselves, was it the play or the player, was it us or them, we've found it's on us to clean up our football and become more efficient doing it on a play-by-play basis,"
Chicago Bears
coach Marc Trestman said.
Cutler
Cutler's statistical anomaly served as proof of that. Before the Bears'
26-18 loss
on Sunday, Cutler had lost only one of 27 games as a starter (including the postseason) in which he finished with a passer rating of 100 or better. That loss came courtesy of Seattle last December, when the Seahawks marched 97 yards at the end of regulation and 80 yards in overtime to best the Bears 23-17.
Against the Saints, Cutler completed 24 of 33 passes for 358 yards and two touchdowns, with no interceptions, for a passer rating of 128.1.
But mistakes still doomed the Bears. In the first quarter, the offensive line struggled to pick up the New Orleans blitz, resulting in three sacks and a Cutler fumble that the Saints turned into a 19-yard field goal. But even before that, running back
Matt Forte
short-circuited the team's opening drive when he fumbled a pitch on the first play from scrimmage.
"There were a few downs that we missed. There was a big fourth down going in that we missed. We weren't as efficient in the red zone," Cutler said. "A few plays here and there against a team like that, the way they played offensively and ate up the clock, it's hard to rebound if you miss three or four plays."
Earl Bennett
demonstrated that in the fourth quarter on the final play of a drive that started at the Chicago 4-yard line and ended at the New Orleans 25. With 8:45 left to play and the Bears behind 23-10, Bennett dropped an almost perfectly thrown pass on fourth-and-2.
October, 6, 2013
10/06/13
6:18
PM ET
CHICAGO --
Chicago Bears
defensive tackle
Nate Collins
is scheduled to have an MRI on Monday to determine the severity of the left knee injury he suffered in the third quarter of the Bears' 26-18
loss
to the
New Orleans Saints
.
Collins
Fellow Bears' defensive tackle
Stephen Paea
said he spoke to Collins after the game.
"I have no idea (how bad he is injured), "Paea said. "He has an MRI tomorrow (Monday) to find out what's going to happen. He's good. He had a smile on his face, so he'll be back."
Paea was inactive because of a minor toe injury he suffered last week against the
Detroit Lions
, despite telling reporters on Friday he intended to play after missing the entire week of practice. However, Paea said in the postgame locker room that he thinks there is a strong likelihood he will return to face the
New York Giants
Thursday night at Soldier Field.
"It was a game-time decision with my foot, and they told me not to play today," Paea said. "I was (surprised I didn't play), but at the same time I have to listen to doctors and do whatever they tell me to do. But yeah, (I think) I have a high chance of going (versus the Giants)."
Collins hurt the knee while attempting to pressure Saints quarterback
Drew Brees
on a pass attempt. Collins' knee appeared to buckle as he was tied up with a New Orleans offensive lineman. The four-year veteran defensive lineman grabbed his knee after falling to the ground and remained on the turf for a short period of time before eventually walking back to the locker room under his own power. He was eventually ruled out for the remainder of the game by the team's medical staff.
Collins moved into the Bears' starting lineup after Pro Bowl defensive tackle
Henry Melton
suffered a season-ending ACL tear. Entering Sunday's game versus the Saints, Collins led all Bears defensive linemen with 10 tackles through the first four games. Collins also recorded two quarterback pressures and forced one fumble.
October, 6, 2013
10/06/13
5:23
PM ET
CHICAGO -- Observed in the locker room after the
Chicago Bears
'
26-18 loss
to the
New Orleans Saints
:
Bushrod
Lamenting the loss:
Bears left tackle
Jermon Bushrod
sat alone at his locker after all the other players had left. As he pulled on one of his black and pink LeBron James sneakers, the question was posed as to whether losing to his former team hurt more than a defeat to another team. "Would've liked to get the W; would have been nice," Bushrod said. "But at this point, I just want to win, period."
Blocking schemes tossed:
Strewn across a bench in front of a locker was a bundle of papers detailing blocking schemes drawn up for the game plan against the Saints. It appeared as if a player had been studying them prior to the team coming out for the game. But early on, those schemes didn't seem to work.
Jay Cutler
suffered three sacks in the first half, including one on a corner blitz by
Malcolm Jenkins
that caused the quarterback to fumble, with
Cameron Jordan
scooping up the loose ball. New Orleans turned that turnover into a
Garrett Hartley
field goal.
Bennett keeps sense of humor:
Wearing an ice bag on his left knee, tight end
Martellus Bennett
stopped in front of the doors leading out of the locker room and stared at a table that usually contains postgame snacks for the players. "Where's a Rice Krispies treat when you need one?" he asked.
October, 6, 2013
10/06/13
4:11
PM ET
CHICAGO -- A few thoughts on the
New Orleans Saints
'
26-18 victory
against the
Chicago Bears
, which kept the Saints perfect at 5-0.

What it means:
The Saints proved they don't need to be in their comfort zone to win. They won a big game on the road, despite having to adjust to the sloppy Soldier Field turf. They relied more on their run game than ever this year. And their defense even mixed things up with more blitzes in the first half, which led to three sacks and a forced fumble.
Of course
Drew Brees
and
Jimmy Graham
still played big roles (that never seems to change). But the Saints are proving they can win games in a number of different ways this year, a great sign that they're legit.
Stock watch:
Saints running back
Pierre Thomas
relishes coming back to his hometown of Chicago, and the Saints counted on him in a big way Sunday. Thomas caught nine passes for 55 yards and two touchdowns. And he ran 19 times for 36 yards. Both of the touchdowns were terrific plays. Thomas stiff-armed linebacker
D.J. Williams
to turn the corner on a 2-yard swing pass in the second quarter. And he cruised behind great blocking on a vintage 25-yard screen pass shortly before halftime.
Blindsided:
The Saints' defense had not been blitzing much this year. They hadn't needed to, with their front four playing so well. But defensive coordinator Rob Ryan threw some new wrinkles at the Bears in the first half that worked wonders. Safety
Malcolm Jenkins
got a sack and forced fumble on a blitz. Linebacker
David Hawthorne
got a sack on a blitz. And safety
Kenny Vaccaro
got a sack when he and Jenkins both blitzed. Heading into the game, all 12 of the Saints' sacks this season had come from defensive linemen or outside linebackers.
What's next:
The Saints will have another "prove it" game on the road against the
New England Patriots
(4-1). The Patriots stole some of the thunder out of the matchup with a rain-drenched loss at the
Cincinnati Bengals
on Sunday. Not only did they spoil the potential battle of unbeatens, but Patriots quarterback
Tom Brady
's streak of consecutive games with a touchdown pass ended at 52. So he won't be challenging Brees' NFL record of 54 in the head-to-head duel. Nevertheless, it will be the biggest game of the week on the NFL slate -- and a big test for both teams.
October, 6, 2013
10/06/13
4:08
PM ET
CHICAGO -- A few thoughts on the
Chicago Bears
' 26-18
loss
to the
New Orleans Saints
at Soldier Field:

What it means:
Chicago hasn't lost two in a row since December of 2012, and now has to go into a short week with the sting of that on its mind. The Bears still aren't where they want to be, but there's no reason to panic, because the team continues to show signs of growth.
Stock watch:
Matt Forte
's fumble on the first play from scrimmage short-circuited the team's opening drive, and the play was typical of the type of day the team experienced early. Quarterback
Jay Cutler
suffered three sacks, and a fumble, leading to a Saints field goal. Despite a decent outing from Cutler, the protection early let him down, as did receivers.
Earl Bennett
's dropped ball on fourth down with 8:40 left, which would have converted a fourth-and-2 at the New Orleans 25, hurt Chicago's chances for a rally.
Injuries mounting:
Starting defensive tackle
Stephen Paea
made the team's list of inactives for Sunday's game after being listed earlier in the week as questionable with a turf toe injury. Paea's inactivity paved the way for
Nate Collins
and
Landon Cohen
to start against the Saints. But Collins, who posted his first career solo sack in the first half, left the game in the third quarter with a left knee injury, and was later declared out for the game.
The team already lost three-technique defensive tackle
Henry Melton
with a torn ACL, and cornerback
Charles Tillman
has practiced only one day per week for the majority of the season because of a sore groin and knee.
If Collins is forced out for an extended period, the Bears will likely wind up starting Cohen and
Corey Wootton
at tackle. The club will also be forced to look for more depth at the position on the waiver wire. It's worth noting Chicago signed Cohen two days prior to the Sept. 29 loss to at Detroit.
Postseason chances slightly diminished?
Since the playoffs moved to the 12-team format in 1990, 77 percent of teams that started the season 4-1 reached the playoffs (98 of 128 teams). Clubs with 3-2 records after the first five games have gone to the postseason 51 percent of the time (95 of 186).
What's next:
The Bears face a difficult four-day turnaround when they play host to the
New York Giants
on Thursday night.
NFL SCOREBOARD
Sunday, 2/2
WEEKLY LEADERS