NFL Nation:

2013 Week 5 PHI at NYG
October, 6, 2013
10/06/13
10:05
PM ET
EAST RUTHERFORD, N.J. -- It remains to be seen, since the
New York Giants
have only three days to prepare for their next game, whether running back
David Wilson
will be ready to play Thursday night in Chicago. Wilson left Sunday's loss to the Eagles at the end of the first quarter with a neck injury and did not return, but he seems to think he'll be fine. He
tweeted
shortly after the game:
Wish we can win for all our supporters other than that I feel good passed all test. The Dr. Just taking extra precaution be back next week

— David E. Wilson (@4stillRunning) October 6, 2013
Wilson hasn't had the season he expected to have, but he looked good and was featured prominently in the offense in the first quarter Sunday, scoring the game's first touchdown. The Giants' offense will function better when and if it can make him a consistently important part of it.
Not too much injury news out of this game otherwise for the Giants. Defensive ends
Mathias Kiwanuka
,
Jason Pierre-Paul
and
Justin Tuck
all left the game briefly in the first half for some reason or another, but all three returned before halftime. Long-snapper
Zak DeOssie
and safety
Cooper Taylor
went for X-rays after the game, but there was no word on what those injuries were or how serious they might be. Cornerback
Corey Webster
was inactive, missing his third straight game with a groin injury. Wide receiver
Louis Murphy
was inactive due to an ankle injury.
October, 6, 2013
10/06/13
9:03
PM ET
EAST RUTHERFORD, N.J. -- Reality checks do not come easy in the NFL. It takes an incredible amount of effort and focus and intensity to prepare oneself to play one of these games. So when it ends, and you look up at the scoreboard and you have been crushed again, and your record is 0-5, that is a hard thing to confront.
"I don't know,"
New York Giants
defensive end
Justin Tuck
said when asked how he was coping with that exact situation in the wake of Sunday's
36-21
loss to the
Philadelphia Eagles
. "I've never been 0-5 before."
Very few, if any, of these Giants have. Many of them were not even born the last time the Giants started 0-5, in the replacement-player season of 1987. This is uncharted territory, so if the appropriate perspective eludes them and their fans, allow me to assist:
The 2013 New York Giants are a horrible football team -- worse than they or their fans even realize, without any question one of the two worst teams in the NFL. The only thing keeping them out of the bottom spot is an historically bad
Jacksonville Jaguars
team, and truth be told the separation between the Jags and the Giants is not that great.
The Giants have been outscored by 100 points in their five games, the Jaguars by 112. The Giants have scored 31 more points than the Jags have, but they've also allowed 19 more.
ESPN Stats & Information tells us the Giants are the third team in NFL history to allow 30 or more points in each of its first five games, and the second (joining the storied 1954 Chicago Cardinals) to also turn the ball over at least three times in each of the first five. Their 182 points allowed are the fifth-most in league history through the first five games of a season and the most since 1967. The four teams in front of them on that list finished the seasons in question with a combined record of 10-40.
"We're going to keep trying," a stunned Giants general manager Jerry Reese told ESPNNewYork.com's Ian O'Connor after Sunday's game. "That's all we can do, keep trying and just find a way to win a football game. We're just trying to win a game right now. That's our focus. Just win a game and go from there. There's no need to talk about anything else."
No time, either, since the Giants' next game is coming right up on Thursday night in Chicago. And no point, since there is no fixing this. The problems with this Giants team are so complete, so system-wide, that the only thing to do is limp through the rest of this season with as much pride as they can muster and then start from scratch in the offseason. The number of different ways in which they have lost games is so dizzying that it is hard to believe they have only lost the five.
There was the six-turnover opener in Dallas, the
Peyton Manning
buzzsaw here in Week 2, the seven-sack fiasco in Carolina and the lethargic mess they left stinking on the field in Kansas City last week, when they took a grand total of eight snaps in their opponent's territory all day.
Sunday's loss to the Eagles might have been the worst one yet, because the Giants teased themselves. The third quarter made them feel as though things were possible again. The defense held.
Eli Manning
led a couple of touchdown drives. They took the lead. The crowd got fired up.
"That was reminiscent of better times here," Tuck said. "And I think that's why you see guys a little bit more down."
[+] Enlarge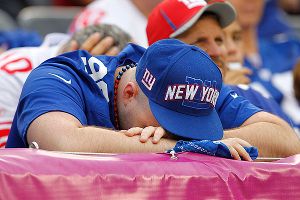 Hunter Martin/Philadelphia Eagles/Getty ImagesIs it really that bad? Yes, yes it is.
Shockingly, it was Manning, their longtime rock, who did them in this time, throwing three interceptions in a span of nine throws. Add those to his three intentional-grounding penalties -- more in this one game than any other quarterback in the league had, total, in the entire month of September -- and you can put the blame for this game squarely on Manning. It was as though whoever's in charge of such things looked at the list of ways the Giants had not yet lost a game and picked "complete quarterback meltdown" off the shelf.
"I was very excited and confident that we were in a position to win the game," said Giants coach Tom Coughlin, who has never before been 0-5 as an NFL head coach -- not even with the expansion Jaguars of 1995. "Then we started giving them the ball in way-deep territory."
These Giants are in way-deep something, that is for sure, and there is no sign that they or you or Coughlin or Manning should expect it to get any better any time soon. Look down the schedule at games against sub-.500 teams like the Vikings and the Raiders and the Redskins, and imagine them as winnable if you like. But realize those teams are looking at those same dates -- at their games against the Giants -- as their best chances to win too. This here, Sunday at home against the reeling Eagles, was supposed to be the get-right game. They lost it by 15 points.
"We just need to pick it up," a defiant
Antrel Rolle
said. "That's the reality of it. We're 0-5 and we're losing games right here and this is not Giants football that we're playing."
The reality of it, though, is that it is. This is 2013 Giants football, shrouded in misery and replete with ample evidence that the Giants are one of the absolute worst teams in the league. If you need a while yet to let that reality sink in, take your time. Just do not look for things to get any better any time soon.
October, 6, 2013
10/06/13
8:15
PM ET
EAST RUTHERFORD, N.J. -- It's tough to talk about positives when a team is 0-5. But the
New York Giants
' wide receiver corps had a pretty good day in the team's 36-21 loss to the
Philadelphia Eagles
.
Hakeem Nicks
had a season-high nine receptions for 142 yards, after collecting just 116 yards in the Giants' previous three games combined.
Rueben Randle
had six catches for 96 yards and a pair of touchdown grabs.
Victor Cruz
was held in check, with just five catches for 48 yards. But
Eli Manning
still threw for 334 yards in total.
Unfortunately, he also threw three interceptions -- all in the fourth quarter, on three consecutive possessions.
[+] Enlarge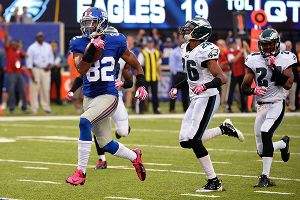 Robert Deutsch/USA TODAY SportsRueben Randle had a breakout game, making six catches for 96 yards and two touchdowns.
"We had some good drives and I thought we had a good plan of what they were doing," Manning said. "We just left some plays out there -- some deep plays down the field and some third-down conversions. Then, obviously through the third quarter we had some good drives and take the lead, but then the fourth quarter we just didn't play well."
"Offensively, we just have to take care of the ball better," Cruz said. "It's as simple as that. We make plays when we have the ball in our hands and we are pitching and catching, moving the ball up the field and when we turn the ball over that's when things go awry."
Cruz was Manning's intended target on the second of his three picks. Trailing 29-21, the Giants faced a 3rd-and-10 from their own 20-yard line. Manning dropped back, and fired deep over the middle to Cruz. But Eagles cornerback
Brandon Boykin
was there and snatched the ball away from Cruz.
"I was open. It was just [Eli] was getting dragged down on one side when he tried to throw the ball so it came out a little fluttery as he was trying to release the ball and that gave the defender a chance to put a hand on it and make a play on it," Cruz said. "So, even me, I've got to do a better job of trying to rip it out. If I'm not going to get it, no one else gets it."
"I guess if I had it again I probably wouldn't make the throw," Manning said. "I knew it was going to be tight. I knew it was man coverage. I saw [Victor] get a step and knew a guy was on me and probably couldn't get everything on the ball that I'd like to get and step into the throw. ... Unfortunately, I made the wrong decision there."
Collecting passing yards hasn't been a problem for the Giants this season. Manning entered the day ninth in the NFL, with 1,148.
But he also led the league with nine interceptions, and now has an even dozen.
There's only so much the wide receivers can do about that.
October, 6, 2013
10/06/13
8:04
PM ET
EAST RUTHERFORD, N.J. –
Nick Foles
' first reaction when
Michael Vick
got hurt was to pray.
For Vick. For himself.
Vick
Foles
"First thing that ran through my mind when Mike got hurt is I prayed for him," Foles said after coming off the bench to lead the
Philadelphia Eagles
to a 36-21 victory over the Giants.
"'Give him strength, God.' The first thing I did was say a prayer and say, 'Thank you, God, for letting me be out there and giving me the strength to go out there.' "
Foles said he wasn't thinking, then or after the game, about whether Vick's hamstring injury will give him an opportunity to prove himself as the starting quarterback.
"I'm not even thinking that way," Foles said. "My job is to go in there when Mike was hurt and get a win."
He did just that, leading the team on a hurry-up drive for a field at the end of the first half and then throwing two fourth-quarter touchdown passes.
The first, a beauty of a throw and catch by tight end
Brent Celek
, was the kind of trust-your-receiver throw that Vick has seemed reluctant to risk at times.
"They actually covered it decently," Celek said. "I was just able to kind of get behind them and Nick made a great throw where only I could catch, which is what you need."
The second touchdown was a 5-yard touch pass to
DeSean Jackson
, who made a brilliant fake to get wide open behind
Prince Amukamara
.
In between the field goal drive and the touchdowns was a less productive third quarter. The Eagles faltered a bit on offense and actually lost the lead to the Giants, 21-19.
"In situations like that," Foles said, "you really just have to calm yourself and just, like I said, one play at a time. You know that if you keep building on those one plays, you're going to get some momentum. The team is going to feed off it."
Running back
LeSean McCoy
said the players see it as having two starting quarterbacks. Coach Chip Kelly said that Vick will start in Tampa Sunday if he's healthy. But he also said there is always a competition at every position, and that the best players will play.
Foles is likely to practice with the first team early in the week, at least. If Vick cannot go, Foles would make his first regular-season start under Kelly.
"There are some things that I missed that I've got to get better at," Foles said. "We're going to enjoy today, but move forward and just get better each and every day."
October, 6, 2013
10/06/13
7:55
PM ET
EAST RUTHERFORD, N.J. – The
Philadelphia Eagles
' defense needed to atone for the previous week's game.
Brandon Boykin
needed to atone for the previous quarter.
The cornerback committed two penalties -- one while covering a punt, the other while covering
Victor Cruz
-- that gave the
New York Giants
47 yards in less than 30 seconds. The penalties helped the Giants score a third-quarter touchdown to take a 21-19 lead.
In the fourth quarter, Boykin and the rest of the Eagles' defense came through.
[+] Enlarge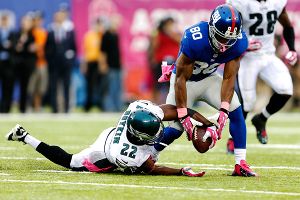 AP Photo/Brian GarfinkelBrandon Boykin atoned for earlier mistakes with a fourth-quarter interception.
Boykin blitzed
Eli Manning
, disrupting the quarterback's delivery. His pass hit a teammate's helmet and was intercepted by Eagles linebacker
Mychal Kendricks
. On the very next play,
Nick Foles
threw a 25-yard touchdown to
Brent Celek
that helped the Eagles pull away.
"You saw my blitzing a lot, and then I'll drop back in coverage," Boykin said. "I'm just willing to do my role and play what I have to do."
On the Giants' next possession, Manning fired a pass to Cruz. Boykin leaped, getting a hand on the ball. Somehow, he managed to wrest possession from Cruz. The play was ruled an interception by officials on the field and then confirmed by video review.
"I just wanted to establish it in my arm and tuck it as fast as I could," Boykin said.
When
Cary Williams
intercepted Manning later in the quarter, the Eagles' defense completed its bounce-back from last Sunday's embarrassing performance in Denver.
"We held our own," Boykin said. "The end result was a win. You can go back and correct all the other things. They were going deep on us a lot early. People had to step up and make plays, and that's exactly what we did. They came at us early and had success, but we kept our cool and did what we had to do."
The Eagles created four turnovers. They sacked Manning just once, but harassed him into mistakes, including the picks and three intentional-grounding penalties. They also smothered the Giants' running game, knocking
David Wilson
out of the game with a neck injury and holding New York to 53 yards on the ground.
"It was a great outing by the defense," coordinator Bill Davis said. "It was a good, solid step forward and we're excited about it. The players showed a lot of character today."
After losing 52-20 in Denver, Davis said, the approach was to refocus on fundamentals and techniques.
"It wasn't about ripping and yelling and screaming," Davis said. "Everybody has so much pride that when you get a beatdown like we had in Denver, the only way to get back is you get back to fundamentals, and that's what we did this week."
October, 6, 2013
10/06/13
7:35
PM ET
EAST RUTHERFORD, N.J. --
New York Giants
coach Tom Coughlin has never before been 0-5 as an NFL head coach. Even his expansion 1995
Jacksonville Jaguars
won their fifth game after starting 0-4. After the Giants'
36-21 loss
to the
Philadelphia Eagles
on Sunday, Coughlin worked hard to try to convey leadership and accountability.
"It's no fun, but I'm not concerned about me," Coughlin said. "I'm concerned about those players in the locker room. Whatever I can do, I'll defer whatever to myself. I lose the games and they win 'em."
Truth is, there's ample blame to go around, and Coughlin made a couple of questionable decisions in Sunday's loss. He explained them after the game.
Situation No. 1:
In the first quarter, with the Giants up 7-0, the Eagles picked up five yards on a third-and-nine play that moved the ball to the Giants' 47. Eagles center
Jason Kelce
was called for holding, and had Coughlin declined the penalty, the Eagles would have had fourth-and-four at the 47. Instead, he accepted it, and they had third-and-20 from their own 37.
Michael Vick
ran 34 yards for the first down. Coughlin said he accepted the penalty because he believed Chip Kelly would have gone for it on fourth-and-four, and to be fair there is ample evidence to support that belief.
The explanation:
"There was no question in our minds that the would go for it," Coughlin said. "So the consensus on the sideline was to take them back. We were doing a pretty good job with Vick at that time. Then, of course, the next play he runs for what would've been that first down and a first down from wherever the ball was."
My take:
Even if you thought the Eagles would go for it on fourth down, I make them make that decision. Coughlin's right -- the Giants were doing a decent job on Vick at that point. The Eagles had 12 yards of total offense on nine plays so far, and there was no reason yet for the Giants to believe they couldn't stop them from gaining four yards. Crowd and defense would have been fired up. Instead, everyone was confused.
Situation No. 2:
With 12:40 left in the third quarter and the Giants trailing 19-7, the Eagles converted a third-and-10 with an 11-yard
Nick Foles
pass to
LeSean McCoy
. There was some dispute, among the Giants on the field, as to whether McCoy had control of the ball when he fell out of bounds and whether he had sufficient yardage for a first down. Coughlin called timeout to settle things down, then got word from his coaches in the booth that it was worth challenging the play. So he challenged the play and lost the challenge, leaving the Giants with only one more timeout for the final 27:40 of the game.
The explanation:
"When I saw the players on the field, they were trying to get my attention to go ahead and challenge," Coughlin said. "The clock was way down, so I just instinctively called a timeout to settle everybody down. Obviously if I'd known in advance from upstairs what exactly I was going to do, I would have challenged first. Then I asked for the timeout back if they did reverse it. That wasn't going to be the case either. But I was very surprised, as was our sideline and upstairs, when they did not reverse it."
My take:
At the time, with the game in reach and the Giants behind, it seemed like a bad move. Especially bad when they burned that final timeout with 4:48 still left in the third quarter. But this was desperation time for an 0-4 Giants team that had no reason to believe, based on its first four games, that it would be within striking distance late in the fourth quarter when those timeouts might matter. And as it turns out, they weren't.
October, 6, 2013
10/06/13
7:05
PM ET
EAST RUTHERFORD, N.J. -- Chip Kelly says the
Philadelphia Eagles
' offense is the same whether
Michael Vick
or
Nick Foles
is playing quarterback.
Your eyes might say otherwise. Heck, the people lined up across from the Eagles say otherwise.
Vick
Foles
"We were well conditioned coming into this game,"
New York Giants
cornerback
Prince Amukamara
said. "But when Mike Vick got out, their whole game plan changed just because there aren't two runners in the backfield. Foles does more passing."
Vick ran the ball seven times in just under a half before pulling his left hamstring. He picked up 79 yards.
"A couple of those long runs Mike had were actually designed sweep plays," Kelly said. "So he wasn't running a lot of read-option. We didn't change our game plan with Nick."
Foles did run by design. Just once. On second-and-goal from the New York 8-yard line, Foles sprinted around left end. He picked up three yards.
"There's obviously a difference between Mike Vick and Nick Foles, for sure, from an athletic standpoint," running back
LeSean McCoy
said. "But Nick can run this offense, also."
Foles ran a very efficient two-minute drill after replacing Vick late in the second quarter. That resulted in a field goal at the end of the half. The third quarter was a little more difficult. With Vick out of the game, the Giants were able to focus more on McCoy. He had minus-9 rushing yards on the Eagles' first possession of the half.
"It's Michael Vick," McCoy said. "He can take off at any given time. There's definitely a matchup difference when you compare to Michael Vick. People say we have to stop Vick. That's something he's had to deal with since he's been in the NFL."
In the fourth quarter, which decided the game, Foles was good enough. The Eagles' defense produced three interceptions, giving Foles the ball at the New York 25, 38 and 49 yard lines.
After the first, Foles struck quickly with a perfect 25-yard touchdown throw to tight end
Brent Celek
. After the second, Foles hit
DeSean Jackson
for 28 yards, then threw a perfect ball to Jackson for a 5-yard TD.
"Foles just came in and did a good job," Jackson said. "He's been in this position before. He knows what to do and he knows what to expect."
The question becomes whether preparation changes for next Sunday's game in Tampa. Vick's status might not be clear early in the week. He will have an MRI Monday. Kelly said it doesn't matter which quarterback is behind center.
"Our game plan doesn't drastically change," Kelly said.
October, 6, 2013
10/06/13
6:15
PM ET
EAST RUTHERFORD, N.J. -- Observed in the locker room after the
Philadelphia Eagles
'
36-21 victory
over the winless
New York Giants
:
Kendricks
Stumbled, humbled.
Linebacker
Mychal Kendricks
intercepted the first pass of his NFL career. He probably should have scored his first touchdown, as well. But Kendrick lost his footing a little bit and was tripped up from behind by Giants running back
Brandon Jacobs
. It must be noted that Jacobs is not exactly the speediest runner in football. "I know I'm faster than him, he knows I'm faster than him," Kendricks said, shaking his head in disbelief. "He got me, though." Kendricks had an ice pack on his knee, but said that was unrelated: "I just got cut [blocked] a little bit," he said.
Blur defense.
Brandon Boykin
wasn't able to break down his interception quite as well. The slot corner was matched up with
Victor Cruz
in the fourth quarter.
Eli Manning
threw the ball for Cruz. Boykin lunged, got a hand on it and somehow managed to get control of the ball before hitting the ground. The play was reviewed by the officials and confirmed as an interception. "It happened too fast," Boykin said. "When I felt it, I just tried to establish possession. A lot of times, if it's a tie, they give it to the receiver."
5-for-5.
Kicker
Alex Henery
missed a field goal in each of the Eagles' three losses. All were from the mid-40s. Coach Chip Kelly had expressed confidence in Henery all along, but the questions were different after Henery hit five kicks from 40, 27, 29, 36 and 41 yards. The last one gave the Eagles a 22-21 lead late in the third quarter. "I think myself and him were the most surprised with the three misses that he had this year," Kelly said.
Familiar face(mask).
The Eagles faced a third-and-2 situation early in the third quarter.
LeSean McCoy
got the carry and headed toward the right side. He was met by a Giants defensive lineman who wrapped him up and dropped him for a 6-yard loss. It was
Mike Patterson
, McCoy's teammate for the first four years of his Eagles career. "I messed with him," McCoy said. "Even though he made the stop, I messed with him. He's just a Giant now."
October, 6, 2013
10/06/13
5:40
PM ET
EAST RUTHERFORD, N.J. -- Observed in the locker room after the
New York Giants
' 36-21
loss
to
Philadelphia Eagles
:
Manning
Laying blame:
Giants coach Tom Coughlin didn't shy away from blaming the loss on the three interceptions
Eli Manning
threw in the fourth quarter. Coughlin said he believed Manning was trying too hard to win games by himself and that he pulled him aside and spoke to him in the locker room after the game. "He's way too good a player to have these kinds of things happen."
Holding together:
Defensive end
Justin Tuck
refused to blame the offense, saying, "That offense has gotten us out of a lot of jams that our defense has put us in." Tuck also said the third-quarter comeback was "reminiscent of better times here, and I think that's why you see guys a little bit more down."
Injury updates:
Long-snapper
Zak DeOssie
and safety
Cooper Taylor
both went in for X-rays, though no word was given on either player's injury status. Indications were that running back
David Wilson
, who left the game after the first quarter with a neck injury, was not seriously injured and was held out of the final three quarters as a precaution.
October, 6, 2013
10/06/13
4:31
PM ET
EAST RUTHERFORD, N.J. -- A few thoughts on the
New York Giants
'
36-21 loss
to the
Philadelphia Eagles
.

What it means:
If you were holding out any hope that the Giants could save their season (and goodness knows, I was trying to tell you otherwise), you may now give it up. The Giants are 0-5 and quite clearly one of the worst teams in the NFL. They came to life in the third quarter and looked good on both sides of the ball, but the other three quarters were a mess of penalties, bad and/or dumb plays and, yes, three more
Eli Manning
interceptions. This was to have been the Giants' get-right game, at home against a team that appeared to have had as many problems as they do. And while they'll say they were in it late, again, they ended up getting crushed, again. No team has ever started 0-5 and made the playoffs.
Stock Watch:
Rising --
Rueben Randle
and
Jason Pierre-Paul
. Manning has struggled throwing the ball to Randle this year, but he found a rhythm with him in this game to the tune of six catches for 96 yards and the two touchdowns that brought the Giants from behind to take their third-quarter lead. And Pierre-Paul looked explosive and disruptive for the first time all year. Falling -- star-crossed running back
David Wilson
, who started out great by scoring the game's first touchdown but left at the end of the first quarter with a neck injury.
Rough game for the coach:
Tom Coughlin raised eyebrows by accepting a holding penalty in the first quarter and putting the Eagles in third-and-20 instead of fourth-and-4 at midfield. The Eagles converted the third down with a 34-yard
Michael Vick
run, and ended up kicking a field goal. Later in the game, with 12:40 left in the third quarter, Coughlin burned two timeouts on one failed replay challenge (one to get the time to challenge, the other when it didn't go his way).
What's next:
Quick turnaround for the Giants, who play at 8:25 p.m. ET on Thursday in Chicago against the Bears, who have lost two in a row following their 3-0 start.
October, 6, 2013
10/06/13
4:29
PM ET
EAST RUTHERFORD, N.J. -- A few observations from the
Philadelphia Eagles
'
36-21 victory
over the winless
New York Giants
on Sunday:

What it means:
The NFC East really is as terrible as it looked while the Eagles were enduring that three-game losing streak against AFC West teams. The Eagles are 2-3 overall, but 2-0 within a division that could be won with an 8-8 record. They dropped the sloppy Giants to 0-5 despite losing starting quarterback
Michael Vick
with a hamstring injury late in the first half. After the Eagles blew a 19-7 halftime lead,
Nick Foles
directed three scoring drives to secure the win.
Mychal Kendricks
came up with a game-turning interception to set up Foles' fourth-quarter, 25-yard touchdown pass to tight end
Brent Celek
.
Vick vs. Foles:
Vick ran the ball seven times for 79 yards before injuring his hamstring. He had completed just 6 of 14 passes for 105 yards, and the Eagles' red zone issues continued while he was in the game. Foles took over with 1:25 left in the half and the ball on the Eagles' 7-yard line. He completed 7 of 8 passes for 68 yards to drive for a late field goal, then threw two fourth-quarter touchdowns to put the game out of reach. The run game wasn't as effective without the threat of Vick running, but Chip Kelly adjusted and got Foles into a rhythm, and the Eagles finished with a season-high 36 points. Durability is always an issue with Vick, and now his inevitable injury may have opened the door for Foles.
Stock Watch:
Rising -- Eagles defense. It looked like another disaster in the making when
Eli Manning
hit
Hakeem Nicks
for 49 yards on the Giants' third play from scrimmage. But the Giants lost running back
David Wilson
to a neck injury and Manning started throwing the ball to the Eagles, when he wasn't intentionally grounding it, in the second half. The three fourth-quarter interceptions were the Eagles' first since Week 1 against Washington. They set up two Eagles touchdowns and changed the entire tone of the game.
What's next:
There will be a lot of discussion about Vick's hamstring and whether it allows him to practice for next Sunday's game against Tampa Bay -- the Eagles' second consecutive game against an 0-4 team. If Vick can go, the guess here is that he will start. Kelly made a point of saying Vick would not have to look over his shoulder after he won the starting quarterback job in the preseason. But if Vick can't play, Foles will get a chance to show what he can do with a full week of practice against a not-particularly-good team.
NFL SCOREBOARD
Thursday, 9/25
Sunday, 9/28
Monday, 9/29
WEEKLY LEADERS