NFL Nation:

2013 Week 6 ARI at SFO
October, 14, 2013
10/14/13
12:22
AM ET
SAN FRANCISCO -- It's pretty typical for the offense to praise the defense and the defense to do it right back.
But it's not as often the offense flat out says the defense saved its rear.
"I really tip my hat to the defense in the first half because we could've been out of it in (the first) seven minutes," Cardinals left tackle
Eric Winston
said.
Without the Cardinals' defense, Sunday's 32-20 loss to the
San Francisco 49ers
could've been over long before seven minutes passed. Arizona held the Niners to no more than four plays on their first four drives, two of which ended in field goals. Arizona's offense, however, kept giving the Niners opportunities, throwing two interceptions in the game's first 6 minutes.
[+] Enlarge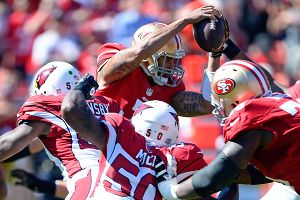 Bob Stanton/USA TODAY SportsThe Cardinals defense limited the 49ers to field goals on several red zone trips in the first half.
But it wasn't just that the Cards were stopping the Niners on third down, it was where they were doing it. Arizona held on its own 7-yard-line for three straight plays and then from its 11, 6 and 8 on another drive. Then in the second quarter,
Yeremiah Bell
intercepted
Colin Kaepernick
on the goal line from the 2.
Another red zone trip. Another trip without points.
"Our motto on defense, like Coach always said, (is) defend every blade of grass," nose tackle
Dan Williams
said. "Just cause they're down there, doesn't mean they have to score a touchdown.
"We actually don't want to give up any points. They get down there and we want to hold them to a field goal and when they get to a field goal we want to block that."
Before San Francisco started its last drive of the first quarter, the one that ended with Bell's interception, the Niners had a total of minus-1 yard. The defense saw the dividends of its work when the offense turned a corner midway through the second with a three-play touchdown drive.
But it started to slow in the second half, when the defense began not adhering to gap assignments and freestyling more, Williams said. The Cardinals couldn't stop the same running play no matter how many times the Niners ran it, rookie safety
Tyrann Mathieu
said.
"I thought our defense played outstanding until they were out there too long again," head coach Bruce Arians said.
Sunday, linebacker
John Abraham
said, was an example of a true team effort. One side wasn't going to let the other fail. They'd have each other's backs, Williams added.
"I think it's just the character of our defense," Bell said. "We feel like we're a strong unit. We feel like we can hold up against anything."
Against the 49ers, the Cardinals showed they could.
October, 14, 2013
10/14/13
12:18
AM ET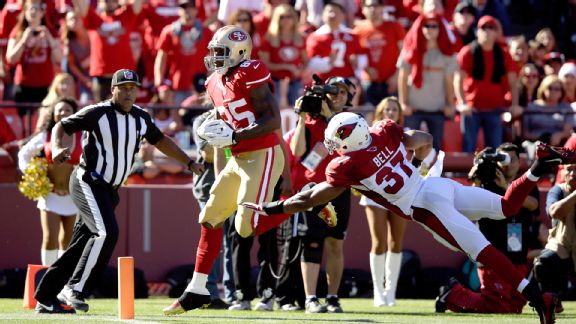 Ezra Shaw/Getty ImagesVernon Davis caught eight passes for 180 yards and two TDs, but the 49ers need more receiving options.
SAN FRANCISCO -- One of the best games by a tight end in NFL history is proof the
San Francisco 49ers
may need to go get themselves another receiving option.
Just think how good quarterback
Colin Kaepernick
could look with a full complement of weapons.
Vernon Davis
' 180 receiving yards in San Francisco's
32-20 win
over the
Arizona Cardinals
on Sunday was tied for the third-most yards by a tight end in the NFL in the past 20 years. It was another indication that there is nothing wrong with Kaepernick, who had thrown for fewer than 180 yards in each of the previous four weeks after passing for a career-high 412 yards in Week 1 against Green Bay.
"Vernon, when he plays like this, he doesn't have to say anything," Kaepernick said. "Everybody on the team feels it. I know it, the coaches know it, and we've got to put the ball in his hands."
The problem for the 49ers is that Kaepernick has only Davis and receiver
Anquan Boldin
. That why the team has been linked to receivers such as
Hakeem Nicks
,
Josh Gordon
and
Kenny Britt
. With
Michael Crabtree
and
Mario Manningham
injured, the 49ers don't have another legitimate, reliable receiving option. While Davis went bonkers, doing 171 yards of his damage in the first half Sunday, Boldin was held in check.
Boldin finished with three catches for 28 yards. Just 72 of Kaepernick's 252 passing yards went to targets other than Davis. While Davis had eight catches, six players combined for Kaepernick's other eight completions. Davis was the target on just three of Kaepernick's 14 incomplete passes. Kaepernick, who saw his offense fail to get a first down on its first four drives of the game, didn't connect with a wide receiver until 1:20 remained in the first half.
While the 49ers and Davis should celebrate this magnificent performance, it is another reminder that this team needs more receiving help. Because if they get that help, the 49ers can win the Super Bowl. It's that simple.
This offense -- which grinded out 149 yards on the ground and which has scored 101 points during a three-game winning streak -- can be wicked if it is truly multidimensional. If not, all it can do is try to move the ball on the ground and hope either Boldin or Davis goes off.
It has worked so far, but one of these weeks both Davis and Boldin will be taken away. Then what?
Manningham (knee) might come off the physically unable to perform list and be able to start practicing this week. Once he starts practicing, the 49ers will have a three-week window to activate him. Last week, San Francisco coach Jim Harbaugh said Crabtree, who suffered a torn Achilles in May, might be ready to play in mid-November. He could come back for the Nov. 17 game at New Orleans that could have huge NFC playoff ramifications.
But there are no guarantees either player will be back anytime soon. There is also no telling how quickly either player would knock off the rust. It's reasonable to assume the 49ers will be at full strength in December. Crabtree would instantly be a top target and make Boldin more valuable because he would see fewer double-teams. (He said last week this is the most double coverage he's seen in his career.) Boldin can be a major weapon as a No. 2 receiver. Manningham also would give the 49ers much-needed depth. The team's current No. 2 and No. 3 receivers,
Kyle Williams
and
Jon Baldwin
, each had one catch Sunday. That is not going to cut it.
That brings us to the trade dilemma: Do the 49ers sit and wait for their injured players to come back, or do they get aggressive and make a deal?
You could make an argument for both sides. But seeing Sunday's display might tempt the 49ers to load up now and worry later about having too much depth or losing a draft pick. If San Francisco adds the right receiver, Kaepernick would have more options in the immediate future, and the team could be nearly unstoppable come playoff time.
CBS Sports reported Sunday that the 49ers are considering trading for Nicks. The Giants are 0-6, and Nicks probably will leave as a free agent. He'd likely be a rental for the 49ers. They have several contracts to address in the near future with free agents. But he could be a special rental.
ESPN NFL Insider Adam Schefter has reported the 49ers have considered acquiring Gordon from Cleveland, but that likely won't happen because of the soon-to-return statuses of Manningham and Crabtree. Britt, whom the 49ers will face in Tennessee next week, is also on the block. Gordon and Britt both have had off-field problems, and with the 49ers already dealing with the
Aldon Smith
situation, they may not want to add another player with issues.
Nicks might make the most sense. There are financial and draft-pick questions to be answered, but there is no question he'd make the 49ers better for the rest of the season and take pressure off of Kaepernick.
Led by Davis Sunday, the 49ers showed they can be dangerous. But Super Bowl winners need to be more than dangerous. They need to be multilayered. That's why adding offensive weapons has to be tempting for San Francisco.
October, 13, 2013
10/13/13
9:20
PM ET
SAN FRANCISCO -- Observed in the locker room after the
San Francisco 49ers
'
32-20 win
over the
Arizona Cardinals
:
'Grinding the meat':
49ers coach Jim Harbaugh was ecstatic about the 18-play, 89-yard touchdown drive late in the fourth quarter that gave the 49ers a nine-point lead. Harbaugh called the drive "grinding the meat." Several 49ers said they've heard the coach use the expression before.
McDonald
McDonald OK:
Defensive lineman
Ray McDonald
said his partially torn biceps responded fine. It was his first game since the injury. "I'm good," McDonald said.
Davis' day opened things up:
Fullback
Bruce Miller
marveled at tight end
Vernon Davis
' 180 receiving yards, which tied for the third-most by a tight end since 1993. "Vernon creates mismatches," Miller said. "It opens things up for us."
Calling for respect:
Several 49ers' offensive players were signaling for fans to stop doing the wave late in the game when Arizona defensive lineman
Calais Campbell
was being lifted onto a stretcher. One 49ers starting offensive player said he didn't think fans were doing it with malice and that he didn't think fans knew the potentially serious nature of the injury. Still, the player said he wished fans held off on the act.
October, 13, 2013
10/13/13
9:12
PM ET
Observed in the locker room after the
Arizona Cardinals
'
32-20 loss
to the
San Francisco 49ers
.
Arians
Play to win:
Cardinals coach Bruce Arians didn't enjoy leaving San Francisco with what amounted to a moral victory. "We only play to win," he said. The Cardinals fell to 3-3 and into a tie for third -- and last -- in the NFC West. Arians added the Cardinals let a win slip out of their grasp.
Running game returns:
One constant throughout the postgame locker room session was how Arizona's running game, which came to life on the first drive of the second half, is necessary to win. With a running game that was eating yards and time, the 49ers pass rush wasn't as effective.
No D, no W:
Left tackle
Eric Winston
wasn't shy about it. He said without the Cardinals' defense Sunday, the Niners would've been in the driver's seat in about seven minutes. But, he added, when the offense is struggling, the defense needs to come to the rescue.
TOs cause L:
Arians and Winston said it: Four turnovers will not beat a team like the 49ers. The one positive, however, was that the Cardinals were able to keep it close until the fourth despite two early interceptions but two late fumbles did them in.
October, 13, 2013
10/13/13
7:56
PM ET
SAN FRANCISCO -- A few thoughts on the
San Francisco 49ers
' 32-20
win
over
Arizona Cardinals
on Sunday:
What it means:
The 49ers have won three straight games. Their point total Sunday was their lowest in the win streak. San Francisco is now 4-2 with the easier part of its schedule upcoming. The 49ers were not perfect, but they made big plays on offense and forced four turnovers. San Francisco has forced double-digit turnovers during the win streak. All seems to be going well for the 49ers after they stumbled in Weeks 2 and 3.

Stock watch:
San Francisco tight end
Vernon Davis
had a huge game. He had 180 yards receiving, which is the tied for the third highest total by a tight end in the NFL in the past 20 years. The 49ers don't have a lot of receiving weapons, but Davis got open and quarterback
Colin Kaepernick
got the ball to him. The 49ers' run offense also came up big on an epic 18-play, 83-yard drive made the score 29-20 with 6:35 to go. Most of the yardage was gained on the ground. The stock is rising for the 49ers' rookies. First-round pick
Eric Reid
had an interception and a fumble recovery. Third-round pick
Corey Lemonier
had a sack for a safety and a forced fumble.
Injuries on defense continue:
Nose tackle
Glenn Dorsey
went out early with a hamstring injury. Dorsey was playing well this season. He was jogging on the sideline, so perhaps the injury will not be serious. The 49ers can't afford another extended injury on defense, especially the line. Dorsey was taking over for
Ian Williams
, who went out for the season with a leg injury in Week 2.
Ray McDonald
is playing through a biceps injury. Dorsey's replacement,
Tony Jerod-Eddie
was banged up late in the game. If Dorsey's injury lingers, the 49ers may be forced to push rookie
Quinton Dial
to the field. He is eligible to practice this week after starting the season on the PUP.
What's next:
The 49ers travel to Tennessee to play the Titans, which lost to Seattle on Sunday. After playing in Nashville, the 49ers head to London for a week to prepare for the Jaguars to finish their AFC South slate. Yes, two winnable road games are on the horizon for the 49ers.
October, 13, 2013
10/13/13
7:56
PM ET
SAN FRANCISCO -- A few thoughts on the Cardinals' 32-20 loss to the 49ers.

What it means:
The
Arizona Cardinals
showed Sunday they aren't a pushover in the NFC West. Even though the offense started out looking pitiful with turnovers , the defense carried the Cardinals while making the
San Francisco 49ers
look human. By playing the Niners tough until about seven minutes left, the Cardinals put the
Seattle Seahawks
on notice, essentially telling them that no matter the venue, their defense will come to play. Although the offense continued to have its issues, especially in the first quarter and a half, it showed what coach Bruce Arians' offense could accomplish, when tweaked.
Stock Watch:
Rookie running back
Andre Ellington
has been establishing himself all season, but he showed what he could do when being entrusted during crucial situations. Ellington provided a burst, the proverbial lightning to veteran Rashard Mendenhall's thunder. He scored his first career rushing touchdown on a 15-yard run in the second quarter in which he cut out wide to the right and turned on the jets to hit the end zone.
Two Palmers:
Arizona quarterback
Carson Palmer
may very well have turned a corner. He started horrendously Sunday, throwing two interceptions in the first nine minutes of the game, and then was sacked early in the second quarter for a safety, although that wasn't totally Palmer's fault. But then something happened. With backup
Drew Stanton
looking like he was preparing to get his first snaps since 2010, Palmer executed a nearly perfect three-play drive that pulled the Cardinals within 15-14 late in the first half. Palmer's resurgence continued in the second half, when he threw a touchdown to
Michael Floyd
off his back foot, a play that has been intercepted in the past.
Drive killers:
It's not just interceptions that hampered the Cardinals on Sunday. Two fumbles derailed drives when Arizona needed them most. In the third,
Larry Fitzgerald
's fumble at San Francisco's 23-yard line ended a drive that could've given the Cardinals the lead. And then in the fourth quarter,
Alfonso Smith
fumbled his only carry of the game, ending a drive that would've helped cut into the Niners' lead. To compete in the NFC West, of all divisions, the Cardinals need to keep their hands on the ball.
What's next:
The Cardinals face their second straight NFC West foe in a week when they host Seattle at 5:25 p.m. MT Thursday at University of Phoenix Stadium.