NFL Nation:

2013 Week 6 CAR at MIN
October, 13, 2013
10/13/13
9:45
PM ET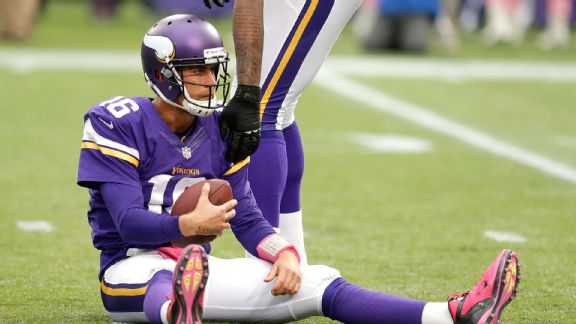 AP Photo/Jim MoneMatt Cassell threw a pair of interceptions against the Panthers, leaving the Vikings with more questions at QB.
MINNEAPOLIS -- The
Minnesota Vikings
had just
lost for the fourth time in five games
this season, suffering their most lopsided Metrodome defeat in nearly three years. The reactions from veterans in the locker room ranged from
Chad Greenway
's frustration over where the season is headed (the linebacker compared it to the start of the team's 3-13 2011 campaign), to
Adrian Peterson
's resolve to get things turned around.
But tight end
Kyle Rudolph
's comment might have done the best job of summarizing the mess the Vikings find themselves in with a 1-4 record.
The Vikings began the week signing former
Tampa Bay Buccaneers
quarterback
Josh Freeman
. They ended it with a 35-10 loss to the
Carolina Panthers
in which
Matt Cassel
-- who had taken the starting job from
Christian Ponder
two weeks earlier -- passed for 241 yards but threw a pair of interceptions. Asked if he felt another quarterback shake-up was necessary, Rudolph said, "I don't see why. I think Josh needs to take some time to get comfortable here, learn the offense.
"That's coach Frazier, that's [offensive coordinator] Bill [Musgrave]'s decision. That's not ours and we feel like every goal that we set in August is still attainable. Last year we started out hot. We were 4-2, and we were 6-6 after 12 games. In my opinion, if we can get to 6-6, we'll be sitting where we were last year."
This year's team would have to win five of its next seven games to reach 6-6, and then go on a four-game run. The Vikings are 1-4 in a muddled NFC, but now are the only team in the NFC North with a losing record. They are 0-2 in the division, 0-3 in the conference. If they were to make a playoff run, it would require a long stretch of solid football the Vikings seem incapable of producing.
There is also one other big difference here: The Vikings were in their second year evaluating Ponder as their starting quarterback. They were behind him for all 16 games, even through a woeful eight-game stretch during the middle of the season. This year's team has used two starting quarterbacks in five games, and could put a third on the field next Monday night against the
New York Giants
. The Vikings now have 11 games left to evaluate two quarterbacks who might not be on their roster next season (Freeman and Cassel, who can opt out of his two-year deal), and a third (Ponder) whose contract contains an option for the 2015 season.
If finding a workable solution at quarterback was among the more prominent goals of the Vikings' 2013 season, there now can be little doubt it is the most important. And that might mean selling a vision for the future to some players whose focus has been on the present.
In a perfect world, the Vikings would get good enough quarterback play to win games and ride behind whomever is playing well. That's essentially the message they've given Ponder; the quarterback said on Sunday afternoon that Frazier and general manager Rick Spielman have told him "it's up to whoever is playing" to seize the job. Spielman is a big believer in competition, and it's possible an open audition for the job could help the Vikings in the present while clarifying their future.
But what happens if the team starts Freeman against the Giants -- with an abridged version of their offense -- and he struggles? Can the Vikings keep holding a casting call at quarterback at 1-5? If their playoff hopes are flickering now, a loss next week effectively would extinguish them while moving the Vikings closer to the top of a draft that's projected to be deep on quarterbacks. At that point, it would be paramount for them to figure out whether they have a bona fide starter on their roster, or whether they need to start building behind another rookie. They might need to hand the reins to Freeman for a long stretch of games, no matter the results, or give Ponder one more chance to re-assert himself. A week-to-week plan at the position, though, wouldn't make sense if the Vikings aren't playing for high stakes on a week-to-week basis.
At this point, the team's highest stakes in 2013 might already revolve around the quarterback position. They haven't had the same quarterback lead them in passing for more than two consecutive seasons since
Daunte Culpepper
from 2000-04, and before that, no quarterback had done it for four straight seasons since Tommy Kramer from 1979-82. This has been a team devoid of franchise-type quarterback play for decades, and the Vikings are in that position at a time where having an answer at the position never has been more important.
If the Vikings devote the rest of their season to evaluating Freeman, or giving Ponder one last shot, regardless of the results, that might not be the worst use of their time. They badly need a sense of direction at the position that lasts longer than a few weeks at a time, and even if that means sticking with one quarterback through a handful of losses, the Vikings will at least have enough information to make some big decisions.
That could provide more value than anything else in a season that doesn't seem like it's going to amount to a postseason run.
October, 13, 2013
10/13/13
9:23
PM ET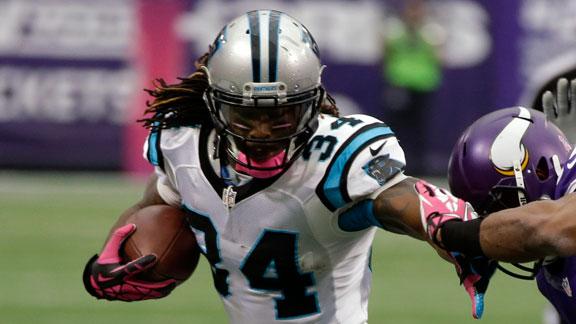 MINNEAPOLIS -- The
Minnesota Vikings
' secondary began Sunday with
Chris Cook
and
Jamarca Sanford
back on the field, and reason to believe they could turn things around against
Carolina Panthers
quarterback
Cam Newton
, who had been struggling all season.
They ended it with a scheduled MRI for their best defensive back (
Harrison Smith
), their first-round pick at corner (
Xavier Rhodes
) and a fresh set of questions about the men who were left on the field during
a 35-10 loss
.
The Vikings' anemic secondary looked like as big a problem as ever against Newton, who hit 20 of his 26 passes for 242 yards and three touchdowns on his way to a career-high 143.4 passer rating, and depending on how long Smith (who sustained a foot injury) and Rhodes (who hurt his ankle) are out, things could get even worse. The Vikings' next game is against the 0-6
New York Giants
, but
Eli Manning
is averaging 286.8 yards per game, and the Vikings' two games after that are against
Aaron Rodgers
and
Tony Romo
.
Minnesota's issues on Sunday, according to coach Leslie Frazier, weren't completely attributable to the secondary. The Vikings gave up 131 yards rushing on 39 carries, allowing the Panthers to hold the ball for 36:27 and taking away some of the Vikings' help in pass coverage.
"No doubt that makes a difference," Frazier said. "You start playing single-high [safety] when you're having coverage in the secondary. You expose those guys and it creates some dilemmas for your defense."
But a blown coverage was at the heart of
Brandon LaFell
's 79-yard touchdown in the first minute of the third quarter; the Vikings were in zone coverage on third-and-3 when
Josh Robinson
didn't get deep enough on LaFell, leaving him open when Rhodes ran upfield with
Ted Ginn
. Rhodes wound up following Ginn to Sanford, and no one was covering LaFell, which made it seem like Rhodes might have been playing man coverage when he should have been taking a deep zone away from the Panthers. But Robinson blamed himself for not dropping deep enough.
"I just have to be in better position, get on that route and take it away," Robinson said.
Said Frazier: "We were in zone coverage and someone has to carry that route up the field. In that zone coverage, we should not give up a long touchdown and somebody should be there to at least get a tackle."
And the Vikings were again unable to get off the field, allowing the Panthers to convert seven of their 12 third downs, as well as a pair of fourth downs -- including one where
Steve Smith
beat Robinson on a crossing route for a touchdown.
"That was tough coverage for the guy who was in coverage in man," Frazier said. "They executed better than we did in that situation and in two fourth-down situations."
Robinson had allowed 35 catches in 38 targets, according to Pro Football Focus, and came off the field in nickel coverage for a while on Sunday before Rhodes left. Frazier said the Vikings had planned to rotate Robinson and
Marcus Sherels
in the slot, though it's worth noting the Vikings didn't use Sherels until after Robinson gave up the touchdown to Smith.
"There are some things we want him to do better," Frazier said of Robinson. "We rotated Marcus in there with him some and we'll evaluate it this week and just see what's going on at that position."
October, 13, 2013
10/13/13
8:09
PM ET
MINNEAPOLIS, Minn. -- Riverboat Rivera.
Has a nice ring to it, don't you think?
By nature,
Carolina Panthers
coach Ron Rivera is conservative. It goes against everything he's always believed as a former linebacker and defensive coordinator to take gambles.
He was criticized unmercifully by the media and fans after a 24-23 loss at Buffalo in Week 2 for kicking a field goal on fourth-and-1 from the Bills' 21-yard line with a 20-17 lead and 1:42 remaining.
At that time, only one of the other 31 NFL teams had gone for it on fourth down less than Carolina since Rivera took over in 2011. That was the coach Rivera replaced, Denver's John Fox.
But ever since then, it seems, Rivera has gone for it almost every time there's been a critical fourth-and-1 call. He did it twice on the first drive of
Sunday's 35-10 victory
against the
Minnesota Vikings
.
So maybe he's changing his stripes.
"Well, it's kind of what we're going to do and we're going to do the best we can to make things happen,'' Rivera said. "These guys bought into it.''
No, Rivera bought into it. He understands the importance of scoring touchdowns instead of field goals for the psyche of his offense. It shows that side of the ball confidence they can make it, and the defense confidence they can stop the opponent if the offense comes up short.
Having said that, Rivera made the right call not to go for it at Buffalo. He went with the odds of making a rookie quarterback playing in his second game drive 80 yards for a touchdown against a top -- albeit injured -- defense.
In most cases, he wins.
Rivera also made the right call at the Metrodome on Sunday. It was scoreless and if either of the calls failed there were three and a half quarters to make up for it.
He also had the luxury of a defense that already had intercepted
Matt Cassel
once, that has played well throughout the season.
So he took a chance. He gambled.
And won. Twice.
First running back
Mike Tolbert
gained two yards on fourth-and-1 from the Minnesota 32. Then quarterback
Cam Newton
completed a touchdown pass to wide receiver
Steve Smith
on fourth-and-1 from the 2.
It set the tone for the offense, and demoralized the Vikings.
"It means a lot,'' Newton said. "Being in a hostile environment and knowing that we need an edge in this game, we went for it. For him to trust us means a lot and it speaks volumes.''
That everyone understands Rivera's conservative mindset made it mean even more.
"I think that he is kind of breaking his mold to a degree, and giving the whole team confidence with him,'' Newton said.
You could feel that confidence afterwards.
"It's awesome and it's great,'' Smith said.
Said safety
Quintin Mikell
, "That's what you have to do in times like that when you have your backs against the wall. If we didn't get it, hey, the defense was going to step up and make a play.''
Riverboat Rivera. It may stick.
October, 13, 2013
10/13/13
7:16
PM ET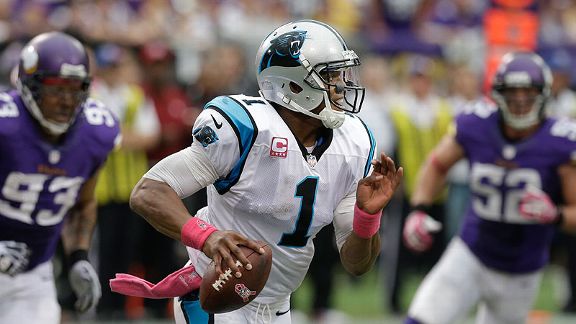 AP Photo/Jim MoneCam Newton against the Minnesota Vikings had the best passing day statistically of his career.
MINNEAPOLIS, Minn. --
Carolina Panthers
quarterback
Cam Newton
was methodical, making sure his cuff links were turned the right way and the knot on his tie was perfectly straight, as he dressed in front of his locker following Sunday's
35-10 victory
against the
Minnesota Vikings
.
He was even more methodical in picking apart the Vikings.
Statistically, it was the best passing performance of his NFL career -- 20-for-26 for 242 yards and three touchdowns for a quarterback rating of 143.4. He also ran for a touchdown.
There hasn't been a time this season, maybe since he was selected with the first pick of the 2011 draft, that he looked more comfortable in the pocket.
"I wouldn't say that,'' Newton deadpanned.
He didn't offer a game in which he was more comfortable, though, so the evidence is hard to deny.
And while much focus will be placed on his first-half efficiency -- 10-for-14 for 85 yards and two touchdowns -- he's had good first halves throughout this season.
It's what Newton did in the third quarter that was most impressive. He connected with wide receiver
Brandon LaFell
for a 79-yard touchdown pass on the third play. He finished 8-for-9 for 134 yards, a passer rating of 155.8.
This from a quarterback who had completed only 50 percent of his second-half passes in Carolina's three losses.
"His focus and attention to detail on things all week,'' coach Ron Rivera said. "It's all part of the progress of him developing. He understands it and he's going to continue to work at it, and we'll continue to work as a group.''
Newton admitted on Wednesday he had to be more consistent. It was as if he had read statistics that noted since the start of 2012 he'd had only seven games with at least a 60 percent completion percentage, something 22 other quarterbacks had more of during that same time frame.
On this day he had a completion percentage of 79.6 percent, the second-highest of his career.
Mission accomplished in the consistency department?
"To a degree, I did,'' Newton said. "But it always has to be a constant though, and being thorough with my craft for a full four quarters and not just one half. With that in the back of my mind, I felt as if they whole offense played as consistent as we did the whole year up to this point.''
It began with Newton. He was sacked only once after being sacked seven times a week ago at Arizona because he got rid of the ball faster and made better decisions on running away from pressure.
He also got a lot of help from his receivers, who held onto balls that a week ago they dropped at a time when the Panthers could have taken charge.
The coaching staff helped too with an aggressive passing game to get Newton in an early rhythm, and by showing confidence in the team to gamble on fourth-and-one twice on Carolina's first series.
As tight end
Greg Olsen
reminded, it doesn't all begin or end with one player -- meaning Newton.
But when Newton plays with the type of methodical efficiency he did on Sunday, it makes all look good.
"With the way Cam is playing right now with some confidence is important,'' Rivera said. "We have to carry that on to next week. We can't have a good week, a bad week, a good week, a bad week.
"We have to be a consistent football team. That's the bottom line.''
October, 13, 2013
10/13/13
6:35
PM ET
MINNEAPOLIS --
Carolina Panthers
safety
Mike Mitchell
felt sympathy for what
Adrian Peterson
was going through with the death of Peterson's 2-year-old son.
Mitchell felt so much that he quoted a Bible verse, Jeremiah 29:11, to the Minnesota running back during the first drive of Sunday's
35-10 victory
over the Vikings.
If you aren't familiar, it reads: "'For I know the plans I have for you,' declares the Lord, 'plans to prosper you and not to harm you, plans to give you hope and a future.'"
[+] Enlarge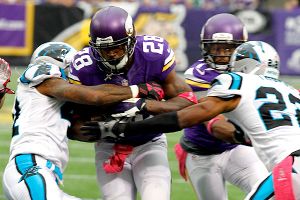 AP Photo/Ann HeisenfeltThe Panthers limited Adrian Peterson to just 62 yards, the fewest he's had in a game this season.
Then Mitchell went out and had two interceptions and helped the league's third-ranked defense hold the league's best back to a season-low 62 yards, his lowest total since the second game last season.
And 31 of those yards came on one run after the game was well out of hand.
So while sympathetic to Peterson, the Panthers weren't generous. They couldn't be, and coach Ron Rivera let them know that during a Saturday night team meeting in which he reminded them of their job.
"The NFL is a fraternity," Mitchell said. "So when one guy has a tragedy like that, we all kind of feel it in a way. Coach Rivera addressed that. [He said] at the end of the day ... we still have our destiny. We still have our goals that we have to get accomplished.
"It's not that we're in any way disrespectful to Adrian. We felt that. We all feel that. ... But at the same time we came out here with the mindset we need to kick their butt to keep ourselves alive, our season alive."
The Panthers (2-3) did that, and once again it was the defense that set the tone with Mitchell's interception on Minnesota's opening drive.
They held the Vikings to 290 yards of total offense. They didn't surrender a touchdown until
Matt Cassel
connected on 23-yard pass to tight end
Kyle Rudolph
with a minute remaining and most of the home fans already in the parking lot.
It all began with shutting down Peterson, whose son died on Friday in Sioux Falls, S.D., from an alleged aggravated assault.
"It was right on time," Mitchell said of Rivera's speech. "It was just what we needed. He's a great leader, and that's what great leaders do. You saw by the way we played that's what we needed to hear."
The Panthers were relentless. Defensive coordinator Sean McDermott found countless ways to get eight players at the line to shut Peterson down without giving up too much in the secondary.
"Listen," said linebacker
Thomas Davis
, who had two sacks. "He made the decision to play on this game. For us, it was all about going out and competing and playing whoever was on the field. That was a decision [Peterson] had to make going through this situation. He decided to play, so we played as well."
That didn't mean they didn't care.
"As a player and as a father, if something like that was to happen to one of my kids I couldn't imagine playing in a football game," Davis said. "Some way, he found the will to go out and play. For me as a father, I can't imagine going through something like that."
That's why Rivera made the speech. He wanted to make sure there were no distractions, that the Panthers were aware the Vikings (1-4) could rally around Peterson as the
Kansas City Chiefs
did last season after linebacker
Jovan Belcher
shot himself in the head at the team's training facility the day before they faced Carolina.
The Chiefs, who had lost 10 of their first 11 games, won that game 27-21.
"It was more or less a speech as fathers, as men, we all feel for him," Davis said of Peterson. "But at the same time the game is going to played, and we've got to go out and play. That's what we had to do."
That's what they did.
October, 13, 2013
10/13/13
4:02
PM ET
MINNEAPOLIS -- A few thoughts on the
Minnesota Vikings
'
35-10 loss
to the
Carolina Panthers
at Mall of America Field.

What it means:
The Vikings are now 1-4, and after a tumultuous week that included a quarterback change and a tragic turn of events for
Adrian Peterson
, the team looked as lost and as listless as it has all season. Injuries didn't help -- the Vikings lost
Desmond Bishop
,
Xavier Rhodes
and
Harrison Smith
to knee, ankle and foot injuries, respectively -- but
Matt Cassel
squandered the goodwill he'd created two weeks ago in London and might have paved the way for
Josh Freeman
to take over at quarterback. That might be all Vikings fans have to look forward to at this point.
Stock watch:
Falling -- Vikings' defense. It couldn't have been much lower, for a team that was 30th in the league heading into Sunday. But Minnesota let a 1-3 team control the game from the beginning, and spent nearly 36 minutes on the field.
Josh Robinson
got burned on a 79-yard touchdown just after halftime that looked like a coverage mix-up with Rhodes, and the Vikings briefly pulled him from their nickel package before Rhodes' injury forced them to put him back. The defensive line couldn't sustain pressure on
Cam Newton
, and as much intrigue as there is about the Vikings' QB situation at the moment, their defensive issues -- particularly the ones in the secondary -- might be a bigger concern.
Peterson quiet:
The reigning NFL MVP was on the field just two days after his 2-year-old son died from injuries sustained in an alleged aggravated assault in South Dakota, but Peterson was held in check by the league's No. 3 defense. He had just 10 carries -- which tied for the fifth fewest of his career -- and ran for 62 yards, catching another three passes for 21 yards. Peterson had just four carries in the first quarter that went for minus-1 yards.
Cassel struggles:
Two weeks after leading the Vikings to their only victory of the season, Cassel threw two interceptions in the loss to the Panthers, overshooting receivers on both picks, and couldn't lead the Vikings on a touchdown drive until he connected with
Kyle Rudolph
in the final two minutes. He completed 32 of 44 passes for 241 yards, but was forced to throw 25 times in the second half with the Vikings in a big hole. His turnovers were the major issue, and it will be interesting to see whether the Vikings try to get Freeman ready for next Monday's game against the
New York Giants
.
What's next:
The Vikings (1-4) travel to New Jersey for a "Monday Night Football" matchup against the 0-6 New York Giants.
October, 13, 2013
10/13/13
3:59
PM ET
MINNEAPOLIS -- A few thoughts on the
Carolina Panthers
'
35-10 victory
over the
Minnesota Vikings
:

What it means:
This means the Panthers and quarterback
Cam Newton
are really good at taking advantage of bad defenses (first beating the Giants 38-0, and now beating the No. 30 Vikings). It also means the Panthers (2-3) have a chance to improve to .500 next week, something they haven't been after six games in more than four seasons. It may even mean that coach Ron Rivera is right when he says this team is close to playing winning football. The key? Can Carolina do it consistently? Stay tuned.
Stock watch:
Newton talked about needing to be more consistent. On Sunday, he put action behind his words to the tune of 20-for-26 for 242 yards and three touchdowns and a career-best passer rating of 143.4. His previous best was 142.4 in 2011 against Tampa Bay. Newton started fast, going 10-for-14 for 85 yards and two touchdowns. But more impressive was how he started the second half, where he had been inconsistent in Carolina's three losses. He was 8-for-9 for 134 yards and a touchdown (155.6 rating).
Stock watch II:
Linebacker
Thomas Davis
had one sack in the first four games. He had two on Sunday.
Riverboat gambler:
Rivera took a lot of heat when he didn't gamble on fourth-and-1 from the Buffalo 20 in Week 2. He's been fearless since, going for it five times and converting on three of them. Going for it was key in giving the Panthers a 7-0 lead on their first drive Sunday. They converted twice, including a 2-yard touchdown pass to
Steve Smith
.
No relief for A.P.:
It was a heartbreaking week off the field for Minnesota running back
Adrian Peterson
, whose 2-year-old son died Friday. On Sunday, Carolina's defense held Petersonto 28 yards on seven carries in the first half. He broke a 31-yarder in the third quarter, but otherwise was kept in check.
Stewart watch:
Running back
Jonathan Stewart
is eligible to come off the physically unable to perform list after this game, and by coincidence the Panthers haven't put guard
Amini Silatolu
(ACL) on injured reserve yet. Don't be surprised if Stewart takes that spot this week.
What's next:
The Panthers return home after consecutive road games to face the
St. Louis Rams
. Carolina leads the series 11-8 and has won four of the past five times the teams have met.
NFL SCOREBOARD
Sunday, 2/2
WEEKLY LEADERS