NFL Nation:

2013 Week 6 CIN at BUF
October, 13, 2013
10/13/13
10:15
PM ET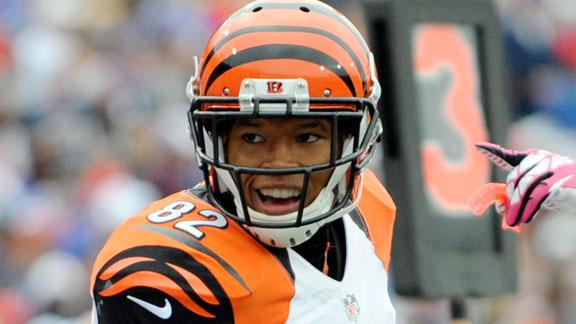 .
ORCHARD PARK, N.Y. -- First, it was the fourth-down fumble. Next came the immaculate interception. Now for the Who Dey Nation, it's all about the perfectly placed punt return.
When the
Cincinnati Bengals
have needed a key, late-game play in the clutch this season, they mostly have gotten it. Save for linebacker
Rey Maualuga
's personal foul meltdown at the end of the season opener in Chicago, the Bengals have had just the right big play when they have needed it the most.
As the wins continue to pile up, the Bengals are beginning to show a unique flair for drama. Of their four victories, three -- the last three -- have come when the seconds of regulation have either been expiring or have completely ticked away. Sunday's was of the latter variety.
For the first time since 2009, the Bengals went to overtime. Like that instance, they won on the road, beating Buffalo,
27-24
.
Mike Nugent
's game-winning 43-yard field goal ended up accomplishing what probably should have been done some seven minutes prior.
"We knew we shouldn't be in overtime. It was a time where we knew we should have won the game in regular time," Bengals running back
Giovani Bernard
said, citing Cincinnati's blown 14-point fourth-quarter lead.
Whether the Bengals like it or not, this is their identity. They are becoming
that
team. You know, the one that can play well at the start, sloppy in the middle and pretty at the very finish. The one that for whatever reason stumbles toward the finish line, and somehow trips over it just in time. The Cardiac Cats are alive and well.
[+] Enlarge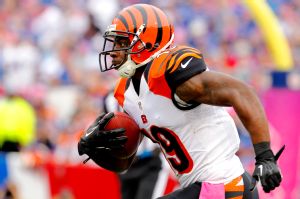 Timothy T. Ludwig/USA TODAY SportsBrandon Tate returned a punt 29 yards in overtime to set up the game-winning points.
"You hate to have to do it this way, but I guess that's what we're stuck doing right now," coach Marvin Lewis said.
Like
Andy Dalton
said, "a win is a win." In this league, you take what you can get.
"Every game is tough," added Cincinnati cornerback
Leon Hall
. "We have the mindset that every game is going to be close. People on the outside, maybe they thought we should have beaten them by three touchdowns, but it's never like that. You don't get those games like that where people get blown out in the NFL."
But Sunday's game sure was heading that way.
With about 11 minutes remaining, the Bengals went up 24-10 and looked to be in full control against a quarterback who, until last Monday, was on the Bills' practice squad. As the momentum had teetered back onto their side, it seemed obvious the Bengals were going to not only win the game by double-digits, but that they would do so in rout fashion.
But then, the little-known quarterback making his second career start came alive. Breakdowns in Bengals coverage led to a few big plays and before you knew it, a 22-yard and a 40-yard touchdown later, Buffalo tied the game with 1:08 left in regulation.
The game should have been over. Everyone on the Bengals sideline knew that. All of Ralph Wilson Stadium knew that.
"Winning is tough," Lewis said. "We had to chisel at it. The thing we have to understand is when we play, we have to take away the strength of the team and make them work into the weakness. I don't think we did that thoroughly enough [Sunday]."
That's why, when continuing to address the Bills' comeback, Lewis added: "We'll keep coaching hard and trying to prevent this."
Still, as he also pointed out, there were positives from the win. Among them was the fact that yet again, his team proved it could win a game in the clutch.
Against Green Bay three weeks ago, the Bengals won on a fourth-down fumble recovery by
Terence Newman
. After defensive end
Michael Johnson
forced the ball loose with his helmet on the late-game defensive stand, safety
Reggie Nelson
scooped the ball and started to run before he lost it, too. Newman grabbed Nelson's fumble and sprinted in for the go-ahead score. One defensive series later, Johnson batted away an
Aaron Rodgers
fourth-down pass that effectively ended the game.
Cincinnati won, 34-30.
Last week, against New England, the Bengals battled through a sudden rainstorm that hit Paul Brown Stadium with less than four minutes remaining. As
Tom Brady
threw his last pass in the monsoon-like conditions, cornerback
Adam Jones
had the presence of mind to tip what he could see of the ball into the air. As he fell and landed on the ground, he caught the interception, despite conditions that weren't favorable to do so. The play happened with 16 seconds on the game clock, and effectively iced that contest.
Cincinnati won, 13-6.
On Sunday, it was
Brandon Tate
's 29-yard punt return in overtime that set up Nugent's game-winning kick.
Even in the season opener, one the Bengals lost by three, Cincinnati had a chance to drive for a game-tying or game-winning score had it not been for Maualuga's personal foul. The infraction came just after a third-down stop. Instead of the Bears punting to the timeout-less Bengals, they got a first down and went through kneeldowns until time had expired.
These are Cincinnati's Cardiac Cats. And while that nickname might not be the most endearing, it shouldn't be taken as an insult. So far, that erratic, heart-pounding style of play has turned out to be a good thing.
October, 13, 2013
10/13/13
9:11
PM ET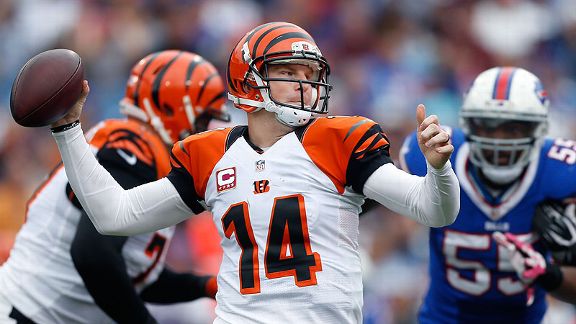 AP Photo/Gary WiepertAndy Dalton put distractions behind him and put up his first 300-yard passing day since last season.
ORCHARD PARK, N.Y. -- An NFL quarterback's worst enemy often resides in his own mind.
Shaped and framed by so many outside factors, it can be difficult for even the most accomplished signal-callers to distinguish fact from fiction and determine their own reality. From friends to family to coaches to teammates to media, a host of influences can raise doubt and cause unnecessary concern.
Maybe it's best those guys live in a bunker for six days and only come out on Sundays to play.
Cincinnati Bengals
quarterback
Andy Dalton
is the poster child for players who need to be airlifted to the middle of nowhere every Monday and come out of hiding just in time to get under center Sunday afternoon. The more he isolates himself from the rest of the world, the more he trusts himself, the brighter the future can be for both Dalton and the Bengals.
"As long as he doesn't worry about what everybody else says about him, he's fine," coach Marvin Lewis said.
Dalton must have had blinders around his eyes and earmuffs strapped to his head for at least the last three days. The way he played in Sunday's
27-24 overtime win
over the
Buffalo Bills
certainly seemed to suggest that. Focused completely on himself and his offense, Dalton hooked up with eight different receivers en route to throwing for 337 yards -- the most for him since Week 6 last season.
Even though he did have one interception, Dalton also threw for three touchdowns, and he led a drive that tilted the field-position scales in the Cincinnati's favor in overtime. The Bengals entered Buffalo territory before punting to pin the Bills deep in their own field. The Bills went three-and-out, and after after
Brandon Tate
's 29-yard punt return and a couple of Bengals runs,
Mike Nugent
nailed the game-winning 43-yard field goal.
"I felt good. I felt like I was in a good rhythm out there," Dalton said. "I was seeing everything and the ball was coming off my hand well. Games like this are fun."
There wasn't much fun for the quarterback to have four days earlier, though, when a report surfaced claiming one of his teammates challenged his leadership skills and wasn't sure if he could do enough to lead the Bengals to postseason glory.
In a Pro Football Talk story titled "
Adam Jones
not 100 percent convinced Andy Dalton can lead Bengals to Super Bowl," Jones is quoted as having said he felt Dalton needed to "step up vocally and lead the team."
Jones' comments came from a phone interview with NBC Sports' Erik Kuselias. Once the full interview was added to the story, it gave a little more context to how Jones specifically felt about his quarterback.
Asked by Kuselias if he was convinced Dalton could lead the Bengals to the Lombardi Trophy, Jones said, "I'm convinced. I'm 99 percent convinced Andy can take us to the Super Bowl." He went on to cite his belief that Dalton needed to be more vocal, and added that the pieces the Bengals have around the quarterback do make a long postseason run a distinct possibility.
But don't worry, Bengals fans. There is no brewing rift between Dalton and Jones.
"That's the media twisting things, and for Adam, he is a guy who has my back 100 percent," Dalton said. "That's where you just can't worry about the stuff that's written. It's easy to take one thing out of context and twist and turn and say whatever you want, but all that matters is that we are 4-2 right now, we are winning games and we have to keep getting better."
What else matters? The fact that Cincinnati's offense, two games removed from one of its worst showings of the three-year Dalton Era, finally got in sync again. After sharing the load among their running backs and receivers last week, the Bengals split pass-catching duties and rushing responsibilities in a similar fashion this week. While Dalton attempted 40 passes, the Bengals ran the ball 41 times.
For a unit that heard the groans two weeks ago about its stagnant scheme, Cincinnati's offensive players were glad to answer with a such a strong showing.
"Not just the critics, but ourselves, too," receiver
A.J. Green
said. "Just to come out here and to be able to move the ball the way we did was another boost."
Against New England last week, Dalton targeted his running backs and tight ends 15 times and his receivers 12. Against Buffalo, the bulk of his passes went to his receivers -- 24 of his 40 throws went in their direction. Many of Dalton's passes, particularly in the first half, were short screens that resulted in long gains by skill players who used their athleticism to break away for big gains.
Marvin Jones
' 42-yard reception, Green's 54-yard reception and
Giovani Bernard
's 23-yard catch were mostly products of yards after the catch.
"We have the receivers where we're dynamic," Jones said. "All of us, when we get the ball in our hands, we're able to take it the distance and take short passes and make them long. That's what we want to be."
That's why Jones technically was right. The personnel is there. The skill, also, clearly is there for Dalton.
What the Bengals' future comes down to is Dalton doing one thing: ignoring everyone and trusting himself.
He seems well on his way.
"Everybody can say whatever they want, but everybody in the organization knows what is really going on," Dalton said. "It was good to come out and play well, not only so that there will hopefully be some positive stuff written about us, but just for this team, just to get a win."
Well, maybe not. Good or bad, don't read what's written about you or your team, Andy.
October, 13, 2013
10/13/13
8:20
PM ET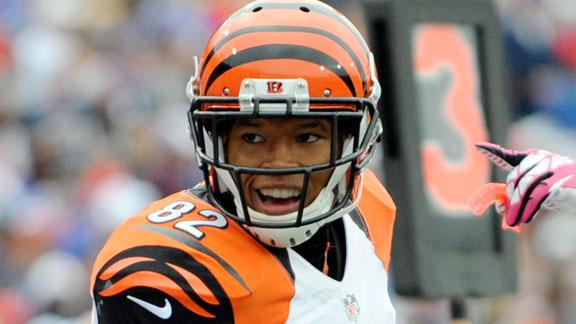 ORCHARD PARK, N.Y. -- Quarterback
Thad Lewis
held up his end of the bargain. The
Buffalo Bills
' defense didn't.
That's one way to look at the Bills'
27-24 overtime loss
to the
Cincinnati Bengals
on Sunday.
Lewis -- coming up from the practice squad to start in place of an injured
EJ Manuel
-- dazzled on his first drive, completing a 47-yard pass to
T.J. Graham
before scrambling for a 3-yard touchdown.
But as
Lewis steadied the Bills' offense
, the defense struggled to contain
Andy Dalton
and the Bengals attack. Specifically, the Bengals were able to break four plays of 25 yards or more in the first half, mostly on catch-and-runs.
The size of
A.J. Green
and the shiftiness of
Marvin Jones
, two of the Bengals' top receivers, proved difficult for the Bills to match. Each player had a touchdown grab, while running back Giovani Bernard juked several Bills defenders en route to his own score.
Buffalo's defense allowed 284 yards in the first half, a total they gave up only twice last season, in losses to the
Seattle Seahawks
and
San Francisco 49ers
.
The Bills would rather not look back towards last season's defensive unit, which was dismal. But despite gains made under defensive coordinator Mike Pettine this season, it's hard not to draw the comparison.
"It was very disappointing," safety
Jairus Byrd
said. "We knew, based on the situation that we were in, we were going to rely on our defense, and we didn't answer the call."
Byrd, who did not start but was rotated into the secondary, played in his first game this season. Same for cornerback
Stephon Gilmore
, who played with a large club on his left hand that limited his tackling ability.
"I give him a lot of credit," coach Doug Marrone said of Gilmore. "I think it's a very tough situation. Here is a guy that wants to come back, wants to get out there. Obviously he's not as comfortable as he wants to be."
Among healthier players, the Bills defense also struggled, especially early in the game. Defensive end
Mario Williams
' only contribution to the stat sheet came on a half-sack in the third quarter.
"They disguised it pretty well as [far as] quick passes, dinking and dunking," Williams said. "They did something a little different from what was expected on our defensive side."
The encouraging sign for the Bills' defense was that, after the Bengals did not punt through three quarters, the Bills forced Cincinnati to punt on their final five possessions prior to their game-winning field goal.
"We definitely put ourselves in a hole," Williams said. "But then even at the end of the game we still had a chance to win. So I wouldn't say it's discouraging, especially the way we came back."
October, 13, 2013
10/13/13
7:25
PM ET
ORCHARD PARK, N.Y. -- When the
Buffalo Bills
decided to promote
Thad Lewis
from the practice squad and start him Sunday, it was easy to write-off the former Duke quarterback.
But
Cincinnati Bengals
defensive end
Michael Johnson
, who played against Lewis in college, warned his teammates against overlooking the Bills' newest signal caller.
"I told them he wasn't a pushover," Johnson said. "[There's] a reason why he's still in the league. [There's] a reason why he was able to do what he did in college."
[+] Enlarge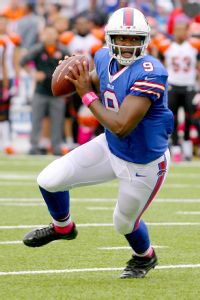 Rick Stewart/Getty ImagesThad Lewis passed for 216 yards and two touchdowns in his first start for the Bills.
Lewis completed 19 of 32 passes for 216 yards, two touchdowns, and no interceptions in a
27-24 overtime loss
to the Bengals.
His first pass of the game -- a 47-yard completion to
T.J. Graham
-- was the Bills' longest play of the season. Soon after, Lewis scrambled up the middle for a 3-yard touchdown.
"It felt great," he said. "Coming into the game you've got to be confident in this league. If I was nervous in any way, shape, or form, Cincinnati would've ate us up. That first pass let the defensive backs know that our receivers were coming to play."
The rest of Lewis' day wasn't spectacular, but all things considered -- including being without top receiver
Steve Johnson
-- it was a solid performance by Lewis in just his second career start.
However, Lewis' status going forward is unclear. He was limping in the locker room after the game, wearing a walking boot on his right foot. Lewis said his injury is "just a sprain" and that X-rays came back negative.
The Bills did not appear to change their offense much in the absence of rookie
EJ Manuel
, who started the first five games of the season. With Lewis at the helm, Buffalo ran a heavy dose of the zone read, with Lewis running seven times for 17 yards.
One of those runs, early in the third quarter, was Lewis' low point of the game. He was hit by defensive end
Carlos Dunlap
and fumbled. The Bengals recovered and marched 53 yards for a touchdown.
"I thought he was trying to do too much," coach Doug Marrone said. "He just has to put the ball away and not turn the ball over. That would be the one thing I was disappointed in."
Lewis was also sacked five times and wasn't able to connect with
Chris Hogan
on a third-and-6 pass in overtime, which set-up the game-winning Bengals field goal.
"It's never good when you don't come out with a 'W'," Lewis said.
For the Bills, though, they have to be satisfied with Lewis' performance. All eyes now turn to his injury, which leaves his status up in the air for the moment.
"I'm sure if he gets his opportunities like he is now, he's going to take advantage of them," Johnson said. "He's going to be pretty tough to deal with."
October, 13, 2013
10/13/13
5:37
PM ET
ORCHARD PARK, N.Y. -- Observed in the locker room after the
Cincinnati Bengals
'
27-24 victory
over the
Buffalo Bills
:

Lewis
They'll take it:
In Marvin Lewis' eyes, a win is a win. But the Bengals' coach admitted just after
Mike Nugent
's winning 43-yard field goal that he wished his team would start claiming its W's slightly differently. Cincinnati saw a 14-point fourth-quarter lead evaporate as Buffalo tied the game by the end of regulation. "You hate to have to do it this way, but that's what we're stuck doing right now," Lewis said. "We'll just keep coaching hard and try to prevent this."
Michigan man's O-H-I-O:
How about this for brotherhood? Just before the field goal by Nugent, an Ohio State product, fellow Bengals and Michigan product
Leon Hall
yelled to Nugent, "O-H ..." Nugent's response, according to Hall: "I-O." The spelling of the state's name is an iconic Ohio State tradition. Michigan, of course, is Ohio State's rival. Hall said "O-H" again in the locker room, but Nugent didn't respond.
Respecting Thad:
Bengals defensive end and former Georgia Tech standout
Michael Johnson
said he warned his teammates to respect Bills quarterback
Thad Lewis
, who was signed off the practice squad. He faced Lewis, who went to Duke, three times in college. "Thad's a good player. ... I'm sure when he gets his opportunities, he's going to take advantage of them."
October, 13, 2013
10/13/13
4:26
PM ET
ORCHARD PARK, N.Y. -- A few thoughts on the
Cincinnati Bengals
'
27-24 overtime win
over the
Buffalo Bills
:
What it means:
With their overtime win over the Bills, the Bengals have put together back-to-back wins for only the second time this season. While they failed to completely shut down the Bills after holding a 14-point fourth-quarter lead, they did earn yet another dramatic victory when
Mike Nugent
drilled a 43-yard game-winning field goal. It was Nugent's second game-winning field goal from 43 yards against the Bills.

Stock watch:
Bengals' passing game. Two weeks ago, the word "atrocious" might have been the most accurate way to describe the Bengals' passing woes in a 17-6 loss to Cleveland. The effort made some in the fan base call for offensive coordinator Jay Gruden to lose his job and for quarterback
Andy Dalton
to be replaced. Since then, though, the masses have tamed a bit. Cincinnati has showcased a more balanced scheme the past two games that features a re-emerging passing attack. After throwing for 212 yards and completing 73 percent of his passes against New England last week, Dalton threw for 337 yards and completed 65 percent of his throws Sunday. He added three touchdowns and an interception. Many of his early passes were the short screens that his athletic receivers and running backs turned into long gains.
A.J. Green
,
Giovani Bernard
and
Marvin Jones
all had receptions longer than 40 yards.
Flag magnet?
Bengals linebacker
Vontaze Burfict
seemed to be targeted by officials, drawing three 15-yard penalties from the crew headed by Ed Hochuli. Each came in the first half. He was flagged for unsportsmanlike conduct after coming in late on a tackle to stop a run by Bills quarterback
Thad Lewis
, drew a personal foul on a tackle attempt on Bills receiver
T.J. Graham
, and was charged with a face mask penalty at the end of another tackle. The unsportsmanlike call put the Bills inside the 10. Two plays later, they scored. Burfict has now been penalized six times this season. His only other 15-yard penalty came three weeks ago, when he drew an unnecessary roughness call against the Packers. It's a tough balance Burfict has to walk, though. He can't calm his play too much. After all, he is Cincinnati's leading tackler and is around most every play.
What's next:
Cincinnati's October road tour continues next Sunday when it travels to Detroit. The Bengals (4-2) are in the middle of a month that will see them play four out of six games on the road. They lead the all-time series against the Lions 7-3.
October, 13, 2013
10/13/13
4:24
PM ET
ORCHARD PARK, N.Y. -- A few thoughts on the
Buffalo Bills
'
27-24 overtime loss
to the
Cincinnati Bengals
.

What it means:
The Bills couldn't overcome a rocky start by their defense, which allowed 284 yards in the first half. Buffalo got a solid performance from
Thad Lewis
, starting in place of an injured
EJ Manuel
, but the offense sputtered in overtime. The Bengals won the field position battle in the extra frame, winning the game on a 43-yard
Mike Nugent
field goal. Another tough home loss for the Bills, who dropped a similar game in Week 1 to the
New England Patriots
.
Lewis proves capable:
Lewis, making his second career start, wasn't spectacular against a stout Bengals defense, but more than proved he should keep the job going forward. Lewis' first pass was a 47-yard completion, the Bills' longest offensive play this season, and he capped the opening drive with a 3-yard touchdown run. Lewis finished 19-of-32 for 216 yards, two touchdowns and no interceptions, better than most of Manuel's performances this season. On the negative end, Lewis fumbled on a third-quarter scramble, which the Bengals turned into a touchdown.
Stock watch:
Rising -- the punt unit (in regulation). The Bills swapped out second-year punter
Shawn Powell
for veteran
Brian Moorman
last week, a move that shored up a reeling punt unit. Moorman averaged 47 net yards on his four punts in regulation, two of which were downed inside the Bengals' 5-yard line. The longtime Bills punter received loud cheers when he stepped onto the field. However, Moorman's 51-yard fourth-quarter punt, with the Bills backed up against their end zone, was returned 29 yards by
Brandon Tate
, setting up the game-winning field goal.
Gilmore, Byrd quiet in returns:
The Bills had two of their top defenders back, but neither made an impact in the game. Cornerback
Stephon Gilmore
played with a large club covering his injured left hand and struggled at times tackling. He rotated at cornerback with
Aaron Williams
. Meanwhile, safety
Jairus Byrd
was limited in his first game this season. Byrd served as the third safety behind
Da'Norris Searcy
and
Jim Leonhard
, who came away with the Bills' only interception of the game.
What's next:
The Bills fall to 2-4 as they prepare for back-to-back road trips to face the
Miami Dolphins
and
New Orleans Saints
to close out the first half of their season. After Sunday, the Bills will play just three more times at Ralph Wilson Stadium this season, and only twice before Dec. 22.

NFL SCOREBOARD
Thursday, 8/21
Friday, 8/22
Saturday, 8/23
Sunday, 8/24
WEEKLY LEADERS