NFL Nation:

2013 Week 6 DET at CLE
October, 13, 2013
10/13/13
9:47
PM ET
A lot of factors went into the
Cleveland Browns
blowing a 17-7 halftime lead in a 31-17 loss to the
Detroit Lions
.
Brandon Weeden
had a Benny Hill moment, and the Browns' defense did not adjust to Detroit's adjustment.
But the offense contributed as well, gaining all of 6 yards in the third quarter and totaling one first down the first 24 minutes of the second half.
[+] Enlarge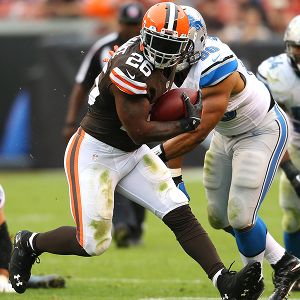 Ron Schwane/USA TODAY SportsBrowns running back Willis McGahee had just two carries in the second half against the Lions.
Cleveland's third-quarter drives went this way:
Three plays, 9 yards and punt.

Three plays, 6 yards (5 on a Detroit penalty) and punt.

Three plays with a sack to end the quarter, and a punt on the first play of the fourth.
The final 15 minutes were not a lot prettier. When the Browns followed their first first down of the half with an intentional grounding penalty, Weeden made a nice throw to the sidelines to
Greg Little
, who came very close to making a leaping catch but was ruled out of bounds. Coach Rob Chudzinski challenged the call, but referee Walt Coleman did not overrule.
Detroit drove for the go-ahead touchdown after the Browns punt, and the Browns' next possession went from the Cleveland 16 to the Detroit 44 before Weeden threw the backhand flip heard 'round Northeast Ohio.
"Our energy wasn't there," said tight end
Jordan Cameron
. "It was just one of those things where we were flat the second half."
Interesting.
The Browns also had some interesting play calling in the second half. They ran once on each of the first three possessions, and did not call a run in the fourth quarter until there was just 1:17 left in the game.
Down 21-17, the Browns called four passes in a row.
Down 24-17, they called five passes in a row.
The argument could be made that the Browns did not have a running game to rely on, but down four and down seven are not panic situations. Cleveland ran for 115 yards on 16 carries in the first half -- 45 on a reverse by
Travis Benjamin
-- but ran just five times for 11 yards in the second half.
The Browns weren't getting much of anything done offensively, so that may explain some of the numbers. But the Browns combined a scoreless, 145-yard second half effort with a defense that gave up 24 points and 257 yards. Little wonder the score was what it was.
October, 13, 2013
10/13/13
8:15
PM ET
CLEVELAND --
Matthew Stafford
spiked the ball toward midfield, taking a 5-yard penalty but none of that mattered. It was a type of message sent, a type of emotion needed.
The
Detroit Lions
were not playing well, were slogging through a sometimes-rainy, sometimes-not overcast day in Cleveland. And then on the first drive of the second half, Stafford slammed down the ball.
[+] Enlarge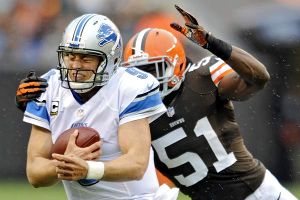 David Richard/AP PhotoQB Matthew Stafford and the Lions are now 4-2 overall after a Week 6 win at Cleveland.
And with it, he showed enough emotion to help get the Lions' attention.
"I knew it was going to take something to spark people," Stafford said later. "That wasn't false, man. I was happy, number one, to get the first down and number two to be down on the ground safe after a run.
"I just wanted to get guys going. It was time to go."
Motivation came from all over Sunday for Detroit during its
31-17 win
against Cleveland. It came from Stafford. It came from the rest of the Lions seeing a not-fully-healthy
Calvin Johnson
try to play anyway.
It came from linebacker
Stephen Tulloch
giving a speech to the Lions' coaches and players.
"He brought the entire team up, including the coaches," safety
Louis Delmas
said. "Everybody was in that circle and everybody in that circle knew and felt that we had to do this for Stephen Tulloch."
They needed to do it for more than Tulloch, though.
Detroit did not play particularly well in the first half Sunday. The offense stalled. The defense allowed Cleveland to rush for more yards in less than the entirety of the first half then the Browns had run for in any game this season.
There were dropped passes, missed tackles and receivers allowed to roam free. It was a game, frankly, that Detroit looked like it would lose. It was not playing well. It allowed the Browns to score 17 points in the second quarter and their star receiver was not fully healthy.
It was a game in many ways set up for Detroit to falter. For the Lions to drop, heading into a two-game homestand on a two-game losing streak. Then came the speeches and the spikes, the adjustments -- including making sure running back
Reggie Bush
was more involved in the offense -- and the return of a playmaking offense that scored 24 second-half points and an opportunistic defense that forced two interceptions.
And that two-game homestand against Cincinnati and Dallas could provide an opportunity to solidify the Lions entering the second half of the season.
Games like Sunday are games good teams win. Games potential playoff teams win. When things aren't going well, when the precision is off, when players are hurt, you find a way anyway.
That's exactly what Detroit did. They rallied. The offense found ways to get Bush and tight end
Joseph Fauria
involved,
making plays
. The defense shut Cleveland out in the second half, hitting Weeden and closing off the running game.
It's cliche to say they believed in themselves and seeing each facet of the game do well inspires the others -- offense, defense and special teams -- but that's part of what happened.
"I think there's an element to that," Detroit coach Jim Schwartz said. "We knew that it wasn't just going to be the offense playing well in the second half that was going to get us back in the game.
"We knew that we'd have to hit on all three phases and I think we did."
And now it leads to this. More than a third of the way through the season, Detroit is firmly in the NFC playoff picture. The Lions have as many road wins -- two -- as they did all of last season.
But there's a confidence about Detroit now. The Lions can play average for most of a game, and they have done that against Minnesota and Cleveland now, and still win a game. Still win a game somewhat convincingly, too.
"I'll tell you what, we're 4-2, getting them W's," defensive end
Willie Young
said. "That's all that matters at the end of the day. All the rest of it, everything else is history at this point.
"Everything else is history."
A history and a future that could become pretty interesting for the Detroit Lions.
October, 13, 2013
10/13/13
7:25
PM ET
CLEVELAND -- He gas pedaled, windmilled and, finally, Cabbage Patched before raising his right arm and holding up three fingers.
The touchdown-catching, dance-creating, fun-loving world of
Detroit Lions
rookie tight end
Joseph Fauria
continued with one finger for every pass he was thrown on Sunday and one for every touchdown he scored in a 31-17 win over the
Cleveland Browns
.
And at this point, it is tough to say what he'll do next.
[+] Enlarge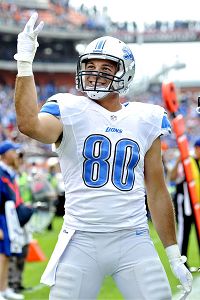 AP Photo/David RichardJoseph Fauria notched three scores in Detroits win over Cleveland on Sunday.
Simply, whenever quarterback
Matthew Stafford
throws to Fauria, he scores. He has at least one touchdown in every game he has been officially targeted. Sunday was a bit different than most.
He did something that hadn't been done in his lifetime or the lifetime of his uncle, former NFL tight end
Christian Fauria
: He caught three touchdown passes in a game for the Lions, something a tight end hasn't done since the AFL-NFL merger in 1970.
It happens because he is a matchup issue for every cornerback and safety in the league.
"Well, first of all, he's tall as hell," Detroit coach Jim Schwartz said. "But there's a lot of tall guys that aren't good football players. The thing that separates Joe and has allowed him to make those plays is he's really, really strong. Has really strong hands.
"We saw that early on in training camp. He had some plays that he made that there were collisions and he had to leave his feet to make catches and he held it when he landed on the ground and he took a hit. That's carried over for him."
Cleveland saw that Sunday. On his first touchdown, the one that led to the gas pedal, he leapt up over Browns safety
Johnson Bademosi
, almost posting him up, caught the ball and landed for the touchdown.
Second touchdown, the windmill dunk over the goalpost, was similar. Fauria caught the ball in traffic with a smaller jump and took a hit from cornerback
Buster Skrine
as he scored.
Third touchdown, the Cabbage Patch, he had to adjust his body mid-air over
T.J. Ward
to make the play.
"Being a rookie and being young, you have to work your way up and earn that trust," Fauria said. "I just talked to the quarterbacks this past week and they are just starting to get used to how I run routes.
"That trust I have with Matthew is tremendous and that's the reason why everything happened today."
The chemistry and trust with Stafford is something Fauria has mentioned often in his first two months as a pro. Stafford said it took some time to adjust to throwing to the 6-foot-7 Fauria because a ball doesn't have to be as precise around him.
Fauria recognized he needed to have consistency. He had to show the ability to run routes correctly and with precision. That was how he would be able to go from merely a large, dancing red zone target to a full-fledged tight end.
In six games he has nine official targets, seven catches, five touchdowns, four different dances and one shoutout from Jimmy Fallon.
"Well, we always wonder what he's going to do when he gets in the end zone," wide receiver
Kris Durham
said. "He had a great day. Three touchdowns? That's a career day for anybody."
Then
Tony Scheffler
got hurt last week against Green Bay and Detroit had little choice but to use Fauria more often.
It ended up with three touchdowns, two dances, one goal post dunk and unlimited possibilities, both on the field and in the end zone, for what could come next.
October, 13, 2013
10/13/13
7:23
PM ET
A lot of
Cleveland Browns
players said they didn't see
Brandon Weeden
's backhand, underhand flip that resulted in a fourth-quarter interception.
[+] Enlarge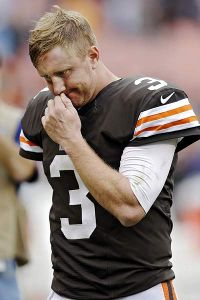 Tony Dejak/AP PhotoCleveland Browns QB Brandon Weeden walks off the field looking dejected following a 31-17 loss to the Detroit Lions on Sunday.
They might want to prepare, because the next time they see it outside the team's film room it will play to the tune of "Yakety Sax."
Ya-da, da-da-da-da ...
In a game in which Weeden could have made a forward move to reclaim his spot as the Browns quarterback now and in the future, he wound up with a play for the lowlight reel. For years to come.
"It was a boneheaded play," Weeden said.
Credit him for candor.
Not only did it kill the Browns' fourth-quarter drive when they had a chance to tie the game, it raised the semi-dormant questions about field awareness and smarts in clutch performances that have dogged Weeden this season. It was the kind of play that could cause a team to wonder about its quarterback.
"It's on me," Weeden said of the high flip that was intercepted by
DeAndre Levy
at midfield with 4:36 left and the Browns down seven.
Weeden said he was trying to throw the ball away, but it was about as bad a play as any quarterback can make. He had his back to the line of scrimmage, his feet pointed toward the other end zone, his body twisted just outside the hashmark as he tried to flip the ball over the head of
Chris Ogbonnaya
, who was 12 yards ahead of Weeden standing at the sideline.
As he threw,
C.J. Mosley
was at Weeden's ankles. But the guy who had been schooled so much and so hard to avoid a sack did just that -- and in trying to avoid a sack he made a far more foolish play.
"I have no answer for it," running back
Willis McGahee
said. "You have to ask him what he was thinking."
"I would just have to look at the tape," coach Rob Chudzinski said. "All I saw was kind of the end of the play so I didn't really see what was developing out there at the time."
Several other players said they didn't see it. Maybe they didn't want to discuss it.
"It all happened so fast," Weeden said. "Trying to make a play. You want to be smart and don't take a sack. I just have to fall on it. Take a sack and move on."
Especially because it was first down. Weeden even had a chance earlier in the play to make a more traditional throw to Ogbonnaya, or to throw the ball away. He moved left, and made it harder.
The play seemed to go in slow motion live, but it took about five seconds for Weeden to take the snap and do the reverse shovel (with a twist). He originally looked to
Josh Gordon
, then to Cameron. Mosley chased him as he moved left and flipped.
"He tried to make a play," said safety
Louis Delmas
. "Obviously the play didn't turn out to his favor."
Obviously.
Weeden played a role in the Browns taking a 17-7 lead at halftime, just like he played a role in the offense stumbling through the third and most of the fourth quarter. The Browns tried to rally around him after the game, but that play will not be a pleasant one to watch in front of the rest of the team.
"We're still behind him," linebacker
D'Qwell Jackson
said. "He's still the guy."
"At the end of the day, we're all in this together." McGahee said. "You can't blame it on one person."
Not the game, but Weeden was clearly singularly responsible for the play that might just go down with Dwayne Rudd's helmet toss and other infamous Browns boneheaded plays that haunt fans. Instead of one more for the record books, Weeden provided another for the annals.
October, 13, 2013
10/13/13
6:10
PM ET
CLEVELAND --
Calvin Johnson
left the
Detroit Lions
' locker room Sunday afternoon, a long, black compression sleeve still on his right leg and a massive wrap of ice surrounding his ailing right knee.
Unlike a week ago in Green Bay, Johnson felt well enough to at least try to play Sunday against Cleveland. And while he wasn't the Johnson the Lions had come to expect, he was out there.
Johnson
Fauria
"He's the best receiver on the planet," quarterback
Matthew Stafford
said. "So as much as we can have him out there, we'd love to have him out there. Just a testament to how tough a guy he is, not feeling good and he's out there battling with his teammates trying to make any play to help us win."
Johnson wasn't the normal playmaker he usually is, but his presence still forced Cleveland to pay more attention to him, in some instances opening up the field for his teammates.
He was still targeted eight times in limited duty, making three catches for 25 yards, although none of the bigger plays he usually attempts to make. He dropped a couple of passes. In the first few drives, he didn't play consecutive plays.
In some ways, this was part of Detroit's plan for Johnson, who did not speak with reporters following the game. Detroit coach Jim Schwartz said the Lions knew they would have Johnson for only a certain number of snaps Sunday -- the number was not divulged -- so they wanted to use him correctly.
For the Lions, that meant more in the second half than the first.
"If we were only going to have him for a certain number of snaps, then we would rather have him in the second half, so we limited his snaps a little bit in the first half," Schwartz said. "But he was feeling good. He made some contributions and he affected the game also, particularly that second half.
"I think some of Reggie's [Bush] big plays that came out had a lot to do with Calvin and I think [Joseph] Fauria getting singled up in the red zone had a lot to do with Calvin also."
Bush ended up with five catches for 57 yards -- all in the second half. Fauria had two of his three touchdown catches in the second half.
And even Fauria's first touchdown was altered somewhat by Johnson. Stafford had gone to Johnson the play before -- but it was incomplete. The next play was a Fauria touchdown.
"He helped tremendously," Fauria said. "Having Calvin Johnson, one of the greatest of all time, being lined up next to him is a trip. He does open things up, though.
"Having him on top and Reggie in the backfield and Matthew back there, it opens things up for guys like me to step up."
As long as Johnson's knee ails him, the Lions will need that from everyone else.
October, 13, 2013
10/13/13
4:29
PM ET
CLEVELAND -- A few thoughts on the
Cleveland Browns
' 31-17
loss
to the
Detroit Lions
at FirstEnergy Stadium:

What it means:
The feel of a season can change in a hurry. The loss means the Browns drop back to .500 and now face two very tough road games in a row. They also have a ways to go to compete with the good teams in the league, such as Detroit. And it means that one quarter does not make a game -- as the Browns played well in the second quarter but were badly outplayed by the Lions the other three.
Stock watch:
Brandon Weeden
's stock will drop -- and among the fans in Cleveland, it will drop precipitously. He had some good moments, but even though the defense gave up 24 points in the second half, the offense's struggles during the third and fourth quarters will stand out. Weeden's backhanded lob that was intercepted in the game's final minutes will live for a long time. Weeden had a very good first half, a very bad second half and a very, very bad play that secured the win for the Lions.
Inside issues:
The Browns' inside linebackers and safeties had a rough second half. Evidently the Lions noticed something, because they came out in the third and fourth quarters and took advantage of matchups, especially with
Reggie Bush
and the tight ends against linebackers. Bush had more than 20 touches in the second half, and
Joseph Fauria
had three touchdown catches, the second in front of the safeties and over inside linebacker
Craig Robertson
. Give the Lions credit. They obviously noticed something and took advantage to win.
What's next:
The Browns face a very tough road test as they travel to Green Bay to face
Aaron Rodgers
and the Packers. The trip is the first of two tough away games, as the Browns travel to Kansas City the following week.
October, 13, 2013
10/13/13
4:16
PM ET
CLEVELAND -- Some thoughts on the
Detroit Lions
'
31-17 win
over the
Cleveland Browns
.

What it means:
It was by no means a pretty win for Detroit. Receivers dropped passes. The secondary didn't have great coverage. The Detroit defensive line couldn't really get much pressure on
Brandon Weeden
, either.
But on the road, with their best offensive player,
Calvin Johnson
, still hurting, the Lions managed to win. Sure, it isn't a conference or divisional game, but these are games that teams in the upper half of the NFL win. They are games playoff teams win.
Not saying Detroit is a playoff team yet -- the Lions are in one of the toughest divisions in the NFL -- but the win Sunday meant they'll go into the bye week at the beginning of November with no worse than a .500 record. They also have two road wins this season.
Stock watch:
Rising
--
Joseph Fauria
and
DeAndre Levy
. Fauria, the rookie tight end, saw more snaps Sunday with
Tony Scheffler
missing the game due to injury and caught three touchdown passes. Levy is continually the Lions' most productive defensive player. He intercepted his third and fourth passes of the season. He reads screens exceptionally well and just makes smart plays. Falling
--
Detroit's front-four dominance and Calvin Johnson's health. The Lions' front four had been dominant throughout the first five games of the season, but they really struggled to pressure Weeden. Weeden often had a lot of time to read his progressions and make smart passes. The Lions didn't really get to Weeden until the fourth quarter. Johnson played Sunday and caught three passes for 25 yards, but didn't quite look like a dominating player.
Return of Fauria:
He still isn't being used as much more than a giant red zone target, but Fauria had the most productive game of his career Sunday against Cleveland. He scored three of Detroit's four touchdowns, including a 23-yard touchdown in the fourth quarter to give the Lions a 21-17 lead. All three of his catches -- and all three of his targets -- went for scores Sunday. He now has five touchdowns in six games and has caught a touchdown in every game he has been officially targeted with a pass.
What's next:
Detroit, at 4-2, returns home for two straight games, first against Cincinnati and then Dallas the following week.

NFL SCOREBOARD
Thursday, 9/18
Sunday, 9/21
Monday, 9/22
WEEKLY LEADERS