NFL Nation:

2013 Week 6 PHI at TAM
October, 13, 2013
10/13/13
8:20
PM ET
TAMPA, Fla. --
Earl Wolff
had a message for
Mike Glennon
.
Wolff
"I was talking to him the whole game," Wolff said. "I almost got him on a blitz. I said, 'All right, Mike, you'd better get it out faster.'"
The two rookies were teammates at NC State for four years. Wolff is trying to crack the
Philadelphia Eagles
' starting lineup as a safety. Glennon was making his second start at quarterback for the
Tampa Bay Buccaneers
. Last week, Wolff said he hoped to intercept his old friend.
"Close," he said after the Eagles'
31-20 win
Sunday. "I came so close."
Wolff made perhaps the biggest defensive play of the day for the Eagles. They had allowed Glennon to march from his own 1-yard line to the Eagles' 9. On third-and-goal, Glennon fired a pass to tight end
Tim Wright
.
Two weeks ago, it probably would have been a touchdown. Wolff admitted he just wasn't picking things up quickly enough in his first few games. This time, he had it.
"We were in a 'zero' coverage," Wolff said. "I had to play inside leverage. Where the tight end was lined up, I had a feeling he was going to run an out route, but I had to stay inside. So I waited for him to make his move."
Wolff got a hand on the ball just before it arrived. Instead of a go-ahead touchdown, Tampa Bay had to kick a field goal to get within a point at 21-20.
After starting two games in place of the injured
Patrick Chung
, Wolff was on the sideline at the start of this one. He rotated in occasionally until Chung reinjured his shoulder.
"He got hurt so I had to step up," Wolff said.
On the most important play of the afternoon, he did just that.
October, 13, 2013
10/13/13
8:00
PM ET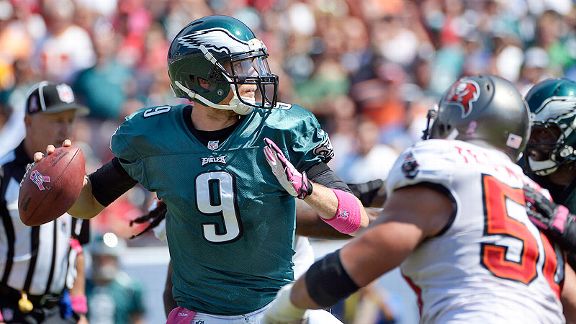 AP Photo/Phelan M. EbenhackEagles QB Nick Foles threw for a career-high three touchdowns and ran for a fourth against the Bucs.
TAMPA, Fla. -- Something changed in a week. Either the same question mysteriously became hypothetical or Chip Kelly is seriously considering making
Nick Foles
his starting quarterback.
He should
.
Last Sunday: Asked if
Michael Vick
would start the next game if healthy, Kelly said "Yes."
This Sunday: Asked if Vick would start next week if healthy, Kelly said, "I don't answer hypotheticals."
He also said he'll evaluate everything, including Foles' performance and Vick's health, before deciding who starts against the
Dallas Cowboys
.
It is not a simple decision, to be sure. Vick was playing well before his hamstring betrayed him last week against the
New York Giants
. Vick had cut way down on turnovers, was operating a radically different offense from the one he ran under Andy Reid, and was a constant threat as a runner.
When Vick won the starting job in competition with Foles, Kelly said it was for the entire season. Vick would not be looking over his shoulder, Kelly said. That declaration puts the first-year coach in a difficult spot if he makes the change to Foles permanent.
There's also a risk in demoting a proud veteran like Vick. It won't be easy to go back to him if Foles should struggle or get injured. Vick is smart enough to understand that a quarterback change now would signal the end of his Eagles tenure after the season.
And there is the locker room to consider. Many of Vick's teammates idolized him when they were younger. They believe in him still.
"Mike is the starter," running back
LeSean McCoy
said. "Coach Kelly made that clear, but if he needs Nick to step in and make some plays, then he'll do that. Mike's the guy we go with, he's the starting quarterback, no matter what the town says or what the outsiders want. It's Coach Kelly's call and that's the call he's made."
McCoy was not aware of Kelly's change in tone when he commented. Kelly has said many times that there is constant competition at every position. The best 11 players will be on the field. So that reduces this whole issue to one question:
Who is the better quarterback for this team right now? Vick or Foles?
It's close, but you can make an awfully strong case for Foles. And if it's close, or if Foles has the edge, it just doesn't make sense for Kelly to start a 33-year-old in the final year of his contract over a 24-year-old.
The Eagles were 1-3 in the games Vick started and finished. He was excellent in the opener at Washington and in a 33-30 loss to San Diego. But the offense sputtered against Kansas City and Denver, amassing plenty of yardage but not scoring enough points to have a chance in either game.
In just over six quarters since Vick went down, Foles has completed 38 of 56 passes for 493 yards and five touchdowns. He has not thrown an interception and he has taken just two sacks.
The common wisdom is that Vick's mobility makes him a better fit for Kelly's offense, and that may be true. But there was Foles, running a quarterback draw for a 4-yard touchdown on the Eagles' first possession Sunday.
But there was much more than that. With Foles at quarterback,
DeSean Jackson
is suddenly an effective weapon in the red zone. He caught a 5-yard touchdown pass last week against the Giants, and Foles found him in the end zone for a 12-yard score Sunday after Jackson slipped by
Darrelle Revis
.
"Second week in a row I've had a red zone touchdown," Jackson said. "I always felt like I can be a threat regardless of where the ball is on the field."
"It's tremendously important to be sharp in the red zone," Foles said. "I think the big thing is preparation. You see what they're going to do and you really have to take advantage of it. You've got to be on time, you've got to be precise with your throws."
With Foles at quarterback,
Riley Cooper
suddenly found ways to get open. Foles found Cooper four times for 120 yards, including a 47-yard touchdown. Foles also threw a 36-yarder to Jackson for a score, debunking the idea that he doesn't have the arm strength for the deep ball.
Foles targeted nine different receivers, completing passes to eight of them.
"He did a really good job," Kelly said. "He ran our offense. He did a really good job of spreading the ball around to different receivers."
Finally, there turned out to be little substance to the theory that Vick's ability to take off was integral to the success of the Eagles' running game. Defenses may not have to account for Foles, but that didn't prevent McCoy from gaining 116 yards on 25 carries, a 4.6-yard average.
Kelly's first season might have been all about rebuilding and developing for the future. When the Eagles were 1-3, that seemed likely.
But the NFC East is the worst division in the NFL this year. The Eagles' modest two-game winning streak, both against winless teams, put them in first place in the division pending the outcome of the Dallas-Washington game Sunday night.
With a win over the Cowboys next week, the Eagles can take the early lead in the division race.
That changes things. It's not that Kelly is under more pressure to produce a playoff team in his first season. It's just that he has been presented with an opportunity, so why waste a prime-of-their-career season for Jackson, McCoy and linemen like
Jason Peters
and
Evan Mathis
?
That means playing the quarterback who gives the team the best chance to win now. Is that really Vick, who is 12-16 as a starter in the past three seasons? Or is it Foles? It's time for the common wisdom, and the Eagles' No. 1 quarterback, to change.
October, 13, 2013
10/13/13
6:40
PM ET
TAMPA, Fla. -- They cheered, ever so slightly, as running back
Doug Martin
and wide receiver
Vincent Jackson
walked off the field at Raymond James Stadium on Sunday. They did the same as defensive tackle
Gerald McCoy
walked into the tunnel to the locker room.
And, then, there was coach Greg Schiano.
The venom directed at him by a large group of fans in the southeast corner of the stadium was loud. The language was so vicious, the only way to summarize it was that the crowd was telling Schiano he needs to go back to being a college coach.
[+] Enlarge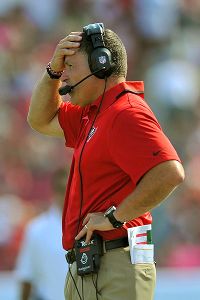 Steve Mitchell/USA TODAY SportsGreg Schiano's Buccaneers have lost 10 of their past 11 games going back to last season.
"I didn't hear anything," Schiano said a few moments after his team lost, 31-20, to the
Philadelphia Eagles
.
It's a good thing Schiano has thick skin because patience is running thing among the fans. And it's time to start wondering whether ownership's patience is wearing thin as well.
The Bucs have lost their first five games of this season and 10 of 11 dating back to last year. There were no real signs of progress against the Eagles. In fact, you could make a case that the Bucs' revamped defensive secondary regressed. Rookie quarterback
Mike Glennon
played well enough to lead the Bucs to a 17-14 halftime lead, but didn't do much of anything positive in the second half.
Glennon wasn't alone. Instead of blowing a late lead as they've done several times already this season, the Bucs took a shortcut and simply got blown out.
"We need to get it figured out quickly," Schiano said.
That's a huge understatement. On top of the losing, the Bucs seem to be in disarray in every way. Former franchise quarterback
Josh Freeman
was run out of town after a public feud with the team. According to a USA Today report, the NFL Players Association pointed to Schiano as the culprit for leaking a story that Freeman was in the league's drug program.
Then, there's the whole MRSA situation. Three players (guard
Carl Nicks
, kicker
Lawrence Tynes
and cornerback
Johnthan Banks
) have been diagnosed with MRSA since the preseason started. Nicks recovered enough to play in two games before he was diagnosed with a recurrence last week.
Has there ever been a crazier time for this franchise? The expansion days of John McKay come to mind. So do the Sam Wyche days and the final days of Raheem Morris.
But I'll make the case that what's happening now deserves more of a big top than anything in franchise history. Unlike McKay, Wyche and Morris, Schiano has plenty of talent with which to work. (The Bucs have eight guys who have been to the Pro Bowl.)
Unlike McKay, Wyche and Morris, circus acts weren't expected from Schiano. The guy came from Rutgers, where he had a reputation as a builder and disciplinarian.
Yet, even with all that discipline, the Bucs seem to be running amok. How does Schiano reverse the fortunes of this team?
"You stand to your convictions without being stubborn and you move forward," Schiano said. "We've got a good group of people in that locker room and coaches and they're going to stick together and we're going to get it turned. As long as you know that, you're going to do it."
The part about sticking to your convictions makes me think of that scene in "Hoosiers" when Gene Hackman's character, coach Norman Dale, says "My team is on the court" as a way of sending a message to his team. That stuff works in movies.
Real life can be another story. I'm not sure that continuing to play cornerback
Darrelle Revis
in zone coverage is going to lead to a turnaround for the Bucs.
The next three weeks or so are critical for Schiano and the Bucs. They play division rivals Atlanta and Carolina and travel to Seattle. An 0-8 start is looking possible.
Again, I have no idea if ownership is growing as impatient as the fans. But I do know that the Glazer family, which owns the team, does not like to be embarrassed.
The Bucs have been an embarrassment recently. If that doesn't change, the Glazers also might have some unkind words for Schiano.
October, 13, 2013
10/13/13
6:25
PM ET
TAMPA, Fla. -- Observed in the locker room after the
Philadelphia Eagles
'
31-20 victory
over the
Tampa Bay Buccaneers
:
Ryans
MRSA worries allayed:
The Eagles were concerned but comfortable playing despite the Buccaneers' MRSA issue. Linebacker
DeMeco Ryans
, the NFL Players Association rep for the team, said he "didn't want my players being scared or worried." Coach Chip Kelly said the Eagles met with Dr. Deverick J. Anderson of the Duke Infection Control Outreach Network, which is managing the Bucs' situation. "He came over and met with myself, Howie [Roseman, the GM], Don [Smolenski, team president], our doctors and [athletic trainer] Chris Peduzzi," Kelly said. "He gave us the whole rundown. I think we felt comfortable in his answers. He was very helpful, and then our doctors talked to the players." Ryans added, "They let us know we would be safe playing. That was the biggest thing for me, making sure our players would be safe coming down here. Nobody had any worries in the back of their mind about having a chance of catching MRSA."
Felt like home:
The Eagles' third consecutive road game felt like a home game. Quarterback
Nick Foles
was confused by the way the sellout crowd reacted to a few plays. "I felt like it was a home game," Foles said. "There's a couple times the crowd was yelling and I thought, 'Oh, no, what happened?' I saw all the green and white jerseys, so it was our fans. We had a tremendous amount of support here. It's pretty fun." Kelly said, "To be in an away stadium and listen to the crowd chant us on like that, it was awesome."
Kelly would've kicked:
The Eagles were up 28-20 with just more than three minutes left, and had the ball on fourth-and-inches at the Buccaneers' 17-yard line. Kelly sent the offense out, but only with the hope that Foles could draw the Bucs offside. "It worked," Kelly said. "You want to kick a field goal in that situation. You want to make it a two-score game, but if we could extend the clock a little bit. Could you go up 11 and take a little more time off the clock? They jumped." The neutral-zone infraction gave the Eagles a first down. They wound up kicking a 24-yard field goal with 2:34 on the clock. Tampa Bay used all three of its timeouts to stop the clock after the penalty.
October, 13, 2013
10/13/13
4:07
PM ET
TAMPA, Fla. -- Observations on the
Philadelphia Eagles
'
31-20 victory
against the
Tampa Bay Buccaneers
on Sunday.

What it means:
The Eagles are capable of winning ugly. Chip Kelly has his first two-game winning streak, both at the expense of winless opponents. The victory gives the Eagles a 3-3 record going into next week's home game against the
Dallas Cowboys
. Quarterback
Nick Foles
started his first game of the season in place of the injured
Michael Vick
. Foles was good enough, completing 22 of 31 passes for 296 yards and three touchdowns. Foles also ran for a touchdown. The theory that Foles' presence would hamper
LeSean McCoy
proved false: McCoy rushed for 116 yards.
Off the hook:
The Eagles' defense, facing rookie quarterback
Mike Glennon
, was looking to build some momentum, a week after intercepting three fourth-quarter passes by
Eli Manning
. It didn't really turn out that way. Glennon had way too much time to operate and found
Vincent Jackson
for two touchdowns. The low point was a drive that started at the Tampa Bay 1-yard line and lasted nearly eight minutes. Glennon converted three third downs on the drive, which ended with a field goal. Eagles rookie safety
Earl Wolff
, Glennon's teammate at NC State, broke up what would have been a go-ahead touchdown pass to tight end Tim Wright.
Stock Watch:
Rising --
Riley Cooper
. Kelly answers several questions a week about whether Cooper is an adequate No. 2 receiver. Last week,
Jeff Maehl
got a handful of Cooper's snaps, and it looked as if Cooper might be losing his job. Playing across the causeway from his hometown of Clearwater, Cooper caught a 47-yard touchdown pass and turned a quick out into a 44-yard gain to set up Foles' 36-yard touchdown throw to
DeSean Jackson
. Cooper finished the game with four catches for a career-high 120 yards.
What's next.
The Eagles can take early control of an admittedly weak NFC East with back-to-back home games against the Dallas Cowboys and
New York Giants
. The Eagles are 2-0 within the division. Vick was listed as questionable for Sunday's game against the Bucs. He said Thursday that if he couldn't go this week, he felt sure he'd be ready for Dallas. That means another week of discussion of whether Kelly should stick with Foles or go back to the veteran Vick.
October, 13, 2013
10/13/13
4:06
PM ET
TAMPA, Fla. -- A few thoughts on the
Tampa Bay Buccaneers
' 31-20
loss
to the
Philadelphia Eagles
at Raymond James Stadium:

What it means:
The Bucs are 0-5 and going nowhere fast. They couldn't even beat a mediocre team at home. Coach Greg Schiano has lost 10 of his past 11 games, dating back to last season. Schiano is officially on the hot seat and the Bucs are officially in contention for the No. 1 overall pick in the 2014 draft. By late in the fourth quarter, much of the rare sellout crowd that remained in the stands was wearing Philadelphia green jerseys. The Bucs have looked to be in disarray all season and things aren't getting any better.
Still a rookie:
Making his second start, quarterback
Mike Glennon
looked good at times. But his third-quarter interception, which came on an apparent miscommunication with wide receiver
Tiquan Underwood
, helped set up a touchdown that put the Eagles ahead for good.
Stock Watch, rising:
Tight end
Tim Wright
quietly had a nice game. For the first time this season, the tight end was a factor in the passing game. Wright had seven catches for 91 yards.
Stock Watch, falling:
The zone defense. The Bucs need to scrap it because it's not working. Cornerback
Darrelle Revis
never should be asked to play zone defense.
History repeats itself:
Nick Foles
started at quarterback in place of an injured
Michael Vick
, for the second straight game, and led the Eagles to victory in Tampa.
What's next:
The Bucs play the
Atlanta Falcons
at the Georgia Dome next Sunday.

NFL SCOREBOARD
Thursday, 12/18
Saturday, 12/20
Sunday, 12/21
Monday, 12/22