NFL Nation:

2013 Week 6 PIT at NYJ
October, 13, 2013
10/13/13
8:15
PM ET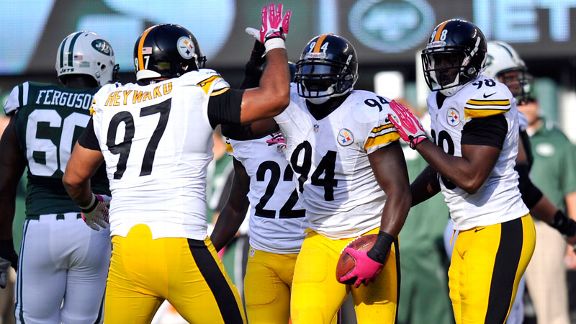 Joe Camporeale/USA TODAY SportsThe defense gave the Steelers something to celebrate Sunday in posting their first win of the season.
EAST RUTHERFORD, N.J. -- There was no Gatorade shower as time slipped away on a dying clock at MetLife Stadium. There wasn't the kind of hooting and cheering in the victorious locker room that could have carried all the way across the Hudson River and into Gotham.
No, what qualified as a celebration after the
Pittsburgh Steelers
won their first game following an 0-4 start was what appeared to be an impromptu procession led by general manager Kevin Colbert.
Colbert, followed by president Art Rooney II and chairman emeritus Dan Rooney, went to each player individually in a cramped locker room, offering congratulations and a handshake.
It was all rather muted but very Steelers-like.
So was the victory that ended the proud organization's worst slide to start a season since 1968.
The Steelers parlayed suffocating defense and stellar, error-free play from quarterback
Ben Roethlisberger
into a
19-6 victory
over the
New York Jets
.
The Steelers controlled the game after a shaky start -- so much so that after they had opened up a near-two-touchdown lead, Roethlisberger implored offensive coordinator Todd Haley to call one running play after another.
By the end of a game that started with Roethlisberger nearly getting buried in his own end zone by
Muhammad Wilkerson
, the Steelers had held the Jets without a touchdown, forced their first two turnovers of the season and matched the physicality of New York's defense.
Tight end
Heath Miller
, who is always cooperative but rarely quotable, may have best summed it up in the Steelers' locker room.
"It feels right a little bit," Miller said after catching six passes for 84 yards. "It's what we expect to do when we come into stadiums. Our goal is to see where we need to get better, because it was far from perfect, and move on to next week."
That, too, was a prevailing sentiment in the Steelers' locker room.
As coach Mike Tomlin said during one of his patented postgame news conferences that takes less time than ordering a pizza, "It's a good feeling. It's not like we won the lottery, but it is still a good feeling nonetheless."
The Steelers finally have a reason to feel good about themselves, and not a moment too soon. At 1-4, they are still on the outside looking in at the playoff picture, as mediocre as the AFC looks on a weekly basis. But with the eminently beatable Ravens next up -- and at Heinz Field, no less -- the Steelers have to feel like they can go on the kind of run that can at least put them back into the postseason conversation.
That is why this victory against the Jets is worth considerably more than what it counts for in the standings.
What started as a pebble in the players' cleats had turned into a psychological boulder that seemed to weigh them down at every turn. Now, at the very least, they won't have to spend a week answering questions about why they can't force turnovers or whether they will remain united in the face of mounting losses.
Or whether they are allowed to play pool, something Tomlin banned along with other games last week in the Steelers' locker room.
"We're so used to coming out of that locker room after a win," Roethlisberger said after completing 23 of 30 passes for 264 yards and a touchdown. "It's been tough this year so far, but we have to keep that feeling going. I told the guys, 'Let us be happy right now but not be satisfied.'"
Roethlisberger was thinking big picture even before the Steelers had secured their first victory of any kind since December. With the Steelers grinding out the clock in the fourth quarter, Roethlisberger asked Haley to bag the passing attack so the offensive line could close out the game.
"He agreed with me," Roethlisberger said, "and on the next drive we got one first down."
Indeed, three straight runs when everyone knew they were coming, especially the NFL's second-ranked run defense, moved the chains. The sequence also provided a measure of confidence to an offensive line that is still finding itself.
How far stuff like that goes remains to be seen, as it was only one game -- and one win against a team that didn't look nearly as good as its 3-2 record might suggest.
The Steelers still have plenty of digging out to do after nearly burying themselves with their September swoon. Which means we may not know for weeks how significant their win Sunday was, other than that it stopped some serious bleeding.
"Obviously it's not the start we wanted, but the men in this locker room believe that there's a chance that something great can come out of this if we all work toward it," defensive end
Brett Keisel
said. "We're not going to give up."
October, 13, 2013
10/13/13
8:05
PM ET
EAST RUTHERFORD, N.J. -- The
New York Jets
tried to make the day all about their defensive line.
Marty Lyons, a former member of the New York Sack Exchange,
was inducted into the Ring of Honor
at halftime. An honorary captain, he participated in the coin toss, flanked by former "New York Sack Exchange" teammates Mark Gastineau and Joe Klecko. Every member of the current defensive line joined the group, a link to then and now. It was as if the Jets were trying to send a message to the
Pittsburgh Steelers
, who had been struggling with pass protection.
But the Steelers got the last laugh.
Wilkerson
The Jets finished with four sacks, but the
19-6 loss
will be remembered for the one that got away. On the Steelers' second possession,
Muhammad Wilkerson
blew a chance to get a safety. He had
Ben Roethlisberger
in his clutches in the end zone, but Big Ben slithered away and threw a harmless incompletion.
"That's a big guy," Wilkerson told ESPN New York 98.7 FM. "We talked about it all week. I went up high on him, knowing I should've kind of went low. But he's a great quarterback. He slipped away and made the play for them."
It was a scoreless game. The Jets missed a great opportunity to seize the early momentum.
"If we get a safety there, we're up, 2-0, and those plays usually result in a nine-point turnaround," coach Rex Ryan said.
The Jets got good pressure on Roethlisberger in the second quarter, sacking him twice on one series. It looked as if they were going to dominate the Steelers' rebuilt offensive line, which included a new starter at left tackle,
Kelvin Beachum
. But the Steelers adjusted nicely, shifting to a quick-passing game. That offset the Jets' pass rush.
Roethlisberger finished 23-for-30, with 264 yards and a touchdown pass.
"They were trying to get the ball out of his hand pretty quickly, there's no question," Ryan said. "If you look at the start of the game, they had four or five screens almost in the first 10 plays. They were trying to slow us down a little bit."
And it worked. Wilkerson finally dropped Roethlisberger for a late sack, but it was too late.
October, 13, 2013
10/13/13
6:00
PM ET
EAST RUTHERFORD, N.J. -- Observed in the locker room after the
New York Jets
'
19-6 loss
to the
Pittsburgh Steelers
at MetLife Stadium:
Pace
No consistency:
Rex Ryan and several players lamented the team's lack of consistency on a week-to-week basis. In fact, the Jets (3-3) have managed only one two-game winning streak over the last 25 games -- and that occurred last season. "It sucks, man," linebacker
Calvin Pace
said. "We talk about how we want to be a playoff team, but to be a playoff team, you have to win more than one game [in a row]. If you win one, lose one, you're 8-8. We have to be better than that." Sitting a few feet away, the usually affable
Sheldon Richardson
refused to speak to the media. "It's called being mad as hell, and I don't want to talk to y'all," the rookie defensive tackle said.
Walking wounded:
The Jets suffered four injuries -- CB
Kyle Wilson
(possible concussion), RB
Mike Goodson
(knee), WR
Clyde Gates
(shoulder) and RB
Bilal Powell
(shoulder), who insisted he was fine. That wasn't the case with Gates, who was seen in the locker room with his left arm in a sling. The Jets already are down a receiver, with
Santonio Holmes
(hamstring) likely to miss next Sunday's game against the
New England Patriots
. Losing Gates would hurt. Obviously, the backfield would take a hit without Powell and Goodson, whose injury could be serious.
Contradicting alibis:
Geno Smith
said his first interception, near the Steelers' goal line, was an intentional throwaway. Ryan gave a different version, saying he "would've liked to have seen him throw the ball away there and not force it." Looking at the replay, it sure looked like a forced throw into triple coverage. Graybeard S
Ryan Clark
read it perfectly and made the interception at the 1-yard line in the third quarter, ending Smith's streak of eight straight quarters without an interception.
October, 13, 2013
10/13/13
4:11
PM ET
EAST RUTHERFORD, N.J. -- A few thoughts on the
New York Jets
'
19-6 loss
to the
Pittsburgh Steelers
at MetLife Stadium:
What it means:
The Jets (3-3) can't handle prosperity. They've had just one two-game winning streak since late in the 2011 season. They needed to beat the struggling Steelers (1-4) because their schedule is about to increase in degree of difficulty, as they face the
New England Patriots
,
Cincinnati Bengals
and
New Orleans Saints
in consecutive weeks. The Jets, coming off a short week, were physically handled by the well-rested Steelers.

Stock watch:
Let's put a hold on
Geno Smith
's Hall of Fame bust. After riding high for a week after last Monday night's electric performance, he was jarred back to reality by a tough Pittsburgh defense. Smith threw two interceptions, both in the red zone. The first was a poor decision into triple coverage for the Steelers' first takeaway of the season. Smith also failed to get his wide receivers involved in the offense. Clearly, he missed TE
Kellen Winslow
(suspended). You knew this wouldn't be easy. Steelers defensive coordinator Dick LeBeau had two weeks to prepare, and his game plan made the Jets look Tony Sparano-like. LeBeau is 16-2 against rookie quarterbacks (since 2004) for a reason.
Conservative Jets:
Rex Ryan set a bad tone early when he opted for a chip-shot field goal on a fourth-and-1 from the Steelers' 2. Maybe he was spooked by the previous play, a zero-gain run by
Bilal Powell
. Ryan should've gone for it. Even if they had failed, his defense would've been in great field position. Truth be told, the Jets were conservative on offense throughout the first half, perhaps showing too much respect for LeBeau's defense. Coordinator Marty Mornhinweg was cautious in his play calling, treating Smith with kid gloves -- a rarity.
Missing Darrelle Revis:
It was a bad day for the Jets' cornerbacks, especially
Antonio Cromartie
, who was burned on a 55-yard touchdown pass and flagged for a 25-yard pass-interference penalty. In both cases, he had poor technique, allowing his man to beat him to the inside. Cromartie was listed as questionable because of a knee injury suffered last Thursday in practice, so it's possible he may have been slowed. But this was more than a Cromartie issue. Already without rookie
Dee Milliner
(hamstring), the Jets lost nickelback
Kyle Wilson
(possible concussion) in the first half. Seldom-used
Isaiah Trufant
was forced into the nickel role.
Ben Roethlisberger
(23-for-30, 264 yards) had an easy pitch-and-catch all day. The book is out on the Jets' defense -- vulnerable against controlled passing. In the past two games, Roethlisberger and
Matt Ryan
are a combined 59-for-75.
What's next:
The Jets are home against the Patriots (4-1), who intercepted Smith three times in the Week 2 meeting.
October, 13, 2013
10/13/13
4:02
PM ET
EAST RUTHERFORD, N.J. -- A few thoughts on the
Pittsburgh Steelers
'
19-6 win
over the
New York Jets
at MetLife Stadium.

What it means:
The Steelers' season still has life. Let's not go all
Ryan Clark
and say the Steelers are on their way to the playoffs, but they finally stopped the bleeding following a shaky start at MetLife Stadium. The Steelers controlled the game after falling behind 3-0 in the first quarter. The offense didn't piece together a Picasso, but it made drastic improvement after netting 8 yards on its first two possessions.
Stock watch:
The defense is trending up after keeping the team in the game until the offense settled down. It also atoned for an atrocious performance in the London loss to the Vikings that dropped the Steelers to 0-4 for the first time since 1968. The Steelers limited the Jets to 165 yards through the first three quarters while building a double-digit lead. They also avoided becoming the first team in NFL history to go the first five games of a season without a takeaway. Clark ended the turnover drought in the third quarter when he intercepted a pass that
Geno Smith
threw into heavy coverage. But he also dropped an interception in the fourth quarter, and the Steelers later needed a
Lawrence Timmons
pick to put away the Jets.
Getting by at LT:
Kelvin Beachum
is clearly not the long-term answer at left tackle after getting flagged twice for holding and nearly yielding a sack that would have given the Jets an early safety. The problem for the Steelers is their options are really limited when it comes to protecting quarterback
Ben Roethlisberger
's blind side.
Levi Brown
, acquired from the Cardinals in a recent trade, injured his right triceps during pregame warm-ups, and he couldn't play against the Jets. Brown missed the 2012 season with a torn right triceps so his injury could be a worrisome one for the Steelers. Starting defensive end
Brett Keisel
(ribs) and tight end
David Johnson
(wrist) sustained injuries during the game.
What's next:
The Steelers hope to build off their momentum next Sunday when they play the Ravens in a 4:25 p.m. ET divisional game. The defending Super Bowl champions dropped to 3-3 following a loss to the Packers in Baltimore, but they have beaten the Steelers the past three times the fierce rivals have met during the regular season at Heinz Field.