NFL Nation:

2013 Week 7 NWE at NYJ
October, 20, 2013
10/20/13
10:45
PM ET
EAST RUTHERFORD, N.J. -- You love 'em. You hate 'em. You love 'em.
They're your 2013
New York Jets
, maddeningly inconsistent but lovably relentless. Week to week, this team is harder to predict than Miley Cyrus. Sometimes, they behave as immaturely as the so-called star, but they've overcome their growing pains and obvious deficiencies to bring you this:
A meaningful season.
The Jets saved the New York football season Sunday at MetLife Stadium, where they overcame an 11-point deficit, turned
Tom Brady
into a pedestrian quarterback (yes, again) and de-Gronked the
New England Patriots
in overtime
30-27
.
Sure, they benefited from
Lavonte David
2.0 -- a wacky, last-second penalty to set up a
Nick Folk
game winner -- but the fortuitous finish doesn't diminish what happened over the first 70 minutes. The Jets beat Bill Belichick's Evil Empire, beat it for the first time in six tries, and it sends a message to the rest of the league:
You have to take the Jets seriously.
The Jets aren't an upper-tier team, but they're also not a clown car, as many expected them to be. Rex Ryan isn't Dead Coach Walking anymore; he's Good Coach Heading Toward a Contract Extension. In seven weeks, the Jets (4-3) have changed the perception, giving New York something to embrace for the next couple of months.
"It gets us close to the playoffs, that's what we're trying to do," said rookie defensive tackle
Sheldon Richardson
, whose midweek comment about Brady -- he's not Superman -- proved to be prophetic. "We're trying to win the East. That's the mission."
The Jets moved to within a game of the Patriots (5-2), having split the season series. Imagine that: They're one game behind "the almighty Patriots," as newcomer
Josh Cribbs
called them, with nine to play. Some folks predicted a four-win season for the Jets. The way their defense is playing, it would be a disappointment if they don't double that.
[+] Enlarge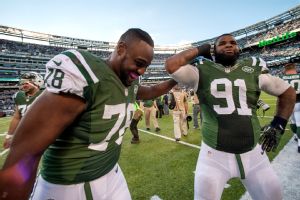 Ron Antonelli/Getty ImagesLeger Douzable and Sheldon Richardson recognized the significance of this Jets victory. "We're trying to win the East," Richardson said. "That's the mission."
To stun the Patriots, who have won so many games over the years on weird penalties and rulings (dare we mention the Tuck Rule?), put a big smile on Ryan's face.
"That's the team you chase, that's the team we've always chased," said Ryan, who improved to 4-7 against the Belichicks. "You're tired of looking up at them, but at the end of the day, hey, they've earned that."
Brady isn't what he used to be, but he's still Brady. That doesn't seem to faze Ryan's young, cocksure defense, which held the future Hall of Famer to a sub-50 percent passing day for the second time this season.
What the Jets did to Brady over the final 45 minutes, from the second quarter through overtime, should be put on a DVD and stashed in a "How to Beat Brady" archive. On the last 10 possessions of the game, the Jets held Brady & Co. to seven punts, two field goals and one game-changing interception by safety
Antonio Allen
, who returned it for a touchdown.
The Patriots were rendered inept on third down (a shocking 1-for-12) and managed no first downs in the third quarter, allowing
Geno Smith
to do his thing.
"We finally finished," Jets linebacker
Calvin Pace
said. "We had been in that situation numerous times, fourth quarter or overtime. It was time for us to finally get one."
The Jets' defense was dominant in the Week 2 meeting, but Smith threw that game away in the fourth quarter. They stewed for five weeks, chafed that very few people recognized how well their defense played in that game. It came off as a little whiny, but they used it as motivation.
They proved their point.
"I think this was more about our defense than who wasn't there," said Ryan, alluding to the built-in alibi that emerges every time Brady loses or doesn't play well -- i.e., depleted supporting cast. "I don't know if that was noted the last time we played. This time, we finished the job."
Surprisingly, Ryan blitzed only a handful of times, but the Jets' pass coverage frustrated Brady, who completed 22 of 46 passes for only 228 yards and no touchdowns.
Allen did a marvelous job on tight end
Rob Gronkowski
, who was targeted 17 times. Gronkowski made eight catches for 114 yards in his overhyped return -- but hurt his team with a killer drop late in the game.
The Jets' defense has played winning football in six out of seven games, and that's why they will hang around in this race until December. They just have to hope the defense is strong enough to compensate for Smith's inevitable dips.
"It's hard blocking us for four quarters," Richardson said.
This game went beyond four quarters, and it took an unprecedented penalty to decide the outcome. The Patriots'
Chris Jones
broke a new NFL rule, pushing teammate
Will Svitek
into Jets blocker
Damon Harrison
on Folk's 56-yard field goal attempt -- a miss. It was a 15-yard unsportsmanlike conduct penalty, giving Folk another chance from 42 yards.
The penalty was like that scene from the "Friday Night Lights" movie, the entire stadium staring at the yellow flag on the field during the frantic, final moments and wondering, "Us or them?" Considering the Jets' penchant for penalties, you had to figure they were guilty.
"I saw [the flag] right away, but I was like, 'Please be on them, please be on them, please be on them,'" Ryan said. "I think my reaction was just like our fans, because I thought I heard the whole stadium say, 'Please be on them.'"
It was them.
"It's about time we got a break," Ryan said.
This one, they earned.
October, 20, 2013
10/20/13
10:30
PM ET
EAST RUTHERFORD, N.J. – On a day in which the
New England Patriots
needed a vintage
Tom Brady
type performance to overcome a suddenly vulnerable defense, they didn't get it.
In fact, it was a Brady interception returned for a touchdown early in the third quarter that changed the complexion of the game. The Patriots led 21-10 at the time, and in Brady's words "had a great opportunity to take control of the game" when his pass to tight end
Rob Gronkowski
was intercepted by safety
Antonio Allen
and returned 23 yards for a score.
[+] Enlarge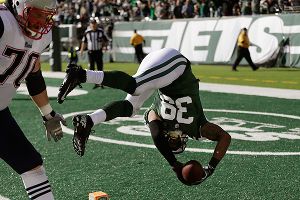 AP Photo/Seth WenigThe pick-six Antonio Allen had off Tom Brady changed the complexion of the game.
"That's a ball I shouldn't throw," Brady admitted after the team's 30-27 overtime loss to the
New York Jets
. "You can't do that, throw interceptions for touchdowns. That's one way to get you beat."
Brady finished 22-of-46 for 228 yards with one interception, and was sacked four times. The Patriots converted just one of 12 on third downs.
"We just haven't been good on third down all year. Obviously, that's a big problem," Brady said. "We certainly need to be better on third downs and in the red area. ... You're not going to win many football games going 1 of 12. ... No excuses. We just didn't play well. I [have] to do a better job out there. That's what I need to do."
Still, the Patriots had a chance late in the fourth quarter for a potential game-winning touchdown. Trailing 27-24, they took over at their own 8-yard line with 2:10 remaining and advanced deep into Jets territory.
With 36 seconds left, Brady lofted a pass over the middle to Gronkowski, who nearly came down with a one-handed grab and possibly could have raced in for a touchdown.
"He ran a great route and we gave him an opportunity. He makes that 99 out of 100 [times], but it was just one of those days where it doesn't happen for us," Brady said. "We still had plenty of other opportunities after that. It really shouldn't have come down to that play if we had been executing better over the course of the day.
"They put pressure on you. Coverage is going to be tight. There are going to be tight throws and we have to [make them]. We have to make the plays when they are there."
A few other soundbites from Brady:
On Gronkowski:
"He played hit butt off. ... He's one of the best players in the NFL. You saw what he does and it was his first game back."
On the Jets:
"This defense is a good defense. They're well-coached. There are no easy plays out there. You have to earn them. We just didn't do enough to earn them today."
On the Patriots' offense:
"We need to do a better job helping the defense out. We're plenty capable. It's not that we don't do it, we just don't do it on a consistent basis. It's a team sport and as a team, we're just not there yet. There's still a lot of football to play. Hopefully we can correct it."
October, 20, 2013
10/20/13
9:45
PM ET
EAST RUTHERFORD, N.J. -- After making headlines with his mouth last week, covering everything from Superman to sex,
Sheldon Richardson
was relatively subdued after the
New York Jets
' 30-27 overtime victory. But he did make one interesting comment about the
New England Patriots
.
Richardson said one of the themes from Rex Ryan's speech Saturday night to the team was, "We're better than the Patriots." Asked if he actually believes that, Richardson replied without hesitation: "Yes."
The chatty rookie defensive tackle declined to re-visit his mid-week comments about Patriots quarterback
Tom Brady
. He told ESPN.com that no one on the Jets views Brady as a "Superman," adding: "He's just the opposite of that." Asked to elaborate after the game, Richardson shook his head.
"No, I'm not talking about that," he said. "He's a great quarterback."
Evidently, the Thought Police got to him.
DOMINANT D
: The Jets sacked Brady four times, bringing their season total to 24. How impressive is that? The Jets had only 30 last season.
Muhammad Wilkerson
,
Calvin Pace
,
Damon Harrison
and
Quinton Coples
had one apiece. It was Harrison's first career sack and Coples' first of the season.
Wilkerson has recorded a sack in three consecutive games, with 10 in his last 14 games.
The Jets overwhelmed Brady & Co. on third down, holding them to 1-for-12. In two games against the Patriots, the Jets have held them to 5-for-30.
"The key is getting him off his mark and making him feel uncomfortable, and I think we did that up front," Wilkerson said.
Unsung hero
: Recently-signed WR
David Nelson
was overshadowed by fellow receiver
Jeremy Kerley
and RB
Chris Ivory
, but he made some big plays in only his third game as a Jet. He finished with four catches for 80 yards, including a 12-yard reception on the game-winning drive in overtime. It was his highest receiving total since 2011, when he played for the
Buffalo Bills
.
Injury report
: For a change, the Jets apparently avoided any serious injuries. C
Nick Mangold
and CB
Dee Milliner
went for X-rays after the game. Mangold said it was precautionary and he was fine. S
Antonio Allen
hurt an ankle but returned.
October, 20, 2013
10/20/13
8:40
PM ET
EAST RUTHERFORD, N.J. -- Coming into Sunday's game, the
New York Jets
liked the matchup of
Chris Ivory
, a bruising running back, going against the depleted interior of the
New England Patriots
' defensive line.
A career-high 34 carries and 104 yards later, Ivory certainly made the most of that matchup.
[+] Enlarge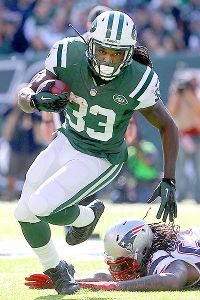 Ed Mulholland/USA TODAY SportsChris Ivory finished Sunday's win with 104 yards on 34 carries.
Ivory had his best game as a Jet as they handed off to him repeatedly in the Jets'
30-27 overtime win
over the Patriots on Sunday at MetLife Stadium. Ivory received the majority of the carries while
Bilal Powell
, who has been the primary back, had just three touches. Powell has been dealing with a neck injury, but Jets coach Rex Ryan did not make it seem like the injury was the reason for his decrease in carries.
"Bilal only carried three times but Ivory had the hot hand and we fed him," Ryan said. "We rode Ivory a little more than normal, but it was just a good game."
Ivory, acquired for a fourth-round draft pick in the offseason, had been a disappointment up until Sunday's game as he never had been able to get it going. A hamstring injury caused him to miss a game, and he hadn't topped 52 yards in the first six games of the season. In his previous two games, he rushed a combined eight times for 43 yards, barely seeing the field.
"I'm happy. Even before today I was happy," Ivory said. "I don't think this game had any effect on me to where I say, 'This is what I've been looking for.' I just want to win."
On Sunday, the Jets finally implemented Ivory to resounding success. While he didn't do anything particularly flashy, breaking off a long run of just 17 yards, he was able to consistently pick up small yards. He primarily did his work inside the tackles, as the Patriots were down a pair of defensive tackles. He eventually started working outside the hashes as the game progressed.
"They didn't tell me anything. I just knew I was in the game, and I played my role," Ivory said. "[A lot of carries] helps get in a rhythm and just get more of a feel for the scheme and running lanes."
Ivory's most impressive work came in overtime as the Jets asked him to be their closer, and he delivered. The Jets handed the ball to Ivory nine times and he rushed for 23 yards in overtime.
Ivory had a stretch of four plays in overtime that were particularly important as he put the Jets into New England territory. Starting with a third-and-one at the Jets' 45, Ivory ran for three yards, and then followed it up with runs for eight, three and one to get the Jets to the Patriots' 40.
Ivory's 100-yard game was his first as a Jet and the fourth of his career. It was also his first since 2012.
"I think that's what [offensive coordinator] Marty Mornhinweg wanted to do, had his confidence in me and felt like that's what we needed for the last drive," Ivory said. "Got close enough to field goal range and sealed the game."
October, 20, 2013
10/20/13
7:15
PM ET
EAST RUTHERFORD, N.J. -- Observed in the locker room after the
New York Jets
' 30-27
overtime win
over the
New England Patriots
:

Ryan
Beaming Rex:
Rex Ryan approached the podium in the interview room and declared, "That's what I'm talking about." This had to be his most satisfying victory in a long time. Yeah, the Monday night win in Atlanta was exhilirating, but this was the Patriots. And
Tom Brady
. And Bill Belichick. The Jets snapped a five-losing streak to the Patriots, who had won 12 straight in the AFC East. That the Jets rallied from an 11-point deficit made it sweeter for Ryan, who probably would've talked all day about the game if time permitted.
What happened to MartyBall?:
As he left the locker room, offensive coordinator Marty Mornhinweg stopped to chat with general manager John Idzik. It appeared to be a pleasant conversation, and why not? Winning makes everything feel better, but you have to wonder if Mornhinweg's play calling in overtime came up. The usually aggressive Mornhinweg turned ultra-conservative on the game-winning drive, calling eight straight running plays to set up a 56-yard field-goal attempt that missed. The Jets caught a major break because of the Patriots' unsportsmanlike-conduct penalty, allowing
Nick Folk
to eventually win it from 42 yards. If the Jets had lost, Mornhinweg would've received heavy criticism for his late-game decisions.
Mark Sanchez appearance
: Sanchez was spotted in the locker room after the game. He tried to slip out the side door, but he was seen by reporters. Sanchez, who underwent recent shoulder surgery, had his right arm in a sling. He wasn't on the sideline during the game, so he probably watched from a club suite. This has to be a bittersweet time for Sanchez, whose season is over. No doubt, he's happy for the Jets, but it must be weird seeing someone else --
Geno Smith
-- lead the team he once called his own.
October, 20, 2013
10/20/13
6:15
PM ET
By
ESPNBoston.com
| ESPN.com
EAST RUTHERFORD, N.J. -- In a pool report with ESPNBoston.com's Mike Reiss disseminated to all reporters, referee Jerome Boger explained the penalty on Patriots defensive tackle
Chris Jones
, which gave the Jets a second chance to kick the game-winning field goal in Sunday's
30-27 overtime victory
over New England:
Please explain the penalty that was called on No. 94 [Patriots defensive tackle Chris Jones] on the field goal.
Boger
: The call was that No. 94 on the defense pushed his teammate into the formation. That is a rule change for 2013 that a teammate cannot push a teammate into the opponents' formation.
Is it any type of push? Is it a two-handed push?
Boger
: Any push. It could be with the body, not necessarily with the hand, but with the body into his teammate, into the formation. It's any type of pushing action.
Is there anything else to go over with this penalty?
Boger
: No, the umpire's flag went up almost instantaneously as he observed the action. We just enforced it as he called it.
And that's a 15-yard penalty ...
Boger
: For unsportsmanlike conduct.
October, 20, 2013
10/20/13
5:41
PM ET
MIAMI -- Observed in the locker room after the
Buffalo Bills
'
23-21 win
over the
Miami Dolphins
:
Jackson
Lawson not spotted:
Linebacker
Manny Lawson
wasn't spotted in the locker room postgame, his travel bag already packed by the time reporters entered. Lawson left in the third quarter with a hamstring injury, which also kept him out of the second half last week against Cincinnati. The veteran has provided a leadership presence for the Bills and has contributed on defense, but his status bears watching in the coming days -- again.
Jackson aggravates previous injury:
Teammates raved about
Fred Jackson
's toughness. The captain went down with what looked like a serious injury in the first quarter, but remained on the sideline and eventually returned to the game. Jackson said he simply aggravated his MCL sprain and it's something he'll need to "manage" going forward. The cart came onto the field for Jackson when he was on the ground, but asked about it afterward, he said he didn't know it had come out.
Monitoring the division:
Shortly after they defeated a division opponent, the Bills gathered around their locker room television to watch the ending of the Jets' overtime win over the Patriots. There wasn't much of a reaction from general manager Doug Whaley or CEO Russ Brandon as
Nick Folk
's field goal went through the uprights, but there were smiles among some of the players watching. The Jets' and Bills' wins keep things tight in the AFC East.
October, 20, 2013
10/20/13
5:40
PM ET
EAST RUTHERFORD, N.J. -- Patriots defensive tackle
Chris Jones
, who was flagged for an unsportsmanlike penalty on a missed field goal by the Jets in overtime, said after the game that the rule he violated was one he was aware of but slipped his mind at the time.
"Yeah, it was something we talked about probably during camp and stuff, and it just slipped out of my mind," he said. "So I just, it was just my mistake, nobody else's. I've just got to man up and fix it next time."
Jones was flagged because he appeared to push teammate
Will Svitek
, a violation on a field goal block attempt that gave the Jets 15 yards and a first down. They kicked the winning field goal four plays for a
30-27 overtime win
.
Jones indicated that he knew what he was going to do before the play.
"Yeah, yeah," he said. "Just try to get that extra little oomph in there."
When a flag was thrown on the play, Jones admitted that he was confused by the call.
"I was confused at first and didn't know what was going on, and I figured out what it was and I was like 'that was my fault,' " he said. "I just had to get -- we still had more football to play after that -- so I just had to, you know, get rid of it real quick."
Losing the game after committing the penalty was difficult for Jones.
"Yeah, it's tough," he added. "Any time you lose, it's hard on the team. You never want to lose, being a competitor, you never want to lose a game."
The rookie, who also had two sacks during the game, shouldered sole responsibility for the mistake.
"The mistake was mine," he said. "I take it, I put it on my shoulders, it was all my fault and it was nobody else's."
October, 20, 2013
10/20/13
4:55
PM ET
EAST RUTHERFORD, N.J. -- A few thoughts on the
New York Jets
' 30-27 overtime
win
over the
New England Patriots
at MetLife Stadium:

What it means:
The Jets (4-3) snapped a five-game losing streak against the Patriots (5-2), jumping back into the AFC East race. They also snapped the Patriots' 12-game winning streak against AFC East opponents. The Jets are lucky, benefiting from an unsportsmanlike conduct penalty on
Chris Jones
in overtime. It gave
Nick Folk
a second crack at the game-winning field goal, and he nailed it from 42 yards. Shades of the
Lavonte David
penalty in the Week 1 win over the
Tampa Bay Buccaneers
.
Stock watch:
Geno Smith
shook off a horrible first-quarter interception (returned for a touchdown) and went toe-to-toe with Tom Brady over the final 16 minutes. Smith wasn't too efficient (17-for-33, 233 yards), but he displayed pocket presence with two huge scrambles on the same drive in the third quarter. Somehow, he ran through three defenders on an eight-yard touchdown run. Smith's mobility is one of the reasons why the team preferred him over
Mark Sanchez
in the preseason. It wasn't a clean game for Smith (now has 11 interceptions), but it was a dramatic improvement from his Week 2 performance in New England, where he imploded in the fourth quarter.
Special K:
Receiver
Jeremy Kerley
was a beast on third down, catching six passes for first downs. After not playing in the Week 2 meeting, he was a matchup nightmare for the Patriots' secondary, which played without star cornerback
Aqib Talib
. The Jets relied heavily on Kerley and running back
Chris Ivory
, who ran for a season-high 104 yards against the Patriots' depleted front seven. Ivory questioned his role last week, and sure enough, it was expanded. Curiously,
Bilal Powell
didn't play much. He had been dealing with a minor neck injury. Tight end
Jeff Cumberland
hurt the Jets with two costly drops.
All over Brady:
What more can you do? The Jets played another terrific game against Brady, recording four sacks, holding the Patriots to 1-of-12 on third down and limiting Brady to 22-of-46 for 228 yards. They held the Patriots to two field goals in the second half. Clearly, the Jets' defense is no fluke; they have a terrific foundation.
Double A:
Second-year safety
Antonio Allen
made the defensive play of the game, returning an interception 23 yards for a touchdown to start the second half. Not only did it slice the Patriots' lead to 21-17, but it also revived the defense and the crowd. It was the Jets' first interception in 226 pass attempts (Week 1) and their first against Brady in 182 attempts (2011). Allen drew the toughest assignment of the day: tight end
Rob Gronkowski
, who tied a career high with eight catches in his season debut. All things considered, Allen did a solid job, considering Gronkowski was targeted 17 times.
What's next:
It doesn't get easier for the Jets, who hit the road to face the
Cincinnati Bengals
(5-2).
October, 20, 2013
10/20/13
4:33
PM ET
EAST RUTHERFORD, N.J. -- Rapid reaction from the
New England Patriots
'
30-27 overtime loss
to the
New York Jets
:

What it means:
The Patriots had their streak of 12 straight victories over AFC East opponents snapped. They had control of the game early, but the Jets' defense took control of the game in the third quarter. The Patriots had been in a favorable spot with a 21-10 halftime lead when quarterback
Tom Brady
had an interception returned for a touchdown by Jets safety
Antonio Allen
. The complexion of the game changed at that point, but the Patriots recovered in the fourth quarter in the critical situations to force overtime. But the Jets ultimately outlasted them to drop the Patriots to 5-2.
Critical penalty on Jones:
Rookie defensive tackle
Chris Jones
was called for an unsportsmanlike conduct penalty on the Jets' 56-yard field goal attempt in overtime as he was rushing up the middle. The kick was no good, but the penalty gave the Jets new life and they ultimately won it. This will be a big storyline after the game, and we would expect further explanation from referee Jerome Boger in a pool report.
Gronkowski snap tracker:
Tight end
Rob Gronkowski
made his 2013 debut and was charted on the field for 51 of 79 snaps (including penalties). He was a difference-maker in his return, drawing a big holding penalty in the second quarter, although he couldn't hang on to what would have been a tough one-handed catch on the Patriots' game-tying drive. Brady also forced the issue to him at times.
Stock Watch:
Brady -- down. One week after he drove the Patriots down the field in dramatic fashion, Brady turned in an uneven performance. While protection breakdowns didn't help the cause (credit also the Jets' defense), his interception returned for a touchdown early in the third quarter was uncharacteristic.
Ups and downs for depleted defense:
The short-handed Patriots defense struggled for long stretches as the Jets owned third down, but when a stop was needed late in the fourth quarter, the unit delivered with big pass breakups by cornerback
Alfonzo Dennard
and safety
Steve Gregory
. Rookie cornerback
Logan Ryan
had a pick-six in the first quarter. So it was a day of ups and downs for the unit. Overall, it was more the offense that hurt the Patriots.
Key stat:
The Patriots offense was 1-for-12 on third down.
Injuries of note:
There were no major injuries for the Patriots.
What's next:
The Patriots return home to entertain the Dolphins next Sunday in a second straight AFC East clash. The Patriots are 2-1 in AFC East play, with wins over the Bills and the Jets and today's loss to the Jets.
October, 20, 2013
10/20/13
2:47
PM ET
East Rutherford, N.J. -- The
New York Jets
started strong, but ultimately failed to keep up with a
Rob Gronkowski
-infused Patriots offense, and trail their AFC East rivals
21-10 at the half
at MetLife Stadium.
Gronkowski led all Patriots receivers with 4 catches for 54 yards, while wearing an impressive-looking brace on his left arm.
Gronkowski returned to the field after rehabbing from forearm and back procedures. And he immediately contributed, adding 42 yards on two catches in the first series. The tight end made the Patriots' entire offense run more efficiently, pulling defenders and blocking on the run. It was clear New England missed him.
Geno's pick-six
: The growing pains continued for rookie quarterback
Geno Smith
, who disrupted what looked like a good rhythm for the Jets' offense when he threw another interception on the second series of the game. A ball intended for
David Nelson
was intercepted by Patriots cornerback
Logan Ryan
and returned 79 yards for a touchdown. Smith had 10 completions for 159 yards in the first half, plus a touchdown and interception.
Kerley in bunches:
Jets wide receiver
Jeremy Kerley
was a most reliable third-down option. In the first series, he converted all three third downs, the last one for a 12-yard touchdown. He converted the first five third downs he was targeted on.
Defensive penalties:
On the Patriots' first scoring drive,
Quinton Coples
,
Muhammad Wilkerson
and
Calvin Pace
were all called for penalties. Flags have been an unwelcome theme for the team this season, and players had stressed the importance of eliminating self-inflicted losses all week. But not so much.
Baby Cribbs:
Not only did recently acquired kick returner
Josh Cribbs
get after kicks and punts, but he also played a little wide receiver and took a direct snap in a Wildcat formation.
Milliner struggles:
Rookie cornerback
Dee Milliner
, who was cleared to play after missing three games with a hamstring injury, was a target in the first half. Patriots quarterback
Tom Brady
threw at Milliner seven times for four completions, allowing 33 years total.

NFL SCOREBOARD
Thursday, 9/4
Sunday, 9/7
Monday, 9/8