NFL Nation:

2013 Week 7 SDG at JAC
October, 20, 2013
10/20/13
7:15
PM ET
JACKSONVILLE, Fla. --
Ryan Mathews
broke tackles and ran hard, eclipsing 100 rushing yards for a second straight game.
But San Diego's workhorse running back saved his best moves for after the game, quickly putting on a grey suit and packing his belongings as he tried to beat the rush of reporters.
Mathews enjoys talking about himself about as much as a dental phobic looks forward to a root canal, but he put up with a couple questions before exiting the locker room.
So what does rushing for 100 yards again mean to you?
[+] Enlarge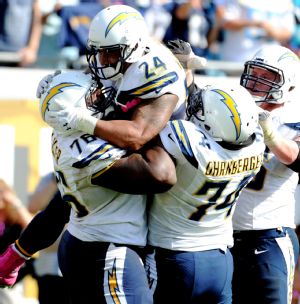 Melina Vastola/USA TODAY SportsRich Ohrnberger helps lift up Ryan Mathews following a touchdown.
"I don't really think about it like that," Mathews said following the Chargers'
24-6 win
over the
Jacksonville Jaguars
. "As long as we got the win, that's all that really matters -- being able to go into the bye week with a 'W' and a winning record feels good."
OK, so how do you feel about the effective way your team is running the ball right now?
"The big guys up front are doing an amazing good job of opening up holes and pushing guys back," Mathews said. "It's pretty easy to run through holes that you can drive cars through."
One of the guys responsible for opening up the big running lanes is offensive line utility man
Rich Ohrnberger
, who lifted Mathews off the ground after he bounced into the end zone for a 3-yard rushing touchdown in the second half.
"It's important to do your job, regardless of the situation," Ohrnberger said. "And for him (Mathews) to go out there, like all of the other guys in the backfield, and Phil (Rivers) passing his benchmark like he did -- just the guys behind us are so talented, they make our jobs that much easier."
Through five games, Mathews had rushed for 234 yards, averaging 3.5 yards per carry. In the last two games, Mathews has rushed for 212 yards, averaging a robust 4.9 yards a carry.
"It feels great to block for a running back who wants to be great -- who wants to be in the Hall of Fame one day," San Diego offensive lineman
D.J. Fluker
said. "We want to give Ryan as much room as possible to be the best running back he can."
The next assignment for Mathews will be to do a better job closing out things at the end of games. The Chargers went three-and-out three straight times in the fourth quarter, failing to convert first downs in order to grind out clock and salt away the game.
"He's got a lot of confidence in what we're doing, and the way the offensive line is blocking up front," San Diego coach
Mike McCoy
said. "There were a couple plays I said to Joe (offensive line coach Joe D'Alessandris), one in particular toward the end with three or four drives left -- unfortunately we went three-and-out on it -- but I said to him, 'That's the way you run the football.'
"That's the way you've got to be able to do it, pounding guys and double-team blocks, and the running back putting his foot in the ground and going north and south. And a lot of good finishes, and you saw a bunch of defenders on the ground. So we've just got to continue to be physical up front."
October, 20, 2013
10/20/13
6:55
PM ET
JACKSONVILLE, Fla. -- For the first time this season,
Jacksonville Jaguars
coach Gus Bradley seemed deflated.
Through the first six games, in which his team had lost each time by double digits and had scored just five points in two home games, he still found a way to be somewhat upbeat afterward. Not on Sunday, though. Not after a
24-6 loss
to the
San Diego Chargers
in front of 59,550 at EverBank Field.
[+] Enlarge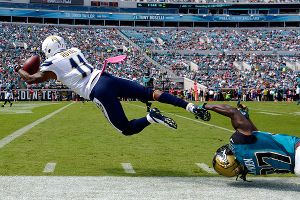 AP Photo/Phelan M. EbenhackAfter making progress last week, the Jaguars' defense could barely hang on against the Chargers.
Bradley wasn't demoralized, but he was pretty darn close.
"We talked about playing with toughness, playing with effort, playing with enthusiasm and playing smart. That's our style," Bradley said. "I don't think we did any one of those four today, and that's what's disappointing. I don't know what the reason was. I told them that if you're looking to place blame, you've got two options: Blame yourself or you blame me as the head coach because I did not have them ready today."
Bradley was talking about the entire team, but his message especially applied to the defense, which not only failed to show signs of the progress it had made in recent weeks but regressed. It wasn't the unit's worst performance in terms of points allowed, but it was perhaps the discouraging.
The Chargers administered the kind of methodical beating that breaks a team's spirit and causes defensive coordinators to bury game tapes behind a dumpster:
434 total yards, including 158 yards rushing
58 percent conversion rate on third down (7-for-12)
A 15-minute edge in time of possession (37:30 to 22:30)
Philip Rivers completed 85 percent of his throws and had a passer rating of 125.2
The most damning thing, though, was that the Jaguars' defense came out flat -- and nobody knows why.
"It just seemed like we didn't have it," defensive tackle
Sen'Derrick Marks
said. "When all the talk is about us getting better and continuing our process, we really took a step back on it today. We didn't get better. Not at all.
"All blame was on us. We didn't control the game at all. We didn't show nothing that we've been showing during the season or anything about getting better."
It truly was an inexcusable performance considering the Jaguars were coming off a game in which they held
Peyton Manning
and Denver to season lows in points, passing yards and total yards. The Jaguars were 28-point underdogs in that game but limited the Broncos to two first-half touchdowns and entered the break trailing by just two points.
It was a sign of progress for a defense that was starting two rookies in the secondary and couldn't mount much of a pass rush. But that went into the sewer on Sunday against the Chargers.
Rivers took advantage of the Jaguars playing umbrella coverage to force things underneath, completing his first 14 passes before finishing 22-of-26 for 285 yards and one touchdown. But what was really demoralizing was the fact the Chargers had five possessions of 10 or more plays and at least 79 yards. Three of the five lasted more than six minutes. The Chargers held the ball for 18:35 in the first half.
Nobody had any answers as to why it happened, either, which doesn't bode well for figuring out to keep it from happening again.
"We had one of those days," Bradley said. "It was very, very disappointing, especially on the defensive side of the ball. I challenged our guys and I told them we talked about getting better and we completely missed an opportunity -- and that's what not getting better looks like.
"If I come in here and say, 'Even though we lost we played with great effort and we played with great spirit and I like those things and we can build off of this' … to have any credibility with you and our fans I cannot say that today because that would be inaccurate. It would not be credible."
October, 20, 2013
10/20/13
6:13
PM ET
JACKSONVILLE, Fla. -- Observed in the locker room after the
San Diego Chargers
'
24-6 win
over the
Jacksonville Jaguars
.
Rivers
A reflective Rivers:
Philip Rivers
talked about becoming the second player in franchise history to eclipse the 30,000-yard passing mark with his effort against Jacksonville. Rivers has 30,023 yards, joining Dan Fouts, who finished his 15-year career as the Chargers all-time passing leader with 43,040 yards. "It's kind of a 'wow' to myself when it hits you," said Rivers, who received the game ball from coach Mike McCoy in the locker room. "It's humbling when you hear that. And the first thing that comes to my mind is how many guys are involved in that happening. You don't throw 30,000 yards to yourself. There's a lot of guys that have been on the receptions end of it. No. 85 [
Antonio Gates
] has been on the other end of a lot of them. And then there's a lot of guys up front that have protected for you to get the ball off." One of those offensive linemen is longtime center
Nick Hardwick
. "It's just a pleasure to work with such a great guy, a great teammate and true friend," Hardwick said. "He's the most competitive person I've ever been around. It's a real honor." Rivers also confirmed that his wife, Tiffany, did not give birth to the couple's seventh child while he was in Jacksonville.
Still work to do:
While players look forward to having some time off during the bye week, players understand there's more work to do. Defensively, the Chargers have not given up a touchdown in 11 quarters, and did not allow a touchdown in back-to-back games for the first time since the first two weeks of the 2002 season. But, as safety
Eric Weddle
said, it's better for players to learn from their mistakes by winning instead of losing. "The games and plays that you learn from help build your identity and who you are," Weddle said. "So for us to play like we've played the last two and a half games is big -- and not reading the press and feeling like we're all that -- but just staying closed-minded, staying the course and staying focused. It's really a testament to these guys, the older players getting the young players right and the coaches coaching us up. Look at the guys that we had out there, and we're playing lights out. It's exciting, but we have to keep going upwards. We can't take a step back."
Last time Fluker played left tackle? Try high school:
You can't blame rookie offensive lineman
D.J. Fluker
for feeling a little uncomfortable moving over to left tackle in the opening quarter after
King Dunlap
left the game with his second concussion of the season. Fluker was drafted as San Diego's long-term answer at right tackle, and had not played left tackle since his high school days in Foley, Ala. "I was a little nervous," Fluker said. "So I had to kind of calm down, and the coaches just told me to be patient and it will come. And eventually that happened. I got beat a couple times, but I haven't been over there for so long. Other than that, I think I did OK." For the most part, San Diego's offensive line kept Rivers clean, holding Jacksonville to just one sack.
October, 20, 2013
10/20/13
5:25
PM ET
JACKSONVILLE, Fla. -- Observed in the locker room after the
Jacksonville Jaguars
'
24-6 loss
to the
San Diego Chargers
:

Bradley
Bradley fired up:
Jaguars coach Gus Bradley was pretty animated with officials at the end of the first half while walking off the field because he was upset at not being able to call a timeout so officials could review a long pass play by the Chargers. "I thought it was going to be reviewed up top and everything told me that it was going to be reviewed and then I saw they weren't going to review it so I ran down the sideline to get a timeout and they didn't see me, I guess," Bradley said. "Something must have caught their attention."
Shorts takes blame:
Receiver
Cecil Shorts
gave no excuses for not making a pair of potential touchdown catches, even though he was playing with a painful injury to the SC joint near his shoulder. "I'm not going to use that as an excuse," he said. "That's two drops and that's on me. That's 12 points. I will play better next week."
Not ashamed:
Quarterback
Chad Henne
said the team isn't embarrassed about being 0-7: "No, I wouldn't say we're embarrassed. Are we disappointed? Absolutely. It's tough to go through 0-7. We want to win and we're hungry."
October, 20, 2013
10/20/13
4:06
PM ET
JACKSONVILLE, Fla. -- A few thoughts on the
San Diego Chargers
'
24-6 win
over the
Jacksonville Jaguars
:
What it means:
The Chargers won consecutive games for the first time this season and go into the bye week above the .500 mark for the first time in 2013 (4-3 overall).

Rivers makes history:
San Diego quarterback
Philip Rivers
completed his first 14 passes, which is a franchise record. He also became the 38th quarterback in NFL history to eclipse 30,000 career passing yards. Rivers finished 22-for-26 for 285 yards, including a 27-yard touchdown pass to
Eddie Royal
.
O-line shuffle:
With only seven offensive linemen active for the game, the Chargers finished the contest with six healthy enough to play. Starting left tackle
King Dunlap
suffered his second concussion of the season in the opening quarter, and his replacement,
Mike Remmers
, went down four plays later with an ankle injury. Remmers could have, but did not go back into the game. Rookie
D.J. Fluker
moved from left tackle to right tackle.
Jeromey Clary
moved from right guard to right tackle. And
Rich Ohrnberger
came off the bench to play right guard.
How about that defense?
San Diego defensive coordinator John Pagano's unit proved last week's effort against Indianapolis was not a fluke, limiting the Jaguars to six points and 353 total yards. The Chargers sacked Jacksonville quarterback
Chad Henne
six times, including two by
Thomas Keiser
, who was playing in place of starting outside linebacker
Jarret Johnson
.
Mathews reaches century mark:
For a second straight game, running back
Ryan Mathews
topped 100 yards rushing. Mathews finished with 110 rushing yards on 21 carries, including a 3-yard run for a score. The touchdown was Mathews' first scoring run of the season and first since Week 5 of last year.
What's next:
The Chargers will take the week off before traveling to take on Washington at 1 p.m. ET on Nov. 3.
October, 20, 2013
10/20/13
3:58
PM ET
JACKSONVILLE, Fla. -- A few thoughts on the
Jacksonville Jaguars
'
24-6 loss
to the
San Diego Chargers
:

What it means:
The Jaguars have not exactly been playing well all season, but they've been particularly ineffective in their three home games. How bad? The six points were a season high in a home game, and they've been outscored 89-11 in three games at EverBank Field. The Jaguars haven't scored a touchdown at home since 9:34 remained in the first quarter of a Week 16 loss to New England last season.
Stock watch:
Jacksonville's defense couldn't get off the field. The Chargers went with a dink-and-dunk approach and methodically marched down the field all day. The first four scoring drives all lasted at least 10 plays and were at least 79 yards. Three of the four took at least 6:08.
Philip Rivers
started the game 14-for-14, and the Chargers converted their first six third-down attempts before finally failing. Even when the defense made plays, it ended up hurting itself. Defensive tackle
Sen'Derrick Marks
was penalized for unsportsmanlike conduct, wiping out a third-and-33 and giving the Chargers a first down. That drive eventually ended with a touchdown and a 14-0 Chargers lead.
Replay issues:
The Jaguars were burned once because they couldn't get a replay and a second time when a call wasn't overturned that probably should have been. It appeared that
Keenan Allen
was touched down by
Alan Ball
on a sliding catch, but he got up and ran for an additional 20 yards. Jaguars coach Gus Bradley failed to call a timeout in time to challenge the play. Officials did review a play in which
Antonio Gates
appeared to fumble inside the 5-yard line but did not overturn the call. San Diego kicked a field goal on the next play.
What's next:
The Jaguars play host to the
San Francisco 49ers
in London next Sunday.