NFL Nation:

2013 Week 7 STL at CAR
October, 20, 2013
10/20/13
8:40
PM ET
CHARLOTTE, N.C. –
St. Louis Rams
coach Jeff Fisher had a simple message for his football team after the second-half of a
30-15 loss
to the
Carolina Panthers
turned into a battle royale.
"Don't hurt the football team," Fisher said.
Unfortunately for the Rams, that message was a day late, an ejection of a key defensive player and four flags for unsportsmanlike conduct short.
After a little more than two quarters of chippy play that never really went to the next level, things got out of hand during a sequence that began with 11 minutes, 21 seconds to go. Rams defensive end
Robert Quinn
had responsibility for Carolina quarterback
Cam Newton
on a zone-read play, and Quinn ran through him just as Newton handed the ball off to running back
DeAngelo Williams
.
[+] Enlarge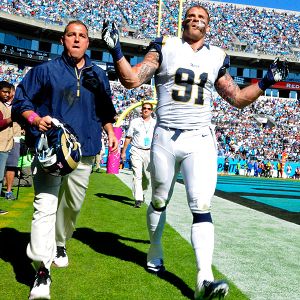 AP Photo/Mike McCarnRams defensive end Chris Long was ejected after throwing a punch at the Panthers' Chris Scott.
"It was a legal hit, just out there trying to make plays," Quinn said. "Say I did pull up and didn't hit him and he pulled the ball out, he could've made a huge play. I was just out there playing football, not trying to do anything to hurt our team."
Newton stayed down on the field and was helped off before returning a play later, but the damage had already been done. From that moment, the rest of the game turned into the type of melee that would have had local wrestling legend Ric Flair "wooing" his way through downtown Charlotte.
The main event came two plays later when Rams defensive end
Chris Long
threw a right cross at right guard
Chris Scott
during a scrum that seemed to last the better part of a couple minutes. In a fracas where many punches and blows were exchanged, Long had the misfortune of throwing the most obvious haymaker. He was penalized and ejected soon after.
"You know how that goes," Long said. "They are always going to get the second guy. I need to be smarter than that. I play this game with a lot of emotion. I won't change that, but there has to be a point where I can reel it in and I can't let people provoke me I can't hurt the team."
Much of the rest of the afternoon's activities turned into an ugly and embarrassing scene for all parties. Long had things thrown at him by Carolina fans as he walked off the field, and the Rams earned three more unsportsmanlike-conduct penalties, two on guard
Harvey Dahl
and another on receiver
Brian Quick
. The Panthers picked up one of their own, a play that forced them to settle for a field goal.
Self-discipline soon became a distant memory, and the Rams allowed themselves to fall into the trap sprung by a Panthers team that didn't hesitate to prance, preen and instigate to provoke them.
"The thing that you've got to do is, you've got to just continue to do that kind of stuff in between the whistles," offensive tackle
Rodger Saffold
said. "It's hard to say that to somebody, especially a grown man who has put his heart and soul into the game, and it's hard to hold back those emotions.
"A play lasts for an average of four seconds? We still have 20, 25 seconds, you have got somebody continuing to egg you on constantly, taunting going on back and forth, things the refs don't see and you retaliate and you get flagged. It's things that can't happen, but I can't say that I don't understand, especially with how the game was going."
While there is something to be said for sticking up for a teammate – who could blame Dahl for going after Carolina safety
Mike Mitchell
after he openly taunted injured quarterback
Sam Bradford
on the Rams' sideline – the Rams simply aren't good enough to overcome in games in which emotions rise to the level they did Sunday.
At the time when everyone seemed to reach their boiling point, the Rams were trailing 17-5 and had a chance to get a stop and get the ball back to their offense to shave it to a one-score game with plenty of time left.
Instead, Carolina went in quickly for a field goal, a touchdown and another field goal after penalties on Dahl and Quick offered the Panthers prime field position. Suddenly, it was 30-12, and the Rams never really threatened again.
"People think because the game is over those emotions are gone," Saffold said. "Those emotions are held inside of us. That fire is what's going to make us come back even stronger and faster."
Stronger and faster would be good, but smarter would be even better.
October, 20, 2013
10/20/13
7:45
PM ET
CHARLOTTE, N.C. -- As tensions rose and tempers flared, you couldn't help but feel that somewhere along the way the
St. Louis Rams
or
Carolina Panthers
would suffer some collateral damage beyond the sting of a simple yellow penalty flag.
While the full extent of that damage will be better determined by an MRI on Sunday night, it appears the Rams might have taken the biggest hit of all.
Rams quarterback
Sam Bradford
's left knee injury left the team clearly concerned with his status moving forward after he was taken to the locker room on a golf cart with a little less than five minutes to play.
The question quickly became whether the Rams' hopes for a successful season were also a passenger on that cart.
"It's really tough," Rams defensive end
Chris Long
said following the team's
30-15 loss
. "Sam has been playing well. Whatever that situation might be, it's just tough to see him in pain, and it's tough to see him get some bad luck on that one. It was just a bang-bang play. It's football. It's a very physical game, and, sometimes, you are going to get hurt. Hopefully, we'll have Sam back soon. Sam fights hard for this team and works his ass off. For him to have to exit early, that's really hard for the team."
[+] Enlarge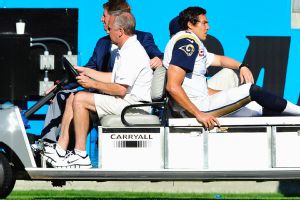 Grant Halverson/Getty ImagesRams quarterback Sam Bradford was taken to the locker room on a golf cart late in the fourth quarter.
Not that there are many teams around the league equipped to simply replace their starting quarterback and not miss a beat, but there's little doubt that Bradford -- regardless of opinions on his status as a franchise quarterback -- is the Rams' most irreplaceable player.
If the Rams do get good news and Bradford misses only a short period of time, it's possible they could bail water and stay afloat for the time being. If he's out for a long stretch, well, it's probably safe to say that any hopes of a step forward in 2013 are gone.
Before the injury, Bradford had been stringing together some of his best games as a professional, and he was having a solid outing against the Panthers, one that would've been even better were it not for some costly drops and penalties.
In the nearly seven games Bradford played this season, he was on pace for career highs in nearly every major passing category, with 14 touchdowns and four interceptions for a quarterback rating of 90.9.
The Rams' recent offensive shift to a power-run game with play-action seemed to suit Bradford well, making the sight of him on the sideline that much harder to swallow for his teammates.
"You never want to see your guy go down," linebacker
James Laurinaitis
said. "The feeling right now is it's tough. You have got to let it hurt for 24 hours and then move on no matter what the diagnosis for Sam, and we have got to watch the tape and focus on the football stuff."
The football stuff could well include another opportunity for veteran backup
Kellen Clemens
to step into the starting role. Clemens replaced Bradford for the final minutes of Sunday's loss and completed two of four passes for 19 yards.
Clemens has plenty of knowledge of the Rams' offensive system, so that part of it wouldn't be the hard part. The hard part would be getting the consistent production the team needs from the position.
Consistency hasn't exactly been Clemens' forte. Neither has production, for that matter.
In 31 career games, Clemens has a quarterback rating of 62.2 with seven touchdowns and 13 interceptions. He surprised some by winning the backup job over Austin Davis in training camp after it appeared the team might not re-sign him at all back in February.
"It's never easy when you see a teammate go down," Clemens said. "When you see a person that you spend as much time with as I do with Sam and genuinely care about as a person; I have a great respect for what he does on the field but just a genuine concern for him as a person. It was not easy to see. Hopefully, whatever it is, it's quick."
Whether Clemens' opportunity is a short cameo or a long-term situation, the Rams will have to add another quarterback to the mix this week. Perhaps Davis, with his knowledge of the offense, will get a call. Maybe the Rams will look elsewhere.
For now, it's not hard for the Rams to figure out what many will say if Bradford misses extended time: The season is over, the Rams are finished, they have no chance, will be a familiar refrain.
"Of course," offensive tackle
Rodger Saffold
said. "But what they don't know is that Sam believes in us just like we believe in him, and we're going to believe in Kellen, too."
The Rams had better, because, chances are, not many others will.
October, 20, 2013
10/20/13
4:14
PM ET
CHARLOTTE, N.C. -- A few thoughts on the
St. Louis Rams
' 30-15
loss
to the
Carolina Panthers
:

What it means:
The Rams lost the game but may have taken an even bigger hit as quarterback
Sam Bradford
suffered an injury late in the fourth quarter. He was taken off the field on a cart with a little less than five minutes to go. If that injury is serious, this is headed toward a lost season for St. Louis.
As for the game, the Rams got their season back on track in the past two weeks by winning the turnover battle, finishing drives in the red zone and maintaining discipline on penalties and silly mistakes. This loss saw a near-complete role reversal in a game that closely resembled last week's win against Houston -- with St. Louis in the role of the Texans.
The Rams dominated most of the first half, but Carolina converted two takeaways into 10 points and the Rams managed just three points on two trips to the red zone. St. Louis drops to 3-4 with the defeat. Seven weeks in, figuring out this Rams team remains a difficult proposition.
Stock watch - Up:
The Rams' run defense -- This is an area in which the Rams have been simply miserable for most of the year, but they actually stepped up to perhaps their toughest test yet against the Panthers' multifaceted rushing attack. Carolina finished with 102 yards on 38 carries, an average of just 2.7 per attempt.
Stock watch - Down:
The Rams' discipline -- Simply put, the Rams lost their cool against a team that didn't hesitate to instigate things. Carolina receiver
Steve Smith
was in the head of the Rams, especially their young corners, and that tension boiled over in the second half. The result was an ejection for defensive end
Chris Long
for throwing a punch and personal foul penalties on
Brian Quick
and guard
Harvey Dahl
.
Bad bounces:
The Rams couldn't have had a worse start after their first play from scrimmage turned into
Captain Munnerlyn
's 45-yard interception return for a touchdown and a quick 7-0 deficit. Bradford has thrown four interceptions this season, three returned for scores. All three of those have come on either a deflected pass or, in this case, his arm being hit as he prepared to throw.
What's next:
The Rams have a long week to prepare for what figures to be one of their toughest challenges to date. The
Seattle Seahawks
come calling for a Monday night date after a long week. Of course, if that one gets out of hand as this one did, there may be nobody there to see it. The St. Louis Cardinals could be playing Game 5 of the World Series down the street that night.
October, 20, 2013
10/20/13
4:13
PM ET
CHARLOTTE, N.C. -- A few thoughts on the
Carolina Panthers
'
30-15 victory
against the
St. Louis Rams
:

What it means:
Carolina (3-3) has a chance Thursday night at Tampa Bay to get above .500 for the first time under third-year coach Ron Rivera and the first time since 2008. The Panthers, who started 1-5 each of the past two seasons, didn't win a close one, which has plagued them. But they did win an ugly one in which the Rams constantly shot themselves in the foot with penalties and turnovers in an oh-so-familiar way. Knowing it can play a subpar game and still get away with the victory at least has to be encouraging for a Carolina team trying to build an identity.
Stock watch:
Running back
Mike Tolbert
scored on a 1-yard run in the first half to give him three touchdowns in the past two games. He has become the go-to guy in short-yardage situations, although he was stopped on two plays from the St. Louis 1 in the third quarter and then drew a personal foul. It will be interesting to see how his carries change when
Jonathan Stewart
, the team's second all-time leading rusher, returns from the physically unable to perform list. Rivera indicated that could be this week.
Inconsistent O-line:
The Panthers did a poor job run and pass blocking, particularly in the first half when quarterback
Cam Newton
was sacked twice and Carolina ran for only 28 yards against the league's 30th-ranked run defense. Sixteen of that came on runs by Newton.
DeAngelo Williams
, the team's leading rusher, had seven yards on five carries in the first half. The Panthers couldn't move the Rams out of the way on two carries from the St. Louis 1-yard line in the third quarter.
Weakness in secondary:
Left cornerback
Josh Thomas
was beaten for a 73-yard catch in the third quarter and a 63-yarder in the first half that was called back for a tripping penalty on the Rams. He is solid against the run but way too soft against the pass. Don't be surprised to see
Melvin White
or
Drayton Florence
get more time there.
Early team MVP:
There are a lot of candidates on defense, but you can't overlook kicker
Graham Gano
. He is 9-for-9 on field goals after going 3-for-3 on Sunday -- including a 50-yarder that made him 3-for-3 from that range.
What's next?
The Panthers travel to Tampa, Fla., for a Thursday night game. This will be the NFC South opener for Carolina, which lost both games to the currently winless Bucs a year ago.