NFL Nation:

2013 Week 8 ATL at ARI
October, 27, 2013
10/27/13
11:11
PM ET
GLENDALE, Ariz. -- When right tackle
Eric Winston
reported for training camp in July, he didn't know his teammates' names.
But during his first practice, he saw a running back with No. 38 on his jersey scamper by and Winston wanted to know who it was.
[+] Enlarge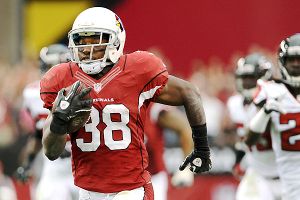 Jennifer Stewart/USA TODAY SportsConsider running backs coach Stump Mitchell happy that Arizona drafted rookie Andre Ellington in the sixth round. "He was a steal," Mitchell said.
Everybody learned
Andre Ellington
's name Sunday.
The rookie running back filled in for starter
Rashard Mendenhall
, who was out with a toe injury, and ran for 154 yards on 15 carries and single-handedly opened the passing game in the
Arizona Cardinals
' 27-13 win over the
Atlanta Falcons
. It was the fourth-best outing for a Cardinals rookie and was highlighted by an 80-yard run that drew gasps around the stadium.
After bouncing out left with the help of blocks from
Larry Fitzgerald
and
Michael Floyd
, Ellington turned on the afterburners. He was nearly caught by Falcons cornerback
Asante Samuel
but Ellington found an extra gear and darted into the end zone.
"He's got a burst to him," Winston said. "And he's got really good vision. I think [rookie running back] Stepfan's [Taylor] got a little something to him, too.
"Ellington's got that home-run ability, and I think he's got a chance to be special if he wants to be special in this league."
Ellington paired with Taylor on Sunday for 29 carries, and the two provided a dimension to the offense the Cardinals had not seen this season. By gaining yards and points on the ground, Arizona forced the Falcons to honor the run, which meant they couldn't send seven or eight guys per play on a pass rush.
That allowed Palmer to throw for 172 yards on an efficient 13-for-18 passing day.
"It makes [the defense] worry about it," Palmer said. "Defensively, you've got to worry about 38 (Ellington) in the game. You've got to worry about screen. You've got to worry about him running inside, him running outside. Toss plays. Then the play-action."
With the running game working, the offense clicked. Ellington said the Falcons didn't know what to expect because the run and pass burned them throughout.
He knew what to expect from himself now that he's fully healthy again. The way Ellington played and how Taylor complemented him leaves Arians in a tough position come Nov. 10 against Houston. Does Ellington remain the starter after kick-starting the offense? Or does Arians hand the keys back to Mendenhall?
"We'll look and evaluate how everything goes and how he responds to the treatment," Arians said. "He'll play when he's 100 percent healthy."
Ellington said his body will feel the grind Monday but he was ready for his coming-out party.
"I try to be the best that I can be," Ellington said. "When my opportunity comes, I just try to make the best of it."
October, 27, 2013
10/27/13
11:00
PM ET
GLENDALE, Ariz. -- It was far from the type of return
Steven Jackson
wanted.
The
Atlanta Falcons
running back, sidelined since Week 2 with a hamstring injury, figured he could help bring balance to a pass-happy offense. Such wasn't the case as Jackson rushed for just 6 yards on 11 carries in the Falcons' 27-13 loss to the
Arizona Cardinals
. His biggest contribution was a blitz pickup early in the game.
Jackson
"It was tough sledding today," Jackson said. "The Arizona defense came out there and did a really good job against the run. Definitely not the production that I wanted to see out of myself."
The Falcons finished with 27 yards on 14 carries a week after picking up just 18 yards on 18 carries against Tampa Bay. On Sunday, quarterback
Matt Ryan
had the longest rush with a 13-yard pickup.
Jackson, who had no issues with his hamstring, was targeted five times in the passing game and picked up 7 yards on three catches. He missed an opportunity to haul in a touchdown pass thanks to solid defense by former Falcon
John Abraham
.
The Cardinals boasted the league's seventh-best run defense coming into the game. Run blitzes helped keep Jackson and crew in check.
"They're a really good defense and they have Pro Bowlers on that side of the ball as well," Jackson said. "We have familiarity as well; myself and that defense. They did a really good job. Hats off to them. Kudos."
Although the outlook for the season looks bleak now, the Falcons still have to find a way to get Jackson involved moving forward. He signed a three-year, $12 million deal after coming over from the
St. Louis Rams
. The injury set him back several weeks. Jackson just returned to practice last week and didn't take a full load of reps until week's end.
With Ryan taking his lumps while dropping back to pass, it only emphasizes the need for Jackson to be effective in the running game.
"We need to get the balance going, period,'' Jackson said. "We need to be able to run the ball. We need to be able to convert on third down. We need to be able to do a lot of things better than what we did today."
October, 27, 2013
10/27/13
9:17
PM ET
GLENDALE, Ariz. -- Observed in the locker room after the
Arizona Cardinals
'
27-13 win
over the
Atlanta Falcons
:
Abraham
No bye-week blues:
It was a jovial Cardinals locker room as they enter the bye week at 4-4. Guys were smiling, laughing and hugging it out. "Not saying you can relax more now, but you feel a little better about your preparation for your weeks coming out," linebacker
John Abraham
said.
Abraham cleared:
Abraham left the game in the third quarter after a blow to the head, but the former Falcon said he took and passed a test after the game.
Painful finger:
Left tackle
Bradley Sowell
got his right middle finger caught in a blocker during the game and damaged part of his nail. It was painful, he said, but Sowell was able to finish the game.
Collector's items:
Wide receiver
Larry Fitzgerald
became the youngest player in NFL history to catch 800 passes. When asked what he'll do with the game ball, Fitzgerald said it's going home. He has kept the ball from his first catch and then from every hundredth after. That leaves him with nine overall.
October, 27, 2013
10/27/13
7:50
PM ET
GLENDALE, Ariz. -- A few thoughts on the
Atlanta Falcons
' 27-13 loss to the
Arizona Cardinals
on Sunday at the University of Phoenix Stadium.

What it means:
The loss dropped the Falcons to 2-5, and any optimism about making the playoffs has all but evaporated. It's hard to imagine the short-handed Falcons finishing even above .500 with two games left against the improved
Carolina Panthers
, one more matchup with the NFC South-leading Saints and contests remaining against Seattle, Green Bay and San Francisco. At least the Falcons still have the winless Buccaneers on the schedule once more.
Stock watch:
The offensive line, as a whole, continues to fail. The guys up front couldn't protect
Matt Ryan
and couldn't open up holes in the running game. Not to mention guard
Justin Blalock
and tackle
Jeremy Trueblood
picked up penalties on a third-quarter drive when the Falcons really needed to gather some momentum. There was a chance the return of
Sam Baker
could have given the Falcons a little bit of a boost along the line, but Baker did not suit up after being questionable coming off a knee injury. It looks like the Falcons' line could use an extreme makeover, but there won't be any quick fixes. There is no choice but to wait until next season.
Matty Ice-Cold:
The aforementioned line problems certainly contributed to Ryan's miserable day. The reigning NFC Offensive Player of the Week threw four second-half interceptions, his first multi-interception day since he threw five against the Cardinals last November. The Falcons put themselves in way too many third-and-long situations, which forced Ryan -- who attempted a career-high 61 passes -- to try to make superhero-like deep throws to dig his team out of trouble. Ryan figured it would be much tougher against the Cardinals than it was against the Buccaneers last week. He never imagined it being this bad.
Running on empty:
Steven Jackson
, out since Week 2 with a hamstring injury, wanted to bring balance back to the offense through the running game. Instead, Jackson was pretty much nonexistent other than a nice blitz pickup early in the game. The key was for Jackson to establish a rhythm early. Instead, he rushed for 5 yards on five first-half carries. No one should have expected Jackson to come in and rush for 100 yards after sitting out four games. But the Falcons needed much more production from the veteran back regardless of his health status. He finished with 6 yards on 11 carries, with a long run of 4 yards. Ryan actually had the longest run of the day with 13-yard pickup.
Defensive implosion:
The Falcons' defense felt good after blitzing the pants of the Buccaneers last week. Not so fast. Mike Nolan's crew stumbled once again, giving up an 80-yard touchdown run to unheralded Cardinals running back
Andre Ellington
, who rushed for more than 100 yards. The Falcons also surrendered a 51-yard touchdown pass play from
Carson Palmer
to receiver
Teddy Williams
. The Falcons have made average players look great while surrendering 11 plays of 40-plus yards this season. Maybe Nolan will go back up into the booth after this miserable showing, though the pass rush showed improvement in the second half.
What's next:
The Falcons have their second consecutive road trip, with a matchup against
Cam Newton
and the Panthers next Sunday. Newton recently said his team "absolutely" can win the NFC South. The Falcons are struggling and have had problems against Newton in the past. In other words, this could be another long day for the Falcons. Atlanta has won five of the past six against Carolina.
October, 27, 2013
10/27/13
7:39
PM ET
GLENDALE, Ariz. -- A few thoughts on the
Arizona Cardinals
'
27-13 victory
against the
Atlanta Falcons
.

What it means:
The Cardinals offense began to click Sunday against Atlanta, but was it because the Falcons' defense played badly or the Cardinals' running game helped balance the passing game? Either way, Arizona showed what its passing game could do when its running game shows up. The Cards gained 201 yards on the ground, which kept the Falcons' pass rush honest and allowed let offensive line give
Carson Palmer
time to throw.
Stock watch:
Rookie running back
Andre Ellington
was given an opportunity to show what he can do as the starter Sunday and made the most of it. Ellington made a case to unseat
Rashard Mendenhall
as the Cardinals' primary back when the team returns from its bye week in November. His ability to cut on a dime and his breakaway speed add another dimension to the Cardinals offense as he showed on an 80-yard touchdown run in the second quarter. Ellington finished with 154 yards.
Another record:
Larry Fitzgerald's 17-yard catch at the end of the third quarter was the 800th of his career, making him the youngest player in NFL history to reach that mark at 30 years, 57 days old. And the record came on a day when news broke that he could be traded or have his contract restructured during the offseason.
Pick party:
Falcons quarterback
Matt Ryan
came into Sunday's game with three interceptions, one for every 81.3 attempts. He left Arizona with more than twice as many. The Cardinals intercepted him four times in his 61 attempts. Safety
Rashad Johnson
had two, the first was by linebacker
Daryl Washington
and the third by safety
Tyrann Mathieu
.
What's next:
The Cardinals have a bye next weekend before hosting the
Houston Texans
at 2:25 p.m. MT on Nov. 10 at University of Phoenix Stadium.
NFL SCOREBOARD
Sunday, 2/2
WEEKLY LEADERS