NFL Nation:

2013 Week 8 BUF at NOR
October, 27, 2013
10/27/13
9:39
PM ET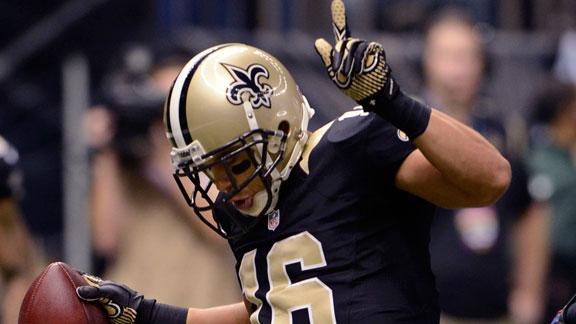 NEW ORLEANS -- A 6-1 start to the season might be considered great for some teams. But coach Sean Payton made sure that his
New Orleans Saints
aren't one of them -- especially after they made too many sloppy mistakes in their 35-17 victory over the
Buffalo Bills
on Sunday.
His message to players in the postgame locker room: Six wins just makes a team "bowl eligible." And the Saints aren't going to settle for that.
"I was pleased we got the win. It certainly wasn't our best effort," Payton reiterated in his opening statement to the media. "We made some silly mistakes."
Payton was upset with everything from penalties and substitution problems to execution errors -- especially early in the game.
And his players agreed.
Although quarterback
Drew Brees
threw for 332 yards and five touchdowns and the Saints won the turnover battle 3-0, Brees repeatedly said the standard is much higher for this team. Their first two drives were three-and-outs, and they trailed the Bills 10-7 late in the second quarter.
"We set the bar very high," Brees said. "We know not everything is going to be perfect. But when some of those same things keep showing up -- the slow start and that kind of thing -- those are things that just need to be corrected. Going three-and-out, we've done that way too many times [the past two games]."
Some of the issues that nagged at Payton were the Saints' nine penalties (one that was offsetting), two missed field goals by
Garrett Hartley
, a wasted timeout when the Saints had only 10 men on defense, four sacks allowed and a handful of negative runs.
"The goal here is not to have a good record, but to be a great team," said Saints offensive tackle
Zach Strief
, who strongly approved of Payton's message.
"That's one of the great things about him, he's not going to allow that to be OK," Strief said. "Players can sense that stuff, when you win but have too many negative plays, when you get the ball in a good place and go backward. It's not always gonna work out the way it did today. There won't always be those opportunities that our defense give us."
The good news for the Saints, of course, is that they still flashed more than enough greatness to pull away from the Bills (3-5) on Sunday.
The defense continued to impress by forcing three more turnovers on Sunday (forced fumbles by linebacker
David Hawthorne
and end
Cameron Jordan
and an interception by cornerback
Keenan Lewis
).
And all five of Brees' touchdown passes sailed over that high bar he was talking about -- including bombs of 69 yards and 42 yards to rookie receiver
Kenny Stills
in the second and fourth quarters.
[+] Enlarge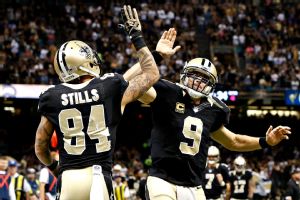 Derick E. Hingle/USA TODAY SportsKenny Stills and Drew Brees teamed up for a pair of long touchdowns.
Brees completed 26 of 34 passes on Sunday, spreading the ball around to 10 different receivers.
One of them was tight end
Jimmy Graham
, who caught three passes for 37 yards and two touchdowns despite
being limited to less than 20 snaps
because of a partially torn plantar fascia.
Another of those receivers was
Lance Moore
, who caught three passes for 34 yards and a touchdown in his return from a hand injury that had kept him out since Week 3.
Brees insisted before the Saints' Week 7 bye that their offense was still just "scratching the surface" of its potential. And that was true of Sunday's performance.
Graham, Moore and Stills should all theoretically continue to improve from here -- Graham and Moore because of health, and Stills because he's still developing as a playmaker.
Brees' trust in Stills is obviously continuing to grow now that he has hit him with three touchdown passes over the past five quarters. That includes two "jump balls" in the end zone on third-and-20 plays that Stills went up and got (one at New England in Week 6, one on Sunday).
"That's my job is to go up there and prove to Drew I can make plays when he throws the ball up there," said Stills, who finished Sunday with three catches for a career-high 129 yards.
Of course it wasn't all gloom and doom in the Saints' locker room after all those highlights. As Brees said, "It's good when you can not play your best and still win."
But the goal is to see just how dominant this offense can be when it does start playing its best on a consistent basis.
The goal is to be playing in a bowl game in February.
October, 27, 2013
10/27/13
8:02
PM ET
NEW ORLEANS -- No matter how you slice it, the
Buffalo Bills
lost on Sunday. Badly.
Turning the ball over in your own territory twice in the first quarter isn't a way to win. Nor is allowing an opposing quarterback to throw for five touchdowns and no interceptions, as
Drew Brees
did in the Saints'
35-17 win
over the Bills in New Orleans.
But if there was one game on the schedule this season that the Bills shouldn't be too broken up about being defeated, this was it.
In many ways, their trip to New Orleans to face the 6-1 Saints was a checkpoint for first-year head coach Doug Marrone. Had he built his program well enough in his first 10 months on the job for his team to hang tough, or even pull out a win?
[+] Enlarge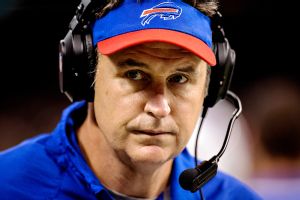 Wesley Hitt/Getty Images"I am fired up to get back and start coaching and get this thing right," Bills coach Doug Marrone said after the loss at New Orleans.
The latter question was answered with a convincing "no" on Sunday, but that's not to say his team isn't on the right track. They are.
If nothing else, their loss to the Saints shows the Bills how they stack up against the league's elite.
"It was more of a learning experience than a loss," cornerback
Nickell Robey
said after the game.
Robey, who stands at just 5-foot-7 but is as confident as undrafted rookies come, expounded on his glass-half-full viewpoint of the loss.
"When we make our mind up, we're going to be a good team," he said. "We have to come out ... we have to finish the game. Once we know how to finish a game, be poised, and know how to handle certain situations we're going to be a great team."
However, there is only a certain level of patience that can be had with a young, developing team like the Bills. At some point, they need to win a game like that against the Saints. In the NFL, the window to go from worst-to-first can last only two or three seasons for some top-level football decision makers.
So it's understandable that Doug Marrone had higher expectations for the Bills' trip to New Orleans, and a greater sense of urgency as they return home next Sunday to face the undefeated
Kansas City Chiefs
.
"I told the players, 'Does it hurt? Absolutely.' We had a great opportunity. We had the opportunity because we did a heck of a job last week, and now we come on the road again and we fell short," he said. "We are going to fire our butts off now. We have to get back and we have to go in and play a good Kansas City team. It's a great challenge for us. We are going to have to go in and beat them and then create another opportunity somewhere else in the schedule. I am fired up about it. I am fired up to get back and start coaching and get this thing right."
The Bills hung tough during a game when other teams may have given up. Now they just need to get over the hump.
"We're a resilient team," quarterback
Thad Lewis
said. "We're not going to make any excuses. But being resilient isn't good enough. We're never satisfied with that."
They've made good progress to this point from where they ended last season, but at 3-5, the Bills still need to be careful not to slide too far in the wrong direction; the NFL is just too unforgiving.
"That is a playoff team we played. That is a good football team that we played," Marrone said. "You can't make mistakes like we did. You never know when it's going to come out. You never know when it's going to hurt you. [Today], they did hurt us pretty good."
October, 27, 2013
10/27/13
7:15
PM ET
NEW ORLEANS -- It was a hit that knocked the wind out of
Thad Lewis
and almost took the air out of the
Buffalo Bills
' sails, just one play into their biggest road test of the season.
Lewis, the starting quarterback only after an injury to
EJ Manuel
, took a jarring hit from behind on the first play of the Bills'
35-17 loss
Sunday in New Orleans, staying on the ground for over a minute before coming to his feet.
Although the ball squirted loose and was recovered by the Saints, Lewis remarkably did not miss an offensive play. Two weeks after playing through a foot injury that left him with a bad limp afterward, Lewis showed Sunday the grit that has in some ways defined the Bills' season.
"There was no doubt in my mind that after the very first hit that I was going back in the game," he said. "It's like you're going to battle. You're either going to turn your back on them or you're continue to fight for them. That's my mentality and I'm going to keep it that way."
It's a mentality that seems to have spread across the Bills this season, one that has featured significant injuries -- more than just nicks and bruises -- to almost every one of its key players.
[+] Enlarge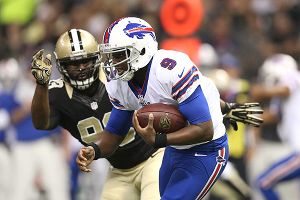 Crystal LoGiudice/USA TODAY SportsThe Saints' pass rush kept Thad Lewis under pressure much of the day, sacking him four times.
"The [toughness of the] coaching staff and the whole team, it just rubs off on us," Lewis said.
"I know [Lewis] was hurting. A lot of guys were hurting," wide receiver
Stevie Johnson
said. "We wouldn't expect anything less from Thad [to return]. This is an opportunity... unless it was a broken leg, I'm sure he'd be out there. That's the type of guy that he is. He's ready to fight for his boys."
Healthy or not, however, Lewis was overmatched Sunday.
It's no fault of his own. For starting a quarterback who wasn't on their roster for most of the preseason, the Bills are doing about as well as any team could hope. But unless they got help from defense or special teams, they weren't going to win a shootout with
Drew Brees
.
Indeed, a shootout it became. After the defense was able to make some early stops, the Saints' offense kicked into gear late in the second quarter, more than doubling their yard total on a 69-yard touchdown catch by
Kenny Stills
.
Brees finished 26-for-34 for 332 yards, five touchdowns, and no interceptions, along with a sizzling 146.1 QB rating.
"We know the type of offense they have," Johnson said. "I don't want to say that no team can shut them out, but we had to hope to contain them and offensively we had to put up points. I felt like our defense did [well] for the most part. We have to pick up the slack a little more."
If the Bills' offense wants to someday go toe-to-toe with Brees, one area where they can improve is in pass protection. Lewis was sacked four times Sunday and hit numerous other times. His first fumble came on a designed run, but his second came on a 13-yard sack by defensive end
Cameron Jordan
.
"There's nothing you can do about it when you are about to throw the football and a guy is standing there and hits you," Lewis said. "Yeah, the first was on me but the next ones when you get a little pressure and you get ready to throw the football, the defense just makes a great play."
Head coach Doug Marrone said the Bills used more "zero" coverage -- a blitz look with no zone coverage in the middle of the field -- than they were expected.
"They brought some blitzes," center
Eric Wood
said. "But it was nothing that we were unprepared for, I don't think. Nothing we shouldn't have been able to handle."
"It was a little more than what we expected," Lewis said. "But they weren't tipping their hand. So they weren't showing us they were in zero-blitzes. It was after the snap."
Overall, Lewis has been sacked 13 times since taking over the starting job three weeks ago.
"There's protection break downs in our end," Wood said. "And [Lewis] is trying to make some plays with his legs. We went the last couple years in the bottom of the league in sack numbers and we didn't get wins. I think he's just trying to make more plays."
Lewis wasn't able to connect on any completions longer than 26 yards Sunday, one reason why the Bills couldn't keep pace with the Saints, dropping them to 3-5 on the season.
"You can't win without making plays," Lewis said. "If we made more plays, the score might have been different."
October, 27, 2013
10/27/13
7:15
PM ET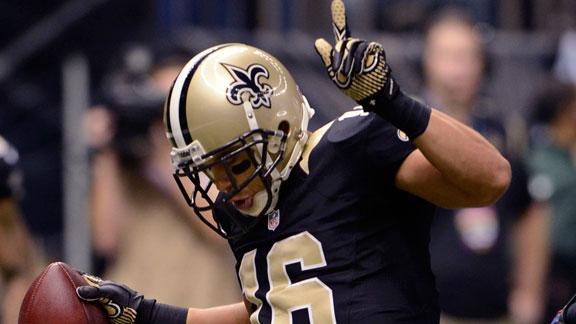 NEW ORLEANS -- Observed in the locker room after the
New Orleans Saints
'
35-17 victory
against the
Buffalo Bills
.
'Bowl eligible':
Saints coach Sean Payton's message to his team after a sometimes-sloppy performance -- Moving to 6-1 is nice, but the Saints don't want to settle for just being "bowl eligible" with six victories. He was especially upset by the Saints' eight penalties, many of which moved the offense out of scoring position.
"I was pleased we got the win, but that certainly wasn't our best effort," Payton said.
Payton not alone:
Saints guard
Ben Grubbs
' response to Payton's comments: "We didn't meet his bar. We didn't meet our bar either."
Injury optimism:
Saints safety
Malcolm Jenkins
left in the second quarter with an unspecified leg injury, but said it was mostly as a precaution and referred to the injury as a "tweak." Meanwhile, tight end
Jimmy Graham
insisted he'll be able to
keep playing through pain
. And receiver
Lance Moore
and end
Cameron Jordan
said they felt good after returning from injuries.
Speed readers:
The Saints' defense was prepared to face a lot of read-option. But on the first play of the game, linebacker
David Hawthorne
nailed Bills quarterback
Thad Lewis
on a read-option keeper, forcing a fumble and causing an apparent rib injury. Saints defenders marveled at Lewis' toughness after absorbing several big hits. But they didn't see much read-option after that. "When you shut it down, don't go back," Jordan said.
October, 27, 2013
10/27/13
6:02
PM ET
NEW ORLEANS -- Observed in the locker room after the
Buffalo Bills
'
35-17 loss
to the
New Orleans Saints
:
Goodwin
Goodwin has elbow injury:
One late-game injury that flew under the radar: Rookie wide receiver
Marquise Goodwin
was carted off in the fourth quarter with what the team said is an elbow injury. Doctors spoke after the game with Goodwin, who dressed himself with just his right arm. Goodwin was the last player to leave the locker room after the game, and his status going forward remains unclear. Goodwin had three catches for 56 yards in the loss.
Marrone to review challenge procedure:
Bills head coach Doug Marrone challenged two ball spots in the second half and lost both. He falls to 0-for-3 on the season for his challenges. Prior to Sunday, the Bills were just one of six teams not to have won a challenge. Marrone said after the game that he needs to change how he decides to challenge a play. "I have to do a better job of changing the process of our challenges," he said. "We haven't been successful in that. If we keep it the same, how do I expect that to change? We'll look into that. ... It's my fault. Period. I am the head coach."
Robey downplays officiating:
In addition to Marrone's two challenges, there were a fair share of close calls made against each team Sunday. The home crowd, for example, let the officials hear it after two roughing-the-passer calls against the Saints late in the third quarter, helping lead to a Bills touchdown. But Bills rookie cornerback
Nickell Robey
said he didn't have any qualms with other penalties that fell against Buffalo. "The refs let us play today," Robey said. "I wouldn't put anything on the refs. They let us play aggressive, they let us play hard. No knock on them today. We just have to come out and finish."
October, 27, 2013
10/27/13
4:30
PM ET
NEW ORLEANS -- A few thoughts on the
New Orleans Saints
' 35-17
victory
against the
Buffalo Bills
, which moved them to 6-1.

What it means:
Oddly enough, the Saints' offense started a little slow and sloppy in this one. Yet it still wound up with 35 points and five touchdown passes from
Drew Brees
. It was just the latest reminder of how potent and "quick strike" the Saints are -- especially when the defense is helping them win the turnover battle 3-0.
Tight end
Jimmy Graham
played a limited role, but still made a big impact with two touchdown catches. Receiver
Lance Moore
had a touchdown catch in his return from a hand injury. And rookie
Kenny Stills
had his biggest game to date with three catches for 129 yards and two touchdowns. Brees completed passes to 10 different receivers.
Stock watch:
There was never any doubt that Brees had faith in Stills after the fifth-round draft pick had a breakout performance this preseason. But that trust is only growing. For the second game in a row, Brees heaved up a deep ball into the end zone on a third-and-20 play, and Stills went up and got it in tight coverage. This time it was a 42-yard catch midway through the fourth quarter to help seal the game.
So much for read-option:
The Bills ran a read-option play on the first snap of the game. And Saints linebacker
David Hawthorne
promptly snuffed it out with a big hit on quarterback
Thad Lewis
that forced a fumble and appeared to cause a rib injury for Lewis. That was pretty much it for the read-option offense Sunday. But the Saints will see plenty more of it to come with San Francisco, Seattle and Carolina (twice) on the remaining schedule.
Saints pass-rushers
Cameron Jordan
and
Junior Galette
also forced fumbles on sacks later (one recovered by New Orleans, one by Buffalo).
Up next:
The Saints head back out on the road for the third time in four games -- this time against the
New York Jets
(4-3 heading into Week 8). The Jets are somewhat similar to the Bills in that they like to run the ball, have a young, mobile quarterback in
Geno Smith
, and play solid defense. It's another game the Saints should win because of the disparity on offense, but they need to protect the ball and protect Brees a little better than they did against the Bills on Sunday.
October, 27, 2013
10/27/13
4:11
PM ET
NEW ORLEANS -- A few thoughts on the
Buffalo Bills
' 35-17
loss
to the
New Orleans Saints
:

What it means:
This was a "measuring stick" game for the Bills, and one in which the outcome wasn't necessarily unexpected. The Saints, at 6-1, are one of the NFL's best teams. The Bills, with a first-year coach and a fill-in starting quarterback, aren't quite there. What the Bills did show, however, is some resilience. After giving the Saints an early scare on their home field, the Bills got punched in the gut by
Drew Brees
and the Saints' offense, but they stayed competitive throughout this game. That's a good sign for Doug Marrone's group.
Fast start fizzles:
The Bills had things going in the first half. Their defense held the Saints to a field goal attempt (which they missed) after
Thad Lewis
lost a fumble on the first play of the game. They then forced Brees into a three-and-out on their second possession. Offensively,
Fred Jackson
gained 42 yards on his first five carries. Then the tide turned. Jackson gained a total of just 3 yards on his next 10 carries, while the defense allowed a 69-yard touchdown catch late in the second quarter that opened the floodgates.
Stock watch:
Falling: offensive line. While the Bills actually allowed as many sacks (four) as the Saints did in this game, it never seemed like Lewis was comfortable throwing in the pocket. He took some big hits after throws early in the game as the pass protection broke down. Part of it might be some hesitation to throw from Lewis, but the Bills have struggled to keep Lewis upright. He's been sacked 13 times in his three games as the starter. For all the injuries the Bills have endured this season, the offensive line has gone virtually unscathed. There haven't been major breakdowns, but their performances could be more consistent.
What's next:
The Bills drop to 3-5 and remain in fourth place in the AFC East. They'll return home next Sunday to face the NFL's last undefeated team, the
Kansas City Chiefs
(8-0).

NFL SCOREBOARD
Sunday, 2/2
WEEKLY LEADERS