NFL Nation:

2013 Week 8 NYG at PHI
October, 27, 2013
10/27/13
7:55
PM ET
PHILADELPHIA -- When he was developing his freewheeling, risk-taking reputation as a head coach at Oregon, Chip Kelly was used to having the best team on the field every Saturday. That tends to help make your decisions turn out the way you planned.
With the
Philadelphia Eagles
, Kelly's decisions have been run through the shredder of his players' limitations. Sunday's 15-7 loss to the
New York Giants
was a feast for second-guessers (and even first-guessers).
• We'll go light on the play call on first-and-goal at the 2-yard line late in the first half. Play calls are usually all about execution. If
Matt Barkley
ran the play exactly as designed, the Eagles may well have scored a touchdown on that possession.
[+] Enlarge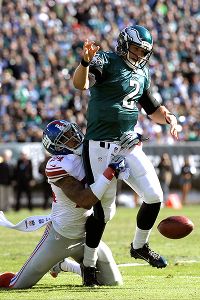 AP Photo/Michael PerezTerrell Thomas forced a Matt Barkley fumble on first-and-goal from the 2, squashing an Eagles scoring opportunity.
"It's a play we've run," Kelly said. "We talked about it. If we don't have [an open receiver], let's throw it away and we'll go next time."
There was no next time because Barkley held the ball long enough for Giants cornerback
Terrell Thomas
to run him down and knock it out of his hands. The turnover ruined the Eagles' best chance at an offensive score.
Kelly's explanation makes sense. He should have a better feel for a rookie quarterback in that situation. Barkley isn't used to the speed of the NFL game in new situations, and that was a new situation.
• On fourth-and-10 in the third quarter, ball at the New York 32, Kelly went for a first down.
Last week, he went for a 60-yard field goal late in the first half against Dallas. That baffling decision gave the Cowboys a chance to take a deep shot at the end zone.
Tony Romo
's pass went through
Dez Bryant
's hands and was intercepted by
Earl Wolff
.
This time, it would have been a 49-yard attempt for
Alex Henery
, or a chance for
Donnie Jones
to pin the Giants deep with a punt.
"There was wind," Kelly said. "That was a tough wind. That's why we went for it on fourth down there. [Special-teams coach Dave Fipp] said we need to get a little bit closer in that situation."
Barkley fumbled the snap, picked up the ball and fired it over the head of
Jason Avant
, turning the ball over on downs.
• On fourth-and-4 at midfield in the fourth quarter, down 15-0, Kelly punted.
"It was a two-score game," Kelly said. "So I knew we were going to stop them. I have great confidence in our defense. I wish they stopped them on the first third down. We felt like we were going to get the ball back with time to score and get an onside kick."
The Giants held the ball for 3 minutes, 16 seconds before punting it back. The Eagles got the ball again and found themselves in a fourth-and-20 situation at the Giants' 46. This time, Kelly went for it and Barkley completed a 5-yard pass.
• After
Najee Goode
recovered an errant snap for the Eagles' only score of the game, making it 15-7 with 4:11 left, Kelly opted for an onside kick. This doesn't quite line up with the previous reasoning about having faith in his defense.
"I only had one timeout," Kelly said, "so it didn't matter if we kicked it deep. It was still the same amount of time on the clock. We felt like if we could get it at that point in time, that was my decision. In terms of time off the clock is going to be the same exact thing."
But field position would not be the same. Giving the Giants the ball at their own 20 with a timeout and the two-minute warning to stop the clock gives you a shot at decent field position with a defensive stop. Giving the Giants the ball at midfield means game over.
And that, of course, is exactly what happened.
October, 27, 2013
10/27/13
7:40
PM ET
PHILADELPHIA -- There is a fantasy and a reality about the current state of the
New York Giants
' season. The fantasy was getting its fuel from a back room in the visitors locker room at Lincoln Financial Field in the moments that followed the Giants'
15-7 victory
over the
Philadelphia Eagles
on Sunday.
As the team dressed and headed for the buses, a small group of players was watching the division-leading
Dallas Cowboys
fall to 4-4 with a last-minute loss to the
Detroit Lions
. There was some hooting and cheering, but it was subdued, because the reality is that this isn't December and the Giants' record is still a miserable 2-6. To their credit, the Giants continue to seem rooted in the reality.
"The only time that will mean something is if we go on an eight-game win streak after the bye and end up 10-6," Giants defensive end
Justin Tuck
said of the Dallas result and the NFC East standings. "We've got to put the blinders on. We're in a hole. We've still got a long way to go. We can't worry about what Dallas does or what anybody does."
That's reality, and these Giants are extremely good at staying grounded in it. When they were 0-2 and 0-4 and 0-6, they were always the same -- unfailingly professional and focused on the game at hand. Now that they've won two in a row and are 2-6, they're not going to change that about themselves. It's what sustains them.
"The one thing I understand about being a New York Giant is you have to be even-keel through the great days and the bad days," Tuck said.
To that end, there is some positive reality to the current state of the Giants' season. The defense is playing extremely well. You can argue that the past two games have been against teams with astoundingly bad quarterback situations and that things will look different once the Giants start playing the Green Bays and Seattles and Detroits on their second-half schedule. But you can't win tomorrow's game today, and the reality is that the Giants have done a lot of things well the past two weeks against the Vikings and the Eagles.
After an Oct. 10 loss in Chicago dropped them to 0-6, the Giants' defensive players met with their coaches to discuss some new ideas. Players said Sunday that the meeting was an open and frank one in which players offered suggestions about everything from changing coverages to simplifying the pass rush. They all seem to agree it has helped.
[+] Enlarge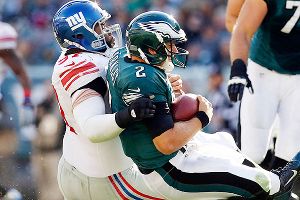 Chris Faytok/The Star-Ledger/USA Today SportsLinval Joseph notched one of the Giants' four sacks.
"Just getting together and getting on the same page," safety
Antrel Rolle
said. "A lot of speaking to each other as men. Players trusting coaches, coaches trusting players. And I think that has showed up in our performance."
The reality is a four-sack Sunday by a team that had only six sacks all season coming in. Three turnovers forced.
LeSean McCoy
, the league's leading rusher, held to 48 yards on 15 carries.
The reality is the impact of middle linebacker
Jon Beason
, who came over in an early-October trade with the Panthers and has rapidly emerged as a leader and star at a critical position they'd been overlooking. It is a reality that the Giants' defense has not allowed a point since the Chicago game, and that
Eli Manning
hasn't thrown an interception since that game, either. The reality is that the Giants are playing much better now than they were when they were losing their first six games.
"This definitely is a huge boost to their confidence," coach Tom Coughlin said. "It reinforces what we are doing, obviously. And then two wins in a row, we're happy to have that."
That's the extent of the current reality, and make no mistake. You are welcome to look at the standings, see the Cowboys only two games in front and make your own hopeful assumptions about what might be if the Giants continue to play well and no one in the division can keep themselves above .500. But that's all still fantasy.
The Giants are still a last-place team with a half-season to go and major problems on the offensive line, among other places. They're still a sloppy team that commits too many penalties and doesn't make enough big plays on offense. And while you can argue that the division is lousy this year, everybody in it is still ahead of them in the standings. That's reality.
But there's nothing wrong with a little fantasy as a means of sustenance in tough times. The Giants have played much better the last two weeks, and their reward is a pair of wins and an improved sense of confidence and self-worth. And when you have that, it's a lot more fun to mix in a little fantasy every now and then.
October, 27, 2013
10/27/13
7:05
PM ET
PHILADELPHIA --
Peyton Hillis
' 70 rushing yards on 20 carries Sunday isn't exactly an eye-popping stat, but it's more than satisfactory for a
New York Giants
' run game that has ranked at or near the bottom of the league all season long. Mix in
Michael Cox
's 19 yards on nine carries and the team very nearly got to 3.0 yards per rush for the game. Again, nothing special, but a significant upgrade over the state of the run game in September, when it was basically crippling the offense.
Hillis
"I think I'm a good fit here, and whatever it is they want me to do, I'm going to do it," Hillis said after the game. "I'm grateful for the opportunity."
It came because of injuries to
David Wilson
,
Andre Brown
,
Brandon Jacobs
and
Da'Rel Scott
, but the Giants are glad they found Hillis at the bottom of that pile. Not only is he banging out two- and three-yard gains that allow them to feel they're balancing their offense, he's also helping in the passing game -- as a receiver out of the backfield and as a blitz-pickup running back in pass protection. Those two aspects of his game are critical in helping quarterback
Eli Manning
feel more comfortable than he felt earlier in the season.
"I think we need to get in better position and continue to work hard to open up some more holes on the offensive line to be able to run the ball better," Manning said. "I have to do a better job seeing the clock and not making us rush through things on offense. I think Cox ran the ball really well and has done a nice job."
Work in progress, this running game. And with Brown eligible to return from his broken leg in Week 10 and Jacobs presumably over his hamstring injury at some point in the future, their options in the run game could be expanding soon. Wilson isn't even officially out for the season with his neck injury. The Giants aren't a running team and won't be anytime soon. But at least what they have in the run game now is representative, where it wasn't before.
October, 27, 2013
10/27/13
7:00
PM ET
PHILADELPHIA -- The
Philadelphia Eagles
find themselves in the middle of two dubious streaks, each difficult to fathom.
Their offense, the centerpiece of Chip Kelly's plan to rebuild the 4-12 team he inherited, has not scored a touchdown in two weeks.
Bad.

Kelly
Meanwhile, the team has lost 10 consecutive games at Lincoln Financial Field, extending the franchise record set last week.
Worse.
"I didn't think that would ever happen," guard
Todd Herremans
said of the offense's futility. "But it did. We have to figure out what to fix. Our offense got shut out the whole game. We have to pick up our side of the ball and score points."
"I don't really think I can (explain it)," tight end
Brent Celek
said. "It's terrible. Obviously it's something that's got to get fixed. When we're down on the 2-yard line, we've got to score. We can't have things like that. We've got to fix it. We've got to fix it fast."
"It's embarrassing now that we can't put points on the board," guard
Evan Mathis
said.
The home losing streak is another sore subject. The Eagles beat the Giants here on Sept. 30, 2012. They lost their last six homes games under Andy Reid. But then, they lost most of their road games, too. That's how you get to 4-12.
But this is a new era. Kelly still hasn't won a game at the Linc. He and this team are 0-4, with losses to San Diego, Kansas City, Dallas and the Giants. It is no surprise, then, that fans were booing the Eagles offense after the third bad series of this game.
"I'm pretty pissed," Celek said. "I'm about as angry as you can be after a game. It's embarrassing to be at home and have that happen. The fans, they're pissed. I would be pissed, too. It's ridiculous."
The Eagles are on the road for their next two games, at Oakland and Green Bay. They come home for three in a row after that, with their bye week mixed in. Their next opportunity to end the home losing streak is Nov. 17, against Washington.
Who knows? Maybe they will even have scored a touchdown or two by then.
October, 27, 2013
10/27/13
6:50
PM ET
PHILADELPHIA -- Eagles coach Chip Kelly didn't hesitate to identify the reason his team has scored a total of 10 points in two home losses to NFC East rivals.
"Right now," Kelly said, "we're unstable at the quarterback spot and we are not playing well at the quarterback spot, and we lost our last two games because of it."
Kelly set himself up for his current woes by bringing
Michael Vick
back and naming him the No. 1 quarterback. Vick is 33 years ago. He had missed nine of 32 possible starts over the previous two seasons. It is not surprising that he pulled a hamstring three weeks ago, and it should not be surprising that it took longer than expected to heal.
"When it was originally diagnosed, it was supposed to be 10 to 14 days," Kelly said. "It was actually 21 days until [Vick] played."
[+] Enlarge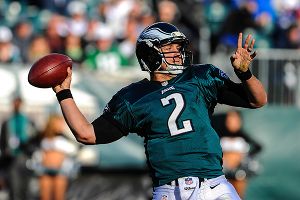 John Geliebter/USA TODAY SportsWith Michael Vick sidelined again, rookie Matt Barkley stepped in for the Eagles, completing 17 of 26 passes for 158 yards.
Vick lasted nine plays before feeling the hamstring pop again. He will undergo another MRI on Monday. It seems very unlikely he will be ready to play in Oakland next week or, for that matter, in Green Bay the week after that.
Nick Foles
, meanwhile, is in the NFL concussion protocol. His availability will be determined by doctors. All we know at the moment is that he hasn't yet been cleared to practice.
Matt Barkley
, a rookie forced to play in relief of Foles last week and Vick this week, would be the starter by default if Foles isn't cleared.
So yes, there is officially instability at the quarterback position -- a not-unexpected outcome when you choose the most unstable possible option as your starter. That is an issue that time should resolve.
The poor play, which predates the injuries, is an entirely different matter. Foles was terrible against the Cowboys for three quarters last week before the concussion ended his day. And Vick was even worse against the Giants than he was three weeks ago before the initial hamstring injury.
The Giants surprised the Eagles by playing zone coverage more than they did in the first meeting. That can happen. But it shouldn't cause a 12-year veteran quarterback to lose his composure. There was Vick, though, throwing a ball behind tight end
Brent Celek
and right to Giants safety
Antrel Rolle
.
"I don't know what happened," Celek said.
Nobody seemed to know what happened on the next possession, either. Kelly said he had no designed runs planned for the hobbled Vick, but he opened that drive with a naked bootleg. Vick ran right into Rolle, who sacked him and knocked the ball out of his hands. Vick recovered -- arguably his best play of the afternoon.
Barkley wound up playing two-and-a-half quarters. His most significant preparation time was the quarter he played the week before. Because Vick was rusty after having missed two games, Kelly felt he needed the vast majority of practice reps.
Considering the situation, Barkley didn't play poorly. He completed 17 of 26 passes for 158 yards. He took three sacks and threw an interception on a desperation deep ball in the fourth quarter.
"I played all right," Barkley said. "I thought I made some good throws. I made some poor decisions."
The worst of those was holding the ball too long on a first-and-goal play at the 2-yard line. Barkley was supposed to look for
DeSean Jackson
first, then for Celek. If neither was open, he should throw the ball away out of the end zone. Instead, he held it long enough for Giants cornerback
Terrell Thomas
to knock it out of his hands.
"I was about to throw it away," Barkley said. "He just got there a second too early."
It was a rookie mistake -- a rookie coach's mistake. Kelly should understand that Barkley has little feel for the speed of the NFL game, especially in the red zone. Even if he didn't have
LeSean McCoy
carry it from the 2, there were plenty of plays with quick throws he could have called.
It seemed likely long before the season began that because of injuries or poor performances, Kelly would see Vick, Foles and eventually Barkley over the course of this first season. It turns out that Kelly has gotten both -- injuries and poor performances -- at the same time.
October, 27, 2013
10/27/13
5:05
PM ET
PHILADELPHIA -- Observed in the locker room after the
New York Giants
'
15-7 victory
over the
Philadelphia Eagles
:
Tuck
Schadenfreude:
A group of Giants watched the end of the Cowboys-Lions game, in which Dallas blew a late lead and fell to 4-4, leaving the Giants just two games back in the NFC East standings. There was an audible cheer and laughter from the back room in which they were watching, though the party line in the interviews was that they weren't worrying about other teams' games. "We've got to put the blinders on,"
Justin Tuck
said. "We're in a hole. We've still got a long way to go. We can't worry about what Dallas does or what anybody does."
My bad:
Tom Coughlin said
Antrel Rolle
apologized to him immediately following the 15-yard penalty Rolle drew for a group celebration after his first-quarter interception. Rolle said he felt it best to get to Coughlin before Coughlin could get to him because "it was a bonehead move on my part, and it won't happen again."
Good to see you:
Linval Joseph
said he "almost" sacked
Michael Vick
a couple of times early, but his actual sack came later in the game after the Eagles had changed quarterbacks. "I'm glad it was
Matt Barkley
back there and not Vick," Joseph said. "Vick's too fast."
October, 27, 2013
10/27/13
4:05
PM ET
PHILADELPHIA -- A few thoughts on the
New York Giants
' 15-7
victory
against the
Philadelphia Eagles
:

What it means
: The Giants have won two games in a row for the first time since Weeks 7 and 8 of last season. This was their first road win since Oct. 28, 2012, in Dallas. Their defense hasn't allowed a touchdown since Week 6 in Chicago. And
Eli Manning
has played two full games without throwing an interception after throwing 15 in his first six. The Giants also picked up four sacks of Eagles quarterbacks Sunday, a stunning number considering they had a league-low six sacks as a team coming into the game and only nine sacks in their past 12 games dating back to last season. They have played teams the past two weeks that have major quarterback issues, but give the Giants' defense credit for taking advantage of their opponents' problems.
Stock Watch:
Peyton Hillis
: up. With
Brandon Jacobs
inactive again, Hillis got the bulk of the workload at running back for the second week in a row. Hillis isn't a very dynamic runner, but he's an asset in the passing game as a receiver out of the backfield and as a blocker in pass protection. With
Andre Brown
due back after the bye, it'll be interesting to see how things get divided in the backfield.
Turning it over:
Another thing with which the Giants' defense has struggled this season is forcing turnovers. But the first two they forced Sunday -- an
Antrel Rolle
interception of
Michael Vick
and
Jacquian Williams
' recovery of
Terrell Thomas
' strip-sack of
Matt Barkley
-- were critical. And the third --
Will Hill
's interception with 13 seconds to go -- sealed the game.
Eventful day:
Rolle had a sack and an interception and recovered an onside kick in the fourth quarter after the Eagles cut the lead to 15-7. A big enough all-around contribution to mitigate the incredibly stupid group celebration he led after the interception that cost the Giants 15 yards in the first quarter.
Getting his kicks
:
Josh Brown
's five field goals tied his career high and came one short of the Giants' team record set by Joe Danelo in 1981.
What's next:
The Giants have a bye next week. They'll gather in East Rutherford for their regular Monday meetings and film sessions, but then they're off again until they return to practice next Monday. Their next game is Nov. 10 at home against the
Oakland Raiders
.
October, 27, 2013
10/27/13
3:58
PM ET
PHILADELPHIA -- Quick thoughts on the
Philadelphia Eagles
'
15-7 loss
to the
New York Giants
on Sunday.

What it means:
The Eagles reached the midway point of their schedule with a mess at quarterback, a now-epic home losing streak and some legitimate doubts about coach Chip Kelly's offense.
Michael Vick
was hobbled and ineffective after missing two games with a hamstring injury. He left in the second quarter. Rookie
Matt Barkley
replaced him and fumbled the ball away on his first possession. Going back to last week's three-interception outing against Dallas, that made four consecutive drives with turnovers to begin Barkley's NFL career. The Eagles are 3-5. They are 0-4 at home, extending their franchise-record losing streak at the Linc to 10 games.
Stock Watch:
Falling -- Chip Kelly. Last week, ESPN Stats & Information dug deep to find out the last time a Kelly-coached team failed to score in the first half. There wasn't any digging needed this week. The Eagles were scoreless through three quarters against the
Dallas Cowboys
, and touchdown-less throughout. They were scoreless through three quarters against the Giants. Soon, it's going to take research to figure out the last time a Kelly team scored a first-half touchdown. The Eagles' only score came on special teams, when
Najee Goode
recovered a ball snapped over the head of Giants punter
Steve Weatherford
. It seems like a long time since the Eagles' flashy debut at Washington.
Strange decisions:
Kelly made a couple of doozies. After replacing Vick, Barkley ran a smooth two-minute drive down to the Giants' 2-yard line. With the NFL's leading rusher on the field, Kelly called a play that required his right-handed rookie quarterback to roll out to his left. Giants cornerback
Terrell Thomas
ran Barkley down from behind and tomahawked the ball.
Jacquian Williams
recovered for the Giants. On the first possession of the second half, the Eagles faced fourth-and-10 at the New York 32. Instead of trying a 49- or 50-yard field goal to cut the score to 12-3, Kelly went for it. Barkley fumbled the shotgun snap, then overthrew
Jason Avant
to give the Giants the ball. Last week, Kelly went for a 60-yard field goal on fourth-and-inches late in the first half.
What's next:
Brett Favre
's phone could ring again. OK, probably not, but much depends on how quickly
Nick Foles
is cleared to play according to the NFL's concussion protocol. After trying to play on his sore hamstring this week, it seems unlikely Vick will be back in the mix this week. If neither can go, Barkley would at least have the benefit of preparing with the first team all week. Either G.J. Kinne would have to be brought on to the active roster, or the Eagles will need to find another veteran backup on the street. I wonder how
Donovan McNabb
is feeling.
October, 27, 2013
10/27/13
2:37
PM ET
PHILADELPHIA -- Until the past two weeks, you thought the
New York Giants
had a quarterback issue. But after watching Minnesota on "Monday Night Football" and the
Philadelphia Eagles
so far Sunday, those 15 interceptions
Eli Manning
threw in the first six games don't seem like such a big fiasco anymore, do they?

A strong defensive game plan and execution have helped the Giants take advantage of the Eagles' quarterback mess, and the Giants have their second halftime lead of the season. They lead the Eagles 12-0 on the strength of four
Josh Brown
field goals.
Has it been pretty? Of course not. When you're 1-6, it's hard to make it look pretty. The Giants have outgained the Eagles 229 yards to 72 but have not scored a touchdown. They have seven penalties for 58 yards, including an astoundingly idiotic group celebration penalty after
Antrel Rolle
's first-quarter interception of
Michael Vick
. But the Giants are winning the game, and with an obviously injured Vick having already been replaced by rookie
Matt Barkley
, you have to like their chances of holding onto it.
The main reason is of course the defense. A Giants team that had nine sacks in its past 12 games and a league-low six for the season coming into Sunday, has two already in this game and also forced an intentional grounding penalty by Vick. Both of the sacks were by defensive backs -- Rolle and
Terrell Thomas
. Both forced fumbles, and Thomas' strip was recovered by
Jacquian Williams
deep in Giants' territory to snuff out a potential Eagles touchdown drive in the final two minutes of the half. The Giants' defense has struggled all season to pressure quarterbacks and to force turnovers, but it has managed to do both so far in this game.
On offense ... still a little spotty. But Manning looks much more comfortable, and I think you can tell by the way he's ducking pressure and keeping his eyes downfield while he does it.
Peyton Hillis
isn't going to run for more than what's blocked, but he does appear to be an asset in the passing game, both as an outlet receiver out of the backfield and as a blocker who can pick up the blitz. The Giants also are 5-for-10 on third downs, a very positive percentage for the third game in a row after ranking last in the league in that category through the season's first five weeks.
So it looks better, Giants fans. Though the best you can hope from the day is improvement to a dismal record of 2-6, at least there are continued signs that the rest of the season might be more watchable than the early part was. If the Giants hold this lead, they'll have won a road game and a second game in a row for the first time in 364 days.

NFL SCOREBOARD
Thursday, 9/4
Sunday, 9/7
Monday, 9/8