NFL Nation:

2013 Week 8 SEA at STL
October, 29, 2013
10/29/13
2:40
AM ET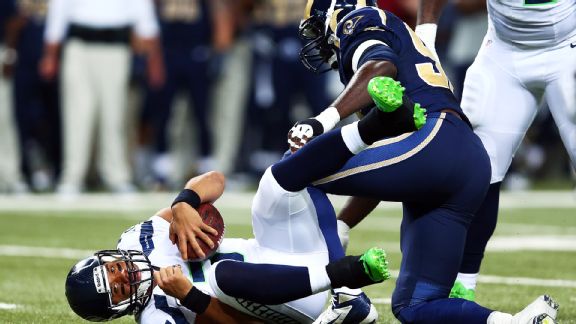 Andy Lyons/Getty ImagesSeahawks quarterback Russell Wilson was sacked seven times by the Rams' defense.
ST. LOUIS -- No team can win this way. No team should win this way, not with an offensive line this bad. The
Seattle Seahawks
have won ugly several times this season. This one was beyond ugly.
It was hideous Monday night, but it was a victory --
14-9
over the outmanned
St. Louis Rams
at a half-empty Edward Jones Dome in a city where the World Series eight blocks away kept most people in town from watching what almost was the biggest upset of the season.
A goal-line stand at the end saved the night for the Seahawks, the game ending on an incomplete pass on great coverage by Seattle when the Rams had fourth-and-goal at the 1 on the game's final play.
A win is a win, no matter what. And the Seahawks are an impressive 7-1 at the halfway point after playing four of their previous five games on the road.
It's commendable, but this is not a Super Bowl-caliber team; not right now, anyway. No team can reach a Super Bowl with an offensive line that played the way this one did Monday night.
Russell Wilson
was sacked seven times, with pass protection becoming a problem that keeps getting worse. And the run blocking wasn't any better.
Only their moms or their wives would give the Seattle offensive line a grade higher than an F on Monday, and it isn't just because of backup tackles playing for the injured starters. No one up front played well. No one up front even played at an average level.
"We had a million problems in protection," Seahawks coach Pete Carroll said. "The Rams rushed like crazy and we did a ton of stuff to try to offset it, but nothing helped us."
The Rams have a solid pass rush, led by defensive ends
Robert Quinn
and
Chris Long
, who had three sacks each. And yes, the Seahawks' offensive line will get better when tackles
Russell Okung
and
Breno Giacomini
return from injuries.
But if you think that's the cure-all, you are mistaken. The entire line needs to get miles better if this team is going to win the NFC West and possibly reach the Super Bowl.
Wilson can't continue to take this much punishment and remain uninjured. The Seahawks will not beat good teams -- like upcoming opponents New Orleans and San Francisco -- with an offensive line that gets manhandled at the line of scrimmage.
And the Seahawks can't keep winning like this when they are outplayed so badly up front.
The Rams had 23 first down to Seattle's seven. St. Louis, playing backup quarterback
Kellen Clemens
, had 339 yards of offense to Seattle's 135 yards.
[+] Enlarge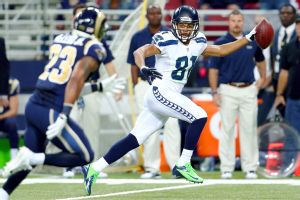 Andy Lyons/Getty ImagesGolden Tate taunts Rams safety Rodney McCleod before completing his 80-yard touchdown reception.
And 80 of those yards came on one play, the big play by receiver
Golden Tate
. Sadly, it will be remembered more for his childish taunting than for his exceptional athletic move to come up with the ball. As Tate raced for the end zone, he stuck out his hands to St. Louis safety
Rodney McCleod
, moving his fingers as if to say, "Don't yap." McLeod almost ran Tate down in the process. The display drew a 15-yard penalty for taunting that was enforced on the ensuing kickoff.
"That is not the way we want to play," Carroll said. "That is not who we are. He is more mature than that. He is a playful, spirited guy who had too much fun at the wrong time. It was not the right thing to do and he knew it."
Tate, who also had a 2-yard TD catch for Seattle's other score, said it was a lesson learned and he apologized to his teammates. But there are no apologies for the offensive line.
It wasn't the only problem the Seahawks had against the 3-5 Rams. St. Louis rushed for 200 yards against a Seahawks defense that was averaging only 92 yards a game against the run.
"They ran all over us," said defensive tackle
Red Bryant
. "Give them credit. They know us well and they were tough."
No one is too worried about the Seattle run defense over one bad game. But every game is a bad game for the offensive line, and it can't continue.
Once again, as Wilson says, "We found a way to win." But it's starting to look like smoke and mirrors. The odds will catch up with the team if the line doesn't show improvement soon.
It's time to make some changes. Don't wait for the tackles to get back. Okung can't return until at least Nov. 17, and Giacomini probably is two weeks away from getting back.
Do something now. Make a change, if for nothing else, just to show that the current play is unacceptable. Put someone else in as a starter --
Lemuel Jeanpierre
, for example. Even consider making a trade before Tuesday afternoon's deadline. Just do something to shake things up.
Don't let one weak link keep an outstanding football team from reaching its goals. No more excuses. Fix it by any means necessary.
.
October, 29, 2013
10/29/13
2:07
AM ET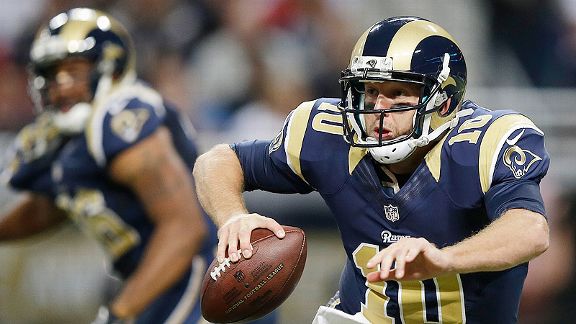 AP Photo/Michael ConroyDespite limiting Seattle to just 135 yards, the Rams could not pull out a win behind Kellen Clemens.
ST. LOUIS -- This was the defense the
St. Louis Rams
had hoped to be at the beginning of the 2013 season. Without their starting quarterback, it's the defense the Rams need to be to have a chance to win games the rest of the season.
It still wasn't enough.
Despite a defensive performance commensurate with their dreams of finishing in the league's top 10, the Rams fell 14-9 to the
Seattle Seahawks
on Monday night.
If a defensive effort that held the Seahawks to seven first downs, 2.9 yards per carry and 135 total yards to go with seven sacks isn't enough to get a win without
Sam Bradford
, what will be?
"We knew coming in we could play these guys tough," defensive end
Chris Long
said. "It says a lot more about us, I think, just that guys didn't flinch. We had a big injury last week. Guys just said this would be a good week to hunker down and play more like us, and we played more like us. We have got to pull that win out. That one hurts."
Early last week, Rams coach Jeff Fisher challenged his entire team to rise to the occasion after the loss of Bradford to a season-ending knee injury.
While many eyes turned to backup
Kellen Clemens
hoping he'd magically turn into a consistently productive starter, the more realistic response was for a Rams defense that had worked its way into the middle of the NFL pack in 2012 to take the next step and become the group that many had pegged it for in 2013.
Through seven weeks, the Rams defense hadn't proved itself capable of taking over games. Last season, that group came up with enough timely takeaways and sacks to cover for an offense that lagged behind.
Entering Monday's game, the Rams ranked 22nd in yards allowed per game and 24th in points allowed per game.
Those numbers were far from indicative of the group that took advantage of a shoddy Seattle offensive line and held Seahawks running back
Marshawn Lynch
to 23 yards on eight carries.
Save for an 80-yard touchdown reception from Seattle's
Golden Tate
on which cornerback
Janoris Jenkins
fell down, it was a nearly flawless performance.
"I think we did a great job defensively just disrupting their whole offensive game plan," defensive tackle
Kendall Langford
said. "I feel like we dominated them the whole game minus the one explosive play they had. I feel like we pretty much had our way with them. Games like this hurt because you feel like you should have walked away with a W with the way we played."
Before Bradford's injury, the Rams didn't enjoy much margin for error. Without Bradford, that margin closed even tighter.
[+] Enlarge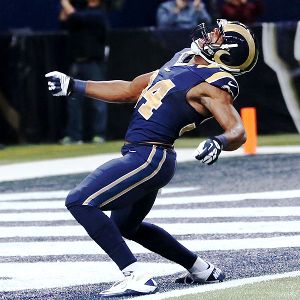 Nelson Chenault/USA TODAY SportsRobert Quinn had three of the Rams' seven sacks on Monday night.
In his first start since 2011 and the 13th of his NFL career, Clemens showed some signs of being able to move the offense well enough to steal a win, particularly with a dominant defensive performance. He got out of trouble with his running ability and extended some plays that appeared dead on arrival. He also led the Rams on an impressive late drive that nearly won the game.
But Clemens also did the one thing that Bradford rarely did before his injury: surrender costly turnovers. He threw two interceptions, one of which led to Seattle's first touchdown. While neither of those picks can be blamed completely on Clemens, he did throw a bit high on the second and appeared to throw without seeing the receiver on the first.
All told, Clemens finished 15-of-31 for 158 yards with no touchdowns and two interceptions for a rating of 36.8. While the Rams ran the ball almost at will, the offense was unable to break through for a touchdown.
"I thought he managed the game pretty well," Fisher said. "I'm not going to fault him for those interceptions ... so it wasn't easy for him. That's the second-rated defense in the National Football League, but he took us to the last play of the game. I'm proud of his effort."
In Bradford's absence, that inability to finish drives could well become the norm for an offense that had scored 13 touchdowns in 25 red zone trips this season. That group ventured inside Seattle's 20 four times and mustered three field goals before coming up empty on the game's final drive.
Regardless of opinions about Bradford and how the offense was playing before his injury, it's hard to imagine that an offense with him at the controls would have come up short every time Monday, especially on a night when the run game was clicking and the defense was finally playing up to its lofty goals.
"There is a really good defense here, a top-10 defense," linebacker
Jo-Lonn Dunbar
said. "We kind of set the standard for it today and playing like that against that team, that's the way you have got to play each and every week now."
In the new reality of the Rams post-Bradford, they might have to find a way to be even better.
October, 29, 2013
10/29/13
12:59
AM ET
ST. LOUIS -- Observed in the locker room after the
Seattle Seahawks
' 14-9
victory
over the
St. Louis Rams
:
Tate
Tate apology:
Wide receiver
Golden Tate
apologized to his teammates for his showboat taunting penalty on his 80-yard touchdown catch. "It won't happen again," Tate said. "It's a lesson learned."
Carroll on the offensive line:
"We had a million problems up there," coach Pete Carroll said on the line giving up seven sacks. "We tried a lot of different things to fix it, but nothing worked. We have a lot of work to do."
Goal-line stand talk:
"Bend but not break," said cornerback
Richard Sherman
, on keeping the Rams out of the end zone when St. Louis had a first-and-goal at the 6 with 31 second to go, and fourth-and-goal at the 1 on the final play. "That's what we do. We make the big plays when we have to make them."
October, 29, 2013
10/29/13
12:50
AM ET
ST. LOUIS -- Observed in the locker room after the
St. Louis Rams
' 14-9
loss
to the
Seattle Seahawks
.
Stacy
Missing Stacy:
Many wondered where running back
Zac Stacy
was for Monday night's final sequence as the Rams nearly pulled off a 97-yard drive to win the game. According to coach Jeff Fisher, Stacy sprained his ankle on the previous drive and the decision was to go with
Daryl Richardson
. Stacy actually went back on the field for the game's final play but then was split out wide rather than used as a possible run decoy.
Final call:
Without Stacy at full speed on fourth-and-goal at Seattle's 1, the Rams decided to go with a play call that Fisher said was intended to give quarterback
Kellen Clemens
multiple options to get the ball out quickly. The Rams presented no threat of the run, going with an empty backfield on the play, and Clemens threw incomplete for receiver
Brian Quick
, who was well covered by Seattle cornerback
Brandon Browner
.
Interception information:
Fisher said he didn't blame Clemens for his pair of interceptions. He said receiver
Austin Pettis
slipped on the second one and Quick was confused and stopped his route on the first one.
Proud papa:
Hall of Fame defensive lineman Howie Long was in the house to see his son
Chris
take on the Seahawks on Monday night. The elder Long spent a few moments with Fisher after the game. He also witnessed his son posting his second consecutive three-sack game against Seattle.
October, 28, 2013
10/28/13
11:48
PM ET
ST. LOUIS -- A few thoughts on the
Seattle Seahawks
' 14-9
victory
over the
St. Louis Rams
Monday night at Edward Jones Dome:

What it means:
The Seahawks can beat a weak opponent in a half-empty stadium on a night when Seattle's offensive line could not have played worse. But it came down to the last play when St. Louis had fourth-and-goal at the 2 but couldn't complete the pass.
Stock watch:
One big play was the difference, an 80-yard touchdown pass to receiver
Golden Tate
that will be remembered for his classless taunting instead of his exceptional athletic move to come up with the ball over the defender. Tate's stock goes up by making an outstanding leaping catch on a deep throw, outbattling the defender for the ball. Then his stock goes way down as he heads for the end zone for an easy touchdown, but taunts St. Louis safety
Rodney McLeod
. Tate sticks his arm out and moves his fingers as if to say, "Don't yap." McLeod almost runs Tate down in the process. Completely uncalled for. Act like a pro.
Rice hurt:
Seahawks wide receiver
Sidney Rice
walked to the locker room in the first half with a reported knee issue and did not return.
Defense can't stop the run, but gets it done:
The Seahawks gave up 200 yards rushing, but kept St. Louis out of the end zone and came up with two interceptions -- one by
Bruce Irvin
and one by
Richard Sherman
, giving the Seahawks 13 picks this season.
Horrendous offensive play:
Worst effort of the season by the Seahawks' offensive line.
Russell Wilson
was sacked seven times and under pressure every time he dropped back to throw. And the run blocking wasn't much better. If you're grading, it was an F.
Offensive lows:
With the men up front playing so poorly, the Seahawks had 38 total yards in the first half, their fewest yards in any first half since 2001. Seattle had only 42 yards before Tate's 80-yard touchdown.
What's next:
The Seahawks play at home for the first time in three weeks when the
Tampa Bay Buccaneers
come to Century Link Field on Sunday. Seattle has won 12 consecutive home games.
October, 28, 2013
10/28/13
11:45
PM ET
ST. LOUIS -- A few thoughts on the
St. Louis Rams
' 14-9
loss
to the
Seattle Seahawks
:
What it means:
The Rams dropped their second prime-time game to an NFC West opponent at home and fell to 3-5 despite a stellar defensive performance that gave them a chance to win in the fourth quarter.

The Rams failed to finish what would have been a game-winning drive as quarterback
Kellen Clemens
threw incomplete on a puzzling fourth-down play call at the goal line.
Clemens made his first start in place of
Sam Bradford
and struggled to get anything going in the passing game. The Rams failed to find the end zone despite consistently solid field position.
We knew the loss of Bradford to season-ending knee injury was going to hurt the Rams' ability to win games and this loss does nothing but reinforce that fact.
Stock watch -- up:
The Rams defense played the way everybody believed they could at the beginning of the season. The line, led by end
Robert Quinn
, was essentially unblockable, and the Rams were all over
Russell Wilson
the entire night, to the tune of seven sacks.
There was a disappointing hiccup that went for an 80-yard touchdown when
Janoris Jenkins
couldn't make a play on the ball, but otherwise it was a thoroughly dominant performance that kept the Rams in the game.
Stock watch -- down:
Clemens was pretty much as advertised, so maybe it's unfair to say his stock is down. He made a few plays with his legs and flashed his ability to extend plays, but he was also inaccurate, indecisive and had a pair of costly interceptions.
All told, Clemens finished with a quarterback rating of 36.8.
Stacy impresses:
Running back
Zac Stacy
appeared to have one of his stiffest tests in this one against Seattle's sixth-ranked run defense. That defense didn't provide much resistance as Stacy hit the century mark for the first time in his NFL career, finishing with 134 yards on 26 carries.
Stacy earned high marks earlier this year for solid outings against dreadful run defenses such as Jacksonville and Houston, but his effort against Seattle seems to indicate the Rams have indeed found something in the rookie from Vanderbilt.
What's next:
On a short week, the Rams will have to recover to take on coach Jeff Fisher's former team, the
Tennessee Titans
.