NFL Nation:

2013 Week 8 Upon Further Review AFC
October, 28, 2013
10/28/13
4:10
PM ET
A review of four hot issues from the
Buffalo Bills
' 35-17 loss to the
New Orleans Saints
:
[+] Enlarge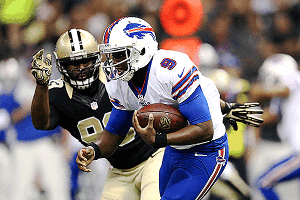 Crystal LoGiudice/USA TODAY SportsBills QB Thad Lewis has impressed coach Doug Marrone with his ability to play through pain.
Bills lose turnover battle:
One of the biggest factors in the Bills' Week 7 road win over the
Miami Dolphins
was their ability to force Dolphins mistakes.
Nickell Robey
's interception began that game,
Aaron Williams
' interception prevented a touchdown, and
Mario Williams
' strip-sack set up the game-winning field goal. The Bills weren't able to make any such plays Sunday, and coach Doug Marrone didn't hold back Monday when addressing the loss. "We are not good enough to lose the turnover battle and win football games," Marrone said. The Bills were minus-3 against the Saints, with two fumbles and an interception.
Field position hurts Bills:
It's not rocket science, but the Bills' inability to force turnovers affected their field position. Marrone pointed out that the Bills' average drive started at their 23-yard line, while the Saints began at their 40-yard line. Over an 11-possession game, Marrone noted, the field position difference adds up to 187 yards.
Players didn't influence challenge:
After the game, Marrone said that he would review the procedure for challenging plays after he lost both of his challenges Sunday. On Monday, Marrone said he hadn't yet evaluated that process. "I haven't had a chance yet to do that, but I'm gonna do it and I'm not gonna tell anyone," he said. "But I'm doing it. Because I'm O-for." Marrone said running back
Fred Jackson
and other players urging the sideline to challenge a goal-line spot Sunday didn't influence his decision to throw the red flag. "No. I don't have that type of mentality," he said. "Which is disappointing for me. I know better. The percentages of challenging those types of plays ... I talk about it all the time. I did a poor job. That's on me. But I'm going to change that. Because if I keep it the same and I screw up, then I'm really an idiot."
Lewis' toughness stands out:
For the second time in his three games as a starter,
Thad Lewis
played through injury. Two weeks after spraining his foot in a loss to the Bengals, Lewis played the full game Sunday after taking a shot to his ribs on the first play. Marrone was asked what about Lewis has impressed him the most, and the coach didn't hesitate in answering. "His toughness," Marrone said. "I think we all would agree on that. There's not many people that would hang in there and take those shots." Marrone said that Lewis "showed us a lot."
October, 28, 2013
10/28/13
2:05
PM ET
A review of four hot issues from the
Cleveland Browns
'
23-17 loss
to the
Kansas City Chiefs
:
[+] Enlarge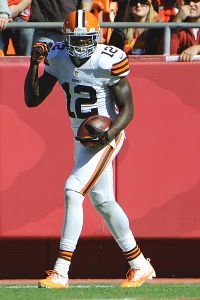 John Rieger/USA TODAY SportsBrowns receiver Josh Gordon, who has been rumored to be on the trading block, celebrates a TD Sunday against the Chiefs.
Calming the waters:
Jason Campbell
soothed some nerves with the way he played against the Chiefs. Campbell threw for just short of 300 yards and had a passer rating well over 100 in the loss. Rarely has a guy on his fourth team in eight years provided such a soothing presence with one game, but the state of Browns' quarterbacking was such that this game from Campbell was badly needed. And accepted.
Trade talk:
Josh Gordon
only has to live for one more day with the trade rumors that he's going to be sent elsewhere. Gordon only enhanced his value against the Chiefs, with five catches for 132 yards and a touchdown. At this point, it's almost as if his value will never be higher. "There's really nothing more to be said about it," Gordon said. "I know just as much as all of you guys know. When it happens or if it doesn't happen, we'll know at the same time." The constant rumors have weighed on Gordon, and the team. Linebacker
D'Qwell Jackson
said he can't wait for the deadline to pass.
Long won't they run:
The Browns continue to struggle to run the ball, as they totaled 57 yards on 15 carries in Kansas City. With Campbell starting his first game in two years, the Browns called 36 passes and 12 runs (three of their runs were scrambles by the quarterback). Coach Rob Chudzinski wants balance, but with
Willis McGahee
and
Fozzy Whittaker
the guys to turn to, balance could be difficult to achieve.
Aggressive aproach:
Say this for Chudzinski -- he is not afraid to take a chance. He went for the first down for the 17th time on fourth down this season, and made it to set up a touchdown. Add in the trick plays -- the Browns' first touchdown came on a flea-flicker -- and the fake punts, and it's evident Chudzinski is letting his team know he's not afraid to take a chance on their behalf. The 17 fourth-down attempts lead the league.
October, 28, 2013
10/28/13
2:00
PM ET
A review of four hot issues from the
Oakland Raiders
' 21-18
win
over the
Pittsburgh Steelers
:
No staying power:
For the fourth straight home game the Raiders had a quick start, only for the offense to play the second half as if stuck in neutral. Against Washington, it was a 14-0 lead before losing 24-14. Against San Diego, the Raiders led 17-0 before hanging on for a 27-17 victory. Two weeks ago, it was a 7-0 lead at Kansas City that would have been 10-0 were it not for a missed field goal. And Sunday, the Raiders led 21-3 before beating Pittsburgh 21-18. Without saying it outright, quarterback
Terrelle Pryor
hinted the play calling got conservative in the second half against the Steelers, and the Raiders were trying to salt away an 18-point lead. Oakland, though, lost its momentum and had but one first down and 35 yards of offense after halftime. Coach Dennis Allen admitted the Raiders need to find a killer instinct.
[+] Enlarge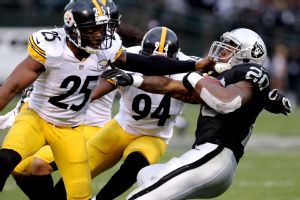 Kelley L Cox/USA TODAY SportsDid the Raiders get too conservative with their play calling in the second half?
FedEx for Tarver?
So incensed was defensive coordinator Jason Tarver at a personal foul call on cornerback
Mike Jenkins
with 8:48 left in the third quarter that Tarver was caught by TV cameras giving a one-finger salute to the officials. And no, he was not telling them they were No. 1. Former NFL vice president of officiating Mike Pereira wrote an online column saying he took it upon himself to alert the NFL about Tarver giving the refs the bird, er, business, and Tarver should expect a fine from the league. Three years ago,
Tennessee Titans
defensive coordinator Chuck Cecil was slapped with a $40,000 fine for flipping off the refs when he disagreed with a penalty. Oh, and the flags thrown at Jenkins were picked up, resulting in no penalty.
Ford stalls:
Three years ago
Jacoby Ford
was a playmaking game-changer for the Raiders. Sunday, he could not get out of his own way. Ford badly misplayed two punts, allowing one to be downed at the 1-yard line, the other to nearly glance off him for a turnover. He fumbled another punt return out of bounds and lost a fumble on a short pass catch in the flat. The Steelers turned that turnover into their first touchdown. "You put the ball on the ground in a game like that, you're giving them an opportunity to get back in the game," Allen said. "Good teams don't do that."
Of explosive plays VII:
And now for our weekly tracking of "explosive" plays. As deemed by Allen, such a play is one that gains at least 16 yards through the air or 12 yards on the ground. The Raiders had four such plays against Pittsburgh: two runs, including Pryor's 93-yard scamper on the first play of the game, and two passes, while the Steelers had five explosive plays, all passes. In seven games, the Raiders have 49 explosive plays (17 runs, 32 passes), with two TD runs and four passing scores. Oakland's opponents, meanwhile, have 46 explosive plays, nine runs and 37 passes with a touchdown each way.
October, 28, 2013
10/28/13
2:00
PM ET
A review of four hot issues from the
Cincinnati Bengals
' 49-9
win
against the
New York Jets
:
Sense of nostalgia:
Sunday's 40-point blowout was the Bengals' largest margin of victory since their 45-10 win against Chicago in 2009. Very few players in Cincinnati's locker room were there for that one. Veteran cornerback
Chris Crocker
, who rejoined the team via free agency in September, was among the lucky ones who saw both, though. "These guys weren't even in the locker room. These guys don't even remember that," he said before adding that this season is beginning to feel even better than that one. That year, the blueprint for this recent string of successful seasons was laid. The 2009 season was the second with double-digit victories for coach Marvin Lewis, who arrived in 2003.
[+] Enlarge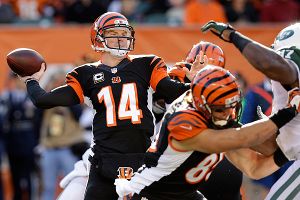 AP Photo/Al BehrmanAndy Dalton continued his recent hot streak with 5 touchdown passes against the Jets.
Defense dominant:
As has been the case much of the season, the Bengals' defense once again played a valuable role in a win. For the second time this season, the unit didn't allow a touchdown.
Nick Folk
's three field goals were the Jets' only offense, much like the Patriots' two field goals were their only points at Paul Brown Stadium three weeks ago. In addition to the lack of scores and the remarkably low 3.7 yards per offensive play the defense allowed, the unit also returned two interceptions for touchdowns. The first of those was Crocker's 32-yard romp. The 33-year-old said his defense was just flat-out better than the Jets' offense. Is that defense better than the other 31 offenses in the NFL? "I think so," Crocker said, as safety
Reggie Nelson
walked by and gave him a high-five. "But you have to take it. You have to go out there and earn it. We're a good team when we want to be."
Dalton more dominant:
As good as the Bengals' defense was, the larger story revolved around
Andy Dalton
, the third-year quarterback who right now can seemingly do no wrong. Just when it appeared he had hit his ceiling with a 372-yard, three-touchdown outing against the Lions last week, he came out and had yet another 300-yard, three-touchdown game. It was his third consecutive such performance and came in arguably the finest showing of his career. According to ESPN Stats & Info, his 98.9 QBR against the Jets was his best in a single game. Dalton finished with 325 passing yards and five touchdowns. It was only the fifth time in franchise history a quarterback had that many touchdowns.
Carson Palmer
and Boomer Esiason each accomplished the feat twice.
Still diverse:
While
Marvin Jones
' eight-catch, four-touchdown performance dominated headlines, there was another story to the passing game worth mentioning. The Bengals' passing offense was quite diverse, as seven different players caught passes. It's the third straight game Dalton has hooked up with that many. Five of the seven had multiple receptions, including
A.J. Green
, who had three catches for 115 yards.
Tyler Eifert
,
Dane Sanzenbacher
and
Jermaine Gresham
each had two receptions.
October, 28, 2013
10/28/13
2:00
PM ET
ENGLEWOOD, Colo. -- A review of four hot issues from the
Denver Broncos
'
45-21 win
over the
Washington Redskins
:
[+] Enlarge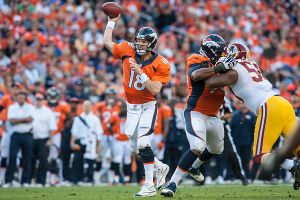 Dustin Bradford/Getty ImagesPeyton Manning may not throw the prettiest ball, but he's still getting the job done.
Wobbly history:
Quarterback
Peyton Manning
's passes seem to receive critical review every time he lets go of the ball. The Internet is alive with the word "wobbly'' or "duck'' through most of the Broncos' games. Is the 37-year-old's arm what it was before four neck surgeries and a year on the sideline? No, but he's adjusted in his comeback. His lower-body movements are a far more important part of his delivery now and he needs slightly more room in the pocket to stride into the throws because of it, which is why pressure up the middle affects him. But after eight games the guy leads the NFL in passer rating (119.4), yards passing (2,919), completions (237) and touchdowns (29). The touchdown total is already more than he had in six of his previous seasons as a starter and 10 more than any other quarterback at the moment. Perhaps folks should just take a breath and see how it turns out since there are plenty of guys with rocket-powered arms sitting at home watching every Sunday.
Kick start:
The Broncos sit at 7-1 heading into their bye week on a historical scoring pace, but they still haven't always come out of the gate very well. They have led four games after the first quarter and trailed in four games, including 14-7 to the Cowboys and 10-7 in their loss to the Colts. For the season, the Broncos have scored at least 76 points in every quarter except the first. They have scored 59 first-quarter points, while scoring 115 fourth-quarter points.
Need more specialness:
Injuries have pushed players up the depth chart and forced the Broncos to make adjustments on special teams. A unit that has consistently been a strength of the Broncos for much of the season had an uncharacteristically choppy outing against the Redskins. A too-many-men penalty on the field goal block unit kept a Redskins' drive going, and Washington scored a touchdown on the next play. The Broncos also surrendered their longest punt return of the season -- a 34-yarder by
Josh Morgan
-- that featured a missed tackle or two.
Flag days:
The Broncos, with six more penalties tacked on to their total Sunday, are among the league's penalty leaders. Only five teams have had more -- through Sunday's games -- than the Broncos' 55 accepted penalties, and only four teams have more penalty yards than the Broncos' 505. Most troubling, however, is on defense, where the Broncos have allowed more first downs by penalty this season (21) than any other team in the league. Defensive tackle
Kevin Vickerson
, with another ill-advised hit on a quarterback Sunday, leads all Broncos players with nine penalties this season, including two for unsportsmanlike conduct and two for unnecessary roughness.
October, 28, 2013
10/28/13
12:30
PM ET
A review of four hot issues from the
Jacksonville Jaguars
'
42-10 loss
to the
San Francisco 49ers
:
[+] Enlarge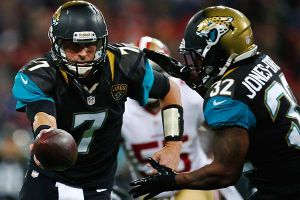 Matt Dunham/AP PhotoJaguars QB Chad Henne hands the ball off to Maurice Jones-Drew, who had his best overall performance of the 2013 season against the 49ers.
Red zone inefficiency:
Perhaps the Jaguars' biggest offensive issue in 2013 is their ineffectiveness in the red zone. They scored just one field goal on three trips inside the red zone on Sunday, turning the ball over twice on downs after an incomplete pass and a 1-yard reception by
Maurice Jones-Drew
. "Red zone really killed us," quarterback
Chad Henne
said. "We moved the ball down the field [and] did a good job. We need to capitalize and score touchdowns." That's not out of character for this team, though. The Jaguars have scored only five touchdowns on 21 red zone trips this season. That's a TD conversion rate of just 23.8 percent. Henne has led the Jaguars to just one touchdown in nine red zone trips in the last three games and is riding a streak of seven consecutive red zone trips without a touchdown. He has thrown incomplete passes, been sacked, and failed to run for what would have been an easy first down in one instance.
Robinson sighting:
The Jaguars seem to have settled on having
Denard Robinson
work at running back. He carried the ball four times for 15 yards, including a 7-yard run; not great production, but solid work. Coach Gus Bradley said they wanted to take a look at Robinson at the spot because he has practiced well enough to move up the depth chart ahead of
Jordan Todman
and
Justin Forsett
. The Jaguars drafted Robinson in the fifth round and had hoped to use him as a Wildcat quarterback and receiver to take advantage of his speed and elusiveness, but he has had issues with his hands. Using him as a running back appears to be the best solution.
Slow start:
The defense never gave the team a chance on Sunday, giving up touchdowns on the 49ers' first four possessions. San Francisco drove 76, 49, 57 and 63 yards to take a 28-0 lead in the second quarter and converted all six third-down attempts in those four drives. Sunday's performance was a continuation of a trend that started against Denver on Oct. 13. The Broncos scored TDs on their first two possessions and San Diego did the same a week later. That's putting a lot of pressure on an offense that still struggles to run the ball and convert in the red zone.
Mojo improving:
Lost in the rout was the fact Jones-Drew had his best game of 2013, rushing for a season-high 75 yards (including a 30-yard run) and catching six passes for 47 yards. Jones-Drew said earlier in the week that the ankle he sprained against Oakland in Week 2 would probably never be 100 percent all year because he keeps playing on it, but it didn't slow him down against San Francisco. He appears to have some of his old explosiveness back.
October, 28, 2013
10/28/13
12:30
PM ET
An examination of four hot issues from the
New York Jets
' 49-9 loss to the
Cincinnati Bengals
:
[+] Enlarge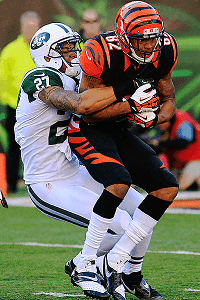 AP Photo/Tom UhlmanDee Milliner and the Jets had their hands full with Bengals WR Marvin Jones on Sunday.
1. A little perspective, please:
The Jets reached the midpoint of the season at 4-4. Did anybody expect that? Didn't think so. They showed their best and worst in a span of seven days, upsetting the
New England Patriots
and laying an egg against the Bengals. There was no penalty-flag bailout in Cincinnati. It was an alarming no-show by the Jets, who have failed to show any consistency. Taking the half-full view, they're a resilient bunch, having avoided back-to-back losses, but that trend will be put to the test Sunday against the talented
New Orleans Saints
. Rex Ryan needs to take a hard look at the operation because something has to be done to eliminate the wild spikes in performance.
2. Post-Revis blues:
Look, I'm not going to second-guess the Jets for trading
Darrelle Revis
-- I thought it was the right move for the long term -- but you knew when they made the deal it would be a rebuilding year for the secondary. It has plenty of warts, and some weeks they're more visible than others. This was one of those weeks. Every defensive back played poorly, starting with
Antonio Cromartie
and rookie
Dee Milliner
. The Bengals are a hot team, but there's no excuse for five touchdown passes, including four to the No. 2 receiver,
Marvin Jones
. Ryan said they got beat "in every coverage known to man." Players talked about mental mistakes such as communication errors and poor leverage techniques on certain routes. Let's be honest: This is a mediocre secondary when Cromartie isn't playing at a Pro Bowl level (he's not) and when the opponent has more than one quality receiving option (the Bengals did).
3. First-quarter yips
: For
Geno Smith
, this was reminiscent of the Week 4 loss to the
Tennessee Titans
in that he appeared unsettled from the outset. He was 1-for-3 for 17 yards in the first quarter, taking two sacks. The Bengals showed a new wrinkle, blitzing safety
Reggie Nelson
from the slot. Smith did a poor job of recognizing the look, resulting in the two sacks. Unlike the Titans game, he made it through the first half without a turnover, but his slow start put the offense in a hole. It's the same old story: When Smith plays well, the Jets win. When he doesn't, it gets ugly. Quite simply, this team isn't good enough to overcome sharp dips in his play.
4. They miss Santonio Holmes
: Yeah, he's a high-maintenance diva (and that extends beyond media relations), but he's a competent, crafty wide receiver when healthy. His presence on the field doesn't scare defenses, but it gives them something to think about. Without him, it's just a mediocre group of receivers.
Jeremy Kerley
can't be your No. 1 weapon in the passing game. The Bengals neutralized him, forcing Smith to look elsewhere. When
David Nelson
becomes your top weapon (he was targeted 12 times, catching eight), something is wrong. The disappearing
Stephen Hill
has reached milk-carton status, and there's little production from the tight ends. The team isn't overly optimistic about Holmes (hamstring) returning this week, so it could be Week 10 (after the bye). We know what will be on GM John Idzik's wish list in the offseason: playmakers.
October, 28, 2013
10/28/13
12:30
PM ET
FOXBOROUGH, Mass. -- A review of four hot issues following the
New England Patriots
' 27-17
win
over the
Miami Dolphins
:
[+] Enlarge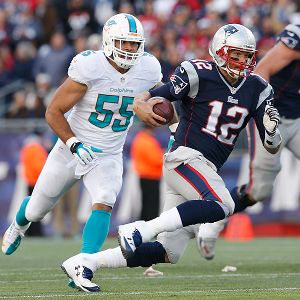 Jim Rogash/Getty ImagesTom Brady faced plenty of pressure Sunday from the Miami defense.
Tom Brady and his swollen right throwing hand:
Brady's accuracy, which has long been a hallmark of his play, remains sporadic. It could be because he has discomfort in his right throwing hand. CBS cameras showed multiple close-up shots of the hand, which looked swollen, during the game. While Brady said afterward that the hand is "perfect," the quarterback seldom, if ever, acknowledges injuries.
Managing injuries with bye in mind:
The Patriots host the Steelers on Sunday (4:25 p.m. ET) and then have their "off" weekend. While getting a victory to improve to 7-2 is the obvious goal, there is also an aspect of managing injuries with the bye week in mind. For example, if it means that cornerback
Aqib Talib
gets an extra week to rest his injured left hip, perhaps the Patriots take a conservative approach with him this week. Likewise for others such as defensive tackle
Tommy Kelly
(right knee) and running back
Leon Washington
(ankle).
Cannon in for Vollmer at right tackle:
Starting right tackle
Sebastian Vollmer
left Sunday's game in the second quarter with what appeared to be a serious right leg injury. It would be a surprise if Vollmer plays again this season, which thrusts third-year man
Marcus Cannon
into the starting lineup and bumps eight-year veteran
Will Svitek
into the swing tackle role. "I thought Marcus went in there and did a good job," coach Bill Belichick said Sunday. "The line we blocked, that's a good front. We ran the ball competitively."
Trade deadline:
With the trade deadline Tuesday, it serves as a reminder that the Patriots have been busy on the in-season trade market in recent years, acquiring receiver
Deion Branch
from Seattle in 2010 and Talib in 2012.
Belichick explained Friday why a trade is probably unlikely
, but it shouldn't be ruled out completely. The feeling here is that defensive tackle would be the spot the team is most likely to target. The problem, of course, is that there isn't much supply to meet the demand.
October, 28, 2013
10/28/13
12:30
PM ET
OAKLAND, Calif. -- A review of four hot issues from the
Pittsburgh Steelers
'
21-18 loss
to the
Oakland Raiders
.
[+] Enlarge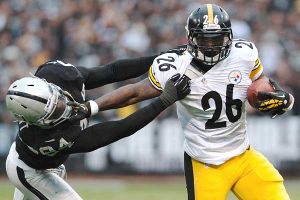 Ed Szczepanski/USA TODAY SportsRookie running back Le'Veon Bell has impressed the Steelers with his professionalism.
Clock (mis)management:
The Steelers had two choices, neither appealing, when they didn't get a horse-collar call late in the game. They opted for the wrong one. With the play clock winding down following a 7-yard catch by
Le'Veon Bell
, quarterback
Ben Roethlisberger
called the Steelers' first timeout of the half instead of taking a delay of game penalty that would have given Pittsburgh a second-and-8 from Oakland's 17-yard line. "There was a horse collar on the play," Roethlisberger said. "The one ref said to the other, 'I was going to call it but I couldn't tell. What did you see?' We couldn't tell what he was going to do so we got caught in a bad situation. By the time we got back to the huddle you look up and there's three seconds left on the play clock." But there were less than two minutes on the game clock, and using a timeout instead of wasting a down when the Steelers had two more to play with cost them dearly. They pulled to within three points after a Bell touchdown run and
Emmanuel Sanders
' 2-point conversion, but the Steelers but did not recover the ensuing onside kick, essentially ending the game. "I know timeouts are valuable," Roethlisberger said, "but for an offense scoring touchdowns, so was 5 yards."
Out of whack:
When Roethlisberger talks about the importance of establishing balance on offense, he isn't just paying lip service to the notion. The Steelers have thrown the ball 69.8 percent of the time in their five losses compared to 49.5 percent in their two wins. The Steelers ran the ball just 19 times against the Raiders while Roethlisberger threw 45 passes -- and exposed himself to the kind of punishment that the organization wanted to limit when Todd Haley was hired as the offensive coordinator. Game circumstances and injuries along the offensive line compelled the Steelers to get away from running the ball in Oakland, but the ground game regressed after a 141-yard output against the Ravens. And as promising as Bell has looked, he is averaging just 3.3 yards per carry after four games.
The good old days:
Once upon a time, the Steelers beat inexperienced quarterbacks as well as veteran but suspect signal-callers. Not this season. Three of their losses have come against quarterbacks who are short on starting experience (
Jake Locker
and
Terrelle Pryor
) and a journeyman
Matt Cassel
, who held onto the No. 1 job in Minnesota for one game after lighting up the Steelers in London. The Steelers' other losses were against
Andy Dalton
and
Jay Cutler
, and the two have experienced success but also have just two Pro Bowl appearances between them.
Too little too late:
The Steelers' defense allowed but one first down to the Raiders in the second half. It also yielded just 35 yards of total offense. Not that the players took much consolation in how they clamped down on Oakland after allowing three rushing touchdowns in the first half, including one on Pryor's 93-yard run. "In fairness to them maybe they didn't go into their complete playbook in the second half," Steelers strong safety
Troy Polamalu
said. "Their defense outplayed our defense and their special teams outplayed our special teams." No argument here.
October, 28, 2013
10/28/13
12:30
PM ET
A review of four hot issues from the
Kansas City Chiefs
'
23-17 win
against the
Cleveland Browns
:
[+] Enlarge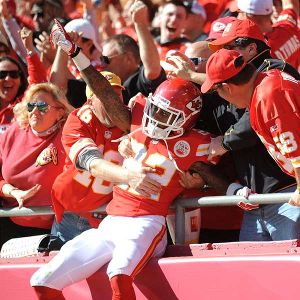 Denny Medley/USA TODAY SportsChiefs WR Dexter McCluster celebrates with fans his first receiving touchdown of the 2013 season.
Slowing Hali:
With five sacks in his previous two games, outside linebacker
Tamba Hali
had been one of the hottest pass-rushers in the league before he ran into Cleveland tackle
Joe Thomas
. Hali was held without a sack for the first time in six games. "Joe is a good player," Hali said. "You could say he's a great player. It's tough to beat him one-on-one. At times, I felt like I won some of the battles [but] the ball was coming out fast."
Sacking Smith:
The Browns sacked Chiefs quarterback
Alex Smith
six times, setting a season high for a Chiefs opponent. The Chiefs can help Smith by using his mobility and moving him from the pocket. Smith has the ability to throw accurately on the run. "A little bit of that is on me trying to make some plays in the pocket on third down," Smith said. "Of course, protection is important, but I don't think that was the sole [problem]." Smith has been sacked 24 times in eight games and hasn't gone one game without being sacked this season.
McCluster's big day:
The Chiefs have been looking for offensive production that comes from someone other than
Jamaal Charles
, and they got it from slot receiver
Dexter McCluster
. He led the Chiefs with seven receptions for 67 yards (both season highs for him), and scored his first receiving touchdown on a 28-yard catch from Smith. For the Chiefs, maybe the most encouraging of McCluster's stats was this: He caught seven of the 10 passes Smith threw his way. Previously, throwing McCluster's way had been a low percentage move for Smith. Before Sunday, McCluster had caught just 16 of the 31 passes thrown his way.
Looking toward the record book:
The Browns scored 17 points, tying a season high for Chiefs opponents. Tennessee also scored 17 against the Chiefs on Oct. 6. In Sunday's game in Buffalo, the 8-0 Chiefs can tie the NFL record for consecutive games of holding opponents to 17 points or fewer (held by the 1977
Atlanta Falcons
). The Chiefs' streak of eight is tied for second in league history with the 1970
Minnesota Vikings
and the 1971
Miami Dolphins
. Opponents have scored only 98 points against the Chiefs this season, but that's just fifth-best through eight games in franchise history.
October, 28, 2013
10/28/13
12:00
PM ET
A review of four hot issues from the
Miami Dolphins
' 27-17
loss
to the
New England Patriots
:
Slumping Fins:
The Dolphins lost their fourth game in a row and second straight to an AFC East opponent. All the good vibes from Miami's 3-0 start has been completely erased, and now you must question this team's confidence. The Dolphins continue to show good effort. But do they have enough talent and focus to overcome this slump? Or will this team go in the tank after such a bad losing streak? Miami hasn't won a game since Sept. 22.
[+] Enlarge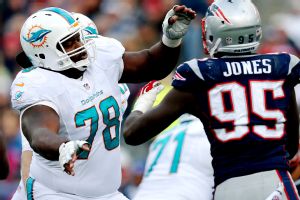 AP Photo/Michael Dwyer)Bryant McKinnie held Chandler Jones to zero sacks and helped the Dolphins to 156 rushing yards.
Revisiting McKinnie decision:
Miami made a risky decision to start new left tackle
Bryant McKinnie
after just three practices with the team. The Dolphins acquired McKinnie on Oct. 21 in a trade with the
Baltimore Ravens
. He got his first start Sunday and played relatively well. McKinnie held New England's best pass-rusher in
Chandler Jones
to six tackles and zero sacks. Miami also had its best running day of the season. The Dolphins gained 156 rushing yards and averaged 5.0 yards per carry. McKinnie should improve with more practice time. He was already an upgrade over former starting offensive tackle
Tyson Clabo
.
Replacing Gibson:
The Dolphins are expected to lose slot receiver
Brandon Gibson
for the season with a significant knee injury. Miami will have further tests on Gibson's knee this week. But the receiver was on crutches in the locker room and didn't sound like a player who was coming back anytime soon. Gibson was a favorite of Tannehill and will be hard to replace in the slot. Backup
Rishard Matthews
will take Gibson's place. But Miami only has three healthy receivers on its 53-man roster.
Trick or treat:
Things do not get easier for Miami. The Dolphins will face a first-place team for the second straight game when they host the
Cincinnati Bengals
(6-2) on Thursday, which is Halloween night. The Bengals are very talented and thrashed the
New York Jets
, 49-9, on Sunday. The Dolphins beat the Bengals last year in Cincinnati, which surely hasn't been forgotten. This will be a tough matchup to for the Dolphins to try to save their season.
NFL SCOREBOARD
Sunday, 2/2
WEEKLY LEADERS