NFL Nation:

2013 Week 8 WAS at DEN
October, 27, 2013
10/27/13
11:45
PM ET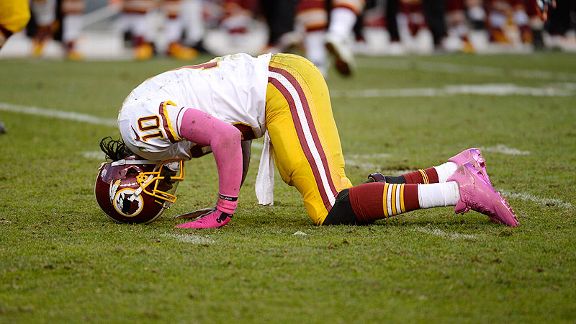 Tim Rasmussen/The Denver Post via Getty Images"I just don't believe we're a 2-5 team," Redskins quarterback Robert Griffin III said.
.
DENVER -- This is what bad teams do when the moment arrives for them to respond. When a home crowd is foot-stomping loud, their cheers shaking the stadium. When a play must be made to swing the momentum back.
They run 14 plays, gain 22 yards and punt three times. One of those punts traveled 15 yards. And landed at their own 35-yard line. Followed one play later by the go-ahead touchdown.
And then they followed that with four straight drives ending in interceptions.
A 21-7 lead and potential season-defining win for the
Washington Redskins
not only slips away, it is carried away in a tornado of mistakes.
"It was like a blur," Redskins corner
DeAngelo Hall
said. "I looked at one point, 21-7. Felt good. Turned around and it was 38-21."
The score ended up
45-21
, in favor of the 7-1
Denver Broncos
. It's not a surprise that Washington lost; it would have been stunning had the Redskins won, truth be told. But they looked so sharp in building a 21-7 lead, more on defense of course. The offense, though, had contributed a 95-yard scoring drive and the special teams had been successful in winning the field position battle.
But a 24-point loss courtesy of a last-quarter meltdown? That's not a way to build any belief that they'll ever find the necessary consistency to turn anything around.
"I just don't believe we're a 2-5 team," quarterback
Robert Griffin
III said.
Oh, but they are 2-5. And it's deserved, too.
It starts on offense. Denver scored 45 points, but the Redskins had held the Broncos to 14 points through three quarters. They did not finish strong in the fourth quarter, but the way the offense responded put them in a bad spot. Again and again.
Before the season, Redskins receiver
Pierre Garcon
boasted of this group possibly being the most prolific ever. Funny how long ago that seems. Maybe it seemed silly at the time; it's even more so now. They'll show flashes. They don't sustain anything.
"As an offense we've been struggling all year," Garcon said. "We have to finally put it together. It's our fault."
Garcon was frustrated and it shows at times during games. Like on the deep post in which he was wide open -- by a good 15 yards perhaps -- and not seen. On a play in which the coordinator told him earlier in the week that he'd be wide open. It happens, they say. It stands out when not enough is going right. Not that it hurt Washington as the Redskins still scored on the drive. But it's just where the passing game is at, even against a defense that had struggled before this game.
"Doesn't matter who [you're playing]. If you suck at passing, you suck at passing," Garcon said. "We've just got to figure it out."
Garcon was not pointing the finger at Griffin, but rather at the whole group.
Santana Moss
dropped a touchdown pass (again, they scored on the drive).
Aldrick Robinson
dropped a pivotal third-down pass with the game still tied early in the fourth quarter.
Sav Rocca
then shanked a 15-yard punt. One play later it was 28-21.
Garcon was asked if he felt the offense had turned a corner after the previous two games in which they moved the ball well.
"We haven't put up a fair amount of games where we played equally good running the ball and passing the ball," he said, "so that's a no."
So much of what they do returns to Griffin. And he was bad Sunday, completing 15 of 30 passes for 132 yards and finishing with a 45.4 passer rating. Denver wanted to take away his legs and the Broncos succeeded for a variety of reasons, from their 3-4 front against the zone read option to the way they stunted and applied pressure. He was hit more than in any game this season. The luster of his golden rookie season has faded.
This is not all on him; at times last season his scintillating play covered up a lot of sins that are now evident. But it's clear that his passing needs to improve.
"We had times where we had guys open and we couldn't make plays. There are times where you have to have those tough catches and tough throws and we didn't make those either," Griffin said. "We have to be better as a group."
According to ESPN Stats & Information, Griffin failed on all seven pass attempts of 15 yards or more. He was pressured or sacked on 42 percent of his dropbacks, the highest percentage of his career. Makes life tough under those circumstances, but Griffin needs to help himself, too, and defeat the rap that he struggles when he can't hit his primary target.
Maybe this was just one bad game. But you heard Garcon: They know they haven't played the way they're capable. The Redskins have a chance to still climb back into respectability the next two weeks with a home game against San Diego and a road game at Minnesota. Their outlook would then change considerably. And a week ago Griffin's impact on the game looked a lot like last year. But the impact was real and there's no reason it can't happen again.
In many ways the Redskins and Griffin are going through the growing pains you would have expected them to endure last season when he was a rookie. The kid is not a finished product and that can't be underestimated. Until he gets there, ugly games like Sunday will arise.
For the Redskins to really be optimistic, they need to play a complete game. Then repeat it the following week. Until then they'll keep believing.
"That's all we've got," Redskins end
Stephen Bowen
said. "There's no other choice."
October, 27, 2013
10/27/13
11:11
PM ET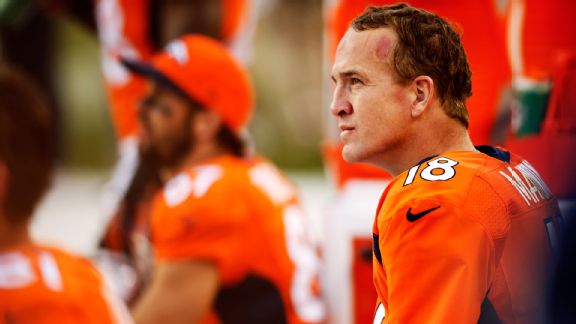 Chris Humphreys/USA TODAY SportsThe Broncos have things to fix before, as Peyton Manning put it, "a tough second half of the season."
.
DENVER -- In the world of 20/20, crystal-clear, told-you-so hindsight, it seems fitting the biggest headline, by far, of the
Denver Broncos
' workweek in the days leading up to their game against the
Washington Redskins
had to do with one player who did not practice Wednesday.
Peyton Manning
's ankles were
the
story as Sunday's kickoff approached, easily overshadowing Mike Shanahan's first game as a visiting coach in Denver since the Broncos fired him following the 2008 season. And after a 31-point fourth quarter fueled
45-21 victory
at Sports Authority Field at Mile High, the Broncos limped into their bye week with a long list of battered players, a pile of staggering offensive numbers and seven wins.
Yes, here they are at the season's halfway point with their 37-year-old quarterback's highly scrutinized medical report in hand, a bruised offensive line, the second-best record in the NFL behind Kansas City's 8-0 and the prevailing wisdom that what they did in the first half was good, but that they will need more to power their way into the first weekend in February.
"I just look at it like, like on defense, we have too much talent in this room to be ranked at the bottom against the pass," Broncos cornerback
Chris Harris
said. "We have confidence in who we are all around the locker room, we look around at Peyton and the offense and what we think we can do on defense, we can do a lot more. We know we can."
Start with Manning, whose every throw, wobble, tipped pass or interception is treated by many as an indictment of his current physical condition. His mere stepping aside in Wednesday's practice, by protest he said, was cause for breaking news updates up and down the Front Range.
And however the ball came out, he finished with 354 yards passing and four touchdowns. It was his seventh 300-yard game of the season and the sixth time he threw at least three touchdown passes in a game. But he has also thrown six interceptions in the past four games, including three on Sunday, as the number of hits he has taken has gone up significantly behind an offensive line dealing with a variety of injuries.
Manning doesn't figure to do much during two Broncos practices during the bye week, but he said Sunday he feels ready for the second-half push.
"I'm going to go down on the injury report, starting now, under 'body,' just keep me there, that's what I'm going under," Manning said. "I actually felt pretty good out there, felt like I was moving around, felt like I was able to move in the pocket a little bit and see some things and felt good out there. The bye week is coming at a good time for a lot of people physically, me as well."
Overall, the Broncos have put up 343 points in eight games -- a league-leading 42.9 points per game -- and total that includes 40 offensive touchdowns. If the Broncos didn't score another point for the remainder of 2013, this season would be 22nd on the team's scoring list, outdistancing 33 others.
Yet, there are some worry lines -- shallow ones, but there nonetheless. After rampaging through the first month of the season, the Broncos needed a late interception to be in position to win in Dallas; were pushed hard, at home, by the winless Jaguars; got bullied a bit in a loss to the Colts; and Sunday were down 21-7 to the Redskins righting themselves.
And if you start the clock at a huge shot Manning took to the ribs against the Jaguars, he has seen the punishment increase each week as the Broncos try to hold things together up front. Left tackle
Ryan Clady
is already on injured reserve, and right tackle
Orlando Franklin
limped through Sunday's game after being limited all week in practice. As a result, opposing rushers are starting to force turnovers. Manning has lost fumbles on sacks in back-to-back games and been harassed into interceptions as well.
And waiting in the season's second half is the bulk of their division schedule; the Broncos have played just one AFC West game so far, a Week 3 win over the Raiders. On that division schedule are two games against the Chiefs, with the league's No. 1 defense, one that is on pace to threaten the league's single-season record for sacks.
Asked for his report card Sunday, Manning said: "I don't really have one. … Think we've had eight physical games … we've got a tough second half of the season coming up."
The Broncos had two more players limp off Sunday and not return: safety
Duke Ihenacho
and tight end
Julius Thomas
. Cornerback
Champ Bailey
has played just one full game because of a left foot injury that had him on the sideline again Sunday.
Holding
Robert Griffin III
to 7 yards rushing and 139 total yards, to go with three sacks and four interceptions, made for the Broncos' best defensive effort of a season when defense has rarely -- OK, never -- been the story on the field in the season's first half. Bailey's injury affected the group, as did
Von Miller
's suspension. But they haven't shown their form, despite a depth chart they have repeatedly said is improved from 2012, when the Broncos were among the league leaders in all of the must-see defensive categories.
Still, just before Sunday's game, Shanahan spoke of the Broncos' speed on defense, and afterward he said, "People will find out Denver's defense is better than people think they are … they're a better [defense] than they are statistically right now."
So, there it is. They're 7-1, they score
a lot
, they like what they've done and they believe it can all be better in the coming weeks. That's good, because it will have to be.
"We've been under fire," Broncos linebacker
Wesley Woodyard
said. "And the thing is … it shows if we put our mind to it, we can come out and dominate."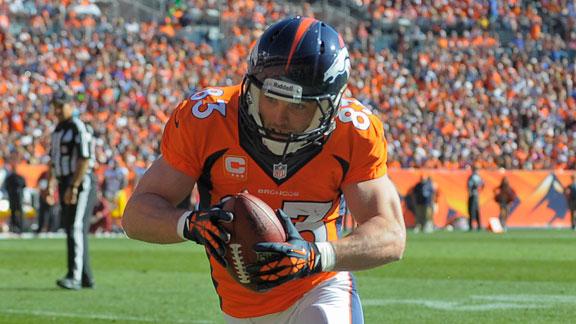 .
October, 27, 2013
10/27/13
11:05
PM ET
DENVER -- There are times, when
Denver Broncos
quarterback
Peyton Manning
leaves his helmet on after he exits the field, when it's pretty clear he had hoped to get clearance to go for it on fourth down.
When it's clear he believed the time was right to roll the dice, take a chance.
Manning
But when the Broncos faced a fourth-and-3 in the second quarter of Sunday's win against the
Washington Redskins
, the ball was at the Redskins' 43-yard line and the Broncos had a 7-0 lead. So, when Manning made the case, albeit briefly as he jogged to the sideline, Broncos coach John Fox still sent the punt team on.
However, when the Broncos faced a fourth-and-2 at the Redskins' 20-yard line, trailing 21-7 in the third quarter having just seen two of their turnovers turned into two Washington touchdowns, now, that was a different story.
"Certainly as an offense, we like it," Manning said. "... I think there is a real motivation to please him and make it successful so you can do it again."
Manning sent running back
Knowshon Moreno
into the middle of the Redskins defense on a quick-hit play that gained five yards. Three plays later the Broncos had a touchdown and had cut Washington's lead to 21-14 with an 11-play, 75-yard drive.
"At the end of the day it was a manageable distance," said Fox. "So, that's why we elected to go for it."
The Broncos dialed it up again on their next possession. Having run 15 plays to move the ball 82 yards to the Redskins' 1-yard line, the Broncos faced fourth-and-goal. The Broncos again elected to leave Manning and the offense on the field and were rewarded, again, this time with a 1-yard scoring pass to tight end
Joel Dreessen
out of the heaviest of formations that featured three tight ends to go with defensive tackle
Mitch Unrein
lined up out wide as a receiver.
"Mitch is always a threat out there," Manning said with a smile. "Never know how a defense is going to play him, whether they're going to double him or not. It's definitely good to throw a little wrinkle at the defense."
Dreessen's touchdown tied the game at 21-21 and the Broncos never looked back. In the end the Broncos scored 38 unanswered points, 31 of those in the fourth quarter.
"We put our defense in a tough spot with turnovers back to back," Manning said. " … Those first two drives after the first two turnovers and we were able to tie the game. That one to make it 21-14 was critical."
October, 27, 2013
10/27/13
9:10
PM ET
DENVER -- Observed in the locker room after the
Denver Broncos
' 45-21
win
over the
Washington Redskins
:
Battered and bruised:
Broncos right tackle
Orlando Franklin
was limited in practice all week. Limited meant he was limping through drills at times with an ankle injury that kept him out of last Sunday's loss against the Colts. But he started and played through the Broncos' win Sunday, even though the struggle was evident at times. "You could tell he was hurting there a couple times in the game, but he stayed in there, but a real credit to him answering the bell and a real credit to his toughness,'' quarterback
Peyton Manning
said.
Knighton
Big man's game:
Broncos defensive tackle
Terrance Knighton
, all 335 pounds of him, had his second sack of the season in the second quarter when he dragged down
Robert Griffin
III on a first-and-10 play. In the fourth quarter it was Knighton who crashed down on Griffin, forcing him to throw an interception. The play knocked Griffin out of the game. "I guess I wanted to show the big guys are athletes, too.''
Taking responsibility:
Manning wouldn't use the word "frustrated" when describing his two third-quarter turnovers -- a fumble recovered at the Broncos' 19-yard line and an interception returned for a score -- that resulted in two Redskins touchdowns in the span of 1 minute, 31 seconds. "I say 'determined' is probably the word, to overcome those mistakes, and you don't do it by pressing and forcing things, you do it by going about your business and doing your job.''
Finally:
Sporting a cowboy hat while still in uniform, Broncos linebacker
Von Miller
was more than happy to recount a day that included his first sack of the season since his return from a six-game suspension for violating the league's substance-abuse policy. "We haven't remotely scratched the surface of what we can be,'' Miller said. "... But I always want to make those plays.''
October, 27, 2013
10/27/13
7:46
PM ET
DENVER -- A few thoughts on the
Washington Redskins
'
45-21 loss
to the
Denver Broncos
:

What it means:
It's not as if Denver winning was a surprise. Most predicted the Broncos would win. But it's the manner in which the Redskins lost that should be disconcerting. They are now 2-5 and what do they really have to build on at this point? Washington was doing all the little things right in taking a 21-7 lead -- and looked strong in doing so. The Redskins looked like a team ready to announce a return to legitimate contention. But the last quarter highlighted so much of what's still wrong with the Redskins. They missed a couple more tackles; they failed to catch passes; the quarterback missed too many open receivers and the punter shanked a 15-yarder deep in his own territory.
Peyton Manning
doesn't need the sort of help Washington provided in the fourth quarter.
Bad day:
Redskins quarterback
Robert Griffin
III had perhaps his worst game of the season, one week after it appeared he had turned a big corner. Griffin did not look comfortable in the pocket, missed open receivers and could not hurt a defense that has been carved up a few times this season. It was not the sort of showing the Redskins needed. Had they lost but Griffin played well, then they could feel good about where he was headed. Now? Back to wondering week to week what Griffin will do. The Broncos took his legs away and turned him into a less-than-ordinary player. Griffin finished with a 45.4 passer rating after leaving the game with a left knee injury, having completed 15-of-30 passes for 132 yards a touchdown and two interceptions. Griffin is going through growing pains that many thought he might endure last season.
Stock report:
Going up: Corner
DeAngelo Hall
intercepted two passes and played an all-around good game. It gets lost now, but his physical coverage led to another pick-six and 21-7 lead. Hall added an interception later in the game, again with good coverage. He showed up. Going down: Everything else. The Redskins looked good for three quarters, but a complete collapse in the fourth quarter, when they did just about everything wrong, makes it tough to remember.
Key statistic:
The Redskins turned the ball over no times in the first three quarters and five times in the fourth quarter. That's how you go from leading 21-7 to giving up 38 straight points.
Next up:
The Redskins host the
San Diego Chargers
on Sunday, a game that becomes yet another must win if they want to have the illusion of still being in the NFC East title chase. Because of all the parity in this division, a 3-5 record would qualify as still in the hunt.
October, 27, 2013
10/27/13
7:45
PM ET
DENVER -- A few thoughts on the
Denver Broncos
' 45-21
win
over the
Washington Redskins
:

What it means:
The bye week may have come just in time for the Broncos, especially for their 37-year-old quarterback,
Peyton Manning
. Manning has been battered over the past three games, having taken several heavy shots to body parts including his ribs, right arm and right shoulder to go with injuries to both ankles. Manning put together another four-touchdown day, but it was a struggle at times.
Stock watch:
The Broncos have made it clear there is zero tolerance for fumbling, no matter what your potential might be in the offense. They showed it initially with
Montee Ball
's reduced role earlier this season after he put the ball on the ground and then took the next step with
Ronnie Hillman
being a game-day inactive Sunday against the Redskins. The Broncos did miss Hillman's speed at times, but he won't see the field again until he earns his way back into the lineup, and a big part of it will be how he handles being an inactive this week.
Mix-and-match:
With the threat Redskins quarterback
Robert Griffin III
presented as a runner in a read-option look, the Broncos often used a 3-4 set on defense to attempt to keep Griffin hemmed in. On plenty of early-down snaps the Broncos stood up
Shaun Phillips
and
Von Miller
at outside linebacker with three down linemen, putting
Kevin Vickerson
often over the center as the nose tackle. It worked well, as the Broncos repeatedly limited Griffin's ability to get loose.
Bad timing:
The Broncos can't seem to avoid penalties at times when they will sting the most. Just before halftime the Broncos were flagged for 12 men on the field when the Redskins were lined up for a 30-yard field goal attempt. The penalty gave the Redskins a first down, and they scored a touchdown on the next play. Vickerson, who is the team's most penalized player, was flagged in the third quarter for a late hit on Griffin. Given his recent run of flags, including a chest bump of Colts quarterback
Andrew Luck
last week, the Broncos took Vickerson out of the lineup, and at that point head coach John Fox had plenty to say to him.
What's next:
They have a long list of injuries with safety
Duke Ihenacho
(ankle) and tight end
Julius Thomas
(ankle) added to the list Sunday, so the Broncos will gladly take the week off to heal. They will likely practice Tuesday and Wednesday as the players head into the bye weekend.
NFL SCOREBOARD
Sunday, 2/2
WEEKLY LEADERS