NFL Nation:

2013 Week 9 ATL at CAR
November, 3, 2013
11/03/13
10:05
PM ET
CHARLOTTE – If there was a positive in the
Atlanta Falcons
' 34-10 loss to the
Carolina Panthers
on Sunday, it might have been the play of running back
Steven Jackson
.
The veteran seemed to run with the type of power the Falcons expected from him all along. Jackson gained 57 yards on 13 carries, including a long run of 13 yards.
"I was able to make a couple plays out there," Jackson said. "Once again, a step in the right direction. Definitely some things to work on. [I'll] look at the film Monday and see what I can get better at."
Jackson, who was sidelined for four games with a hamstring injury, returned to action the previous week against Arizona but managed just six yards on 11 carries. Poor blocking contributed to his ability to get going against the Cardinals.
But Jackson seemed to run with a purpose against the Panthers. Nothing was more indicative of his approach than when he pushed teammate
Justin Blalock
out the way in order to pick up a few extra yards on a first-half run.
"Being able to set a tempo, set an attitude, establish that we're going to run the ball regardless of a situation … for us to put that on film [and] for us to see us doing it and being successful at it, it helps feed the confidence in knowing that we can be a running football team."
The Falcons finished with 79 rushing yards, their highest total since gaining 146 yards against the
Miami Dolphins
in Week 3. But Jackson had a two-yard touchdown run nullified by a holding penalty on guard
Garrett Reynolds
. And Jackson got stopped for no gain on third-and-1 during the Falcons' first series of the second. The offensive line obviously did a poor job blocking on that play.
Still, Jackson liked the progress as he prepares to face an old nemesis from the NFC West: the
Seattle Seahawks
.
"It's going to be another physical defense," Jackson said, "a team that's very aware of my running style. I'm sure they're going to have an extra guy in the box, especially coming off the little bit of success that we had today. We just have to continue to trust me, continue to trust my run reads, and continue to just lower my pads and run with authority."
If Jackson can do so consistently, then maybe he can show the Falcons just how helpful he can be in the future, when healthy.
November, 3, 2013
11/03/13
8:15
PM ET
CHARLOTTE -- Immediately after
Atlanta Falcons
head coach Mike Smith wrapped up his postgame news conference on Sunday, a recognizable voice yelled "Smitty, Smitty," from the back of the room.
The fact that team owner Arthur Blank summoned Smith in such a manner made you wonder exactly what Blank had on his mind, particularly after watching his team fall to 2-6. But as a red-faced Smith turned to respond, Blank moved closer and embraced the coach like a long lost son.
Smith needed a hug, indeed.
For all the optimism Smith and rest of the Falcons had entering Week 9, it all seemed to go for naught following a
34-10 thumping
at the hands of NFC South foe Carolina.
[+] Enlarge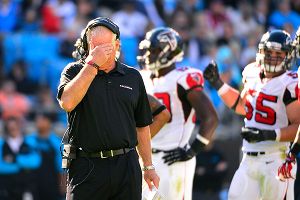 Bob Donnan/USA TODAY SportsSunday's loss to Carolina continued what has been a disappointing season for Falcons coach Mike Smith.
"Obviously, we didn't come anywhere close to playing the type of football that we needed to play," Smith said afterward.
Unfortunately, that's been the storyline for the Falcons almost the entire season. That's why they've doubled their loss total from a year ago despite playing just half a season.
Of course, playing without top receivers
Julio Jones
and
Roddy White
makes a difference, especially when you consider
Matt Ryan
has thrown seven interceptions in the last two games while working with a makeshift receiving corps. But injuries don't explain holding penalties that take away touchdowns. Injuries don't explain why the offensive line can't get a better push on third-and-1. Injuries don't explain biting on a run play and allowing a tight end to run wide open for a touchdown.
Injuries don't completely explain why Ryan made some poor passing decisions the past two games, including one Sunday that led to a backbreaking pick-six by veteran cornerback
Drayton Florence
.
And injuries surely don't explain why the ball didn't bounce the Falcons' way when they needed it to the most on Sunday. With 10 minutes left in the game and the Falcons trailing 17-10, Panthers receiver
Brandon LaFell
got behind Falcons cornerback
Asante Samuel
for a 23-yard pickup. But Samuel recovered and forced LaFell to fumble.
Fellow Falcon
Robert Alford
seemed set to pounce on the fumble, but the ball got away from Alford and landed right back in the hands of LaFell as the receiver was stretched on the ground.
Immediately after the lost opportunity, the Falcons gave up an 8-yard touchdown run to
Cam Newton
. Then Florence's interception score followed.
If only Alford could have squeezed the ball as tightly as Blank did Smith.
"That play might sum up what our season's been like,'' Smith said. "You would look at that and say, 'How in the world did that happen?' Very reminiscent of the season that we've had."
At least the Falcons have learned the value of taking ownership of their mistakes. Alford was mad at himself for not grabbing the fumble. Safety
William Moore
took responsibility for coming down to stop the run on that fourth-and-1 play that resulted in Newton's 14-yard touchdown pass to
Greg Olsen
. And Ryan refused to use the excuse of "pressing" on the plays that led to his interceptions. It didn't help that tight end
Tony Gonzalez
, Ryan's comfort zone, was taken out of the game in the second half.
"I think I just haven't been playing well," Ryan admitted.
It's still hard to imagine the Falcons, even despite the injuries, could fall this far down the NFL ladder. They were supposed to be the No. 1 seed in the NFC. They were supposed to be Super Bowl favorites.
"We have many different problems," Smith said. "Sometimes, it's the offense. Sometimes, it's the defense. Sometimes, it's special teams. Sometimes, it's coaching. But when you're 2-6, you're obviously not doing anything very consistently and effectively."
With the Seahawks, 49ers, and Packers still left on the schedule, it's hard to imagine life getting any better for the Falcons.
November, 3, 2013
11/03/13
7:50
PM ET
CHARLOTTE, N.C. --
Carolina Panthers
running back
Jonathan Stewart
stood no chance when quarterback
Cam Newton
handed him the football less than a minute into the second quarter on Sunday.
Atlanta linebackers
Akeem Dent
and
Joplo Bartu
hit him 2 yards behind the line of scrimmage and stopped him dead in his tracks. It was as if the entire defense knew Stewart would get the ball on his first carry in more than a year.
[+] Enlarge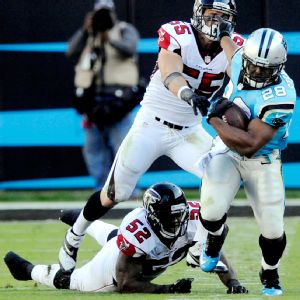 Sam Sharpe/USA TODAY SportsJonathan Stewart rushed nine times for a team-best 43 yards in his return.
"They played a good defense against what we had called," Stewart said with a laugh. "It's OK. We won the game. We built towards the first quarter, second quarter, third quarter. We just got momentum."
On his last carry in the
34-10 victory
, Stewart went off left tackle for 16 yards to the Atlanta 7. In between, he had enough quality touches to show just what he can mean to this offense.
Stewart, who missed the first seven games rehabilitating the right ankle that prematurely ended his 2012 season, rushed nine times for a team-high 43 yards. He also caught three passes for 22 yards.
He added another dimension to a backfield of
DeAngelo Williams
and
Mike Tolbert
that already had the eighth-best running attack in the NFL.
"I saw him getting more and more confident and comfortable, and then we saw the explosiveness at the end of the game," coach Ron Rivera said.
That's all anybody was looking for, really.
Stewart admittedly was nervous coming into the game.
"I'm pretty sure if you're not nervous your first carry you're not human," he said.
As Stewart addressed the horde of reporters surrounding his locker afterwards, Williams and Tolbert stood on each side of him and had fun cracking jokes.
"He's got to get back in the groove," Williams said with a laugh.
The chemistry these three had going into the game wasn't lost because one had more yards or touches than the other. They showed that together they can be a three-headed monster instead of the "Double Trouble" that Stewart and Williams were a few years ago when both were healthy.
Williams had 42 yards on 13 carries and Tolbert 24 on six carries. As a team, the Panthers rushed for 131 yards -- Newton added 22 yards on five carries -- to match almost exactly what they averaged without Stewart.
They did this even though the offensive line lost starting right guard
Chris Scott
(sprained knee) and backup
Jeff Byers
(foot) within a few plays of each other, moving swing tackle
Nate Chandler
into a somewhat unfamiliar role.
"A lot of people are doubting us and whatnot," Stewart said. "But we know how good we are, and we've just got to go out there every week and prove it. We are relevant, and all we've got to do is just worry about our assignment and worry about holding each other accountable day in and day out."
Stewart didn't stand a chance on his first play on Sunday.
Then again, the Panthers didn't stand a chance at being relevant at 1-3.
Now they both are proving worthy of attention.
November, 3, 2013
11/03/13
7:38
PM ET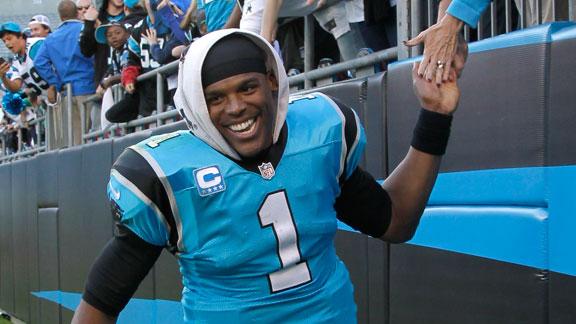 CHARLOTTE, N.C. -- Left tackle
Jordan Gross
was on the way to lunch with
Jake Delhomme
on Saturday, teasing the former
Carolina Panthers
quarterback about how even as an active player, his hair always seemed perfect. Then, the conversation took a serious turn.
"He said this team was special; this team has a good vibe,'' Gross said after Sunday's 34-10 victory over the
Atlanta Falcons
.
Winning will do that.
The Panthers (5-3) felt they had the potential to be special even before winning their fourth consecutive game and fifth in the past six. Carolina is now within a game of New Orleans in the NFC South after the Saints' 26-20 loss to the
New York Jets
.
Wide receiver
Steve Smith
certainly knew what he was talking about after a 12-7 loss to Seattle in the opener, when he predicted Carolina would see the Seahawks again deep in the NFC playoffs.
Few believed Smith then, and he didn't want to discuss that on Sunday. He didn't want to talk at all after this one, choosing to let his teammates who statistically had better games bask in the limelight that he has enjoyed for much of 13 seasons.
But when approached in the hallway outside the locker room about Delhomme's comments, Smith paused and said, "If Jake says it, I believe it."
Right now, these players believe in themselves. Even after playing what was the sloppiest of their five wins, they could feel the vibe Delhomme mentioned, that feeling that has been missing since 2008.
Former general manager Marty Hurney didn't use the word vibe, but he said something was missing in the locker room a year ago when he was released after a 1-5 start.
It's been found.
"This is a dangerous football team," Delhomme said before the game, the first time he'd been at Bank of America Stadium since being released after the 2009 season. "I don't think too many teams in the NFL want to play this football team."
The Panthers aren't just beating teams. They're destroying them. The average score in their five wins is 33.6 to 9.6.
They're doing this with the NFL's top-ranked offense in terms of time of possession -- a position they likely won't give up after a 36:25 to 23:35 edge against Atlanta -- and the league's No. 3-ranked defense.
They're doing it with quarterback
Cam Newton
, who is doing the little things it takes to win, even when he has an off day as he did on this one.
They're doing it with a relentless running game that began the day ranked eighth in the league and has the potential to get better with the return of
Jonathan Stewart
, who led the team in rushing (43 yards) in his first game after a year recovering from an ankle injury.
They mostly are doing it because they play as one team, not letting injuries or mistakes turn into disaster as they have for most of the past four years. When they lost starting right guard
Chris Scott
(sprained knee) and backup
Jeff Byers
(foot), swing tackle
Nate Chandler
stepped in and did yeoman's work.
[+] Enlarge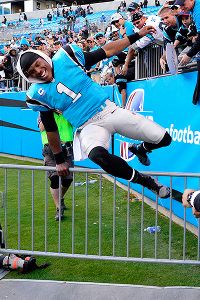 Bob Donnan/USA TODAY SportsCam Newton and the Panthers made a big leap in the standings over the past month.
"It's an indication as where we're starting to evolve as a football team," coach Ron Rivera said.
When Carolina was 0-2 and even 1-3, when critics were calling for him to be dismissed, Rivera said the team was close to turning the corner. He said the talent was here to be relevant.
He even mentioned turning this run into a playoff run.
Yes, the "P" word has been mentioned.
But this team believes it can achieve that goal. Delhomme certainly does. He said the talent is here to potentially do more than the 2003 team he took to the Super Bowl, losing on a last-second field goal to the
New England Patriots
.
He called Newton, who began the season under a cloud of uncertainty regarding his ability to lead and win, the right person to lead Carolina to a Super Bowl.
"He's 24 years old and let's see what happens the rest of the year, but I don't think there's any doubt this guy can certainly do it," Carolina's all-time leading passer said.
"He is talented and he throws the ball plenty good enough, and his legs are dangerous. That's what makes him so scary. ... Guys don't want to hit him. He's a freak of nature."
Newton wasn't spectacular with his legs on Sunday, but showed a sample of what Delhomme meant on an 8-yard touchdown run that made it 24-10 with nine minutes remaining.
What was most impressive was Newton didn't have to be clicking off completions at a 77.3 rate as he had the past three games for Carolina to win. In many ways, this was one of Carolina's most complete games because there were no stars.
"It's a team, man,'' Stewart said when asked about Newton's subpar performance. "It's not on Cam."
It's not a team that has arrived by any means. None of Carolina's five victims has a winning record. Atlanta (2-6) is a shell of the team that won the NFC South a year ago.
But, as Delhomme said, Carolina is a dangerous team. It is a team that will draw national attention this week when it travels West to face the
San Francisco 49ers
in what could be the marquee game of the NFC.
"Jake knows," Gross said. "He's been on some really good football teams. He said there's a good vibe to this team. You can't fabricate that. You can't draft that.
"It comes with success."
For the moment, the Panthers can't get enough of that.
November, 3, 2013
11/03/13
5:40
PM ET
CHARLOTTE, N.C. -- Observed in the locker room after the
Carolina Panthers
' 34-10
victory
over the
Atlanta Falcons
:
High-fives:
There must have been a season high for high-fives, from players high-fiving teammates to players high-fiving kids of teammates to players high-fiving managers to ... well, you get the picture.
Stewart
He's back:
Running back
Jonathan Stewart
doesn't particularly like doing interviews, but after leading the team in rushing with 43 yards in his first game since last November you barely could find him under the sea of television cameras and reporters.
The bling:
Cornerback
Captain Munnerlyn
had to put on a chain that would have made Mr. T proud before talking to reporters on camera. "If I don't," Munnerlyn said, "my son will kill me."
Chandler in spotlight:
It's a safe bet that swing tackle
Nate Chandler
hasn't done postgame interviews this season -- maybe ever. But after replacing injured right guards
Chris Scott
(sprained knee) and
Jeff Byers
(foot), who went down within a few plays of each other, he played the rest of the game and did quite well.
Quiet Smith:
Wide receiver
Steve Smith
, often outspoken, decided not to talk to reporters after this one. And he was approached several times. "No means no," he said.
November, 3, 2013
11/03/13
4:12
PM ET
CHARLOTTE -- A few thoughts on the
Atlanta Falcons
'
34-10 loss
to the
Carolina Panthers
on Sunday at Bank of American Stadium.

What it means:
With the loss, the Falcons dropped to 2-6 on a day when they had no margin for error. It seems virtually impossible for the Falcons to make a playoff run now despite the optimism expressed in the locker room leading up to Sunday's game. It's hard to believe the Falcons already have doubled their loss total from a year ago. And it can't all be blamed on injuries. Poor play in every phase of the game has hurt them throughout.
Stock watch:
Matt Ryan
's stock plummeted fast. He entered the season as one of the top quarterbacks around. Then all of a sudden, Ryan threw seven interceptions in the past two games, including a 38-yard interception that was returned for a touchdown by veteran
Drayton Florence
in the fourth quarter on Sunday. Of course, Ryan is without top weapons
Julio Jones
and
Roddy White
. At the same time, he made some questionable throws in traffic days after he talked about how he needed to play better. The turnovers also contributed to the defense being on the field way longer than it needed to be against the Panthers, who dominated the time of possession battle, 36:25 to 23:35. Ryan finished 20-of-27 for 219 yards with one touchdown and three interceptions.
Opportunity lost:
Midway through the fourth quarter, Falcons cornerback
Asante Samuel
got beat by Panthers receiver
Brandon LaFell
, but Samuel made up for the play by forcing LaFell to fumble deep in Falcons' territory. As the ball rolled on the ground, cornerback
Robert Alford
tried to step up and recover it, but he kicked it right back into the arms of LaFell at the Falcons' 8-yard line. The Panthers kept possession and on the very next play, quarterback
Cam Newton
scored on an 8-yard touchdown run to give the Panthers an insurmountable 24-10 edge. It's a different game if the Falcons come up with that turnover.
Youth movement:
Rookie cornerbacks
Desmond Trufant
and Alford both made an impact on defense. Trufant snatched his first career interception on a deep ball launched by Newton. But Alford topped Trufant with an acrobatic pick during which he tiptoed to remain inbounds. The play was called an incomplete pass at first, but a replay confirmed just how great a play Alford made. If only Alford just could have come up with the fumble recovery. Not to be outdone was undrafted rookie linebacker
Paul Worrilow
, who had a career day with nearly 20 tackles.
Foul play:
The Falcons again hurt themselves with penalties, including some procedural calls. But coach Mike Smith seemed to take issue with at least one pass interference call and appeared to be upset about the defense being whistled for too many men on the field. Whatever the case, those penalties came back to bite the Falcons once again. They were flagged seven times for 59 yards.
What's next:
The Falcons host one of the league's best when the
Seattle Seahawks
come to the Georgia Dome next Sunday. The last time the teams met was in last year's playoffs, when the Falcons fought off a Seahawks comeback. With
Russell Wilson
leading the way, the Falcons will have a tough time slowing down the powerful Seahawks.
November, 3, 2013
11/03/13
3:57
PM ET
CHARLOTTE, N.C. -- A few thoughts on the
Carolina Panthers
' 34-10
victory
over the
Atlanta Falcons
:

What it means:
The Panthers keep talking about being relevant. Winning four straight and five of their past six games has made them that. This wasn't as pretty as the others, but the end result was just as decisive. They beat a team that was down and took advantage of mistakes. That's what you have to do in the NFL to be relevant. Their five wins have come by the average score of 33.6-9.6. Now comes the toughest test of the season, a game at San Francisco.
Stock watch:
You knew quarterback
Cam Newton
couldn't keep up his unbelievable three-game pace of completing 77.3 percent of his passes and compiling a passer rating of just over 130. He wasn't close with a rating of 68.4, throwing two first-half interceptions and missing receivers high all day to take away big plays. But he made some big plays in the second half with his legs, rushing three times for 22 yards, including an 8-yard touchdown run with nine minutes left to seal this one.
Stock watch II:
Wide receiver
Brandon LaFell
had arguably the best game of his career, catching a season-best seven passes for 74 yards. Many were tough catches, too. He was a bit lucky as well, recovering his own fumble at the Atlanta 8 to set up a fourth-quarter touchdown.
Stewart debut:
Jonathan Stewart
's first carry since last November wasn't anything to write home about. The team's second all-time leading rusher, activated on Saturday from the PUP list after missing seven games with an ankle injury, was thrown for a 2-yard loss. His last play, a 16-yard carry around the left side, was. He finished with a team-best 43 yards on nine carries. He also contributed 22 yards receiving on three catches. He had quality touches like the Panthers wanted.
Riverboat Rivera:
This is starting to become a weekly staple here. Coach Ron Rivera gambled on fourth-and-1 for the seventh time since Week 2. It's really not a gamble anymore. The Panthers converted for the fifth time, this one for a 14-yard touchdown from Cam Newton to tight end
Greg Olsen
in the first half. The five conversions, according to ESPN statistics, were tied for the most in the league to that point.
What's next?
The Panthers travel to San Francisco to play the 49ers next Sunday at 4 p.m. ET.
November, 3, 2013
11/03/13
2:40
PM ET
CHARLOTTE, N.C. -- The
Carolina Panthers
lead the
Atlanta Falcons
,
14-10
.


Here are some notes at halftime:
"
Matt Ryan
threw yet another interception when he tried to force a ball to tight end
Tony Gonzalez
with three defenders around. Ryan now has five interceptions in his last two games. He had three interceptions through the first six games.
" Speaking of Gonzalez, he caught a pass in his 203rd consecutive game in the first half, the longest active streak in the NFL. He scored a 17-yard touchdown near the end of the first half, his team-leading fourth touchdown reception of the season. Gonzalez has no problem getting behind the coverage of Panthers middle linebacker
Luke Kuechly
.
"
Steven Jackson
looks a lot better running the ball for the Falcons. He has a modest 34 yards on nine carries, but Jackson continues to run hard. He even pushed teammate
Justin Blalock
out of the way on one play. Jackson's longest run is eight yards. He also did a masterful job picking up the blitz on one play.
" Cornerback
Asante Samuel
left the game twice after getting banged up with injuries. The last came near the end of the half when Samuel was pushed out of bounds. He walked off the field under his own power, and
Robert McClain
entered the game as the extra defensive backs along with rookies
Desmond Trufant
and
Robert Alford
.
" It has been an up-and-down half for Trufant. He recorded his first-career interception while picking off a deep ball by
Cam Newton
. But Trufant also was whistled for two pass-interference penalties. On the second one, Falcons coach
Mike Smith
tried to tell the officials that the ball was tipped. Fellow rookie Alford had an amazing interception at the end of the half, tip-toeing before going out of bounds.
November, 3, 2013
11/03/13
2:34
PM ET
CHARLOTTE, N.C. -- First-half observations as
Carolina Panthers
lead the
Atlanta Falcons
,
14-10
:

Flag football:
The Panthers got a couple of breaks thanks to Atlanta penalties. The first was a pass interference in the first quarter that set up
Mike Tolbert
's 4-yard touchdown run for Carolina. The second was a holding early in the second quarter that took away a 2-yard touchdown run by Atlanta running back
Steven Jackson
.
Riverboat Rivera:
Coach Ron Rivera continued to be aggressive on fourth-down calls. He went for it for the seventh time since not going for it at the end of the Buffalo game in Week 2, a play he said philosophically changed his thought process. Once again he was rewarded. Quarterback
Cam Newton
rolled to his right and found tight end
Greg Olsen
wide open for a 14-yard touchdown, the fifth successful play during this streak.
Halftime adjustment needed:
The Panthers triple-teamed tight end
Tony Gonzalez
early and came away with an interception by middle linebacker
Luke Kuechly
. Then it was almost like they forgot to cover the future Hall of Famer. He caught five passes for 77 yards, including a 17-yard touchdown with 1:55 left to let Atlanta get back in this one.
November, 2, 2013
11/02/13
8:00
AM ET
A second consecutive road game has the
Atlanta Falcons
traveling to Charlotte to face
Cam Newton
and the streaking
Carolina Panthers
, who have won three straight. Quarterback
Matt Ryan
is 7-3 all-time against the Panthers, but Newton and Carolina won the last matchup, 30-20.


At 2-5, there is absolutely no margin for error for the Falcons, who have the mighty
Seattle Seahawks
on the schedule next.
Here's what to watch for Sunday at Bank of America Stadium:
Roddy sighting:
At last, Falcons wide receiver
Roddy White
returned to practice Friday after missing the last two games with hamstring and ankle injuries. White said he heard a "pop" when he pulled his hamstring in a Week 5 loss to the
New York Jets
. He suffered a right high-ankle sprain during the preseason, an injury White admitted he probably should have been more cautious with rather than playing through the pain. That being said, it makes sense for White and the Falcons to proceed with caution this time around. True, White wants to be back on the field, and his teammates want him back. But it might be wiser to keep him out another week, considering he was limited upon his return. A jovial White called his status a "game-time decision" and vowed to test it out with pre-game sprints, much like teammate
Asante Samuel
(thigh) did against the
New England Patriots
in Week 4. Guess what? Samuel was inactive for that game.
Tight-knit position:
Panthers tight end
Greg Olsen
has the utmost respect for Falcons veteran tight end
Tony Gonzalez
. "First and foremost, you have to respect the fact that he's played the game as such a high level for as long as he has," Olsen said of Gonzalez. "I was a high school tight end coming out and he was the premier guy in the league. And now here I am, seven years into my NFL career, and he's still playing." It will be interesting to see how both perform come Sunday. Gonzalez is looking to extend his streak of consecutive games with a catch to 203, while Olsen is set to play in his 102nd consecutive game, the third-longest active streak behind Dallas'
Jason Witten
(163) and Gonzalez (109). "I've always liked Greg. He's a big, strong, fast guy who can catch," Gonzalez said of Olsen. "In fact, I've been surprised that he hasn't been at the top, like he hasn't put up these huge numbers like these others tight ends around the league. ... I don't know why they don't throw him the ball 10, 15 times a game." Olsen said the NFC South, hands down, has the best tight ends in the league. Hard to argue when New Orleans'
Jimmy Graham
is in that group.
Block party:
There's no secret why the Falcons have the worst rushing offense in the league: poor blocking. They enter Sunday's game with an average of just 62.4 rushing yard per game and haven't rushed for more than 100 yards in a game as a group since Week 3 at Miami (146). Most figured
Steven Jackson
's return last week from a hamstring injury would bolster the rushing attack, but he couldn't get going due to poor blocking. At least right guard
Garrett Reynolds
admitted the offensive line needed to provide a better push. Problem is, it will be tough for the Falcons to get it going against the league's second-best run defense, led by mouthy
Greg Hardy
and tackling-machine
Luke Kuechly
. The Panthers have allowed just one 100-yard rusher and three rushing touchdowns since Week 14 of last year. Offensive coordinator Dirk Koetter talked in the past of how screens can be an extension of the running game, so keeping
Jacquizz Rodgers
involved in the screen game might be a key factor for the Falcons.
Tough read:
New Panthers offensive coordinator Mike Shula's conservative approach has worked with Newton, but don't be surprised if Shula and the Panthers break out read-option plays against the Falcons. Surely they are aware of the explosive plays given up by the Falcons defense, including last week's 80-yard sprint by Arizona's
Andre Ellington
. In fact, Newton broke loose for a 72-yard touchdown run against the Falcons last season out of the read-option. Newton rushed for 202 total yards against the Falcons last season, even more reason to unleash the read-option. Not to mention the Panthers are getting running back
Jonathan Stewart
back, which could make Carolina's rushing attack that much more potent -- and the read-option more dangerous.

NFL SCOREBOARD
Thursday, 9/11
Sunday, 9/14
Monday, 9/15
WEEKLY LEADERS