NFL Nation:

2013 Week 9 IND at HOU
November, 4, 2013
11/04/13
3:35
AM ET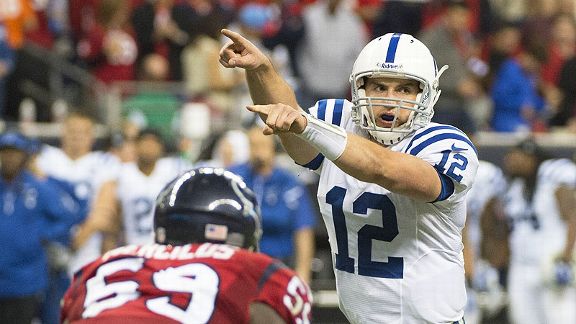 George Bridges/Getty ImagesFor the 10th time in his young career, Andrew Luck led the Colts to victory in the final frame.
.
HOUSTON – You might like for there to be a story from halftime where
Indianapolis Colts
quarterback
Andrew Luck
turned over tables, shouted expletives and demanded that he be in charge of the offense. He had every reason to be upset after the pounding he took, inspiring the notion that he could be in for long rest of the season without
Reggie Wayne
to turn to.
Too bad that's not Luck's demeanor. This wasn't a time for Luck to show a different side of himself. Not when he needed to keep the offensive line together and make sure his young receivers knew he had confidence in them.
Luck shook off one of the worst halves of his career to find a rhythm with his new go-to receiver and pick up yet another come-from-behind victory as the Colts won
27-24
over the
Houston Texans
.
"I would like to say there was a movie speech or something by him at halftime, but there really wasn't," Colts tight end
Coby Fleener
said. "He doesn't surprise me. That's the complex answer that I can give. Pretty much there's nothing he does that surprises me."
Really, Luck and the Colts aren't purposely doing this to keep you on the edge of your seat. That's just how things have gone for them the past two seasons. Luck's 10 game-winning drives in the fourth quarter or overtime are the most of any quarterback in their first two seasons since 1970.
You could take your pick as to which of those 10 come-from-behind victories is the best. Last season's wins over Detroit and Green Bay are probably up there. But a solid argument could be made that, considering the circumstances, Sunday's game is at the top of the list.
The Colts were without Wayne for the first time in 189 games, and they were replacing Luck's go-to receiver with
T.Y. Hilton
,
Darrius Heyward-Bey
,
Griff Whalen
,
LaVon Brazill
and
David Reed
. The latter three had combined for only 18 career catches heading into Sunday.
"That's a work of art, what he does," Colts linebacker
Robert Mathis
said of Luck. "He does it some kind of way. We don't have a normal quarterback. We have a winner."
It was obvious the Colts were adjusting without Wayne in the first half. Hilton dropped what should have been first-down completion on a third-and-4 in the first quarter. Luck was only 3-of-12 for 56 yards -- 44 of those yards coming on one completion -- and had been sacked three times. Most important, Houston was ahead 21-3.
The Colts looked done. There was no way they were going to come back against the Texans.
That may be the mind frame of some teams in such a predicament, but it's not like that in Indianapolis. Coach Chuck Pagano has his team believing it's never out of a game. It's easy to believe Pagano when Luck is your quarterback.
"They were beating our butts," Luck said. "We were getting our tail beat every which way possible. I think there was some frustration. There definitely was some frustration. I don't think anybody was not frustrated. But I think cooler heads prevailed. We managed to stick through it."
[+] Enlarge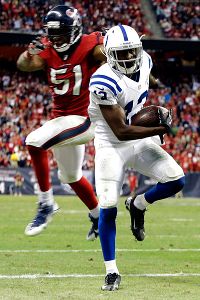 AP Photo/Patric SchneiderT.Y. Hilton played the Reggie Wayne role all right, catching three touchdown passes.
Offensive coordinator Pep Hamilton has been steadfast all season that the Colts would be a run-first football team. He finally changed his approach in the second half Sunday. Hamilton put the running game in a nearby wastebasket, and let Luck air it out.
Luck's favorite target was the player who stood in the back of the locker room at the Colts' training facility last week and said he wanted to make Wayne, whom he considers a big brother, proud by stepping up and playing his role.
Hilton shook off his early drop to catch six passes for 115 yards and three touchdowns, including one on which he lost his shoe, in the second half. He finished with seven catches for 121 yards.
"I said I wanted to step up because of what we're trying to do without Reggie," Hilton said. "I guess that drop woke me [up] and got me going."
Hilton was his primary target, but Luck didn't just key in on him. Luck completed passes to seven different receivers in the second half. That's the approach Luck will have to take for the Colts to continue to move toward their first AFC South division title since 2010.
"You do have to make some adjustments when you don't have a player of Reggie's caliber out there," Luck said. "Of course we miss him. It's Reg, but we know our story is not going to involve him playing this year. Our guys did a great job of stepping up."
Luck went into Sunday having completed only 23.8 percent of his pass attempts without Wayne on the field. He was 15-of-28 for 215 yards and three touchdowns, with only one sack, in the second half. In the fourth quarter, where he has starred so many times already, Luck was 6-of-8 for 119 yards and two touchdowns.
The Colts ran only four times in the second half, with three of those rushes coming on their final offensive series when they forced the Texans to use their final timeouts.
"I don't know if there's a tougher QB in the league and one that can make the plays under the duress that he was under and extend plays," Pagano said. "The guy just continues to keep showing up late in games. What I told him is, there's no reason we have to put ourselves in these holes."
November, 4, 2013
11/04/13
2:55
AM ET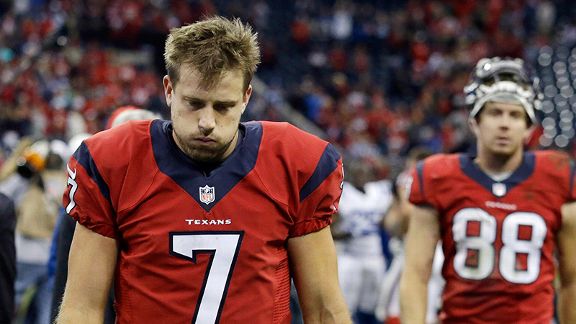 AP Photo/Patric SchneiderCase Keenum and the Texans found out at halftime their coach, Gary Kubiak, had collapsed.
HOUSTON -- One player lingered as the activity increased to a frenzy on the field at Reliant Stadium.
Duane Brown
couldn't quite bring himself to go into the locker room with his head coach having collapsed.
He kept watching as medical personnel surrounded Gary Kubiak, as they spoke to him and prepared to send him to the hospital.
"They were just trying to get everybody to come inside," Brown said. "I was trying to go back and check on him. That's not something you expect to hear or see. I stayed out an extra three to five minutes just looking, watching them huddle.
"I was so confused. Just panicked. As a player you see a guy go down, it's usually football related. When you see a coach go down, you don't know what's going on. It's scary. You don't expect that. You can't prepare for that. I was just kind of confused and kind of nervous. Scared, hoping everything would be all right. It's kind of hard to focus on football that's our family, right there."
While he watched, the rest of his teammates were filing in to the locker room, some had seen Kubiak fall and helped alert others. Word spread into tunnel that someone had collapsed, outside linebacker
Brooks Reed
thought it was a player at first. Word traveled to the training room where
Andre Johnson
was getting an IV, that it was a coach, but nobody knew which coach. Then someone went running in shouting through the tunnel and into the locker room for a trainer because Kubiak was down.
"It's an extremely difficult situation," Texans defensive end
J.J. Watt
said. "Your thoughts are with your coach. You want to go out there and win the football game."
Said right guard
Brandon Brooks
: "We definitely tried to go out there and win the game, and especially do it for Coach Kubiak."
A scare is a scare, even though the players learned Kubiak was in stable condition before the second half began. The mood on the field was one of sincere concern. Kubiak was transported to a local hospital, with his family beside him, and underwent tests while there.
This affected the players, some more than others. It's only natural with so many unknowns about a coach and friend.
"That isn't an excuse for what we did out there in the second half," left guard
Wade Smith
said.
At halftime the Texans led the division-leading
Indianapolis Colts
21-3. They'd made spectacular plays on offense (
Case Keenum
and Johnson connected on three touchdowns, for one thing), defense (sacked Colts quarterback
Andrew Luck
three times) and special teams (a blocked field goal by Watt) all before halftime.
It seemed that the lackluster start to the season was behind Houston, the turnaround was here, even with starting running back
Arian Foster
tucked away in the locker room having suffered yet another injury. A third straight division title was back within the Texans' grasp and the season was on its way to being closer to what so many envisioned back in August and September.
It seemed that way until a second half in which Luck's passer rating improved from 46.5 in the first half to 114.4. Keenum's passer rating dropped from 136.8 to 90.8, still respectable, but not nearly as productive with the plays now being called from the press box where offensive coordinator Rick Dennison sat. Third-down efficiency fell on offense and rose against the Texans' defense. And Luck threw three touchdown passes to
T.Y. Hilton
on the way to a
27-24 victory
.
And still, the Texans could have orchestrated what would now qualify as a stunning victory, had it not been for three missed field goals by their woebegone kicker,
Randy Bullock
. He missed a 55-yarder that would have tied the game as time expired, but he also missed two earlier kicks, from 43 and 49 yards out.
"We made all the big plays in the first half and they made the big plays in the second half," said defensive coordinator Wade Phillips, who took over as interim head coach at halftime. "I thought our young quarterback … the guy played outstanding. I thought he played really well for us. Their quarterback hit 18 out of 40, but he hit the big plays at the right time. … Randy struggled field goal kicking-wise, and that ended up hurting us at the end of the ballgame."
Now the Texans find themselves at 2-6, which was unthinkable months ago. They are hoping to have Kubiak back with the team on Monday, but that remains an uncertainty.
And more and more it's looking like the grandiose visions many had for this Texans season just aren't meant to be.
To their credit, they aren't willing to admit defeat yet.
"We signed up for the whole season, to play and to work and to coach as hard as we can coach," Phillips said. "And that's what we're going to do with this team. Anybody that wants to give up can, but we're not going to."
November, 4, 2013
11/04/13
1:09
AM ET
HOUSTON – Observed in the locker room after the
Indianapolis Colts
'
27-24 victory
over the
Houston Texans
:

Pagano
Passing along thoughts:
The Colts expressed concern for Texans coach Gary Kubiak immediately after the game. Kubiak was taken to a hospital after collapsing on the field as he was heading toward the locker room at halftime. "All our thoughts and prayers are with coach Kubiak and his family," Colts coach Chuck Pagano said. "We just pray for, and obviously hope, that it's nothing serious and that he gets back to health and as soon as possible gets back to his team."
No concussion:
Pagano said receiver
Darrius Heyward-Bey
did not suffer a concussion in the third quarter. Heyward-Bey left the game to get evaluated after colliding with a Texans cornerback on a slant pass deep in Houston territory. He had one catch for 11 yards.
Winning at Reliant Stadium:
Colts quarterback
Andrew Luck
entered Sunday's game with a 0-2 record at Reliant Stadium despite having played only one NFL game there. He lost a playoff game at the stadium when he was a junior at Stratford High School.
November, 3, 2013
11/03/13
11:47
PM ET
HOUSTON -- A few thoughts on the
Indianapolis Colts
' 27-24
victory
against the
Houston Texans
at Reliant Stadium:

What it means:
Reggie Wayne
or not, Colts quarterback
Andrew Luck
simply knows how to win. Luck shook off a brutal first half that saw him constantly pressured, and his receivers didn't do him any favors by dropping passes, but he rebounded to pick up his 10
th
come-from-behind victory in just 24 NFL games. All three of Luck's touchdown passes were to second-year receiver
T.Y. Hilton
, who said he had to step up in Wayne's absence. Luck was only 3-of-12 for 56 yards in the first half. He responded by going 15-of-28 for 215 yards and three touchdowns in the second half. Hilton finished with seven catches for 121 yards.
Stock watch:
Texans receiver
Andre Johnson
had his way against the Colts' secondary in the first half.
Vontae Davis
,
Cassius Vaughn
,
Antoine Bethea
and Darrius Butler all were burned by Johnson at one point in the half. Johnson had seven catches for 190 yards and three touchdowns in the first half. The Colts did a better job on Johnson in the second half, when he had two catches for 25 yards.
Special teams experience:
It was interesting first half on special teams for the Colts. Texans defensive lineman
J.J. Watt
blocked
Adam Vinatieri
's 42-yard field.
D.J. Swearinger
picked up the loose ball and ran it back 37 yards before
Pat McAfee
made the touchdown-saving tackle. McAfee dropped the snap on a punt two series later, gathered the ball, eluded the defender and got the ball off for a 55-yard punt. The play ended up not counting because the Colts had an ineligible player down field. It's not over yet. McAfee managed to get the punt off on the next play despite
Bryan Braman
running into him. Replays showed the officials missed a roughing the kicker penalty on the play, because Braman didn't touch the ball on the play. The Colts thought they recovered a
Keshawn Martin
fumble on a kickoff, but the play was reversed because the officials ruled that
LaVon Brazill
was out of bounds.
What's next:
The Colts return home to host the
St. Louis Rams
at Lucas Oil Stadium on Nov. 10.
November, 3, 2013
11/03/13
11:45
PM ET
HOUSTON -- A few thoughts on the Houston Texan's
27-24 loss
to the
Indianapolis Colts
.

What it means:
The Colts maintain their commanding lead in the AFC South. Kicker
Randy Bullock
missed three field goals, including the potential game-tying field goal, a 55-yarder.
Stock watch:
Andre Johnson
remembers well that so many people thought he was washed up last season before he had one of his best statistical years. He talked this week about how he didn't know why he wasn't a guy who caught more touchdown passes. Johnson became Keenum's favorite target early against the Colts. He caught 190 yards and three touchdowns in the first half. It was Johnson's first three-touchdown game of his long and illustrious NFL career. Keenum's ascent could be a major boon for the vet.
Phillips in for Kubiak:
Halftime took a somber tone when Texans coach Gary Kubiak collapsed to his knees on the field. His face showed signs of being in pain. He left the stadium in an ambulance having never lost consciousness and was at the hospital with his family. Defensive coordinator Wade Phillips took over Kubiak's role for the rest of the game.
Foster hurt again:
It was heralded as great news (by me) that
Arian Foster
was active against the Indianapolis Colts. And it was. Great news for the Texans offense. Well, it would have been if Foster stayed on the field. The running back suffered another back injury and only played in the Texans' first series. That series included zero runs. Foster left the game for good and left the Texans with one undrafted rookie and one backup running back who was toughing through broken ribs for a second straight game.
What's next:
The Texans travel to Arizona to play the
Arizona Cardinals
.
November, 3, 2013
11/03/13
7:23
PM ET
HOUSTON --
Houston Texans
running back
Arian Foster
will be active for today's game against the
Indianapolis Colts
. Foster was the only player questionable on their injury report this week.
Not having Foster two weeks ago against the
Kansas City Chiefs
made things very tough for the Texans. They only had one other running back active and that running back,
Ben Tate
, broke his ribs.
Tate said all week long that he would play despite the injury. Foster was less forthcoming and dodged the media all week. He was also limited on the injury report all week. Gary Kubiak said he didn't practice on Wednesday.
I would anticipate the split to be similar to what it was early in the year, with Foster testing out his hamstring as the game progresses.
Rookie
Dennis Johnson
got the call as the Texans' third active running back. Johnson was one of the three signed to the active roster this week. He had a strong training camp and preseason, but a rash of fumbles in the preseason finale bumped
Cierre Wood
ahead of him.

NFL SCOREBOARD
Sunday, 2/2
WEEKLY LEADERS