NFL Nation:

2013 Week 9 SD at WAS
November, 3, 2013
11/03/13
10:40
PM ET
LANDOVER, Md. -- One of the few bright spots on an otherwise disappointing day for the
San Diego Chargers
was the performance of the special teams' unit.
Guy
Defensive end
Lawrence Guy
has been on the roster for only four weeks, but he made an impact against Washington, blocking a 25-yard field goal attempt by
Kai Forbath
, the Chargers' first blocked field goal attempt in 11 years.
"Every time I line up in that situation, my focus is on getting penetration and blocking the ball," Guy said. "So that's basically what I did. We got some penetration, I got my hands up and I blocked the ball."
The play was Guy's second blocked field goal this season. He also blocked a 48-yard field goal attempt by Seattle kicker
Steven Hauschka
that safety
Delano Howell
returned for a 61-yard score while Guy played for Indianapolis last month.
Guy also knocked down a
Robert Griffin
III pass attempt that teammate
Sean Lissemore
caught in the end zone for a touchdown -- San Diego's first defensive touchdown of the season.
"It was kind of suspended in the air between people and all sorts of stuff," Lissemore said about the play. "So I looked down, saw something brown and held onto it. It was kind of tough down there. People were pawing at it and grabbing it, but we ended up getting the touchdown."
Defensive end
Corey Liuget
also blocked a 59-yard Forbath field goal attempt at the end of the half.
San Diego punter
Mike Scifres
also had a good day, finishing with two punts downed on the 1-yard line.
The first punt was an impressive play by receiver
Seyi Ajirotutu
. As the gunner, Ajirotutu raced down the field, diving and batting the ball back into the field of play before it reached the end zone. Safety
Darrell Stuckey
downed the ball on the 1-yard line.
The other one was a shorter, 35-yard kick that Scifres angled toward the sideline, with the coffin-corner kick bouncing out just before it reached the goal line.
Scifres said it's the first time he's had two punts downed on the 1-yard line in a game.
"He made a great play on the first one," Scifres said. "And on the second one, on that short of field, we just played the sideline."
November, 3, 2013
11/03/13
8:45
PM ET
LANDOVER, Md. --
Robert Griffin
III vowed to run safer this season. He also said when situations called for him to take a chance he would take it.
That's what happened Sunday in the
Washington Redskins
' 30-24 overtime win versus the
San Diego Chargers
. Late in the third quarter with the Redskins facing a third and 9 from the Chargers' 46, Griffin scrambled around the right end. He could have run out of bounds to save himself but opted for the hard route, one that ended with him getting crunched. But also the option that Washington the first down.
It helped that running back
Roy Helu
blocked linebacker
Reggie Walker
. Linebacker
Thomas Keiser
was flying at him from the inside. Griffin launched himself forward.
"You just have to make a decision," Griffin said. "A lot of people criticize me for that type of stuff all the time and I could have gone out of bounds and we could have been short of the first down. I saw an opportunity to fly, so I got my wings and tried to fly. I hit the ground pretty hard, so you know people, we really can't fly. No matter how much we dream about it, but I saw the opportunity and at that point in the game I thought we needed it and that's why I took it."
The Redskins ended up scoring a touchdown on that drive to take a 21-14 lead early in the fourth quarter.
"I thought that was the play of the game," Redskins coach Mike Shanahan said of Griffin's dive. "We needed to get that first down. He gave up his body and he didn't care about getting out of bounds. He just cared about finding a way to keep the drive going and that's what you have to do every once in a while. A guy says, 'Hey, we need this play,' and he made it happen."
It enabled Griffin to bounce back after a mediocre first half in which he completed 10 of 15 passes for 112 yards, but no touchdowns and an interception. He completed 13-of-17 for 179 yards in the second half.
"I thought he was cool, calm and collected out there," Shanahan said. "He played hard and competed. It wasn't a perfect game but I was proud of how he bounced back [from Denver]. The one run was typical of his mindset going into the game. You don't see very many players make that play."
November, 3, 2013
11/03/13
7:50
PM ET
LANDOVER, Md. -- Less than a yard dictated the future of the
Washington Redskins
' season. Three plays that could reshape a season-gone-bad. Or, perhaps, lead to an unofficial elimination loss, followed by weeks of frustration and speculation. Which is not what anyone in the Redskins' organization had in mind just two months ago.
Still, that's what the Redskins faced when the
San Diego Chargers
lined up with a first and goal inside the 1-yard line. Moments earlier,
Danny Woodhead
dove for the pylon, missing by inches as the replay showed. But with all sorts of momentum, San Diego was in good shape with 21 seconds and two time outs.
[+] Enlarge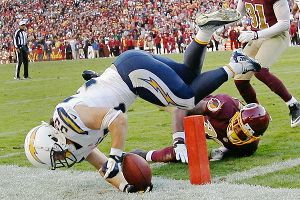 AP Photo/Alex BrandonWashington's goal-line stand may be a turning point for the Redskins' season.
Here's how the Redskins responded: stopping Woodhead – really? – for no gain; defending a fade route to tight end
Antonio Gates
; leaving no one open for
Philip Rivers
on a sprint rollout to the right.
Yes, San Diego punctuated the drive with a field goal to send the game into overtime as the Redskins blew a 10-point lead.
But.
The offense responded with a 78-yard drive to win the game in overtime, a 30-24 victory that left them at 3-5 and with a pulse.
"That was a big-time stand and a big-time drive by the offense," Redskins linebacker
London Fletcher
said. "You know it can be some momentum for us, big-time momentum for us. It says there's a lot of fight in this team."
And it might have saved the season.
"Maybe. We'll see," Redskins linebacker
Brian Orakpo
said. "This was a must win. We're not going to say that [before the game] but it was a must win for us. We needed this game. It was remarkable the way our guys fought."
They needed to fight, with a game that had slipped away and a season that was in danger of doing the same. The Redskins can point to last year all they want, but had they fallen to a 2-6 record they would have been alive only mathematically. Now? They still need to win consecutive games before they can think they're back in any race.
But the goal-line stand and subsequent overtime drive gave them a chance. "The way we won the game, that can be a turning point for us," Griffin said. "It's definitely a team bonding type game."
Woodhead went nowhere on first down and the fade to Gates, whose route was thrown off by a hard jam from corner
DeAngelo Hall
, was too long. On third down Rivers sprinted right, no one was open and he threw incomplete to the back of the end zone to
Keenan Allen
. The Chargers tied the game; the Redskins celebrated. Or, at least, exhaled.
"It's a confidence builder, definitely," Redskins defensive end
Stephen Bowen
said. "It was do or die man. Guys stood up man and everyone did their job. That's why we were able to be successful."
"A character building situation," Hall said.
It needed to happen. Perhaps what the Redskins needed was a game in which they were tested this way, forcing a prove-yourself moment. They made plenty of mistakes on this drive, miscues that could have cost them the game. They came through when needed.
"Anybody else would have folded," Orakpo said. "Your first and one on the goal line. They converted big play after big play. Momentum was swinging to their side. You could hear the gasps in the stadium with our fans and everybody really not sure. We looked in each other's eyes and just made sure that, look they do not score; they will not cross the goal line. It was remarkable, one of the best situations I've been in in a while."
It kept their season off life support. They're still alive.
November, 3, 2013
11/03/13
7:25
PM ET
LANDOVER, Md. --
Derek Cox
did not make any excuses.
"I go in when they tell me to come in, and I got out when they tell me to come out," Cox said. "That's all I can really say."
Benched in the third quarter in favor of reserve
Johnny Patrick
, Cox said he wasn't taken out because of injury, a comment echoed by San Diego coach Mike McCoy, who confirmed that Cox is healthy.
[+] Enlarge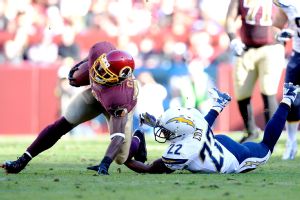 Patrick McDermott/Getty ImagesPierre Garcon beats Derek Cox for one of his seven catches against the Chargers.
"We made a decision to put someone else in," McCoy said. "We are going to do what we think is best to win every game, and we'll make a change and rotate personnel -- put certain guys in. We'll do whatever we think is the best to make the team win."
To his credit, Cox didn't pout. He stood near the defensive coaches on the sideline ready to go back in if his name was called.
"I just took the coaching," Cox said, when asked what his reaction was to being benched. "If that's what they want to do, as a player and a teammate, I just listen to what the coaches tell me to do."
Cox was billed as San Diego Charger's headline signing in free agency, inking a four-year, $20 million deal this offseason. He battled through a nagging knee injury early this season, and hasn't missed a game.
In eight games played, Cox has 34 tackles and an interception. However, Cox has struggled to keep up with the NFL's best receivers as San Diego's top cornerback.
The latest big play he gave up came in the third quarter against Washington, when
Pierre Garcon
got behind him and made a one-handed catch for a 38-yard reception.
Making matters worse, Cox was called for pass interference on the play.
"Do I want to make more plays? Of course," Cox said. "But by no means do I look at it and say -- I don't know. I just have to understand the expectation level that they have, and meet that. That's just my job to do."
Garcon finished with seven catches for 172 yards, making plays against San Diego's other cornerbacks during Washington's
30-24 overtime victory
. The task will not get any easier for San Diego's secondary next week, when the
Denver Broncos
and
Peyton Manning
come to town.
Asked if Cox will return to the starting lineup next week, McCoy was diplomatic.
"We'll talk about it as the week goes on," McCoy said. "We're doing whatever we can to win every week. We'll make those decisions as we go, but we're trying to win a football game week-in and week-out."
November, 3, 2013
11/03/13
4:55
PM ET
LANDOVER, Md. -- A few thoughts on the
San Diego Chargers
' 30-24
loss
in overtime to the
Washington Redskins
.
What it means:
The Chargers drop back to the .500 mark at 4-4, and are 2-1 against the NFC East.

Stock watch:
San Diego's top signing in free agency, cornerback
Derek Cox
, appeared to get benched in favor of
Johnny Patrick
in the third quarter after giving up a long completion to
Pierre Garcon
. Cox signed a four-year, $20 million deal in the offseason, including $10.25 million in guaranteed money. Cox has struggled to play up to the level of the contract. The Chargers had no answer for Garcon, who finished with seven catches for 172 yards.
Rivers struggles:
San Diego quarterback
Philip Rivers
scuffled coming off the bye week. He finished 29-of-46 for 341 yards, one touchdown on a screen pass to
Eddie Royal
, and two costly interceptions. But both turnovers weren't all on Rivers.
Vincent Brown
appeared to break outside on a route that Rivers anticipated he would go inside, leading to an interception by Washington's
E.J. Biggers
. In the second half,
Keenan Allen
was outmuscled for a 50-50 ball by a childhood friend -- cornerback
David Amerson
-- on an inside route in the fourth quarter.
Special teams show up:
San Diego punter
Mike Scifres
twice had punts downed at the Washington 1-yard line.
Lawrence Guy
blocked a 25-yard field goal attempt by
Kai Forbath
, the first field goal blocked by the Chargers in 11 years. Guy also deflected a
Robert Griffin III
pass that was intercepted in the end zone by defensive tackle Sean Lissemore for San Diego's first defensive touchdown of the season.
Washington runs it well:
San Diego struggled containing Washington's running game, led by tailback
Alfred Morris
. The Redskins finished with 209 rushing yards. Morris led the way, with 121 yards on 25 carries, including a 5-yard touchdown for a score.
What's next:
The Chargers head home to host AFC West rival Denver next Sunday.
November, 3, 2013
11/03/13
4:34
PM ET
LANDOVER, Md. -- A few thoughts on the
Washington Redskins
'
30-24 overtime win
over the
San Diego Chargers
:

What it means:
The Redskins needed a win -- badly -- or they could forget any thoughts of a turnaround, especially with first-place Dallas beating Minnesota. And next would have come serious evaluations of where the Redskins were headed, especially after blowing a 10-point fourth-quarter lead. It never gets pretty in that case. Instead, they gutted out an overtime win in a game in which they hurt themselves a number of times. But now, at 3-5, Washington can rightly still talk about winning a mediocre-to-bad NFC East, especially with a winnable game versus Minnesota up next.
The Redskins still have not played well enough this season to think they could go on a hot stretch; there's too much inconsistency. However, they bought themselves time for a turnaround. It helps that the passing game had a better day, even with the batted-down throws. But there were enough plays made, thanks in part to play-action passes because of the run game's success, to hurt San Diego on intermediate passes over the middle.
Stock watch:
Up:
Pierre Garcon
. For one of the few times this season Garcon was able to make plays downfield, in part because he was getting separation and also because linebackers weren't always getting to their drops. Garcon caught seven passes for 172 yards, including a key catch on first-and-20 in overtime. Up: run game. It hasn't exactly been down, but it was highly productive Sunday.
Alfred Morris
ran a season-high 25 times for 121 yards, while fullback
Darrel Young
rushed for three touchdowns, including the game winner.
Season-saving stand:
The goal-line stand at the end of regulation might have changed Washington's season. The Chargers had a first-and-goal from inside the 1-yard line and failed to score on a run and two passes. Had they scored, Washington would have had less than 20 seconds and no timeouts to drive for a touchdown. Instead, the Redskins stopped them, forced a field goal and won in overtime.
Up Next:
The Redskins play at Minnesota on Thursday, so there's not a lot of time to enjoy this win. It will be a good chance for the Redskins to win consecutive games for the first time this season.

NFL SCOREBOARD
Thursday, 8/21
Friday, 8/22
Saturday, 8/23
Sunday, 8/24
WEEKLY LEADERS