NFL Nation:

2014-2016 biggest stars
July, 14, 2011
7/14/11
12:00
PM ET
»
AFC Future Stars
:
East
|
West
|
North
|
South
»
NFC
:
East
|
West
|
North
|
South
A team-by-team look at the players I expect to be the most dominant in the NFC West from 2014-2016.
NFC West teams have drafted eight players among the Top 10 overall selections since 2008. No other division has landed as many.
The
Arizona Cardinals
,
Seattle Seahawks
,
St. Louis Rams
and
San Francisco 49ers
should, therefore, have a few future stars on their rosters. And they do. I've singled out four of them, one per team, for consideration as part of our Dream Team project this week.
[+] Enlarge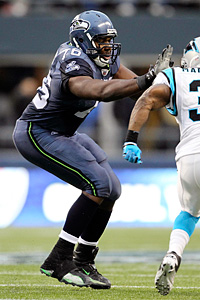 Joe Nicholson/US PresswireSeahawks left tackle Russell Okung has shown the on-field demeanor needed to be special.
Russell Okung, Seahawks tackle:
By now regular visitors to the NFC West blog have
read plenty
about the talent that makes Okung such a bright prospect at left tackle. Some Rams fans have heard enough about Okung and think their team's young left tackle,
Rodger Saffold
, should get stronger consideration after exceeding expectations as the 33rd player chosen in the 2010 draft. I won't bore them with more generalities. Instead, let's consider a few specific examples suggesting Okung has the temperament, not just the talent, to excel for years to come. Three examples of Okung's aggressiveness stand out as I look back on his rookie season: the way Okung drove back and ultimately ticked off Chicago's
Brian Urlacher
during
Justin Forsett
's touchdown run in Week 6; the way Okung clobbered Kansas City's
Mike Vrabel
in Week 12 when it wasn't really necessary; and the way Okung blasted Carolina's Captain Muderlyn during an interception return in Week 13.
Sam Bradford, Rams quarterback:
The NFL's offensive rookie of the year will be only 26 years old when the 2014 season begins. The Rams went from 1-15 without him in 2009 to 7-9 with him in 2010. Bradford played a bigger role than anyone in turning around the Rams. Defenses caught up with Bradford and his diminished receiving corps late last season, but the arrow is pointing up overall. Bradford is only getting started. He had 11 touchdown passes with only one interception from Weeks 6-12. Bradford finished 2010 with rookie records for completions (354) and pass attempts (590). Only
Peyton Manning
has passed for more yards as a rookie in NFL history. Bradford also answered questions about his durability, playing every offensive snap.
Colin Kaepernick, 49ers quarterback:
This is a more tenuous projection and even a stretch. The young players I've singled out from other teams are safer bets. Guard
Mike Iupati
was a candidate, but even the best guards aren't really stars so much as they're valued contributors. Linebacker
Patrick Willis
would have been an obvious choice -- too obvious. He'll still be only 29 in 2014. Tight end
Vernon Davis
should remain in his prime from 2014 to 2016. He'll also be in his 30s by then, something I hadn't noticed when considering Davis for
a video
we shot this week. Receiver
Michael Crabtree
was a consideration. I went with Kaepernick because he has uncommon physical skills and a promising mental makeup, and he'll presumably get good coaching from Jim Harbaugh. He'll push veteran
Alex Smith
for the starting job this season. If all goes to plan, Kaepernick will be entering his third full season as the starter when the 2014 season rolls around.
Patrick Peterson, Cardinals cornerback:
Peterson appeared twice on our Dream Team ballot, once as a cornerback and also as a return specialist. There's no such thing as a sure bet coming out of college. Peterson looks like one. The physical talent he possesses is obvious. His confidence and strong presence persuaded me to list him as a future star even though Peterson hasn't even lined up for a minicamp practice, let alone for a regular-season snap. Peterson's decision to drop 10 pounds to disprove speculation that he might evolve into a safety seemed to show Peterson has the right makeup. His talents in the return game will give him an opportunity to make an immediate impact, diminishing the pressure upon him to excel immediately as a cornerback.
July, 14, 2011
7/14/11
12:00
PM ET
»
AFC Future Stars
:
East
|
West
|
North
|
South
»
NFC
:
East
|
West
|
North
|
South
A look at the players I expect to be the most dominant in the NFC North from 2014 to 2016:
As you know by now, ESPN.com invited readers this week to
collaborate on a future Dream Team of NFL players
. Projected target: The 2014-16 seasons. I wasn't among the experts who winnowed the list of nominations, and I'm fully aware that some deserving young NFC North players didn't make the cut.
My assignment for this post isn't to rectify those omissions. Rather, I need to list the division players I project as the most dominant three years from now. We obviously can't account for injuries, future draft picks or free agency movement, so we will cull from our burgeoning list of young stars.
Sorry, fans of the
Chicago Bears
and
Minnesota Vikings
. I refused to pick a player from each team just to be polite. The players all came from one NFC North pool. In alphabetical order:
Greg Jennings and Calvin Johnson, Green Bay Packers and Detroit Lions receivers (tie):
Call it a cop-out if you want. I've consistently maintained I would take the present-day Johnson over the present-day Jennings because of his freaky and unique skills for the position. But in three years? While I think both players will still be highly productive, Johnson has a greater capacity for physical deterioration over time. But in 2014, he'll only be 28. Jennings will be 30. It's a draw.
[+] Enlarge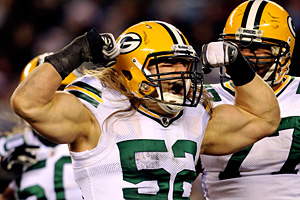 Al Bello/Getty ImagesClay Matthews has notched 23.5 sacks in his first two seasons in the league.
Clay Matthews, Packers linebacker:
We know this: Matthews is off to one of the best career starts of any pass-rushing linebacker. He had 17 sacks in his first 20 NFL games and overall has 23.5 in his first two seasons. You might wonder what will happen if Matthews loses a bit of speed or wears down physically, but I'll take my chances that he will still be in pretty good shape in his sixth NFL season. He'll be 28 in 2014.
Aaron Rodgers, Packers quarterback:
Put simply, Rodgers' first three seasons as a starter have been as productive as any quarterback currently enshrined in the Pro Football Hall of Fame. At the start of the 2014 season, he'll be 30 and presumably in the wheelhouse of his career. At that point, Rodgers might have outlasted
Tom Brady
,
Peyton Manning
and
Drew Brees
, presumably ascending to the figurative mantle of the game's top quarterback.
Ndamukong Suh, Lions defensive tackle:
It's hard to bet against a player who was one of two rookies -- ever -- to record 10 sacks as a rookie defensive tackle. Suh is a physical specimen who works hard at his conditioning and figures to be surrounded by talented players for several years. He'll be 27 in 2014 and should still be one of the NFL's most disruptive interior playmakers.
Honorable mention:
Bears offensive tackle
Gabe Carimi
; Lions safety
Louis Delmas
; Vikings receiver
Percy Harvin
; Packers tight end
Jermichael Finley
, whom I passed over because of his contract uncertainty; Lions tight end
Brandon Pettigrew
; Packers nose tackle
B.J. Raji
; Packers guard
Josh Sitton
; Lions quarterback
Matthew Stafford
; Packers cornerback
Tramon Williams
, who will be 31 in 2014. As for the NFC North's top two runners of today,
Adrian Peterson
and
Matt Forte
, I questioned the impact of three more seasons on the traditionally short-lived career of a running back.
July, 14, 2011
7/14/11
12:00
PM ET
»
AFC Future Stars
:
East
|
West
|
North
|
South
»
NFC
:
East
|
West
|
North
|
South
A team-by-team look at the players I expect to be the most dominant in the NFC East from 2014 to 2016.
As it pertains to our Dream Team of Tomorrow project, it's an oddly stacked little division we have here in the NFC East. The star quarterbacks of today will all be in their mid-30s by the time 2014 dawns, which means the prime years of
Eli Manning
,
Tony Romo
and
Michael Vick
probably will be behind them. The guys we're looking for, when we speculate on who will dominate from 2014-16, are the young guys -- mainly players who are in the first three or four years of their careers right now.
In the NFC East, that seems to mean receivers.
Dez Bryant
in Dallas,
Hakeem Nicks
in New York,
DeSean Jackson
and
Jeremy Maclin
in Philadelphia -- the division's emerging young wideouts, could represent a bumper crop of future stars at the position. We have some offensive linemen -- guys such as
Trent Williams
and
Tyron Smith
-- who are loaded with talent but still too young to really project. We have some running-back talent, especially in Philly and New York. And players like
Brian Orakpo
,
Nate Allen
and
Prince Amukamara
appear ready to lay the groundwork for future success.
[+] Enlarge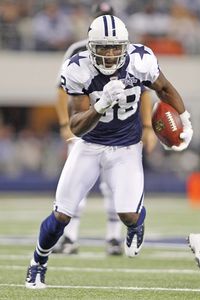 AP Photo/James D SmithDez Bryant has the talent to become one of the NFL's best receivers.
With that in mind, here's a look at one player from each team I'm picking for the Dream Team of Tomorrow.
Dez Bryant, Dallas Cowboys wide receiver
: Yeah, yeah, insert shopping mall joke here. Fact is, this guy's got as much pure talent as any young wideout in the division. And if you read that list two paragraphs back, you know I'm not saying that lightly. If he can stay healthy, stay out of trouble and refine his skills as an NFL route-runner, Bryant can be the kind of star that makes other stars stop what they're doing to watch him play. He's got a fine quarterback in Tony Romo and only
Miles Austin
and tight end
Jason Witten
in front of him in line for catches in Dallas as of now. And he's already a game-changer on special teams. So the opportunity is there, and all the pieces are in place. It's up to Bryant to make it happen.
Hakeem Nicks, New York Giants wide receiver
: Nicks is already one of the best and most reliable wideouts in the NFL, and he's got just two years in. He's 23 years old right now, which means he'll play the 2014 season at age 26. In the meantime, he'll have been Eli Manning's No. 1 receiver in the Giants' pass-heavy offense and had enough skill-position talent around him (
Ahmad Bradshaw
,
Steve Smith
,
Mario Manningham
, etc.) to have put up big-time numbers. His physical gifts are clearly substantial, and they aren't going anywhere between now and 2014.
LeSean McCoy, Philadelphia Eagles running back
: Why McCoy and not the Giants' Ahmad Bradshaw? Well, because I picked Nicks for the Giants, and because I think McCoy has a better chance to hold up over the next three-to-six years. Not only is he already a reliable focal point of the Eagles' offense, he gets to be that in a way that doesn't wear him down. They don't run him between the tackles excessively. They don't ask as much of him in pass protection as the Giants do of Bradshaw. And they have enough other offensive weapons that he doesn't get overworked. McCoy has the talent, and the chance to make it to 2014 as a relatively unscathed 26-year-old back.
Brian Orakpo, Washington Redskins linebacker
: The switch to the 3-4 defense in Washington is likely to make Orakpo a star, especially now that he's got a year of it under his belt and will start to be surrounded with more complementary pieces. He'll be 28 at the start of the 2014 season, which is a little bit older than the rest of the guys on this list. But he's already got 19.5 sacks in his first two years, so his learning curve is fairly advanced. By 2014, he'll be one of the better-recognized sack artists in the entire league.
July, 14, 2011
7/14/11
12:00
PM ET
»
AFC Future Stars
:
East
|
West
|
North
|
South
»
NFC
:
East
|
West
|
North
|
South
A team-by-team look at the players I expect to be the most dominant in the NFC South from 2014 to 2016.
The rules on our Dream Team of Tomorrow are simple. We're not looking at the best players of today.
[+] Enlarge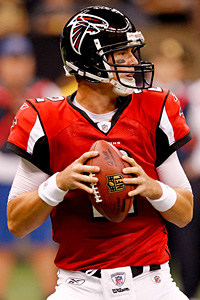 Derick E. Hingle/US PresswireThe next step toward becoming great for Atlanta QB Matt Ryan is to win in the postseason.
We're looking down the road. Yes,
Drew Brees
still might be going strong in 2014.
John Abraham
might even be adding sacks at that time. But they'll be on the downside of their careers.
We're looking for the rising stars -- the guys who will be dominant from 2014 through 2016 and maybe beyond that. We're looking for the next generation.
Matt Ryan, Falcons quarterback:
You can make a case that Ryan already is considered a star. He came into the league in 2008 and has led the Falcons to a winning record in each of his three seasons and two playoff berths.
But Ryan's not a superstar just yet. He's right on the cusp and I'm willing to predict he'll be fully in his prime by 2014. For Ryan truly to be considered an "elite'' quarterback, he's got to win a playoff game. He'll be winning playoff games soon enough because the Falcons continue to do what they have since Ryan joined them.
They continue to look at every possible way to make him great and that process is nearing completion. They surrounded Ryan with a running game (
Michael Turner
) as a rookie and
Roddy White
blossomed as a receiver. The Falcons threw
Tony Gonzalez
into the mix as a safety valve at tight end.
But they took their biggest step yet this year when they made a daring move up in the draft to get
Julio Jones
. Line him up at wide receiver across from White and the Falcons should have two guys who can stretch the field.
White's made some noise this offseason about how Atlanta's offense can be somewhat like the
St. Louis Rams
when they were "The Greatest Show on Turf.'' He just might be right. If he is, Ryan will be one of the greatest quarterbacks on earth.
Josh Freeman, Buccaneers quarterback:
The ceiling is unlimited on this kid. Last year was his first full season as a starter and he almost single-handedly carried the Bucs to a 10-6 record, a season after they went 3-13.
Freeman threw 25 touchdowns and only six interceptions while surrounded with a cast of offensive players that was very young in some areas and not all that talented in some others. A lot of people say the Bucs had an easy schedule last season and that they overachieved.
That might be true, but I'm not buying into the theory that the Bucs are going to take a step back. They found the first true franchise quarterback they've ever had. As long as he's around, the Bucs are going to be competitive.
Freeman's much more than just a physical specimen. He's grown into the role of the leader of this franchise faster than anyone ever expected.
Malcolm Jenkins, Saints free safety.
With Brees and
Jonathan Vilma
, the Saints have the best natural leadership in the NFC South at the moment. Wherever Brees and Vilma are in 2014 through 2016, the Saints will be near the top of the heap.
That's because they have a superstar in the making in Jenkins, who comes with the same kind of intangibles as Brees and Vilma. At its core, football comes down to making big plays and winning games. As a first-year starter last season, Jenkins showed he can do that.
Remember the Thanksgiving Day game in Dallas? The Saints were on the verge of losing when Jenkins came from behind and stripped the ball from receiver
Roy Williams
. The Saints ended up winning and coach Sean Payton said Jenkins made "one of those plays that inspires everybody on the team.'' Two weeks later, he did it again, intercepting St. Louis'
Sam Bradford
twice and returning one of them for a touchdown.
Jenkins came out of college with all the physical tools, but people around the Saints will tell you they're even more impressed with his work on the practice field and in the film room. There should be a lot more inspiring plays from Jenkins in the future.
Ryan Kalil, Panthers center
. He's only 26 and he's been to the Pro Bowl the past two seasons, despite playing on bad teams. Scouts, coaches and players around the league will tell you he's one of the two or three best centers in the league and his reputation will grow rapidly if Carolina can make some improvements after last year's 2-14 season.
The Panthers already placed the franchise tag on Kalil for this year in an effort to make sure he doesn't get away. They view him as the emerging anchor of their offensive line as
Jordan Gross
gets older.
At some point, the Panthers will lock Kalil up to a big long-term deal. There's a reason for that. They just drafted
Cam Newton
, whom they view as their franchise quarterback. They want to make sure he's receiving snaps from and being protected by a franchise center.
July, 13, 2011
7/13/11
12:00
PM ET
»
AFC Future Stars
:
East
|
West
|
North
|
South
»
NFC
:
East
|
West
|
North
|
South
A team-by-team look at the players I expect to be the most dominant in the AFC East from 2014 to 2016.
ESPN.com launched a series of stories this week in which we
ponder the ultimate Dream Team of Tomorrow
, players who should dominate the NFL in the three-year window from 2014 through 2016.
ESPN.com assembled offensive and defensive ballots for you to decide the starting lineup. But there are some prominent names missing from the AFC East. Regardless, here are my predictions for the best candidates from each club.
[+] Enlarge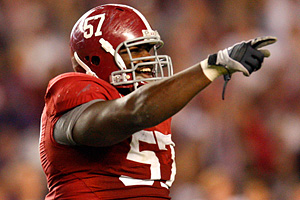 Kevin C. Cox/Getty ImagesMarcell Dareus could shore up a weak defensive line.
Marcell Dareus, Buffalo Bills defensive tackle:
Dareus hasn't played an NFL game yet, but he arguably was the safest selection in this year's draft. The Bills were ecstatic to see him still on the board with their third selection. Dareus is immensely talented and versatile along the line. He can't help but make an immediate impact on Buffalo's meager defense and will get better. Dareus will draw multiple blockers and will help stop the run (Bills ranked 32nd) and get after the quarterback (only three teams had fewer sacks).
Jake Long, Miami Dolphins left tackle:
Long is the obvious choice for the Dolphins. The top selection of the 2008 draft has been named to the Pro Bowl each of his three NFL seasons. He was voted first-team All-Pro last season. Some might consider outside linebacker
Cameron Wake
to be a good bet. He started in the Pro Bowl after recording 14 sacks in his second NFL season. But Wake isn't a youngster. He took a circuitous route to the big leagues and is 29 years old already -- and not even on the Dream Team of Tomorrow ballot. Does he have a better shot of being dominant at 32 than Long does at 29? Nope.
Jerod Mayo, New England Patriots inside linebacker:
Mayo is the safe bet. He was voted first-team All-Pro after his third season and has proven himself a tackling machine. He should be a defensive star for many years. But the Patriots have a few other intriguing possibilities.
Devin McCourty
played left cornerback as a rookie and started in the Pro Bowl, but I give Mayo the edge because of his three-year track record. Rookie tight ends
Rob Gronkowski
(10 touchdowns last season) and
Aaron Hernandez
(2009 Mackey Award winner) didn't make the ballot somehow.
Darrelle Revis, New York Jets cornerback:
He'll be 29 years old when the Dream Team of Tomorrow window opens, but he has been so dominant it's hard to pick any other Jet ahead of him. I realize All-Pro center
Nick Mangold
and Pro Bowl left tackle
D'Brickashaw Ferguson
are on the ballot, but Revis is as elite as they come. Revis is compared to
Deion Sanders
, who is considered the greatest cover corner of all-time.
Dustin Keller
was another AFC East tight end strangely left off the ballot.
July, 13, 2011
7/13/11
12:00
PM ET
»
AFC Future Stars
:
East
|
West
|
North
|
South
»
NFC
:
East
|
West
|
North
|
South
A team-by-team look at the players I expect to be the most dominant in the AFC North from 2014 to 2016.
The AFC North has been dominated mostly by the
Pittsburgh Steelers
and
Baltimore Ravens
for the past decade. But that doesn't mean those two teams are guaranteed to stay on top forever.
The balance of power in the division 3-5 years from now will be decided by which young players develop into the next group of NFL stars. All four teams have up-and-coming players with the potential to be future Pro Bowlers.
Here is a look at one player from each team who could dominate in the AFC North from 2014 to 2016:
[+] Enlarge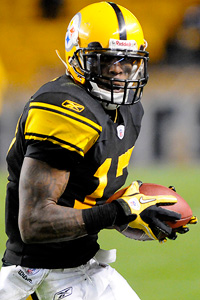 AP Photo/Tom E. PuskarMike Wallace has already established himself as one of the league's most dangerous deep threats.
Mike Wallace, Steelers receiver:
In just two seasons, Wallace has already established himself as an elite deep threat. He has averaged 20.3 yards per reception over his career and recorded 1,257 yards and 10 touchdowns last season. The scary part is that Wallace, 24, isn't close to reaching his ceiling. The past two years, Pittsburgh has played to Wallace's strength of running primarily deep routes. But the team is looking for Wallace to become more well-rounded in the offense this season. Once Wallace adds the short and intermediate routes to his repertoire, he will become a perennial Pro Bowl player.
Ray Rice, Ravens running back:
Rice, 24, already has one Pro Bowl on his résumé and should have more in his future. He's also coming off back-to-back 1,200-yard rushing seasons and averages 4.5 yards per carry in his career. Rice is also one of the best receivers out of the backfield. The Ravens are expected to sign Rice to a big contract extension next offseason, which probably will span 2014-2016, which is when Rice will be in his prime years. Ravens quarterback
Joe Flacco
, 26, also was taken with Rice in the 2008 draft. Both players will be growing together and should become a dynamic combination.
Joe Haden, Cleveland Browns cornerback:
There was some skepticism a year ago about whether Haden was worthy of the No. 7 overall pick. Despite a slow start, Haden put all those concerns to rest once he entered the starting lineup in the second half of the season and finished with 64 tackles and six interceptions. Haden displayed very good ball skills, solid tackling and the willingness to mix it up and compete with the physical receivers in the AFC North. He's only 22 and should continue to develop into one of the better corners.
A.J. Green, Cincinnati Bengals receiver:
This was the most difficult choice in the division. The Bengals have plenty of young talent -- such as
Jermaine Gresham
,
Carlos Dunlap
and
Jordan Shipley
-- but it's hard to project which player has superstar potential. Green may have the best chance out of the group. He was a dynamic talent at the University of Georgia, and Cincinnati invested the No. 4 overall pick in the receiver in April's draft. Obviously, quarterback is a major question for Cincinnati, and that will affect how Green's career turns out. But if rookie quarterback
Andy Dalton
proves to be the long-term solution, Dalton and Green could be a good passing combo several years from now.
July, 13, 2011
7/13/11
12:00
PM ET
»
AFC Future Stars
:
East
|
West
|
North
|
South
»
NFC
:
East
|
West
|
North
|
South
A team-by-team look at the players I expect to be the most dominant in the AFC West from 2014 to 2016.
The future looks bright in the AFC West. There are several promising young players in the division, and all four teams have hope for the future. Let's look at the players I expect to have the most success in the middle of this decade.
[+] Enlarge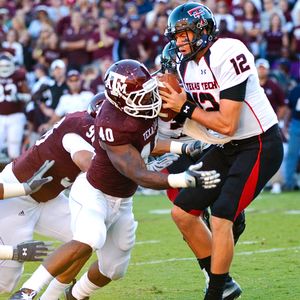 AP Photo/Dave EinselVon Miller finished his college career with 33 sacks.
Von Miller, Broncos linebacker:
If the Broncos are going to rebound from their recent drought, it could start with Miller. He is an important figure in Denver and was the first pick of the John Elway/John Fox/Brian Xanders regime. The trio studied several players before deciding on the powerful Texas A&M linebacker for the No. 2 overall pick. Elway said that Miller was the most explosive player in the draft and that he reminds many NFL scouts of former Kansas City great linebacker
Derrick Thomas
. Miller is smart, extremely fast and athletically gifted. He seems like a can't-miss prospect. The Broncos need him to be.
Eric Berry, Chiefs safety:
Berry is going to be a special player. He is the centerpiece on a roster full of young, exciting talent. Berry was the No. 5 overall pick last year and was an immediate success. Berry was always on the field and made a huge impact. He instantly legitimized a defense that played a major role in a division title. He is a smart player who has a chance to be the NFL's next great safety. I also considered the spectacular
Jamaal Charles
, but he will be 30 at the end of the 2016 season. Durability is a question mark about the speedster, so I went with Berry. Still, I expect Charles to be one of the NFL's best running backs for the foreseeable future.
Lamarr Houston, Raiders defensive lineman:
I'm taking
Matt Williamson's lead here
. The Scouts Inc. brainiac is extremely high on the Raiders' second-season defensive lineman. In fact, Williamson believes Houston could be one of the NFL's best defensive linemen soon. He thinks Houston, a second-round pick from Texas, has no ceiling. Houston has the look of an impact player who plays with a mean streak. He was easy to notice in the preseason last year, and he made one big play after another as a rookie. He looks like he'll be in the NFL for the next dozen years. He is versatile and can play in virtually every defensive situation. The Raiders have a host of young, intriguing players, including
Darren McFadden
,
Jacoby Ford
,
Louis Murphy
,
Matt Shaughnessy
,
Rolando McClain
and
Tyvon Branch
. But Houston seems like he can be special.
Ryan Mathews, Chargers running back:
Mathews wasn't spectacular as a rookie in 2010. But he showed enough flashes to make the Chargers excited about his future. Mathews was the No. 12 overall pick after the Chargers sent a huge package to Miami to move up 16 spots to take the Fresno State star. Mathews had injury and fumbling issues in 2010, but when he was healthy, he made several big plays and ran hard. He finished the season strong. The Chargers like the way he works and thinks he will be ready to take the next step soon. I was tempted to go with cornerback
Antoine Cason
or first-round pick
Corey Liuget
, but I think Mathews has the ability to have a long, productive career in San Diego.
July, 13, 2011
7/13/11
12:00
PM ET
»
AFC Future Stars
:
East
|
West
|
North
|
South
»
NFC
:
East
|
West
|
North
|
South
A team-by-team look at the players I expect to be the most dominant in the AFC South from 2014-2016
All four teams in the AFC South hope to be built on cornerstones, keystones and touchstones acquired in the draft. If we look four, five and six years out, what players will be filling those kinds of roles for the Texans, Colts, Jaguars and Texans?
Some of them aren't even on the roster yet and some of them might be on another team by then. But here's our stab at guy per team whom we believe will be a star in that time period.
[+] Enlarge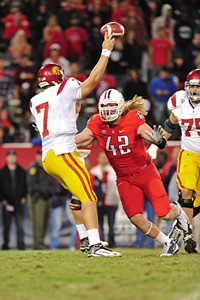 Chris Morrison/US PresswireBrooks Reed (42) has the tools to be a playmaker in the pros.
Brooks Reed, Texans linebacker:
Houston's second-round pick from April is super fast in his first 10 yards, which will allow him to be exceptionally rangy as a pro. In 2014, entering his fourth year, he should be approaching his peak and making plays against both the run and pass as an outside linebacker. His motor makes it difficult for offenses to consistently block him, and pulls a lot of his teammates along.
Austin Collie, Colts receiver:
In his first two seasons, Collie's shown a great feel for the game. He has a knack for space and timing. He's quickly grown into a reliable target for
Peyton Manning
and the Colts. Whether Manning is entering twilight years or his heir is taking snaps, so long as Collie avoids the sort of concussions that were an issue last season, he'll be a dangerous weapon who frustrates defenses.
Terrance Knighton, Jaguars defensive tackle:
If Knighton controls his weight, he could be at the top of his game during our window, regularly collapsing the pocket as he combines brute strength with the feet of a much smaller man. If he occupies multiple blockers he will influence where a running back can go and what a quarterback can do, having a positive bearing on the other 10 defenders on the field for the Jaguars.
Derrick Morgan, Titans defensive end:
A freak torn ACL from his rookie year will be long forgotten, as the strong, rugged Morgan works as a centerpiece for the Titans as their top pass-rusher. His work ethic and leadership combined with his sack production and ability to stop the run combine to make him one of the division's most-respected, and most-feared, defenders.