NFL Nation:

2014-2016 biggest stars AFC
July, 13, 2011
7/13/11
12:00
PM ET
»
AFC Future Stars
:
East
|
West
|
North
|
South
»
NFC
:
East
|
West
|
North
|
South
A team-by-team look at the players I expect to be the most dominant in the AFC East from 2014 to 2016.
ESPN.com launched a series of stories this week in which we
ponder the ultimate Dream Team of Tomorrow
, players who should dominate the NFL in the three-year window from 2014 through 2016.
ESPN.com assembled offensive and defensive ballots for you to decide the starting lineup. But there are some prominent names missing from the AFC East. Regardless, here are my predictions for the best candidates from each club.
[+] Enlarge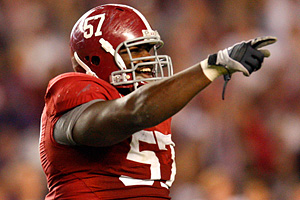 Kevin C. Cox/Getty ImagesMarcell Dareus could shore up a weak defensive line.
Marcell Dareus, Buffalo Bills defensive tackle:
Dareus hasn't played an NFL game yet, but he arguably was the safest selection in this year's draft. The Bills were ecstatic to see him still on the board with their third selection. Dareus is immensely talented and versatile along the line. He can't help but make an immediate impact on Buffalo's meager defense and will get better. Dareus will draw multiple blockers and will help stop the run (Bills ranked 32nd) and get after the quarterback (only three teams had fewer sacks).
Jake Long, Miami Dolphins left tackle:
Long is the obvious choice for the Dolphins. The top selection of the 2008 draft has been named to the Pro Bowl each of his three NFL seasons. He was voted first-team All-Pro last season. Some might consider outside linebacker
Cameron Wake
to be a good bet. He started in the Pro Bowl after recording 14 sacks in his second NFL season. But Wake isn't a youngster. He took a circuitous route to the big leagues and is 29 years old already -- and not even on the Dream Team of Tomorrow ballot. Does he have a better shot of being dominant at 32 than Long does at 29? Nope.
Jerod Mayo, New England Patriots inside linebacker:
Mayo is the safe bet. He was voted first-team All-Pro after his third season and has proven himself a tackling machine. He should be a defensive star for many years. But the Patriots have a few other intriguing possibilities.
Devin McCourty
played left cornerback as a rookie and started in the Pro Bowl, but I give Mayo the edge because of his three-year track record. Rookie tight ends
Rob Gronkowski
(10 touchdowns last season) and
Aaron Hernandez
(2009 Mackey Award winner) didn't make the ballot somehow.
Darrelle Revis, New York Jets cornerback:
He'll be 29 years old when the Dream Team of Tomorrow window opens, but he has been so dominant it's hard to pick any other Jet ahead of him. I realize All-Pro center
Nick Mangold
and Pro Bowl left tackle
D'Brickashaw Ferguson
are on the ballot, but Revis is as elite as they come. Revis is compared to
Deion Sanders
, who is considered the greatest cover corner of all-time.
Dustin Keller
was another AFC East tight end strangely left off the ballot.
July, 13, 2011
7/13/11
12:00
PM ET
»
AFC Future Stars
:
East
|
West
|
North
|
South
»
NFC
:
East
|
West
|
North
|
South
A team-by-team look at the players I expect to be the most dominant in the AFC North from 2014 to 2016.
The AFC North has been dominated mostly by the
Pittsburgh Steelers
and
Baltimore Ravens
for the past decade. But that doesn't mean those two teams are guaranteed to stay on top forever.
The balance of power in the division 3-5 years from now will be decided by which young players develop into the next group of NFL stars. All four teams have up-and-coming players with the potential to be future Pro Bowlers.
Here is a look at one player from each team who could dominate in the AFC North from 2014 to 2016:
[+] Enlarge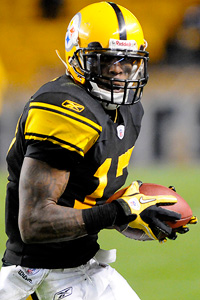 AP Photo/Tom E. PuskarMike Wallace has already established himself as one of the league's most dangerous deep threats.
Mike Wallace, Steelers receiver:
In just two seasons, Wallace has already established himself as an elite deep threat. He has averaged 20.3 yards per reception over his career and recorded 1,257 yards and 10 touchdowns last season. The scary part is that Wallace, 24, isn't close to reaching his ceiling. The past two years, Pittsburgh has played to Wallace's strength of running primarily deep routes. But the team is looking for Wallace to become more well-rounded in the offense this season. Once Wallace adds the short and intermediate routes to his repertoire, he will become a perennial Pro Bowl player.
Ray Rice, Ravens running back:
Rice, 24, already has one Pro Bowl on his résumé and should have more in his future. He's also coming off back-to-back 1,200-yard rushing seasons and averages 4.5 yards per carry in his career. Rice is also one of the best receivers out of the backfield. The Ravens are expected to sign Rice to a big contract extension next offseason, which probably will span 2014-2016, which is when Rice will be in his prime years. Ravens quarterback
Joe Flacco
, 26, also was taken with Rice in the 2008 draft. Both players will be growing together and should become a dynamic combination.
Joe Haden, Cleveland Browns cornerback:
There was some skepticism a year ago about whether Haden was worthy of the No. 7 overall pick. Despite a slow start, Haden put all those concerns to rest once he entered the starting lineup in the second half of the season and finished with 64 tackles and six interceptions. Haden displayed very good ball skills, solid tackling and the willingness to mix it up and compete with the physical receivers in the AFC North. He's only 22 and should continue to develop into one of the better corners.
A.J. Green, Cincinnati Bengals receiver:
This was the most difficult choice in the division. The Bengals have plenty of young talent -- such as
Jermaine Gresham
,
Carlos Dunlap
and
Jordan Shipley
-- but it's hard to project which player has superstar potential. Green may have the best chance out of the group. He was a dynamic talent at the University of Georgia, and Cincinnati invested the No. 4 overall pick in the receiver in April's draft. Obviously, quarterback is a major question for Cincinnati, and that will affect how Green's career turns out. But if rookie quarterback
Andy Dalton
proves to be the long-term solution, Dalton and Green could be a good passing combo several years from now.
July, 13, 2011
7/13/11
12:00
PM ET
»
AFC Future Stars
:
East
|
West
|
North
|
South
»
NFC
:
East
|
West
|
North
|
South
A team-by-team look at the players I expect to be the most dominant in the AFC West from 2014 to 2016.
The future looks bright in the AFC West. There are several promising young players in the division, and all four teams have hope for the future. Let's look at the players I expect to have the most success in the middle of this decade.
[+] Enlarge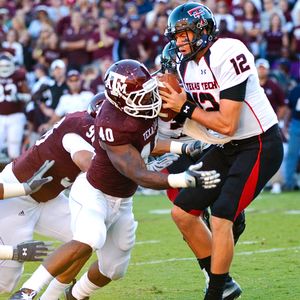 AP Photo/Dave EinselVon Miller finished his college career with 33 sacks.
Von Miller, Broncos linebacker:
If the Broncos are going to rebound from their recent drought, it could start with Miller. He is an important figure in Denver and was the first pick of the John Elway/John Fox/Brian Xanders regime. The trio studied several players before deciding on the powerful Texas A&M linebacker for the No. 2 overall pick. Elway said that Miller was the most explosive player in the draft and that he reminds many NFL scouts of former Kansas City great linebacker
Derrick Thomas
. Miller is smart, extremely fast and athletically gifted. He seems like a can't-miss prospect. The Broncos need him to be.
Eric Berry, Chiefs safety:
Berry is going to be a special player. He is the centerpiece on a roster full of young, exciting talent. Berry was the No. 5 overall pick last year and was an immediate success. Berry was always on the field and made a huge impact. He instantly legitimized a defense that played a major role in a division title. He is a smart player who has a chance to be the NFL's next great safety. I also considered the spectacular
Jamaal Charles
, but he will be 30 at the end of the 2016 season. Durability is a question mark about the speedster, so I went with Berry. Still, I expect Charles to be one of the NFL's best running backs for the foreseeable future.
Lamarr Houston, Raiders defensive lineman:
I'm taking
Matt Williamson's lead here
. The Scouts Inc. brainiac is extremely high on the Raiders' second-season defensive lineman. In fact, Williamson believes Houston could be one of the NFL's best defensive linemen soon. He thinks Houston, a second-round pick from Texas, has no ceiling. Houston has the look of an impact player who plays with a mean streak. He was easy to notice in the preseason last year, and he made one big play after another as a rookie. He looks like he'll be in the NFL for the next dozen years. He is versatile and can play in virtually every defensive situation. The Raiders have a host of young, intriguing players, including
Darren McFadden
,
Jacoby Ford
,
Louis Murphy
,
Matt Shaughnessy
,
Rolando McClain
and
Tyvon Branch
. But Houston seems like he can be special.
Ryan Mathews, Chargers running back:
Mathews wasn't spectacular as a rookie in 2010. But he showed enough flashes to make the Chargers excited about his future. Mathews was the No. 12 overall pick after the Chargers sent a huge package to Miami to move up 16 spots to take the Fresno State star. Mathews had injury and fumbling issues in 2010, but when he was healthy, he made several big plays and ran hard. He finished the season strong. The Chargers like the way he works and thinks he will be ready to take the next step soon. I was tempted to go with cornerback
Antoine Cason
or first-round pick
Corey Liuget
, but I think Mathews has the ability to have a long, productive career in San Diego.
July, 13, 2011
7/13/11
12:00
PM ET
»
AFC Future Stars
:
East
|
West
|
North
|
South
»
NFC
:
East
|
West
|
North
|
South
A team-by-team look at the players I expect to be the most dominant in the AFC South from 2014-2016
All four teams in the AFC South hope to be built on cornerstones, keystones and touchstones acquired in the draft. If we look four, five and six years out, what players will be filling those kinds of roles for the Texans, Colts, Jaguars and Texans?
Some of them aren't even on the roster yet and some of them might be on another team by then. But here's our stab at guy per team whom we believe will be a star in that time period.
[+] Enlarge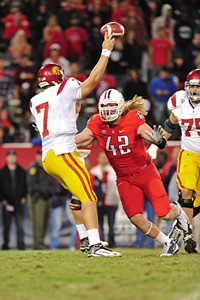 Chris Morrison/US PresswireBrooks Reed (42) has the tools to be a playmaker in the pros.
Brooks Reed, Texans linebacker:
Houston's second-round pick from April is super fast in his first 10 yards, which will allow him to be exceptionally rangy as a pro. In 2014, entering his fourth year, he should be approaching his peak and making plays against both the run and pass as an outside linebacker. His motor makes it difficult for offenses to consistently block him, and pulls a lot of his teammates along.
Austin Collie, Colts receiver:
In his first two seasons, Collie's shown a great feel for the game. He has a knack for space and timing. He's quickly grown into a reliable target for
Peyton Manning
and the Colts. Whether Manning is entering twilight years or his heir is taking snaps, so long as Collie avoids the sort of concussions that were an issue last season, he'll be a dangerous weapon who frustrates defenses.
Terrance Knighton, Jaguars defensive tackle:
If Knighton controls his weight, he could be at the top of his game during our window, regularly collapsing the pocket as he combines brute strength with the feet of a much smaller man. If he occupies multiple blockers he will influence where a running back can go and what a quarterback can do, having a positive bearing on the other 10 defenders on the field for the Jaguars.
Derrick Morgan, Titans defensive end:
A freak torn ACL from his rookie year will be long forgotten, as the strong, rugged Morgan works as a centerpiece for the Titans as their top pass-rusher. His work ethic and leadership combined with his sack production and ability to stop the run combine to make him one of the division's most-respected, and most-feared, defenders.
NFL SCOREBOARD
Sunday, 2/2
WEEKLY LEADERS