NFL Nation:

2014 Championship Game NWE-DEN
January, 19, 2014
Jan 19
11:45
PM ET
DENVER -- The chip was there for all to see, the
Denver Broncos
simply picked it up and it put it on their defense's shoulders.
The one about being the weak link. The one at the root of the few losses the Broncos have had, the one about having to hold up against the
New England Patriots
' run game and quarterback
Tom Brady
.
"We expect Peyton [Manning] to play well all the time because he's one of the best players to ever play the game," Broncos defensive end
Shaun Phillips
said. "But we have to do what we do on our side of the ball to make sure we keep the ball in his hands and give him a chance to win. … We did that [Sunday], just like we wanted to do, just like we had to do."
When all was said and done in the Broncos' 26-16 victory in the AFC Championship Game the Broncos held New England to 64 yards on 16 carries. This was a week after the Patriots had skewered the
Indianapolis Colts
defense for 234 yards rushing,
LeGarrette Blount
, who had trampled the Colts for 166 yards, finished with 6 yards on five carries. Blount's longest rush was 3 yards. And asked what the difference was in a tale of two weeks for New England, Broncos cornerback
Champ Bailey
said:
"Well, they didn't play the Broncos last week. They are a good running team, but we've got some guys up front that don't like that they're going to do whatever it takes to stop that run and that's really what it's all about, the guys up front."
"It wasn't a shock," cornerback
Dominique Rodgers-Cromartie
said.
The key, the Broncos -- almost to a player -- said was defensive tackle
Terrance Knighton
. When the Broncos went looking for bulk to add to the middle of their defensive line during the offseason, defensive coordinator Jack Del Rio certainly agreed with acquiring Knighton.
Knighton played for Del Rio for three seasons in Jacksonville and was just the kind of space-eater Del Rio wanted in the defensive front. He finished with four tackles, including two tackles for loss and a sack.
"New England came back on us, San Diego beating us, injuries, that's what molded us into the team we are now," Knighton said. "No one had gotten this far without adversity, we just wanted to respond to it, and like I said, I'm just excited."
In year when the Broncos were forced to play mix-and-match on defense at times -- starting with
Von Miller
's suspension to open the season -- Denver tweaked some things down the stretch that have them dialed in at the moment. They put veteran linebacker
Paris Lenon
into the base defense to add a little more pop, they got Bailey back in the lineup, and rookie
Sylvester Williams
has raised his game since defensive tackle
Kevin Vickerson
went on injured reserve with a hip injury in late November.
The Patriots had just 16 yards rushing at halftime, 39 yards rushing after three quarters. New England couldn't keep drives alive and Brady could not use play-action in the passing game. New England had three three-and-outs in their five possessions in the first half. The Broncos led 13-3 at halftime and added another touchdown after three quarters.
"I think when you play good teams, the margin of error is pretty slim all day," Brady said. "We dug ourselves a pretty big hole there. … We just couldn't do enough."
The Broncos have had five games this season when they have surrendered 17 or fewer points and four have come over their past four games, including Sunday's win to go with the divisional round victory over the
San Diego Chargers
.
And while the Broncos defense had lapses -- such as the 160-yard, two-touchdown fourth quarter the Patriots put up Sunday -- Denver defenders believe they held up their end of the bargain to help put the team in the Super Bowl.
"We have one game left," Knighton said. "That's our goal. This wasn't our goal to make it there, our goal was to win it so we still have some business to handle."
January, 19, 2014
Jan 19
10:32
PM ET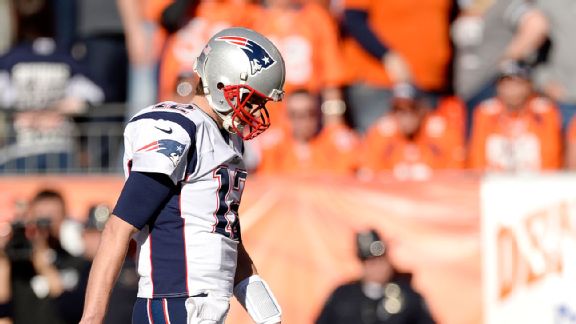 Joe Amon/The Denver Post via Getty ImagesThe Patriots dug themselves a hole that Tom Brady was unable to get them out of.
DENVER --
Tom Brady
and the deep ball. When considering where things fell short for the
New England Patriots
in their
26-16 loss
to the
Denver Broncos
in the AFC Championship Game, it's one of the places to start.
The resilient Patriots dug themselves an early hole, never could find their way out of it, and the play that gave them the best chance to do so is one that is going to be tough for Brady to live with this offseason.
The long ball to receiver
Julian Edelman
was there late in the first quarter. Brady just missed it, and in a game of this magnitude with a near-perfect
Peyton Manning
on the other sideline, a miscue like that can be a difference-maker.
"I wish I would have made that," Brady lamented of the one of the turning points of the game. "I just overthrew him."
Between that play, which would have set the Patriots up to at least tie the game at 3-3 late in the first quarter, and cornerback
Aqib Talib
injuring his knee on the next long Broncos scoring drive and not returning, it was a double-barreled blow the team never could overcome. Brady airmailing open receiver
Austin Collie
late in the second quarter, when Collie had found a seam up the right sideline against a Cover-2 defensive shell, also cost the team a chance at possibly stealing three points.
So what's up with Brady and the deep ball?
To some, this won't come as a news flash. It hasn't been a strength all season, with Brady's 21.4 completion percentage on throws 25 yards or more ranking him tied for 31st in the NFL this season, according to ESPN's Stats & Information.
But there was a notable difference between what we've seen most of the season -- a lack of consistent separation from pass-catchers not giving Brady clean windows in which to throw -- and what unfolded Sunday in the AFC Championship Game.
Edelman was wide open, having lined up in the right slot before running a vertical route up the middle of the field and cutting it out toward the left sideline 40 yards downfield. Safety
Mike Adams
was five yards behind in the rear-view mirror.
And Brady himself had plenty of time, the result of selling a hard play-action off the right side of the line, as there wasn't a Bronco within five yards of him as he reset his feet and overthrew Edelman by about five yards. Brady's reaction said it all as he immediately slapped his hands on top of his helmet.
Collie had also found a rather large opening across midfield that could have helped set up a long half-ending field goal in Denver's thin air, where kicker
Stephen Gostkowski
was banging them through from 58 yards in pregame warmups.
Would the plays have made a difference in the final outcome? Perhaps not, as the Broncos outplayed the Patriots (a 35:44 to 24:16 time of possession edge is decisive) with everyone from head coach Bill Belichick to Brady acknowledging that the team that deserved to win did so.
But on a day when opportunities for big plays were sparse, the overthrows loomed large.
"When you play good teams, the margin for error is slim all day," said Brady, who finished 24 of 38 for 277 yards and one touchdown. "We dug ourselves a pretty big hole there. I think this is a resilient tough team. We just got beat by a team that played really well."
The Patriots, after putting together three of their best games of the season leading into the conference championship, didn't. The Broncos' run defense played a large role in that, limiting the effective ground-and-pound approach that had transformed the Patriots' attack in recent weeks. The Patriots rushed for just 64 yards on 16 carries.
So that left the Patriots in a similar spot as they were in Super Bowl losses to the New York Giants in the 2007 and 2011 seasons, as well as last year's AFC Championship Game against the Baltimore Ravens. They were forced to go to the air.
The difference between the two passing attacks was stark, with Manning outdueling Brady in the 15th installment of their terrific personal rivalry (Brady is now 10-5 in those games). Manning sought out Brady immediately on the field and later relayed that Brady was classy in his remarks.
"I just wished him good luck. I have a lot of respect for him," Brady revealed. "He's a great player and competitor. He played great today."
Meanwhile, this wasn't Brady's best, the inability to connect on the long ball the big downer.
January, 19, 2014
Jan 19
10:30
PM ET
DENVER -- When Hall of Famer John Elway sat across a nicely appointed desk from
Peyton Manning
, whose gold jacket is a future given, a promise was made.
A promise that went beyond the recruitment of the most decorated free agent to ever hit the open market in the NFL's history, a promise of what could be if both took a leap of football hope and faith.
Elway made a promise to Manning 22 months ago that he would "do everything in my power to make sure [Manning] finishes his career the way I finished mine."
Make no mistake, children across the Front Range leave their footy pajamas behind carrying the knowledge Elway won back-to-back Super Bowls in his final two seasons with the
Denver Broncos
. And in his third season as the Broncos' chief football decision-maker, hired by Pat Bowlen to restore glory and secure trophies, Elway has now seen Manning lead the Broncos into the Super Bowl.
Manning was at his take-that best Sunday as he swatted away the pregame chatter about his record against Bill Belichick, about his oh-so-many on-field battles with
Tom Brady
, with a performance that was as efficient as it was relentless in a
26-16 victory
in the AFC Championship Game. Manning finished 32-of-43 for 400 yards and two touchdowns.
He wasn't sacked, was rarely even disturbed as he went about his work and did not throw an interception. The Broncos and Manning dropped a total of 507 yards worth of misery on Belichick's defensive game plan and flaunted the variety that has vexed defenses all season long.
Five different players caught at least three passes as eight players had receptions overall. Or as Belichick put it, in his own bottom-line way: "They've got a lot of good players."
That they do. And in the end, it was Belichick who provided the nudge that pushed the Broncos to where they were Sunday.
It was Jan. 14, 2012, when Belichick dismantled the Broncos' postseason run powered by
Tim Tebow
and a read-option offense. In a 45-10 hide-your-eyes Patriots win, Tebow was 9-of-26 for 136 yards and was sacked five times.
It dropped the curtain on what had been a dynamic stretch for the Broncos, who had unveiled the read-option after making Tebow the starter, a run that included an overtime win over the
Pittsburgh Steelers
in the wild-card round. And the loss left the Broncos at a crossroads.
Broncos coach John Fox said this past week that "I remember we lost in the playoffs in New England that year, and it was a pretty good indicator of how far we had to get moving."
Then, after Manning was cut loose by the
Indianapolis Colts
a few weeks later, Elway and the Broncos closed the deal on the surgically repaired quarterback. Manning has gotten better and better since.
He threw a franchise-record 37 touchdowns in 2012, threw a league single-season record 55 touchdowns in 2013.
"There was a lot of uncertainty, whether he was going to play anymore," said Archie Manning, Peyton's father. "That kind of makes it special ... His age, what he went through, playing the quarterback position in this league, we tried to stay positive with him. He handled it so well."
"He's a great man off the field, a great leader and a great person to follow because he does everything right," said Broncos rookie running back
Montee Ball
.
But simply landing Manning wasn't all Elway did. He hit on some draft picks, players like Ball,
Orlando Franklin
and tight end
Julius Thomas
. He got a coach in Fox who assembled a staff with both veteran hands like defensive coordinator Jack Del Rio and mark-it-down, up-and-comers like offensive coordinator Adam Gase. Elway also got more from inherited players such as
Demaryius Thomas
,
Eric Decker
and
Knowshon Moreno
.
He had to deal with last January's crushing playoff loss to the
Baltimore Ravens
; and
Von Miller
's six-game suspension to open the season; Fox's open-heart surgery; a long list of injuries that included Pro Bowl tackle
Ryan Clady
, Miller and
Chris Harris
Jr.; and making the right call on short-term signings like defensive end
Shaun Phillips
and cornerback
Dominique Rodgers-Cromartie
. He had to maintain his composure and hold the door against complacency.
"It meant we had to deal with everything we had to deal with, to keep the focus on what needed to be done," Broncos cornerback
Champ Bailey
said. " ... A lot of people talk about being good, but you have to do the things that need doing to be good. All the time, every day. All you want is a shot at the big game, and we have that. Now you get to work on that one game."
People are always telling Elway, because his quarterback is 37 years old and in his 16th season after four neck surgeries, that the Broncos need to win now. Elway's retort is not a surprise to anyone who knows him, to any of those who were in the huddle with him while the game was on the line.
Elway always says "it's about win [from] now on."
It was all there Sunday, awash in orange, played out with the emotion of a team making its first Super Bowl appearance since Elway was its quarterback. It will be a Super Bowl where the Broncos will be asked questions about whether their high-powered offense can handle a snowy day, can handle a muscle-bound defense from the NFC or if the Broncos' defense can be good enough, for one more game, to get it all done.
And it will be a Super Bowl game where a promise is kept.
January, 19, 2014
Jan 19
8:45
PM ET
DENVER -- Gathering together some leftover notes from Sunday's AFC Championship Game:
Third-down struggles:
The
New England Patriots
struggled to defend the
Denver Broncos
on third down, allowing them to convert on seven of 13 tries. "You can't win when you can't get off the field," defensive end Rob Ninkovich said of the woes. "Again, it was just basic fundamental football. You've got to get off the field and they do a good job of keeping the sticks moving with various formations and patterns they run with good receivers and a good tight end."
Pass rush bagel:
Another area the Patriots struggled in was generating pressure on
Peyton Manning
. They didn't register a single sack of Manning and pressured him just three times in 43 dropbacks (according to ESPN Stats & Information), giving him far too much time to settle into his throws. Finding another pass-rusher could be a top offseason priority.
Long drives for Denver:
The Broncos were able to sustain long drives on Sunday, as their two touchdown drives accounted for 173 yards on 14:09 of game time and 28 plays. Those kind of sustained drives can leave a defense deflated, particularly in the thin air of Denver.
The day after:
The Patriots traveled home Sunday night, with the team wrapping up the season on Monday. Coach Bill Belichick will conduct a news conference at 9 a.m. ET, with players addressing the media from 11:30 a.m. to 12:15 p.m.
Allen toughs it out, performs well:
Credit punter
Ryan Allen
for a strong day, as he bounced back from an injury last Saturday night to punt three times, all landing inside the 20-yard line. He averaged 49 yards per punt and did not allow a single punt return.
Edelman logs big day:
While some of his production came late in the game, wide receiver
Julian Edelman
capped an incredible season with a 10-catch, 89-yard effort and another score. He was a standout on offense all year long.
January, 19, 2014
Jan 19
8:25
PM ET
DENVER -- Receiver
Julian Edelman
had one of the more emotional postgame interviews in the Patriots' locker room following the team's 26-16 loss to the Broncos in the AFC Championship Game. At times, it looked like he was fighting back tears.
Edelman
"I'm very proud to be part of this team," he said in a hushed tone. "We fought through a lot of adversity. There were a lot of ups and downs. It's just fortunate that it had to end this way. Not the way we wanted to."
Edelman, who capped off a stellar 2013 season with a 10-catch, 89-yard performance, credited the Broncos by saying, "they flat-out beat us."
"It was pretty tough [out there]," he added. "Season ended. We're done. … It was a pretty special group. Everyone fights to the very end. It just didn't go our way."
As for his future, the emotions were too raw for Edelman, who is scheduled to become an unrestricted free agent March 11.
"I'm not even thinking about that right now," he said. "I'm thinking about the fellas in this locker room, our coaches, all the hard work that we put in. I'll think about that later."
January, 19, 2014
Jan 19
7:55
PM ET
DENVER -- Employing a game-plan offense, the
New England Patriots
' strategy each week revolves around identifying an opposing team's weaknesses and aiming to exploit them.
[+] Enlarge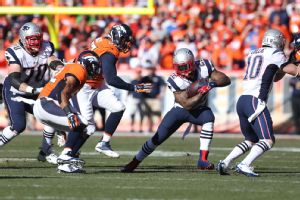 Mark J. Rebilas/USA TODAY Sports Stevan Ridley (5 carries, 17 yards) and the Patriots' run game was held in check by the Broncos.
On paper, the
Denver Broncos
' defensive weakness was their secondary. Throwing the football seemed like a natural avenue for the Patriots to take on Sunday.
But with the sensational success of the running game of late -- catalyzed by between-the-tackles rushing by
LeGarrette Blount
-- sticking with the ground-and-pound approach seemed plausible too.
On Sunday, throwing the ball just wasn't enough, and the ground game was unable to penetrate what has proven to be a stingy Denver run defense down the stretch.
"They were good against the run, good against the pass," guard
Logan Mankins
said after the game. "They just took advantage of our offense today."
Over the past three games entering Sunday, the Patriots had averaged 34.3 carries for 200.3 yards between the tackles, with Blount playing a leading role and scoring eight times during that stretch.
The production from the running game shriveled on Sunday, as Blount had four rushes for 6 yards between the tackles, a far cry from his 18.3 rushes for 130 yards on average over the past three games.
As a team, the Patriots weren't much better, finishing with 64 yards on 16 carries for the day.
It was just one area of struggle on a day that the Patriots didn't have the horses to keep up with the Broncos.
January, 19, 2014
Jan 19
6:02
PM ET
DENVER -- A few thoughts on the
Denver Broncos
'
26-16 win
over the
New England Patriots
:

What it means:
The Broncos earned the franchise's seventh Super Bowl trip with an efficient, laser-focused effort, particularly from quarterback
Peyton Manning
, who played virtually mistake-free behind top-tier protection. The Broncos will carry the highest scoring offense in league history into the title game having shown their variety of targets and options in the win over the Patriots.
Stock watch:
Certainly tight end
Julius Thomas
' presence in the offense helped the Broncos crank things up -- he didn't play in the Nov. 24 game in Foxborough, Mass., because of a knee injury -- but defensive tackle
Terrance Knighton
showed himself to be one of the team's best forays into free agency last March. Knighton was physical, disruptive and a key reason the Broncos stifled the Patriots' run game. Knighton also added a key fourth-down sack late in the third quarter.
Grind it out:
The Broncos made an offensive living all season working fast and scoring quickly out of their warp-drive, no-huddle attack. But they have shown the ability to work more methodically in their two postseason games. They had a touchdown drive of 7 minutes, 1 second against the
San Diego Chargers
last weekend to go with scoring drives of 7:50 and 7:52 Sunday against the Patriots. Those are the three longest scoring drives of the season for the Broncos.
Find an answer:
The Broncos made it work against a depleted Patriots receiving corps, but the losses of cornerback
Chris Harris Jr.
in the playoff win over the Chargers last week and linebacker
Von Miller
in a Week 16 victory over the Texans -- both to torn ACLs -- will continue to be something the Broncos will have to adjust to in the Super Bowl when an opponent has two weeks to prepare to find the openings. Patriots quarterback
Tom Brady
consistently went after cornerback
Tony Carter
in coverage, and the Broncos didn't consistently create the kind of pressure they hoped to beyond two very well-timed sacks.
What's next:
The Broncos' defense certainly will have to muscle up against the NFC's best in the Super Bowl, and the Broncos' offense will have its protection scheme tested. But Manning gets his third Super Bowl trip, and
Champ Bailey
, after 15 seasons and 12 Pro Bowls, finally gets his first career Super Bowl appearance.
January, 19, 2014
Jan 19
6:02
PM ET
DENVER -- Sharing thoughts from the
New England Patriots
' 26-16
loss
to the
Denver Broncos
in the AFC Championship Game:
What it means:
Season over. The Broncos deserved to win, as the Patriots didn't bring their A-game. Some losses can be tough to digest when it feels like a game slips away from a team, but this one was different. The Broncos controlled most of the action.
Big-picture view:
As time passes, the 2013 campaign will be viewed favorably in terms of the resolve the Patriots showed after significant personnel losses, but that won't ease the sting that coaches and players will feel after this loss. They missed a great opportunity, and the surprise, from this viewpoint, was that it was the team's best player, quarterback
Tom Brady
, whose mistakes hurt most in the AFC Championship Game.

Brady's deep ball off the mark:
Brady will have a long offseason after missing two deep balls in this game -- in the first quarter to
Julian Edelman
and in the second quarter to
Austin Collie
-- as there was separation and an open window in which to deliver the football both times. The throw to Edelman, in particular, was a huge play in the game. Brady's struggles with the deep ball were a big storyline Sunday.
Talib injury a game-changer:
One of the turning points of the game came in the second quarter on the Broncos' impressive 15-play, 93-yard touchdown drive that ate up 7:01: Cornerback
Aqib Talib
was injured when Broncos receiver
Wes Welker
ran into him over the middle. It sure looked like a penalty on Welker, although there were split opinions among officials-turned-media-members in the Twitter-verse on the play. Without Talib, the Patriots struggled to match up to the Broncos' passing game. If Brady's struggles with the long ball were storyline 1A, Talib's injury was 1B.
Stock watch:
Running game, down -- The ground-and-pound approach that had transformed the Patriots' offense in the three games leading into this one was essentially extinguished. Some credit goes to the Broncos' defense for that, as the Patriots' offense was turned into a one-dimensional attack. The defense did its part with some stingy play in the red zone and on third down to win in some key situations, but the offense, similar to losses in the Super Bowl (2007, 2011) and AFC Championship Game (2012), was the unit that didn't hold up its end of the bargain.
What's next:
It's on to free agency and the NFL draft. Key free agents for the Patriots include Talib, Edelman and running back
LeGarrette Blount
. The Patriots have draft picks in the following rounds: 1, 2, 3, 4, 6, 6, 7. The fifth-rounder went to Philadelphia in this year's trade for defensive tackle
Isaac Sopoaga
. The extra sixth is from Philadelphia as part of that deal.
January, 19, 2014
Jan 19
3:44
PM ET
DENVER -- After 15 minutes of play, the
New England Patriots
trail the
Denver Broncos
3-0 in the AFC Championship Game
. Passing along quick-hit notes and observations from the first quarter.
1. Pats' O starts slow.
The Patriots' offense needed just one play to find the end zone last Saturday, but the start wasn't quite the same today, as the offense went three and out on its first drive and punted on each of the first two drives. Some notable personnel factors:
Aaron Dobson
is playing some in two-receiver sets,
LeGarrette Blount
once again is handling lead back duties and both
Matthew Slater
and
Austin Collie
have been targeted on third-down plays.
2. Perfect conditions.
The weather is idyllic in Denver today, with a temperature of 61 degrees at kickoff. There's hardly a cloud in the sky, and there's minimal wind. A strong glare has made things difficult on returners fielding punts deep.
3. Broncos open the scoring.
The Broncos got on the board first with a field goal late in the first quarter. The drive was helped by a long completion from
Peyton Manning
to
Demaryius Thomas
on a third and 10 play. The Patriots were able to hold the Broncos from the 10-yard line, however, forcing the field goal from
Matt Prater
.
4. Patriots' offense driving.
The Patriots' offense generated a little bit of buzz at the end of the quarter, crossing into Denver territory. The second quarter will open with the Patriots facing a fourth down from Denver's 39.
5. Penalty box.
The following Patriots were flagged for penalties during the first quarter: tight end
Michael Hoomanawanui
(offensive pass interference).

NFL SCOREBOARD
Thursday, 12/18
Saturday, 12/20
Sunday, 12/21
Monday, 12/22