NFL Nation:

2014 Divisional Round SF-CAR
January, 13, 2014
Jan 13
8:00
AM ET
CHARLOTTE, N.C. --
San Francisco 49ers
coach
Jim Harbaugh
can get carried away.
It happened again
Sunday at Carolina
. But a great catch by
Vernon Davis
saved the coach from hurting his team.
Harbaugh was penalized after Davis' catch was ruled incomplete in the end zone with five seconds remaining in the first half. Harbaugh ran onto the field trying to get an officials' attention. He was flagged for a 15-yard unsportsmanlike conduct penalty. Upon review, the play was overturned and Davis was credited with a one-yard touchdown reception that gave the Niners a 13-10 lead at halftime. Harbaugh's penalty was applied on the kickoff.
"Not happy about it," Harbaugh said. "Dodged a bullet though. It didn't cost us. I'm pleased about that. I will try to do better. Our players made it right."
Harbaugh praised veteran receiver
Anquan Boldin
for trying to get him off the field.
"Anquan was telling me to stay off the field," Harbaugh said. "He said, 'Coach, we can't have that. Get off the field.' And he was right."
January, 12, 2014
Jan 12
8:33
PM ET
CHARLOTTE, N.C. -- In the break between the first and second quarters, faced with fourth-and-goal from the
San Francisco 49ers
' 1-yard line,
Carolina Panthers
quarterback
Cam Newton
came to the sidelines and told coach Ron Rivera he could score on a sneak.
"I put a lot of pressure on him to call the play," Newton said after Carolina's 23-10 loss in an NFC divisional playoff game Sunday. "He put it in my hands to call it. The play didn't work out the way it was planned, so I felt as if I failed him in that type of way.''
[+] Enlarge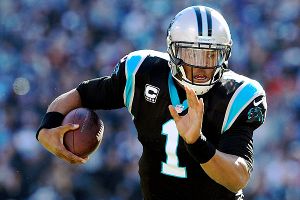 Grant Halverson/Getty ImagesCam Newton and the Panthers missed many opportunities against San Francisco.
Two series later, leading 7-6, the Panthers had two chances to score from the 1. Newton was tackled for no gain on second down when he tripped over guard
Travelle Wharton
.
Then
Mike Tolbert
was tackled for a one-yard loss on third down after the ball was moved to the half-yard line because of an offside penalty.
The Panthers settled for a field goal.
Newton said his failure on the fourth-and-1 earlier was not a factor in his not getting a chance to sneak again less than 24 inches from the goal line. He said giving the ball to Tolbert was the "right play.''
Rivera wasn't second-guessing the play, either, even though Newton has made a living this season on thrusting his 6-foot-5, 245-pound body over the middle for first downs and touchdowns.
But there is no second-guessing that Carolina's failure to score touchdowns in the red zone -- something that wasn't a problem until the final two games
of the regular season -- cost them a chance to advance to the NFC Championship Game.
The Panthers ran eight plays inside the San Francisco 10-year line and didn't score a touchdown.
"They're always saying you can't pinpoint [a play or two] in any loss, but that was a huge part of the game,'' left tackle
Jordan Gross
said of the missed opportunities.
Newton will beat himself up about it. He already had to some degree. Maybe that's why offensive coordinator Mike Shula went into Newton's postgame interview and listened to everything his franchise quarterback said, something he'd never done before.
When Newton said the Panthers failed to "seize the moment,'' Shula nodded in agreement as he tried to low-key his presence next to the interview room door.
He nodded as Newton said the team has to play smarter and execute better.
"Because playoff football is a different speed than the regular season,'' Newton said. "I learned that firsthand today. We had too many opportunities that slipped through our hands, and that was just the story of the day.''
But it wasn't the story of Newton's season. He learned to trust his teammates, that he didn't have to be the show to win games. He learned humility. He learned that being a teammate means more than coming off the field and sitting on the bench with a towel on your head.
He learned that when you make mistakes -- and Newton made several on this day in which he was intercepted twice and sacked five times -- you move on and don't dwell on them.
Newton grew up perhaps more than anybody this season, and that gives the Panthers hope for the future. Maybe that's why Shula wanted to listen, as well.
"I felt I was ready more than any other game,'' said Newton, who ran 10 times for 54 yards and completed 16 of 25 pass attempts for 267 yards and a touchdown. "And being that we took a loss, it's kind of hurtful.''
When he looks back at missed opportunities from the 1, it will hurt even more.
January, 12, 2014
Jan 12
8:05
PM ET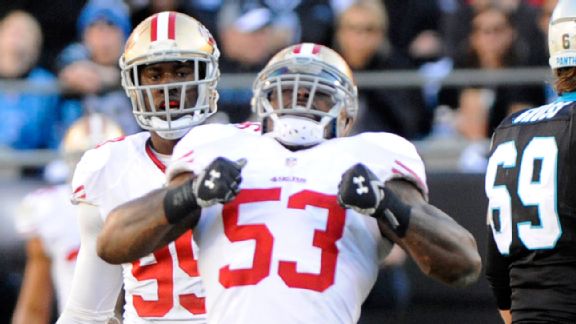 Sam Sharpe/USA TODAY SportsNaVorro Bowman said the 49ers had "better players" than Carolina in advancing to the NFC title game.
CHARLOTTE, N.C. -- Linebacker
NaVorro Bowman
said the reason
San Francisco 49ers
are moving on to their third NFC Championship Game in as many seasons under coach Jim Harbaugh is simple.
"It came down to we had the better players than they did," the NFL Defensive Player of the Year candidate said after the 49ers' outphysicaled and outclutched the host
Carolina Panthers
in a convincing
23-10 victory
in the divisional playoffs. "Yeah, we big-boyed them."
Indeed. The San Francisco 49ers are big, bad boys.
There are few flaws in the franchise, and that was on display Sunday against a Carolina team that is among the league's best. The problem for Carolina? The 49ers just may be the league's very best.
San Francisco, which went 12-4 in the regular season and won in Green Bay in the wild-card round, has now won eight straight (the longest current win streak in the NFL) and 13 of their past 15 games.
Now, the inevitable is going to happen -- the 49ers will play at Seattle for the NFC title Sunday. Kickoff is set for 6:30 p.m. ET. It may seem like this game has been developing for a full year between these two NFC West rivals. Each team held serve at their home field during the regular season.
After the win over Carolina, the 49ers seemed to relish the chance to head back to Seattle, where they have been outscored 71-16 the past two visits, for a chance to get back to the Super Bowl. After the 49ers beat Seattle on Dec. 8 at Candlestick Park, guard
Alex Boone
said several 49ers told Seattle players they'd see them again in the postseason.
"We didn't lie," Boone said Sunday. "If you can't get excited about his game, you don't belong in this league."
Sunday, the 49ers showed they belong.
Seeing this team in the NFC Championship Game has become a yearly tradition under Harbaugh. He has made them tough, physical and focused. All that was on display against the Panthers.
This was a different game than when the Panthers beat the 49ers, 10-9, in San Francisco in Week 10.
"We were offended by that loss, that wasn't us," San Francisco fullback
Anthony Dixon
said Sunday. "Today was about showing Carolina that. We played offended. We showed them who we really are."
San Francisco was much better offensively Sunday than the first meeting. The 49ers found a way to get into the end zone twice in addition to matching the three field goals they settled for in November against the Panthers.
Defensively, the 49ers played winning football against Carolina. Bowman said the team quietly had a feeling the game would develop the way it did.
"It goes back to having the better players," he said. "We knew they weren't going to be able to do much on our defense and then our offense was able to do their thing. So, we really take care of what we had to as a team."
The 49ers took control of the game when
Colin Kaepernick
hit tight end
Vernon Davis
in the final seconds of the first half for a TD to take a 13-10 lead. The 49ers scored the second half's only 10 points.
San Francisco showed it was the better team often in the second half.
The Panthers put together an 8-minute, 12-second drive only to have to punt because the 49ers came up with back-to-back sacks. This wasn't the only time the San Francisco defense came up clutch. It had a goal-line stand in the first half and forced the Panthers to settle for a field goal on another goal-line drive.
Offensively, the 49ers, who allowed just one sack Sunday after giving up six against the Panthers in November, had the same clutch big plays. Kaepernick hit receiver
Anquan Boldin
four times for 75 yards in the second half. Running back
Frank Gore
broke a 39-yard run on third-and-1 to keep another long San Francisco scoring drive alive.
The 49ers weren't only the better team -- their playoff experience showed as well. This was Kaepernick's fifth playoff game. It was the first playoff game for Panthers quarterback
Cam Newton
. San Francisco safety
Donte Whitner
said it was "just another game" for the 49ers. He said he sensed it was bigger for the Panthers.
"Today, I think our playoff experience helped us," Whitner said. "I think that showed."
What showed most? The 49ers are moving to the NFC Championship Game because that's where they belong.
January, 12, 2014
Jan 12
7:55
PM ET
CHARLOTTE, N.C. --
Colin Kaepernick
stole
Cam Newton
's "Superman" move.
[+] Enlarge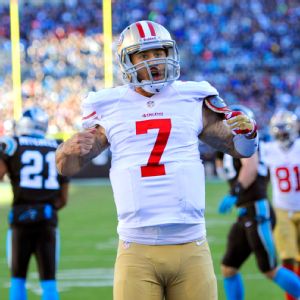 Sam Sharpe/USA TODAY Sports49ers quarterback Colin Kaepernick celebrates a touchdown run in the third quarter.
So what.
You know what they say: If you don't want them to do something, stop them.
The side story of the
San Francisco 49ers
' 23-10 victory against the
Carolina Panthers
in the NFC divisional round came when Kaepernick scored on a 4-yard touchdown run with 8:53 remaining in the third quarter, staking the 49ers to a 20-10 lead. Kaepernick mimicked Newton's "Superman" jersey pulling and then Kaepernick did his trademark bicep kiss.
After the game, Kaepernick said it was "just a little shout out." Kaepernick wasn't the only 49er to do it. Inside linebacker
NaVorro Bowman
did the "Superman" move after a fourth-quarter sack of Newton.
When asked about Kaepernick's actions, Newton said: "It's not the first nor the last time somebody does that."
Players do this type of stuff all the time. Plenty of San Francisco's foes mimic Kaepernick's bicep kiss.
It's just a silly little gesture. Newton and the Panthers should be upset about being controlled at home, not a benign motion.
January, 12, 2014
Jan 12
4:04
PM ET
CHARLOTTE, N.C. -- A few observations from the
San Francisco 49ers
'
23-10 win
over the
Carolina Panthers
in the NFC divisional round:

What it means:
The 49ers advance to the NFC Championship Game. They play at Seattle on Sunday in what may be the most anticipated game of the season. These teams have been on a collision course since the offseason. This is one of the NFL's greatest rivalries, and it makes sense they will meet to end the NFC season. The 49ers are going to the NFC title game for the third time in as many seasons under coach Jim Harbaugh.
The difference:
The 49ers found the end zone two times, unlike when they settled for field goals in a 10-9 loss to Carolina in Week 10. San Francisco also played terrific goal-line defense. It held on fourth down and forced a field goal on another goal-line series.
Stock watch:
Colin Kaepernick
and
Anquan Boldin
were at it again. Kaepernick completed four passes to Boldin for 75 yards in the second half.
Super Kap:
Kaepernick had some fun after scoring a second-half touchdown when he did
Cam Newton
's Superman gesture and then the signature biceps kiss.
Coaching with heavy heart:
Harbaugh's grandfather Joe Cipiti died Sunday morning at the age of 98.
What's next:
The NFC title game at Seattle. It's the game we've all been waiting for. Can the 49ers solve their recent struggles in Seattle? It won't be easy. It won't be quiet either.
January, 12, 2014
Jan 12
4:04
PM ET
CHARLOTTE, N.C. -- A few thoughts on the
Carolina Panthers
'
23-10 loss
to the
San Francisco 49ers
in Sunday's NFC divisional playoff game:

What it means:
The season didn't begin the way the Panthers expected and it ended the way they hoped it wouldn't: with a loss to an NFC West opponent in both cases. Their loss to the 49ers kept them from getting a chance in the conference championship to avenge a 12-7 loss to Seattle in the season opener. The Panthers had their chances early, but failing to score a touchdown on third down at the half-yard line and a 7-6 lead in the second quarter was crushing. What shouldn't be lost is the Panthers turned a 1-3 start into a 12-win season -- including a 10-9 victory at San Francisco -- and an NFC South title. The foundation is there for future playoff runs.
Stock watch:
Quarterback
Cam Newton
's first trip to the NFL's big stage didn't go quite as well as he would have liked. He had a few moments. His 31-yard touchdown pass to
Steve Smith
was perfect. He also had a few moments in which he threw high -- one resulting in a first-quarter interception -- and held the ball long enough to get sacked. He finished with two interceptions and five sacks and a quarterback rating of 79.9 that just wasn't good enough.
Crabtree the difference?
Much of the talk all week was how 49ers wide receiver
Michael Crabtree
, who didn't play in the first game between these teams, would be the difference. But it was
Anquan Boldin
who kept coming up with huge plays. He had eight catches for 136 yards, including a 45-yarder to all but put this one away.
Captain blunder:
Cornerback
Captain Munnerlyn
got beat on Boldin's 45-yard reception that went to the Carolina 2 in the third quarter. Boldin was wide open and Munnerlyn was lucky to catch him to save the touchdown. Quarterback
Colin Kaepernick
punched it in with a 4-yard touchdown run after a 2-yard loss. He then threw it in Carolina's face by copying Newton's Superman touchdown move.
Sack party?
The Panthers sacked Kaepernick six times in the first meeting, but had only one on Sunday. The lack of pressure from a team that had 15 sacks in its previous two games was crucial.
On second thought:
Still not sure why the Panthers didn't let Newton attempt a sneak on third down at about the half-yard line in the second quarter. They had a chance to take a 14-6 lead. Instead, they lost a yard and settled for a field goal. Newton already had 40 yards rushing at that point.
Smith's day:
I'd say Smith was close to 100 percent. If there was any doubt how valuable the wide receiver is to this offense, he showed it in the first half, catching four passes for 74 yards. His 31-yard touchdown catch with tight coverage on the left side to give Carolina a 7-6 lead was a play no other receiver on the team would have made. To San Francisco's credit, the defense shut him down in the second half.
What's next?
Next up is free agency, where signing defensive end
Greg Hardy
will be a priority. Inking Newton to a long-term deal also will be key.
January, 11, 2014
Jan 11
8:00
AM ET
CHARLOTTE, N.C. -- Wide receiver
Steve Smith
changes the subject when you ask about the
Carolina Panthers
' 2003 Super Bowl run or the last time they made the playoffs in 2008.


He argues past history has nothing to do with the current team that faces the
San Francisco 49ers
in an NFC divisional playoff game on Sunday at 1:05 p.m.
And he's right, to a degree.
But to ignore past history completely would be a mistake as it pertains to learning from past successes as the Panthers had in 2003 and failures as they had in 2008.
"History is important," said left tackle
Jordan Gross
-- he and Smith are the only players remaining from the 2003 Super Bowl run. "If you don't learn from good things or bad things you did, you're bound to repeat the bad.
"What happened then doesn't have any impact on us now, which is probably [Smith's] point. But it's important to know it's very important to win at home in the playoffs."
The Panthers did that in 2003, defeating the
Dallas Cowboys
at home before traveling to St. Louis and Philadelphia. They didn't do that in 2008, losing 33-13 to Arizona in a game plagued with turnovers.
Only 10 players remain from the 2008 team that began a string of four straight losing seasons before this one.
"It was funny," Gross said. "That year, we were kind of expected to be good, and we were good. And it was a huge letdown when we lost in a big way. This year it's like we've snuck up on 12-4. It was really slow the way everybody got excited about the team, the belief.
"But the guys that were here remember the lesson about how important it is to win at home."
With that, here are my five keys for Carolina against San Francisco:
Protect home turf:
The Panthers earned the right to host a first-round game by winning 11 of their final 12 games, including seven in a row at home. They are allowing only 12 points a game at home compared to 18.1 on the road. It likely will take that kind of effort against the 49ers.
Red zone:
This goes both ways. The 49ers have converted 56.4 of their red zone opportunities into touchdowns this season to rank 11th in the league. The Panthers held them to three field goals in the first meeting, which was key. Carolina has struggled lately in the red zone but on the season has converted 58 percent to rank seventh. The team that is most effective here likely will win.
Pressure Kaepernick:
As much as Carolina coach Ron Rivera says quarterback
Colin Kaepernick
had a bad day the first time these teams met, his second-ranked defense was a big reason. The Panthers sacked Kaepernick six times, forcing him to step into the pocket where defenders were waiting instead of letting him get outside as Green Bay did. Kaepernick rushed for 98 yards against the Packers to advance. He'll face a much more disciplined defense this week, and statistics show Kaepernick struggles against top 16 defenses this season.
Big stage:
Much has been said about this being the first playoff game for Carolina quarterback
Cam Newton
, but he's been in big games before (see BCS National Championship and SEC Championship). He still in my opinion is key. When he has a good game the Panthers typically do, too. That he's playing at home where his statistics are considerably better should help. My guess is he'll have to rush for at least 40 yards and a touchdown for Carolina to advance.
Wild-card factor:
Special teams often get overlooked, but Carolina's have been consistently good all season. The one thing the Panthers haven't done is return a kick for a touchdown.
Ted Ginn
Jr. came close to breaking one several times against his former team at San Francisco. The teams are so closely matched, it could come down to that.