NFL Nation:

2014 NFL franchise tag
March, 3, 2014
Mar 3
6:29
PM ET
The
Cleveland Browns
made an interesting decision Monday that they feel will keep center
Alex Mack
with the team.
Mack
The Browns declined to make Mack their franchise player and instead made him the transition player. That means the Browns can match any offer he receives on the free-agent market. But if they don't, they will receive no compensation if he goes to another team. The franchise tag would have cost more but would have given the Browns two first-round draft picks as compensation -- a price no team would pay for a center. It will be interesting to see if another team is willing to overpay Mack to the point that the Browns would not match.
Safety
T.J. Ward
was not tagged and will become a free agent March 11 if he does not sign a new deal. Buffalo also did not tag safety Jarius Byrd, which opens the floodgates of speculation that new coach Mike Pettine will try to bring Byrd from the Bills to the Browns. Pettine was Byrd's defensive coordinator last season in Buffalo.
The transition tag means Mack will be paid $10.039 million if he signs the one-year deal.
The franchise tag would have cost the Browns $11.6 milion.
For $1.6 million, the Browns could have guaranteed Mack would be back. The risk by not doing so is they give Mack's agent Marvin Demoff the chance to craft a contract the Browns won't want to match. Demoff is one of the best player agents working.
However, the team clearly feels the ability to match will be enough of a deterrent to Mack signing elsewhere. The $10.04 million figure is on the high end for centers, and the Browns could actually save salary-cap costs by matching another offer because Mack is not likely to be paid $10 million per year on the open market.
Among the league's top-paid centers are the following, with their per-year average pay and their salary-cap figure for this season:
Carolina's Ryan Kalil -- $8.186 million per year, $7.284, million under the salary cap
New York Jets' Nick Mangold -- $7.725 million per year, $7.227 million under the cap
Buffalo's Eric Wood -- $6.35 million per year, $5.95 million under the camp
Philadelphia's Ryan Kelce -- $6.25 million per year, $2.622 million under the cap
Houston's Chris Myers -- $6.25 million per year, $7 million under the cap
Seattle's Max Unger -- $6.23 million per year, $6.1 million under the cap
The Browns no doubt feel confident they're retained their center – and saved themselves $1.6 million cap room by using the transition tag on him.
March, 3, 2014
Mar 3
6:20
PM ET
SOMEWHERE OVER DETROIT -- Good evening from the friendly skies, where I'm meandering toward Bristol for an ESPN NFL Nation summit. We aim to have all of the league's problems solved by the time we depart Wednesday, but the perils of air travel might take a little longer to fix.
Griffen
Allen
After flying from Minneapolis to O'Hare this morning, I found out my airline decided to cancel my next flight, rebooking me on a plane to Hartford six hours later. Why the cancellation, you ask? Bad weather? Mechanical issues? Nope. They apparently couldn't find a flight attendant, and instead decided to send a plane full of people scurrying to make other plans. Fortunately, another airline was there to step in, with an affordable flight from Chicago to Hartford by way of Detroit.
Anyway, in my experience, you're all thoroughly bored with the travel gripes of reporters, so I'll stop now. You're probably looking for Vikings news, and as the headline to this post would suggest, the Vikings made some by not using their franchise or transition player tags before Monday's deadline.
That wasn't a big surprise -- general manager Rick Spielman said at the NFL combine the Vikings weren't likely to use their franchise tag and reiterated it to a group of reporters at the University of Minnesota's pro day Monday morning. But it does mean the Vikings have one fewer method of retaining defensive end
Everson Griffen
-- and in a less plausible scenario, defensive end
Jared Allen
-- before the start of free agency March 11.
Griffen's camp has been in talks with the Vikings on a new deal, and he's said he wants to stay in Minnesota, though it remains to be seen if he'd attract attention on the open market from teams who believe he could play linebacker in a 3-4 scheme. I still think it's likely he'll remain with the Vikings on a new deal. Allen, however, seems likely to head elsewhere after making more than $14 million last season.
It will be interesting to see what kind of market develops for him just before he turns 32, and whether he'll have to catch on with a team as a situational pass rusher. Allen had previously said he'd retire before accepting that kind of a role, but there are plenty of people around the league who believe he'll think differently once he gets on the open market. The Vikings could bring him back to play that kind of role, but with veteran players, pride tends to factor into that kind of a decision.
Antoine Winfield
signed with the Seahawks instead of coming back to the Vikings on a reduced contract last year, and Allen might try to find a team with more championship pieces in place than the Vikings currently have.
The Vikings can start negotiating with free agents late Friday evening, and they can begin to sign players at 3 p.m. Central time next Tuesday. The good
March, 3, 2014
Mar 3
5:35
PM ET
The
Green Bay Packers
did not use the franchise tag or transition tag Monday, which was the deadline for NFL teams to do so as a way of keeping their own free agents.
Shields
There's still a week left for the Packers to negotiate exclusively with their own players before they hit the open market Monday, but as ESPN's Adam Schefter
reported Saturday
, the team is unlikely to come to an agreement before then with perhaps their most coveted free agent, cornerback
Sam Shields
.
As recently as last week, the Packers were still in negotiations with Shields' agent, Drew Rosenhaus, about a long-term deal, but the two sides were far apart.
Although the Packers have more than $30 million in salary-cap space, general manager Ted Thompson clearly did not want to be in a position of having to use more than $11 million of it on one player.
The franchise tag for a cornerback would have been $11.834 million, while the transition tag would have been $10.081 million. There were no cornerbacks among the six players tagged (four with the franchise designation and two with the transition).
It's unknown exactly what Shields is seeking, but the deal signed Monday by
Miami Dolphins
cornerback
Brent Grimes
could help determine Shields' value. Grimes signed a four-year, $32 million deal that
included $16 million in guaranteed money
.
Shields, who emerged last season as the Packers' top cover corner, entered the NFL as an undrafted free agent and received only a $7,500 signing bonus. He played last season for the restricted free-agent tender of $2.023 million.
Including Shields, the Packers have 17 players who would be eligible for unrestricted free agency beginning March 11. Teams can begin negotiating with other team's free agents Saturday, but no deals can be signed for three days.
March, 3, 2014
Mar 3
5:20
PM ET
As expected, the deadline for NFL teams to place franchise/transition tags on free agents came and went Monday afternoon without the
Cincinnati Bengals
making a move.
Collins
Johnson
Defensive end
Michael Johnson
is officially headed for free agency. The unrestricted free agent will now be able to sign with whichever team makes him the offer that he feels is best. The same goes for offensive tackle
Anthony Collins
.
The free-agency period officially begins March 11.
If the Bengals are able to sway either or both of their highly-priced free agents to stay, they will do so at a bargain of sorts. For example, instead of paying Johnson -- Cincinnati's 2013 designation -- the more than $13 million he would be due this coming season as a franchise player, they will now be able to lock him up to a longer-term deal that will pay him much less per year. He still could be in the $7 or $8 million per year range, but that's much more manageable than paying him $13 million in 2014, only to wonder whether to come back and try again to sign him to a longer-term deal in 2015.
With a salary cap that keeps trending higher and higher across the coming seasons, the Bengals are better suited now to work on a longer-term deal for Johnson and/or Collins than they once believed. After originally expected to hover around $126 million, the 2014 league salary cap will be $133 million, giving the Bengals more room as they try to re-sign players from this year and start looking to inking future free agents soon, too.
Andy Dalton
,
A.J. Green
,
Domata Peko
,
James Harrison
,
BenJarvus Green-Ellis
and
Terence Newman
are among the several Bengals who would be due new contracts after this coming season.
Because of the high number and high caliber of 2015 free agents, the Bengals would like to hold on to some of their cash this year in order to start making those deals now before they get too backlogged. That's one big reason why even though Johnson and Collins avoided getting tagged, they still may not be wearing stripes this fall. The Bengals may just find that they don't have enough in their coffers to keep these two and re-sign this offseason the one or two others on the horizon.
Dalton and Green are 2015's most likely considerations to receive new contracts this offseason.
The lack of a franchise tag on Johnson and Collins also wasn't a surprise because the writing has been on the wall for some time. Even though both were raised in the organization -- Collins was a 2008 draft pick, Johnson a 2009 third-round selection -- it was starting to become clear last season that their days as Bengals were possibly nearing an end. Collins had such a strong sixth season as the offensive line's sixth man that as the year went on, his price tag went higher. The odds of him staying in the Queen City became increasingly less favorable as a result.
Johnson was arguably better in 2012 than he was in 2013, but his size, knack for deflecting passes at the line and relative youth have made him a coveted free agent this year nonetheless. It stands to reason that if he doesn't re-sign with the Bengals he'll likely follow former defensive coordinator Mike Zimmer to Minnesota. Zimmer now serves as the head coach of a Vikings team that has a veteran free agent defensive end in
Jared Allen
. As Zimmer looks to place his imprint on the franchise, who better to help than one of his top former players? Cincinnati will make as good a pitch as it can to prevent that from happening.
The addition of
Margus Hunt
in last year's draft also was a sign the Bengals were preparing for a future without Johnson. It's a future that, extra salary-cap money included, appears will exist.
If Johnson comes back, it will mark the second time in as many years that a Bengal returned for a longer-term deal the year after he held franchise tag status. Kicker
Mike Nugent
signed a two-year deal last offseason after earning the franchise tag in 2012.
March, 3, 2014
Mar 3
5:05
PM ET
The deadline to use the franchise tag passed Monday at 4 p.m. ET, and the
Baltimore Ravens
didn't put one on offensive tackle
Eugene Monroe
. It was a wise move.
Monroe
The Ravens certainly need a left tackle, and Monroe proved to be a quality blocker on
Joe Flacco
's blind side. The problem is Monroe wasn't worth the tag. The Ravens would have paid Monroe $11.6 million in 2014, which represents a huge chunk of the team's available salary-cap space.
If you're going to pay an offensive tackle that amount of money, he'd better be Jonathan Ogden or at least
Joe Thomas
. The Ravens have too many other needs to devote that amount of cap space to an above average -- but not Pro Bowl -- left tackle.
By not using the tag, the Ravens could easily lose Monroe to the
Miami Dolphins
or
Arizona Cardinals
. But it makes more financial sense to try to sign Monroe to a long-term deal than tag him. I wouldn't rule out Monroe's return. He enjoyed his three months with the Ravens. His wife's family lives in the area.
So, what is Monroe worth? When looking at the average salaries for tackles, a deal that averages between $8 million and $9 million per season seems fair. That's the going rate for
Duane Brown
,
Jake Long
and
Russell Okung
. It would put Monroe in the top 10 for highest paid left tackles.
There is a chance that another team is going to pay more. But it wouldn't be the Ravens making that mistake.
March, 3, 2014
Mar 3
12:00
PM ET
The Redskins
will use the franchise tag
on
Brian Orakpo
, which makes it clear: The price of losing him outweighs the price of keeping him. It's the right move for this season. Whether it's good for the long term won't be decided until (or if) he signs a long-term contract.
[+] Enlarge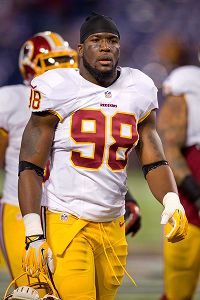 Bruce Kluckhohn/USA TODAY SportsApplying a franchise tag on Brian Orakpo doesn't answer what his worth is to the Redskins.
It's not as if the Redskins have been sold on this idea from the get-go. It's been clear for a while that there's a division in the organization when it comes to Orakpo's value. Is a player who has never made All-Pro worth an eight-figure contract?
No player, including Orakpo, wants the franchise tag, knowing it does not provide the long-term security he desires. If Orakpo gets hurt this season, he would damage his ability to land a big contract -- especially considering he's had two torn pectorals, the second of which limited him to two games in 2012.
But it's not as if the tag is great for the Redskins, either. All it does is ensure they keep their best pass-rusher for another season at a high price, one that could impact their ability to make other moves. They'll now pay $11.455 million to a player with a career-high single-season sack total of 11. However, he is consistent and has averaged 9.6 sacks in his four full seasons (the Redskins do drop him into coverage more than other pass-rushers). That makes him worth it -- at the right price. If his deal averages $11.5 million a year, it's tough to think that's the right price. For one year? They can absorb it, with approximately $30 million in cap space.
Still, this will make it tougher to fill all the holes that exist -- of which there are many. The Redskins need two starting safeties. They need to re-sign inside linebacker
Perry Riley
as well as replace retired inside linebacker
London Fletcher
. They need more depth at corner. At receiver. Along the offensive line. The draft can provide help, but without a first-round pick, it'll be more difficult.
But the Redskins also knew they couldn't solve every issue in one offseason. Nor should they try to; that will only lead to forced (read: bad) decisions. And if they had let Orakpo leave, it would've created another large hole that would've require extra resources to fill. Maybe not $11.455 million, but certainly a good chunk of change. It's possible, too, that the Redskins have a sense of how it will play out with potential free-agent replacements and know their choices will be more limited than desired.
They don't have a young backup ready to ascend to a starter's role. Perhaps in 2015
Brandon Jenkins
could be that guy. Defensive coordinator Jim Haslett, who likes Jenkins, said at the end of the season he thought it could take Jenkins another year or so to be ready for a big role. It's not realistic now. They also haven't talked contract yet with another free-agent linebacker,
Rob Jackson
.
Why not the transition tag? Well, if you want Orakpo back, you're taking a chance someone might offer him a contract you don't want to match. Then Orakpo would leave without compensation. If you want him back, the franchise tag means he'll return. Yes, it costs more. But if the goal is to keep him here and keep negotiating a long-term deal, then don't mess around.
If the Redskins fail to build a good defense this year, I wouldn't blame it on Orakpo's contract. It's not as if free agency has been a panacea for the Redskins -- or any team -- in the past. It's taken them several years and a variety of reasons to reach this point of having to replace bad starters and having little depth. Sure, the Redskins could sign a few players for the $11.455 million they'd have to pay him this season. But that assumes all are productive. That's far from a guarantee, which anyone who has followed the Redskins since free agency began should know.
And keep in mind that even with the franchise, the process will not be over. The debate over Orakpo's worth will continue.
March, 3, 2014
Mar 3
11:40
AM ET
The deadline for NFL teams to designate franchise players for 2014 is 4 p.m. ET on Monday. If I had to guess right now, I would say the
New York Giants
don't use it this year.
It's been clear for a while that the Giants are trying to get linebacker
Jon Beason
locked up before free agency starts, and
NJ.com is reporting
Monday that Beason is priority No. 1 right now. Assuming Beason is indeed their front-burner item right now (and again, that's in line with everything we've heard for the past few weeks), in a vacuum he'd be a guy they'd consider franchising if they couldn't get their deal done by 4 p.m. Monday.
[+] Enlarge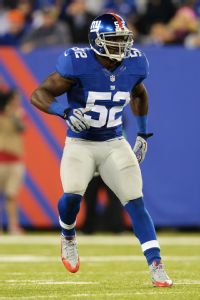 AP Photo/Evan PinkusIt's unlikely the Giants use the franchise tag on Jon Beason -- or any of their other players.
But I don't see that as a legitimate fallback plan for the Giants, and the reason is the number. The franchise tag for linebackers this year is $11.455 million, which is a considerably higher salary than the Giants can (or should) pay Beason in 2014. If you were Beason and you were talking with the Giants about, say, a three-year deal worth $3 million or $4 million per year, and all of a sudden they tagged you for one year and $11.455 million, what you'd do is halt negotiations and play for that number. It's simply not realistic.
I predict that the Giants will get something done with Beason at that aforementioned reasonable price. They seem to want him back, he seems to want to stay, and both sides know what the market is for inside linebackers these days. There's no reason to play games, and to those who have asked me on Twitter why it hasn't been done yet if both sides do indeed want it, the answer is as simple as "these things take time." No deadline has yet been missed. And while Monday's franchise-tag deadline does offer the Giants an opportunity to make sure they don't lose Beason to another team, the cost of the tag renders that a non-sensible option for them. They have until 4 p.m. on March 11 to sign Beason before he hits the market.
I also don't see them using a $9.654 million franchise tag on defensive tackle
Linval Joseph
or a $12.312 million tag on wide receiver
Hakeem Nicks
. If they were close to a new deal with kicker
Josh Brown
, it's not insane to think they might tag him for $3.556 million as the Jets did last week with kicker
Nick Folk
. But while they like Brown and want him back, there doesn't seem to be any reason to use the tag on him. I predict that the 4 p.m. deadline comes and goes with all Giants free agents untagged.
March, 3, 2014
Mar 3
11:20
AM ET
The Dolphins signing cornerback
Brent Grimes
to a contract extension Monday is the
first domino to fall in a market with several top players
. The financial terms,
per ESPN's Adam Schefter
, are as follows:
Years:
4
Total value:
$32 million
Bonuses/guarantees:
$16 million
There are still a few more details that would help us gain a better understanding of the deal, such as how much of the bonuses/guarantees are paid up front and how much of the bonus/guaranteed money is deferred.
But from an average-per-year standpoint ($8 million) and a bonuses/guarantees standpoint ($16 million), the initial details of the deal come in a bit higher than I would have originally thought. After a softer cornerback market in 2013, Grimes' deal -- per this initial report -- looks strong.
My initial reaction is that the price for Talib just went up a bit based on where I thought it might be.
I think the Patriots would do this type of deal for Talib if the $16 million in bonuses/guarantees was split into multiple parts -- such as $6 million up front, $5 million in a 2015 option bonus and another $5 million in 2016. The idea would be to protect against injury concerns and not have the full total of bonuses/guarantees paid up front where all the risk falls on the team side.
If another team was willing to pay more of it up front, I could see that being a deal-breaker from the Patriots' perspective.

NFL SCOREBOARD
Thursday, 12/18
Saturday, 12/20
Sunday, 12/21
Monday, 12/22
WEEKLY LEADERS