NFL Nation:

2014 NFL Preseason Week 3 TEN at NO
August, 16, 2014
Aug 16
12:00
PM ET
NEW ORLEANS -- Who's winning the battle for the
New Orleans Saints
' backup quarterback job?
Depends on when you're watching. Both players have taken full advantage of their increased opportunities to shine while starter
Drew Brees
has been sidelined by a strained oblique.
Second-year pro
Ryan Griffin
seemed to leap ahead during last week's preseason opener, when he played great after entering the game late in the first quarter at St. Louis.
[+] Enlarge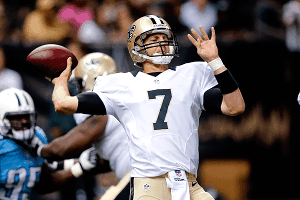 AP Photo/Bill HaberLuke McCown sizzled for the Saints, tossing two touchdowns in the first half on Friday night.
But then veteran
Luke McCown
may have looked even better throughout the first half of Friday night's 31-24 victory over the
Tennessee Titans
, throwing a pair of TD passes to tight end
Jimmy Graham
.
But then Griffin came out hot again, connecting on two deep balls to
Joe Morgan
and TD passes to
Mark Ingram
and
Seantavius Jones
. (Griffin should've had another deep TD pass to
Brandin Cooks
that Cooks couldn't hang on to -- but then again, Griffin also should've had an interception that was nullified by penalty).
In other words, these quarterbacks aren't making the decision easy or obvious for the Saints. It's one of those things they love to call, "a good problem to have."
"I thought both Luke and Ryan did a lot of really good things," Saints coach Sean Payton said. "I thought they both located the ball well. … I thought there were a lot of positives to coach off of based on … just first impressions."
I've projected Griffin as the likely winner all summer, because I think his long-term potential gives him the tiebreaker. The way I figure it, the Saints have to keep three quarterbacks if McCown wins the backup job since they don't want to let Griffin go. But if they can trust Griffin as the backup, they only need to keep two.
But I've got to admit, McCown made me doubt myself when he came out so sharp on Friday night -- and spoke so confidently after the game.
"Well, that's our job," McCown said when asked about the Saints' crisp opening TD drive, which included four third-down conversions and completions to four different receivers. "I mean, look, I'm as confident as I've ever been playing the game. I thought as an offense we were very fluid, very smooth on that first series, communication was great, guys making plays, getting open. And they brought a series of a couple different pressures that we were able to pick up, capitalize on.
"That's how you want to start every game. And I fully expect to start every series that way. That's the kind of mentality you have to have."
McCown, an 11
th
-year veteran, is pretty much everything you'd look for in a veteran backup QB. He may as well have come out of central casting.
The 6-foot-4, 217-pounder has bounced around with five different teams, starting nine games along the way. He's got a strong arm, some veteran savvy. He's great in the locker room. He's a lot like the veteran journeyman backup who stepped in and became a surprise star for the
Chicago Bears
last year -- Luke's brother,
Josh McCown
.
McCown's second touchdown pass to Graham was gorgeous, tucked right between a linebacker and the back line of the end zone. His first TD pass came on the move after he escaped pressure. A third-down completion to Cooks earlier on that first drive came just as he was getting clobbered by a rusher. It might have been the best I've ever seen McCown look.
And yet, the one word that doesn't get used often with the 33-year-old McCown is "upside."
And that's the first word you keep hearing when it comes to Griffin, who signed with the Saints last year as an undrafted rookie out of Tulane University, across town in New Orleans.
Griffin, 24, continues to show a combination of poise and confidence that belies his lack of experience. The 6-5, 206-pounder showed off his big arm with those pinpoint deep balls to Morgan (52 and 44 yards). And he should've cemented a monster night with a 46-yard TD pass to Cooks. But shockingly, Cooks actually failed to deliver for a change after he cruised behind the secondary and dropped a tough-but-catchable ball.
"He already told me, he came up to me, 'Alright, I owe you one, I got you,'" said Griffin, who said those deep balls were part of the game plan. "I think Coach wanted to take a few shots early on. The first completion was that one to Joe, and he made a great catch. Then come down and throw it to Mark, I think he made a safety miss. So guys were making plays today."
Griffin said he felt comfortable playing in the Mercedes-Benz Superdome, which was also his home stadium when he played at Tulane. But that was about as close as he came to giving himself any credit.
"Some of those passes today that even were completed, I wish I had better ball placement," Griffin said, according to the New Orleans Advocate. "... I feel like there's a lot that I'm yet to show. I still have a lot of things I need to work on. It's a process."
August, 16, 2014
Aug 16
2:25
AM ET
NEW ORLEANS -- Sean Payton has talked in the past about the importance of "creating a crisis" to get his team's attention. It's something he learned from mentor Bill Parcells and a tact he used in the week leading up to Super Bowl XLIV when he gave some of his
New Orleans Saints
players a tongue-lashing for arriving late to a meeting.
Well, whether he wanted it or not, Payton got his crisis on Friday night in one of the uglier New Orleans Saints outings I can ever remember -- preseason or otherwise.
[+] Enlarge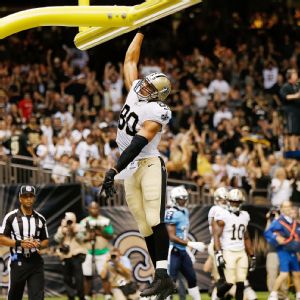 Sean Gardner/Getty ImagesJimmy Graham was flagged twice for his post-touchdown celebrations Friday night.
The Saints committed 22 penalties, which led to a Payton postgame tirade that channeled some of former Saints coach Jim Mora's classic rants.
And the ugliest moment of all came during
a sideline shouting match
between Payton and star tight end
Jimmy Graham
after Graham was twice penalized for dunking after touchdowns.
It was a disturbing moment. Payton's reaction was expected -- players naturally get chewed out after penalties. It's why some of us were following Payton with our binoculars from up in the press box after Graham jogged off the field.
But Graham's emotional reaction was unexpected. As veteran teammate
Zach Strief
said, Graham had to know the tongue-lashing was coming. But as Strief also said, Graham is an emotional player who obviously feels strongly about protesting the new anti-dunking rule that took away one of his signature emotional outlets.
Graham chose to avoid the media on Friday night, exiting the locker room as reporters arrived. So I won't try to put any words in his mouth or even try to guess whether his frustration goes beyond his thoughts on the NFL's new penalty.
But I've always respected Graham as a player and a person, as a hard and determined worker and as a good locker-room guy and favorite of coaches. So I don't anticipate him allowing this issue to fester any more than it already has.
As for the issue of the Saints' sloppy play -- those 20 other penalties that had nothing to do with dunking -- I'll rank that as mildly disturbing.
It's not something we've seen from the Saints consistently in the past. They have a smart, veteran team for the most part, with a proven, veteran coaching staff.
And you can be absolutely certain that the players and coaches will be sent a message through more tirades to come behind closed doors.
"We'll find ourselves at the short end of a game and then wonder about our offseason goals and what happened. And we won't know exactly when it happened," Payton said, making it clear that there's nothing harmless about a crisis in Week 2 of the preseason.
"We'll say, 'Hey, when we get to the regular season, it'll clean itself up,'" Payton said. "That's silliness."
August, 16, 2014
Aug 16
12:13
AM ET
The
Tennessee Titans
turned the ball over five times at the Mercedes-Benz Superdome and didn't do close to enough to offset the giveaways against the
New Orleans Saints
.
Tennessee lost 31-24 Friday night in New Orleans,
despite the hosts' handing away 184 yards on 22 accepted penalties, including eight of the Titans' 28 first downs.
Penalties were the biggest story of a lengthy game, and the Titans made their own large contribution in that department, with 10 for 111 yards. The Titans didn't have a takeaway on defense or special teams to make up for their turnover troubles.
Here are some other thoughts on the Titans' second preseason game:
August, 15, 2014
Aug 15
11:40
PM ET
NEW ORLEANS -- Although the
New Orleans Saints
beat the
Tennessee Titans
31-24
, coach Sean Payton will be seething over the stunning amount of penalties his team committed. The Saints finished with 22 of them (14 in the first half) and had at least four others declined. Payton was already upset when the Saints committed 10 penalties a week ago.
Two in particular stood out. Tight end
Jimmy Graham
drew 15-yard taunting penalties for dunking over the goalpost after both of his touchdown catches in the first half -- a celebration that was outlawed by the NFL this offseason.
Although Graham obviously felt like it was worth the cost during the preseason, Payton appeared to be upset when he chased down Graham to talk to him after the second one.
Here are some other thoughts on the Saints' second preseason game of the year.
With Drew Brees sidelined again by an oblique strain, both of his potential backups played great. Luke McCown completed 12 of 19 passes for 117 yards and both touchdown passes to Graham. He was especially impressive on the opening drive. Griffin, meanwhile, completed 13 of 20 passes for 179 yards and two touchdowns (though he was fortunate to have an interception nullified by a penalty). Griffin went big on a few throws, hitting Joe Morgan twice for 40-plus yards and nearly hitting Brandin Cooks for a deep score that Cooks couldn't reel in.
The Saints' defense was maddeningly inconsistent, allowing some big plays and long drives early (including a 64-yard touchdown pass in the second quarter). But it finally started to deliver some of those turnovers the Saints have been preaching about all offseason. The Saints finished with five takeaways (forced fumbles by Kenny Vaccaro and Cameron Jordan that were recovered by Rafael Bush and Akiem Hicks; opportunistic fumble recoveries by Stanley Jean-Baptiste and Brandon Deaderick; and an interception by Vinnie Sunseri). Vaccaro also appeared to force another fumble, recovered by Curtis Lofton, but it was overturned by replay.
No, Pierre Thomas has not become the odd man out in the Saints' three-way time-share at running back. After sitting out the first preseason game, he was heavily involved Friday -- especially as a pass-catcher and pass-protector on third downs. Thomas caught three passes for 27 yards. As I've been saying, I expected to see him in Darren Sproles' old role tonight. … The Saints' run game wasn't very effective Friday, but Mark Ingram did catch a 23-yard touchdown pass -- showing that he'll have a chance to play a more versatile role this year in the Saints' offense.
Cornerback Keenan Lewis left the field with trainers during the first half. The Saints didn't offer any specifics on his injury. He would be a huge loss if he's out for any regular-season games -- maybe as hard to replace as anyone outside of Brees. Rookie linebacker Khairi Fortt also left with an apparent injury.

NFL SCOREBOARD
Thursday, 9/18
Sunday, 9/21
Monday, 9/22