NFL Nation:

2014 NFL Preseason Week 4 HOU at DEN
August, 24, 2014
Aug 24
2:00
AM ET
DENVER -- The target of
Peyton Manning
's taunting penalty was perhaps the least surprising thing about Saturday night's game.
"I get a lot of people mad at me," Texans safety
D.J. Swearinger
said. "That's how I've been all my life. That's why I am the way I am."
Swearinger
Broncos receiver
Wes Welker
made a nine-yard catch at the Texans' 38-yard line, halted by a big hit from Swearinger. The safety's shoulder collided with Welker's head, doling another concussion to the receiver, who had two last season. It angered Welker's quarterback, who let Swearinger know immediately.
One play later Manning threw a touchdown pass, then ran over to Swearinger again to offer what Swearinger called "choice words." The quarterback considered the ensuing 15-yard penalty well worth it.
Forget the discussion about that hit in particular, because that is a much broader one to have.
Swearinger says he led with his shoulder and that's all he could do. The Broncos thought it was dirty
. That's generally how these things go.
But Manning's focus on Swearinger was about more than just one hit.
"The week had something to do with it," Swearinger said. "Practice during the week and the hit had something to do with it."
These teams spent three days facing each other. Swearinger, who as a kid sought to be as smart of a football player as Manning, made sure Manning felt his presence with his words and his play. He picked off Manning in a drill on Wednesday, and shortly thereafter a mild fracas ensued.
"He's been a competitor all week at practice," Broncos receiver
Emmanuel Sanders
said. "We've been competing against him, and sometimes he lets his attitude get the most of him."
That attitude is something Swearinger considers an asset. It certainly can be. He uses it to rattle opponents; he wants them to be thinking about him rather than about what they're supposed to be doing.
That's where the tricky part comes.
Swearinger's edge makes him a better football player -- safeties have to be a little nuts sometimes -- and often a really fun one to watch. But that edge and enthusiasm can get him in trouble with the way game are officiated. He's been flagged for penalties enough to know that and has said he's working on figuring out ways to keep his swagger, only hidden from officials.
Will it work? Is it even possible? That's a major challenge for his career.
August, 24, 2014
Aug 24
1:50
AM ET
DENVER -- Just a week ago the
Denver Broncos
looked at their depth chart and were considering the idea they could keep six wide receivers when they cut the roster to 53 players.
Now they have some question marks.
Wes Welker
suffered a concussion in Saturday night's preseason game, and the timeline for his availability for the Sept. 7 regular-season opener and beyond is now in the hands of the Broncos' medical staff.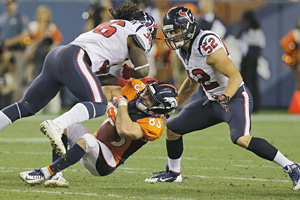 Jack Dempsey/Associated PressD.J. Swearinger's hit on Wes Welker late in the first half Saturday knocked Welker out of the game with a concussion.
This past week the Broncos also lost
Jordan Norwood
for the season after Norwood, who was on track to make the roster as a depth player at wide receiver as well as a punt returner, tore his left ACL in Tuesday's practice with the
Houston Texans
. Welker, because of his concussion history, will bear watching in the coming days and weeks.
He left the game with 9 seconds remaining in the first half after taking a blow to the helmet from Texans safety
D.J. Swearinger
. Welker got up and walked, next to a member of the Broncos' training staff, off the field and straight into the locker room.
Asked following the game about Welker's potential recovery time, Broncos head coach John Fox said: "We'll leave that to the medical people and he won't come back until he's ready to come back."
The injury occurred on a first-and-10 from the Broncos' 47-yard line.
Peyton Manning
hit Welker again in the middle of the field and Swearinger hit Welker in the head as Welker lunged forward. Replays appeared to show Welker's head dropping as he began to slide, and Swearinger hit him with a combination of forearm and shoulder. Welker got up on his own, but immediately waved to the Broncos trainers to come on to the field.
Swearinger was assessed a personal foul on the play for a blow to the head. Manning was bothered enough by the hit that, following a touchdown throw to
Emmanuel Sanders
on the following play, Manning ran all the way into the end zone to confront Swearinger.
"Obviously concerned about Wes," Manning said. "I just didn't like seeing him come out of the game, a potential blow to the head, that kept out a while last year, so obviously concerned about him."
"Definitely it made me mad," Sanders said. "The fact that Peyton was addressing the situation, that means it was a bad situation. [Swearinger is] a competitor all week in practice he's been getting into it sometimes, he lets attitude get the [best] of him."
Manning was assessed a taunting penalty after confronting Swearinger.
"Fifteen yards with five seconds left in the half doesn't hurt you that much, I think if you're going to get one that's a good time to get one," Manning said.
Then asked if he could repeat what he said to Swearinger and what Swearinger said back to him, Manning said:
"I can't. He said, 'Thanks, appreciate it, good luck to you as well.'"
Welker's concussion in Saturday's game is the third time he has been under the league's protocol since November. He suffered two concussions last season four games apart, and missed the last three games of the regular season.
Welker did return to play in the Broncos' three postseason games, including Super Bowl XLVIII, wearing a helmet with extra padding. Welker has continued to wear the helmet this season as well.
According to the league's concussion protocol, even if a player is symptom-free the day following his concussion, he can return only to light exercise three days after the hit and only in non-contact portions of practice four days after the hit. The quickest a player, who is symptom-free the day after suffering the concussion, can return to a full contact practice is five days after the hit and the player has to show no symptoms compared to his base-line testing the day after the hit to even be on that timetable.
Also per the policy, once a team doctor has signed off on a player's return to the field, a doctor unaffiliated with the team and approved by both the NFL and NFL Players Association must also clear the player to return. One of the factors considered, in addition to the cognitive tests, is a player's concussion history.
Welker left the Broncos' Nov. 17 home win over the
Kansas City Chiefs
last season with a concussion but played the following week at New England. He suffered another concussion when he went low for a pass Dec. 8 against the
Tennessee Titans
.
August, 24, 2014
Aug 24
12:07
AM ET
DENVER -- After a testy week with the
Houston Texans
when
Denver Broncos
quarterback
Peyton Manning
went as far as to say the Broncos' offense "stunk," the Broncos starters rebounded enough by Saturday night to show their expected quick-strike explosiveness on offense in a
18-17 preseason loss
in Sports Authority Field at Mile High.
Manning threw for 243 yards in a half of work as the Broncos regulars scored their two touchdowns in the final 1:07 of the first half. Manning threw both of his scoring passes to
Emmanuel Sanders
, who finished with 128 yards receiving on five catches.
All in all the Broncos starters have scored on six of their 10 possessions in the preseason.
Here are some other thoughts on the Broncos' third preseason game of the season:
Not sure if these two teams will be looking to hook up for preseason practice any time soon. After two days worth of pushing, shoving, and even a few punches in practice, things got testy in the game as well. Texans safety D.J. Swearinger knocked Broncos wide receiver Wes Welker out of the game with a hit to Welker's helmet late in the first half. On the next play Manning hit Sanders for a 29-yard touchdown. After making the throw, Manning ran all the way down the field into the end zone to confront Swearinger and the quarterback was flagged for possibly his first career taunting penalty.
Welker left the game under his own power following Swearinger's hit. However, he was taken immediately to the locker room and did not play for the rest of the evening. The starters likely wouldn't have played into the second half anyway, but it's a concern any time Welker takes any impact to his helmet. Welker, who dealt with concussions during his time with the New England Patriots, suffered two last season and missed the Broncos' last three games of the regular season before returning to play in all three playoff games. At minimum Welker will certainly miss some practice time in the coming days. Welker's concussion history did play at least a part in the Broncos using a second-round draft pick on Cody Latimer in this past May's draft.
Anyone curious what kind of impact Sanders would have in this offense should wonder no more. Sanders had been a limited participant in practice and over the course of the first two preseason games because of a thigh injury. He did not play against the San Francisco 49ers last week and didn't practice this past Tuesday or Wednesday. Manning said he hoped Sanders would be ready to go Saturday night -- Sanders said Manning texted him at one point last week with the hope he would be back in practice by Thursday -- and Sanders showed he was. Sanders notched his first five catches of the preseason, and his two scoring catches came just 62 seconds apart. Given Sanders has the versatility to line up on either side of the formation and in the slot, this may have been a small preview of the kind of production he could have in this offense.
As expected the Broncos, after three days' worth of practice with the Texans, dialed back the usual work for the starters. Usually the Broncos will play their starters well into the third quarter of the third preseason game. However, the Broncos' starters called it a night at halftime. Given that they won't play Thursday night in Dallas, the regulars are done until the Sept. 7 regular-season opener against the Indianapolis Colts.
Running back Montee Ball, who had an appendectomy Aug. 4, got his first preseason work in the Broncos' opening series. The Broncos wanted to get Ball some work in the game and get him out quickly. Ball had eight touches -- four rushes and four receptions -- in the Broncos' 13 plays from scrimmage. Ball was then removed from the game. Ball looked ready to go, and it's clear he's going to have a role in the passing game as well.
NFL SCOREBOARD
Thursday, 11/27
Sunday, 11/30
Monday, 12/1