NFL Nation:

2014 NFL Preseason Week 4 MIN at KC
August, 24, 2014
Aug 24
1:35
AM ET
KANSAS CITY -- As he was flanked by reporters in the visitors' locker room at Arrowhead Stadium on Saturday night, peppered with questions about his time in Kansas City,
Matt Cassel
seemed less interested in rehashing what went wrong than nearly anyone else in the room.
To Chiefs fans, Cassel's time in Kansas City represents a failed experiment, which began with the team trading for the quarterback and signing him to a six-year deal in 2009 and ended, at least symbolically, with fans cheering Cassel's concussion in a home game. That experience seasoned the Vikings-Chiefs preseason game with a heavy dose of the Cassel-gets-redemption storyline, as he returned to Kansas City once again poised to claim a NFL starting quarterback job.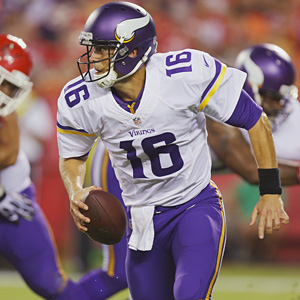 Ed Zurga/Associated PressMatt Cassel's return to Kansas City was a good one, as he gained further control of Minnesota's starting quarterback race.
The 32-year-old quarterback wasn't officially awarded the job on Saturday night -- though the Vikings operated as though he'd be their starter on Sept. 7 -- and even if he had, he probably wouldn't have found much reason to boast about it. He said again on Saturday night he had "no ill will" toward the Chiefs, who cut him after the 2012 season, pointing out that all three of his children were born in Kansas City and mentioning the close friends he still had in town. Still, his long touchdown to
Cordarrelle Patterson
in the first quarter had to carry some extra meaning, didn't it?
"It was a great way to start the game, there's no doubt about it," Cassel said. "To come in here and get going, we were backed up on our own three, and then to be able to get going like that and hit a long play, it was great."
That's about the most Cassel will let on about what the game meant to him, and there's not much reason he should be anything but diplomatic about his exit from Kansas City. He didn't perform well enough to play out a contract that would have paid him more than $62 million, and he rightly pointed out things would have been different if he and the Chiefs had won a few more games.
"I've been in it long enough to know that if you don't win, normally, they make changes," he said. "They did, and I was really happy to see they had a lot of success."
Cassel has been able to move on, too, and it seems he'll at least begin the season with the starting job. Officially, the Vikings' quarterback competition is ongoing, but when Cassel throws 17 passes,
Teddy Bridgewater
throws seven in just over a quarter of work, and
Christian Ponder
again doesn't play, the pecking order seems clear. Cassel's performance on Saturday night might have actually been his worst of the preseason; he hit the long touchdown to Patterson -- on a play the receiver said has typically gone to
Greg Jennings
in practice -- lofted a pretty sideline throw to Jennings and could have had better numbers if not for a couple drops, but he forced a deep throw to
Jerome Simpson
for an interception and could have been picked off on an out route to Jennings.
He's got the arm to play in offensive coordinator Norv Turner's scheme, as he's demonstrated by a number of downfield throws this preseason, but he'll also get burned by taking some chances at times. He's only had two seasons -- his breakout year of 2008 and his Pro Bowl season of 2010 -- where he's averaged less than an interception per game. Still, Cassel has done a solid job of running the Vikings' offense in the preseason without
Adrian Peterson
, and it'd be a surprise not to see him start when the Vikings return to Missouri on Sept. 7 against the Rams.
If his continued work as the Vikings' starting quarterback on the other side of the state -- and in his former home stadium -- gave him a sense of payback on Saturday, Cassel wasn't showing it. Perhaps his experience the last time he was in this position helped him to appreciate it more than to flaunt it.
"I love Kansas City," Cassel said. "At the same time, football sometimes just doesn't always work out the way you want it to. There's a multitude of reasons behind that, and I wish we could have changed a lot of that -- mainly the outcome of just winning more ballgames."
August, 23, 2014
Aug 23
11:15
PM ET
KANSAS CITY, Mo. -- The starting offense for the
Kansas City Chiefs
still can't finish a drive. The starters failed to score a touchdown in eight possessions in what would become a
30-12 loss
to the
Minnesota Vikings
at Arrowhead Stadium. The Chiefs even had the ball inside the Minnesota 20 three times but came away with just a field goal and two
Alex Smith
interceptions. The starting offense hasn't scored a touchdown in 16 preseason possessions.
Here are some other thoughts on the Chiefs' third preseason game of the year:
The starting defense similarly doesn't look ready for the regular season. The Chiefs allowed pass plays of 31 and 53 yards on Minnesota's first possession. The Chiefs again played without safety Eric Berry, who has an injured heel. His replacement is Daniel Sorensen, an undrafted rookie. Sorensen took a bad angle on the 53-yard touchdown pass.
Smith threw only seven interceptions all of last season. He's built his career on being able to protect the ball. So when he throws two red zone interceptions, one on first down, it's disturbing. On the first interception, Smith tried to force a throw for Frankie Hammond Jr. On the second he stared down his intended receiver, Travis Kelce. Perhaps the pressure of a touchdown-less preseason is wearing on Smith.
The Chiefs are still trying to solidify their starting offensive line in wake of right tackle Donald Stephenson's season-opening suspension. Left guard Jeff Allen started in Stephenson's place. The Chiefs rotated by series Jeff Linkenbach and Ricky Henry at left guard. Allen played tackle in college at Illinois and got some work there this year in training camp. Stephenson will miss the first four games of the season because of NFL suspension for violating the league's policy on performance-enhancing substances.
Quarterback Tyler Bray rebounded from a slow start to lead the Chiefs to their only touchdown. Bray's first pass was intercepted, but he completed his final seven passes, the last one going to rookie Albert Wilson for a 1-yard touchdown with 25 seconds left. Bray finished 9-of-15 for 85 yards.
Running back Jamaal Charles dressed for the game but -- wisely on the part of the Chiefs -- he did not play. After missing two straight games because of what the Chiefs are calling a bruised foot, Charles could play in Thursday night's final preseason game against the Packers in Green Bay.
August, 23, 2014
Aug 23
11:04
PM ET
KANSAS CITY -- The
Minnesota Vikings
got what was probably their final realistic look at their defensive overhaul on Saturday night at Arrowhead Stadium, and while the performance from their first team in 2 1/2 quarters wasn't perfect, the Vikings did some things that have to make coach Mike Zimmer happy.
The pressure they put on Chiefs quarterback
Alex Smith
in a
30-12 victory
was particularly impressive; the Vikings sacked Smith three times and had a couple more opportunities where he slipped out of a defender's grasp just before a sack.
Everson Griffen
was again active,
Brian Robison
chimed in with some solid pressure and each had a half-sack. Defensive tackle Tom Johnson got after the quarterback in the Vikings' nickel rush package, and
Anthony Barr
knocked down a pass when he and
Captain Munnerlyn
came through on a blitz. The Vikings also stiffened up in the red zone twice, with Munnerlyn and linebacker
Chad Greenway
making instinctive plays to pick off Smith.
There were still things to be concerned about -- the Vikings' linebackers struggled in pass coverage, and with no
Jamaal Charles
, the Chiefs didn't exactly present a formidable test. But the Vikings' third preseason game -- ostensibly their most realistic test before the regular season -- confirmed some signs of progress on defense.
Here are some other thoughts on the Vikings' third preseason game of the year:

NFL SCOREBOARD
Thursday, 9/11
Sunday, 9/14
Monday, 9/15
WEEKLY LEADERS