NFL Nation:

2014 NFL Preseason Week 4 STL at CLE
August, 24, 2014
8/24/14
1:07
AM ET
CLEVELAND -- They were the two most talked about prospects entering the NFL draft -- quarterback
Johnny Manziel
because of his rock star persona, defensive end
Michael Sam
because he of his potential to become the first openly gay player in league history. Saturday night they met on the field before the game, and then twice during it, with Sam dropping his former college counterpart twice for sacks.
So perhaps it shouldn't be surprising that when Sam sacked Manziel on Saturday night at an inconsequential point in an inconsequential game -- with just less than 11 minutes to play and the St. Louis leading 26-14 -- it produced more interest than a similar play at a similar moment in another game would produce. How Twitter survived it might make for an episode of "Unsolved Mysteries."
Sam added a second sack of Manziel on the final play of the game. "He's a talented kid," Sam said. "He isn't called Johnny Football for nothing. It was fun getting to play against Manziel in an NFL game. I sacked him as both a junior and senior at Missouri."
"The guy goes through a lot of stuff, so he gets heckled by everybody I'm sure, so he came up to me and said hello," Manziel said of the pregame meeting. "It was a brief interaction. I thought he played pretty well."
August, 24, 2014
8/24/14
1:00
AM ET
CLEVELAND -- Walking into the
St. Louis Rams
locker room on Oct. 20, 2013, had the unmistakable feeling of walking into a wake. That was the day Rams quarterback
Sam Bradford
tore the anterior cruciate ligament in his left knee.
The Rams' playoff hopes, for whatever they still were at that point in the season, died that day.
[+] Enlarge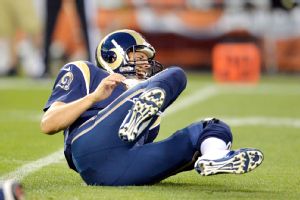 AP Photo/David RichardThe Rams are hopeful that Sam Bradford's injury on Saturday won't be serious.
Walking into the Rams' locker room Saturday night at FirstEnergy Stadium had the unmistakable feeling of something different: optimism. Although Bradford still has a battery of tests to go through when the team returns to St. Louis, early returns seem to be favorable for a relatively quick Bradford recovery.
After the game and some goading, Rams coach Jeff Fisher indicated that the injury could be little more than a hyperextension. He added that Bradford was walking around fine and in good spirits in the locker room.
"We'll go back and do tests tomorrow and we're optimistic for his quick return," Fisher said.
That's a major departure from that 2013 Week 7 game against Carolina, when the Rams not only lost the game, but also their quarterback. That day, Bradford writhed in pain for about 10 minutes before the cart arrived to take him to the locker room. In that postgame news conference, Fisher didn't offer anything remotely resembling an optimistic outlook, let alone a possible diagnosis. In fact, Fisher made it a point to say he didn't want to deal in hypotheticals and mentioned Bradford was in "significant" pain on the sideline.
Upon entering that locker room after Carolina, pins could be heard dropping as the Rams slowly trudged to the bus to head to the airport.
The scene in Cleveland on Saturday was far different. By no means was the mood jubilant, but it was one that was certainly more upbeat than one would expect considering the injuries to Bradford and fellow starters
Kendall Langford
,
Trumaine Johnson
,
Michael Brockers
and
Rodger Saffold
. Johnson's injury appeared the most serious, as he was the only one to leave on a cart, but Fisher even expressed a dose of optimism on that.
Bradford was unavailable to the media after the game. But wide receiver
Brian Quick
, perhaps the player with the most to lose to a possible Bradford injury, did speak to his quarterback.
"I was a little nervous about it but everything is all right," Quick said. "Sam told me that he is OK."
Although backup
Shaun Hill
represents a solid veteran option, the Rams are like every other team in the league in that they can't afford to lose their starter. Before he was hurt Saturday, Bradford was off to another strong start in his second preseason appearance.
Despite shoddy pass protection, Bradford was 4-of-9 for 77 yards and had showed a continued willingness to press the ball down the field and into tight windows.
Also, unlike that Carolina game, without Bradford and the other four starters, the Rams went on to an impressive (at least by preseason standards) 33-14 victory.
"We'll wait until tomorrow and see what happens," end
Chris Long
said. "We did a lot of positive things for our third preseason game and there were a lot of bumps and bruises but we'll see tomorrow. We'll just take in the victory and look at the positives because there were a lot of positives."
But there would be no bigger positive than a clean bill of health for the starting quarterback.
August, 24, 2014
8/24/14
12:35
AM ET
CLEVELAND -- The
Cleveland Browns
appeared to get out of their preseason home opener with no major injuries. So much for the good news.
Everything else was pretty much a dud for the starters, as the
St. Louis Rams
dominated en route to a 33-14 victory in FirstEnergy Stadium.
All was not lost, though. The return game had flashes of brilliance and
Johnny Manziel
excited the crowd of 61,663 by scrambling for a 7-yard score and flashing the money sign.
Other observations of the 0-3 Browns:
August, 24, 2014
8/24/14
12:02
AM ET
CLEVELAND -- If possible, the score of the
St. Louis Rams
' preseason meeting with the
Cleveland Browns
has even less meaning than an average exhibition contest.
The Rams (1-2 in preseason) dominated in a 33-14 win, but the victory is about as hollow as possible considering what occurred in the first half. The first 30 minutes turned the team's starters into something resembling a MASH unit.
Quarterback
Sam Bradford
suffered a left knee injury with a little more than eight minutes to go in the first quarter and did not return. ESPN's Adam Schefter reports that initial tests did not reveal any further damage to Bradford's surgically repaired ACL, but Bradford will have more tests in the next 24 hours. Rams coach Jeff Fisher indicated after the game that it could be a hyperextended knee.
Had it stopped there, it would have been bad enough, but four other starters left the game with injuries and did not return. Defensive tackle
Kendall Langford
(ankle), cornerback
Trumaine Johnson
(knee), defensive tackle
Michael Brockers
(ankle) and guard
Rodger Saffold
(ankle) also departed early. Early indications on those injuries are that Saffold and Langford were taken out more as a precaution. Johnson's looked to be the worst after he took a helmet to the left knee and a cart took him to the locker room.

Some more thoughts and observations from Saturday's game:
It was a rough go for left tackle Jake Long in his first game back. He picked up a penalty for hands to the face and struggled on two plays that led to Bradford getting hit. Obviously, he's got some rust to knock off but it was a potentially damaging sequence.
Wideout Brian Quick has put together the best training camp of his young career and has now carried that momentum into two consecutive preseason games. He finished with four catches for 47 yards and a touchdown and was clearly Bradford's favorite target. Time will tell if he can do it when the games count, but the Rams have to be encouraged by his consistency in camp and preseason.
Hard to fathom why, after the injuries to Bradford, Saffold and Langford, the Rams still had the starting defense on the field when Johnson and Brockers were hurt.
Receiver Chris Givens has been awfully quiet in this preseason to the point that he's not playing at all with the starters. But Givens offered a reminder of why he's a piece worth keeping around with an impressive 75-yard catch and run for a touchdown. He added a nice catch on a crossing route for a gain of 19 earlier on the drive.
Defensive end Michael Sam came up with his second sack in as many games, dropping Johnny Manziel with a little more than 10 minutes to go. Best I can tell, Twitter is still functional. Barely.
Rookie offensive lineman Greg Robinson did not start against the Browns after doing so in each of the first two games. Moving back and forth between left guard and left tackle has left him struggling to settle in. Rodger Saffold started at left guard with Davin Joseph at right guard, but that doesn't mean that's how it will be when the season starts. With the rest of the line healthy and in place, expect the Rams to try to get Robinson settled in at left guard moving forward.
Linebacker James Laurinaitis (ankle) did some work in practice this week but the Rams clearly didn't want to push him and he sat this one out. Fellow linebacker Jo-Lonn Dunbar also didn't play.