NFL Nation:

2014 Super Bowl
May, 26, 2010
5/26/10
10:50
AM ET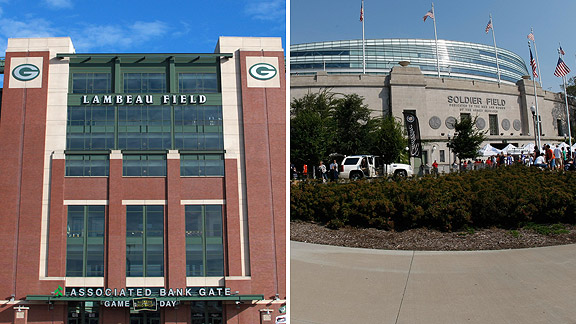 Getty ImagesIt is very unlikely either Green Bay or Chicago will ever host a Super Bowl, despite the 2014 game being held in cold-weather New Jersey.
Questions and exaltations started flowing minutes after NFL owners
awarded the 2014 Super Bowl to New York/New Jerse
y. Over on our
rollicking Facebook page
,
Mel
asked me to set an over/under for the chances of Green Bay getting a Super Bowl.
My reply: It's 0, and I'll take the under. Unfortunately.
Within a few hours, I came across a creative Facebook page. At last check, there were more than 200 members of "
Bring a Super Bowl to Green Bay!
"
I've never hidden the fact that I think Lambeau Field is a perfect setting for football. I assume that most of this Upper Midwest campaigning -- and I've heard it from
Chicago Bears
fans as well -- is tongue-in-check. But for those who are serious about it, let's get real.
Tuesday's announcement wasn't an instance of NFL owners developing a new tolerance for potentially bad-weather Super Bowls. It was all about a unique opportunity to reward money that's already been spent and then make a whole lot more.
The
New York Giants
and Jets have spent some $1.6 billion to build the stadium that will host the event. They have been unable to sell naming rights, a critical revenue producer for any new stadium. But you better believe that the prospect of association with a Super Bowl will make that opportunity much more interesting (and expensive) for the corporation that ultimately signs that deal.
That dynamic simply isn't relevant in Green Bay -- or Chicago, for that matter. And neither city, not even Chicago, can offer the kind of ancillary economic opportunities the NFL could realize through playing the game in such close proximity to the financial capital of the country.
This simply isn't about weather. If you hooked up most NFL people to a lie-detector test -- coaches, players and league administrators -- I think they would express the same sentiment that Packers quarterback
Aaron Rodgers
tweeted Tuesday
: "Personally I'm a fan of warm weather super bowl venues. San Diego, Nola, Dallas, Phoenix, n Miami should just rotate."
I would be shocked if the league follows this decision by awarding a Super Bowl to another cold-weather location with an outdoor stadium. This is a calculated, one-time chance to host the nation's biggest sporting event in its largest and richest city. Hate to break it to you.
May, 25, 2010
5/25/10
6:40
PM ET
NFL owners are willing to gamble with their showcase event, voting to
expose Super Bowl XLVIII to wintry elements
at the new $1.6 billion Meadowlands stadium.
But the decision wasn't without opposition when the owners gathered Tuesday afternoon. They needed four votes to finalize the site. Tampa came in second, with South Florida being eliminated after the second vote.
"To me it's a no-brainer when you consider that this vote helps two teams, the Jets and the Giants," Jets head coach Rex Ryan said in a statement released by the club. "Add in the fact that you have as good a stadium as there is in the league and no one is going to complain about this not being a great Super Bowl because you're in the best city in the world."
The
Miami Dolphins
were dejected by the verdict. They prefer to think of South Florida as the preeminent Super Bowl locale, but being the first bid eliminated was disappointing.
South Florida has hosted 10 Super Bowls, including the most recent championship. That means it has been awarded a Super Bowl every 4.4 years. Since 1989, it has gotten a Super Bowl every 1.3 years. Now South Florida will have to wait at least five years to host its next one.
"I think the fix was in for New York," South Florida Super Bowl Host Committee chairman Rodney Barreto said. "We threw $1 million extra on the table last night [for operating expenses]. I know that was more than Tampa put on the table. We probably could have put $10 million on the table and it wouldn't have been a difference.
"The NFL's cut new territory here. It's somewhat of a gamble, especially if you have a Nor'easter come through, shut down airports and so forth."
Barreto and Dolphins CEO Mike Dee said the process was a wakeup call for future bids to stage the game at Sun Life Stadium, which the NFL would like to see upgraded.
In the usual Super Bowl rotation, Sun Life Stadium is the second-oldest facility behind only the Superdome, which Dee said will undergo $350 million in renovations for the 2013 game.
"We're driving an older car, and everybody else is driving a new car," Dee said. "That doesn't mean it's a bad car.
"But we've got to do what it takes to keep in on the road and keep it running and make sure that it puts us in a position that we can still compete, and that we don't transform into San Diego, the greatest destination that can't host Super Bowls because their stadium is no longer capable of doing it."
Dee said the Dolphins "expect to be in a dogfight" for bids on the 2015 or 2016 Super Bowls.
"We're the king of the hill," Barreto said. "We're Humpty Dumpty. Everybody's trying to knock us off the wall. Everyone sees and feels our success. Quite frankly, they're coming after us. If we have to keep setting the bar higher and higher, we'll do that."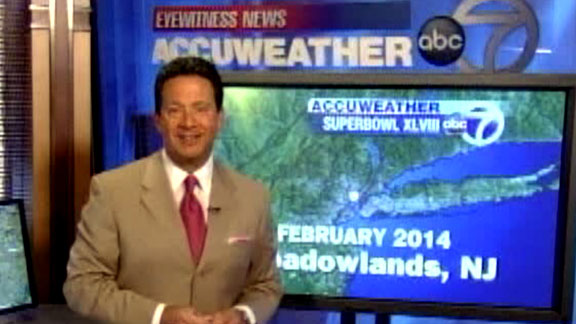 May, 25, 2010
5/25/10
6:27
PM ET
A little update since my last post, where I said it was sunny and 90 degrees in Tampa. It's now raining and probably about 89 degrees.
But, hey, weather doesn't really matter. NFL owners have voted to give New York the 2014 Super Bowl. For the record, that will be in February of 2014. But, hey, isn't there some saying about how it's always sunny is Piscataway?
Anyway, I just got off a conference call with
Tampa Bay Buccaneers
co-chairman Bryan Glazer and members of the Tampa Bay Super Bowl bid committee that finished a close second to New York. Glazer said he was not told the final tally of the vote, but said he was told by league officials and several owners that the vote was much closer than expected.
"Under normal circumstances, we probably would have walked away with the trophy," said Sandy MacKinnon of the Tampa Bay Super Bowl bid committee. "But the NFL was interested in making history with New York City and a new stadium. I think the odds were stacked against the traditional sunshine climate."
That's probably the strongest statement out of the call. The Tampa Bay group was very careful not to point fingers at NFL commissioner Roger Goodell, who many in the media have said steered this game to New York and I share that opinion. Glazer and the members of the bid committee seemed to take some consolation in making the vote closer than many expected.
"This has gotten us well positioned for getting another Super Bowl in Tampa," Glazer said. "The Tampa Bay area is a great area for the Super Bowl and the owners know it."
That's a very good point and it made me reflect a bit on history. Many years ago, I was covering the Bucs for The Tampa Tribune, when Tampa Bay was putting in a bid on the Super Bowl following the 1999 season. The Bucs wound up losing that game to Atlanta, almost entirely because there was sentiment by owners to give a Super Bowl to former Falcons owner Rankin Smith.
After the vote went down, Tampa Bay owner Malcolm Glazer, usually a very quiet man, got up and got very loud. He started reminding former commissioner Paul Tagliabue and the rest of the owners that Tampa Bay had delivered on getting a new stadium. Glazer's pitch wound up getting Tampa Bay the Super Bowl the following year.
Malcolm Glazer's health isn't so good these days. Sons Bryan, Joel and Ed run the team now and many fans view them as quiet. They are, to a degree. But they can be very firm when they have to be. I know for a fact Bryan was in that room when his father stood up and I'm sure he remembers it well.
"There are no guarantees," Bryan Glazer said. "We are a strong contender for next year or the year after. I feel like we came out of this feeling very strong.''
True, there are no guarantees. But I'm thinking the Glazers and the Tampa Bay folks have sent a message to the owners and it goes something like this: "We took one for the team. You owe us one."
Another quick weather update: The rain has now stopped. It's still in the upper 80s. The sun is back out.
May, 25, 2010
5/25/10
5:57
PM ET
The NFL's decision Tuesday to award a cold-weather city a Super Bowl has opened up the floodgates.

Harbaugh
On the same day the league announced
New York/New Jersey will host Super Bowl XLVIII
, Ravens head coach John Harbaugh said he wants one in Baltimore, as well.
"You put one in New York, then come on down here to Baltimore and we'll have a Super Bowl, too. That's what I'd be for," Harbaugh said Tuesday,
according to the Baltimore Sun.
Recently, the AFC North blog looked at the possibilities of a Super Bowl
coming to a city within the division.
Chances seem remote, at best. The three finalists for 2014 were New York/New Jersey, South Florida and Tampa.
That won't stop more cold-weather teams without domed stadiums from campaigning for the big game since New York/New Jersey got the nod.
But will the NFL listen?
May, 25, 2010
5/25/10
5:22
PM ET
TAMPA, Fla. – I'm sitting here looking out the window of NFC South Blog headquarters and seeing palm trees, a pool and a pond.
They look nice. I'm guessing they still will look nice in February 2014 when the Super Bowl is played in New York. Well, it's New Jersey, actually, but it's all the same.
Yep, NFL owners voted Tuesday to give the game to New York, the first time the Super Bowl will be played in an outdoor stadium in a cold climate. As a wise man I knew once said, "And who thought this was a good idea?''
A
majority of the owners chose New York over Tampa Bay
. All we can do is shrug our shoulders and start shivering. You knew this was coming.
I'm only being figurative here, but commissioner Roger Goodell essentially told the New York area to build a new stadium and a Super Bowl would follow. I get it. It's about economics and exposure and New York just might be the greatest city in the world -- for six, seven or eight months a year. February is not one of them.
Have you ever seen East Rutherford, Secaucus and Hoboken in February? Or Connecticut or Pennsylvania's Pocono Mountains? I have. They're the reasons Florida exists.
Hey, we knew it was going to come down like this, so I'm not going to gripe too much about the cold. I'm trying to look at the bright side from a Tampa Bay perspective.
Ah, there it is, right outside my window. Maybe after everybody goes to that New York Super Bowl, they can come down here and spend a week or two thawing out.
May, 25, 2010
5/25/10
5:07
PM ET
By
Matt Mosley
| ESPN.com
IRVING, Texas -- As they were led to a TV podium Tuesday afternoon, Giants co-owners John Mara and Steve Tisch both looked emotionally spent. They were quickly asked what the
2014 Super Bowl coming to New York/New Jersey
would've meant to their fathers.
"That we've come a long way since the Polo Grounds in 1925 to where we are today," said Mara about his late father, Wellington.
Jets owner Woody Johnson quickly added that he hoped it would snow during the Super Bowl, but Mara interjected, "I'm not sure I agree with that."
This announcement was inevitable because a powerful commissioner was behind the bid all the way. Mara and Tisch expressed thanks to the other owners for looking past the potential of cold weather and focusing on the unique nature of the opportunity. Mara and Tisch also took the opportunity to compliment their rival and partner, Jets owner Woody Johnson.
"We behaved like partners," Mara said of his relationship with Johnson. "We became partners when we decided to make this bid for 2014. We approached it like partners, not adversaries."
But both Mara and Tisch admitted that they were reluctant about making the bid at first. They credited Johnson for leading the way the past four years. It was an odd sight to see the Giants and Jets working together, but that's exactly what needed to happen to land this bid.
Will this knock down the door for other open-air stadiums in cold regions to host the Super Bowl? Well, Dan Snyder certainly hopes so. But I wouldn't count on it. Everyone across the country is waiting to see how this first one goes. We'll have more reaction throughout the afternoon.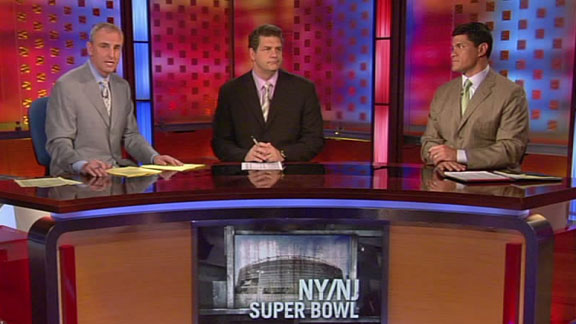 May, 25, 2010
5/25/10
4:08
PM ET
By
Matt Mosley
| ESPN.com
IRVING, Texas -- You knew it was inevitable. The minute the league got behind the New York/New Jersey 2014 Super Bowl bid, other owners with outdoor stadiums in cold-weather areas wondered when they'd be in the rotation. And it didn't take Redskins owner Dan Snyder
long to speak up at the spring owners meeting
.
"I think Washington should get one, no matter what," Snyder told Washington Post NFL columnist Mark Maske on Tuesday. "It is the nation's capital."
But something tells me that today's announcement, which will certainly fall in favor of New York, will not open the floodgates for future cold-weather Super Bowls. This is an opportunity for the league to reward the Giants and Jets for building a $1.6 billion stadium during tough economic times. If the (passing) game is affected by snow or freezing rain in early February, it's likely the league will return to its warm-weather roots. And even if it's sunny and 45 degrees, I don't think Roger Goodell will be in a rush to hold the game at FedEx.
By the way, the Tampa Bay contingent has already completed its presentation. They were exuberant as they left the meeting room. I even witnessed a highly awkward high five. But we all know the Super Bowl's headed to New York. That's what Goodell wants, and he seems to prevail much of the time.
The announcement will likely come down at about 4:15 ET or so. Goodell will then meet with reporters to discuss a variety of topics at about 6:30 ET. What would you like to ask the commish?

NFL SCOREBOARD
Sunday, 2/2
WEEKLY LEADERS