NFL Nation:

2014 Wild Card Chargers-Bengals
January, 5, 2014
Jan 5
9:30
PM ET
CINCINNATI -- In a room packed with reporters late Sunday afternoon, 10 silent seconds ticked by between the time
Cincinnati Bengals
coach Marvin Lewis ended his opening postgame comments and was asked his first question.
"Is this your toughest day as a coach?" a local television reporter finally ventured.
"Tough day," Lewis said. "Yeah it is. Tough day. It's disappointing."
[+] Enlarge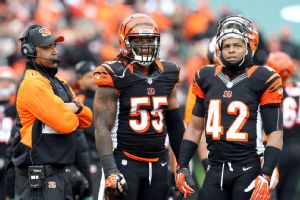 Pat Lovell/USA TODAY SportsMarvin Lewis is now in the final year of his 2011 extension.
There have now been five days like this one in Lewis' 11-year tenure as the Bengals' leader. Five times he has been to the playoffs, and five times he's exited with a first-round defeat.
On most teams, such a string of misfortunes would lead to firings, scheme changes and head rolls. Put it this way about the Bengals: Some changes should and likely will come this offseason, but don't expect any to result in a head-coaching vacancy.
Why? Think back to Jan. 4, 2011.
In the days leading up to that date, it looked a lot like Lewis was about to be booted after going 4-12 the previous regular season. But Bengals owner Mike Brown caught his fans and those covering the team off guard, completely reversing course and announcing in a news conference that Lewis was being retained and extended as head coach. It was his way of giving Lewis a blank slate, and a brand new opportunity to build the program the way he wanted in hopes of getting it back to the playoffs, and back, and back. Lewis' latest contract expires after the 2014 season.
Thanks to a strong draft that year and in the years since, Lewis has done exactly what Brown expected. He's made consecutive trips to the postseason. Three straight, in fact; an accomplishment no other coach had been able to reach in the 45 years the franchise has existed. For that alone, he has the respect and support of his owner.
Lewis isn't going anywhere ... for now.
When asked what on the team needed to change in the wake of the string of playoff losses -- which actually stretch all the way back to the 1990 season -- receiver
Marvin Jones
stated it perfectly.
"The only thing that needs to change is us just winning the game," Jones said. "That's pretty much it. Taking advantage of our opportunities. The games that we lost, we didn't take advantage of our opportunities."
Other Bengals shared that perspective.
"It is what it is," rookie running back
Giovani Bernard
said. "Doesn't matter what the year is, you're losing in the first round. It's always disappointing."
What may make this particular exit more disappointing than others Lewis has had was the fact that this year's group finally had the roster that the coaching staff had been trying for so long to assemble. An already good defense was even more talented than it had been in recent years. The offensive line finished the regular season as arguably one of the league's best statistically. Playmakers like Jones, Bernard,
A.J. Green
and
BenJarvus Green-Ellis
gave the Bengals a multi-pronged offensive attack that proved difficult to defend often this year, particularly at home.
Cincinnati had something special, it seemed.
"The type of players we have, the high-character players we have, we wanted special things for them this year," offensive coordinator Jay Gruden said. "They worked so hard toward that goal.
"We just have to live with another tough experience and hopefully grow from it."
After three straight playoff losses, the Bengals are finding there's plenty of room left to grow. With Lewis and quarterback
Andy Dalton
possibly in contract years next season, the only question to ask now is: Do the Bengals still have time to grow?
We'll know for sure in about 365 days.
January, 5, 2014
Jan 5
4:17
PM ET
CINCINNATI -- A few thoughts on the
Cincinnati Bengals
'
27-10 loss
to the
San Diego Chargers
:

What it means:
Sunday's loss means the Bengals are the exact same team they have been for more than 20 years: losers in the postseason. Yet again, with the regular season over, they couldn't come away with a victory. The city of Cincinnati, one that has waited so long to taste playoff success, certainly appears cursed. The Bengals still haven't won a playoff game since 1990. This loss also means that quarterback
Andy Dalton
and receiver
A.J. Green
are 0-3 in the playoffs since getting drafted in 2011. In those three games combined, the Bengals have scored just 33 points.
Stock watch:
Quarterback Andy Dalton -- falling. Most of Dalton's issues came in the second half, when interceptions became bugaboos and pressure forced him into making ill-advised decisions. He was trying to jam passes into tight windows that he didn't need to. After his first interception of the game early in the third quarter, Dalton never looked the same. He finished the game 29-for-51 for 334 yards and one touchdown. It was a bizarre ending after a rather impressive first half. Dalton was 12-for-17 for 164 yards and a touchdown through the first 15 minutes.
Adding the kitchen sink:
In the opening quarter of the game, the Bengals threw everything including the kitchen sink on offense at the Chargers. Although there were no overhauls to the scheme, they did make a pair of noticeable tweaks. Defensive tackle
Domata Peko
entered as an extra blocker on three consecutive third-and-1 plays in the first quarter. They had been strictly reserving him for goal-line situations in earlier games this season. Twice with him in there, the Bengals picked up a first down, including once on a 7-yard
BenJarvus Green-Ellis
run. Along with Peko's inclusion, the Bengals also used offensive tackle
Dennis Roland
in key situations as an extra blocker on the right edge. He was being used as an extra tight end of sorts for the second straight game. In last week's regular-season finale, he was there because the Bengals were without their top two tight ends thanks to injury.
Missed tackles:
Although a lack of offensive firepower was what ultimately hurt the Bengals late in the game, their defense struggled early to bring anyone to the ground. Missed tackles led the Chargers to compile 80 yards of rushing offense in the first half. That rushing performance seemed to give San Diego life and confidence early, making it a closer game at halftime than the Bengals likely anticipated. Cincinnati led just 10-7 at the break. Entering this game, the Bengals had averaged more than 34 points per game at Paul Brown Stadium this season.
What's next?
The offseason. Free agency, the NFL draft and OTAs are all that's on the horizon for the Bengals now. What many believed was a Super Bowl year is now no more.
January, 5, 2014
Jan 5
4:16
PM ET
CINCINNATI -- A few thoughts on the
San Diego Chargers
'
27-10 win
over the
Cincinnati Bengals
in the AFC wild-card round:

What it means:
San Diego's Cinderella season lives on. The Chargers kept Cincinnati's 22-year playoff-victory drought alive and in the process earned their first postseason win since the 2008 season. San Diego advances to the AFC divisional round, where the Chargers will face a familiar foe in the
Denver Broncos
. The Chargers split with the Broncos during the regular season, losing 28-20 in San Diego on Nov. 10 and winning 27-20 in Denver on Dec. 12.
Turnover bonanza:
San Diego's defense forced the Bengals into four turnovers on Sunday -- a fumble by running back
Giovani Bernard
and three costly miscues by quarterback
Andy Dalton
, a fumble and two interceptions. The Chargers scored only six points off those turnovers, but defensively, they did a nice job of putting consistent pressure in Dalton's face.
Cool-hand Rivers:
While Dalton again struggled in the postseason, Chargers quarterback
Philip Rivers
showed the value of having a franchise quarterback. Rivers didn't throw for a ton of yards, but he didn't need to. Rivers finished 12-of-16 for 128 yards, including a 4-yard touchdown to tight end
Ladarius Green
. More importantly, Rivers and the San Diego offense finished with zero turnovers.
Stock watch:
Scheduled to be an unrestricted free agent this offseason, Chargers linebacker
Donald Butler
showed why San Diego should consider keeping him around. Butler finished with a team-high 11 tackles, a forced fumble and a tackle for a loss.
What's next:
The Chargers travel to face the Broncos in the AFC divisional round playoffs at 4:40 p.m. ET Sunday in Denver.
January, 4, 2014
Jan 4
9:35
PM ET
CINCINNATI -- John Pagano knew what was coming, and his defense still couldn't stop it.
After giving up 164 rushing yards to the
Cincinnati Bengals
in an earlier matchup this season, the
San Diego Chargers
'
defensive coordinator is looking for a bit of redemption on Sunday.
"At times, the same rush that we held to a minus rush or a 1-yard gain, ended up in the second half being a six or an 8-yard gain," Pagano said. "And you can't have those things. The biggest thing is we've got to tackle. We have to go out and finish, tackle, and get them on the ground."
[+] Enlarge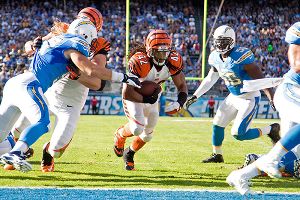 Stan Liu/USA TODAY SportsBehind BenJarvus Green-Ellis, the Bengals racked up 164 rushing yards against the Chargers on Dec. 1.
Powerful Cincinnati running back
BenJarvus Green-Ellis
led the charge, finishing with 92 yards on 20 carries for a robust, 4.6 per carry average, and rookie scat back
Giovani Bernard
totaled 57 yards on 14 carries.
The two combined for 57 yards after contact, as San Diego defenders failed to get either back down at the line of scrimmage.
"We definitely know we have to gang tackle," Chargers defensive end
Corey Liuget
said. "They have two excellent running backs, and we know, defensively, that can't happen again. We just have to be sound with our tackling."
After that game, the Chargers played much better against the run defensively. The return of outside linebackers
Jarret Johnson
(hand) and
Melvin Ingram
(knee) helped shore up San Diego's run defense.
And it showed up in the stat book, with San Diego holding its next three opponents to an average of 56 yards a contest, including a season-low 18 rushing yards allowed at Denver.
But all of those good feelings melted away during the final game of the season, when a Kansas City offense led by mostly reserves bulled through San Diego's defense for 143 rushing yards.
The Chargers had just a week to try and figure things out before facing the Bengals' talented rushing attack again.
While Cincinnati has several playmakers on offense, the run game makes that team go. The Bengals are 7-2 this season when they rush for more than 100 yards. Running the ball takes pressure off quarterback
Andy Dalton
to make too many plays in the passing game, and it also helps keep Cincinnati's defense fresh by keeping it off the field.
And with snow in the forecast for Sunday, the Chargers likely will see a lot of Green-Ellis and Bernard.
"Any time your offense can control the ball and keep
Philip Rivers
off the field, that's a good day for your defense," Cincinnati coach Marvin Lewis said. "He's such an outstanding quarterback, so it's important that we do a good job offensively."
Chargers rookie linebacker
Manti Te'o
said the defense obviously watched film from the first Cincinnati game, but that doesn't mean San Diego will see the same running scheme on Sunday.
"It definitely helps a lot," Te'o said. "But you've got to also understand they're watching the same things. And it's all about knowing yourself. Knowing what you have to work on. Knowing how they're going to attack you. They could come out on Sunday and run something totally different. Like I've always said, it's all about us in this locker room knowing what we've got to do, knowing where we've got to be and executing."
Ultimately, Johnson said his unit has to rely on being assignment-correct.
"We have to be gap-sound," Johnson said. "They have two very different backs, but they're both very effective in their own way. Their screen game to the backs is another thing they do really well. So if we're going to win this game, we have to be effective stopping their backs."
January, 4, 2014
Jan 4
8:15
PM ET
CINCINNATI -- Although it's been four years since the
San Diego Chargers
have been in the playoffs, they do have some guys who have been here before.
Six players on San Diego's roster were with the team when the Chargers advanced to the playoffs in 2009 --
Philip Rivers
,
Antonio Gates
,
Nick Hardwick
,
Eric Weddle
,
Jeromey Clary
, and
Mike Scifres
.
Weddle
Rivers
"It's kind of like we are back," Rivers said. "We are in it. We are alive. We have a chance. It's special. Opportunity is just the first step. We are not in here high-fiving like it's a destination. Everybody is 0-0 and we have a chance just like everyone else."
Another 10 players on San Diego's roster have played in the postseason for other teams. So the Chargers will count on veterans like Rivers and Weddle to explain to the younger players who have not performed in the postseason how to get ready for the team's big game on Sunday here in Cincinnati.
On the other sideline, the Bengals have 37 players who were in the postseason for Cincinnati last season.
"There's nothing like the playoffs," Weddle said. "The atmosphere, the speed of the game, how intense (it is) and how vital each play is. The possessions shrink down.
"You're going good-on-good, so instead of 12 possessions a game, you're looking at nine, eight, sometimes. Every play matters. It's exciting. You live for it."
Rivers and Weddle spent this week explaining to younger players like running back
Ryan Mathews
the higher intensity level that comes with NFL playoff games.
"I've heard it's a lot faster, with the intensity and the crowd," Mathews said. "I heard everything is just amped up, tenfold."
Chargers rookie receiver
Keenan Allen
said the biggest game he's played in up to this point was the 2011 Holiday Bowl for Cal, a 21-10 loss to Texas. But Allen acknowledges a college bowl game does not rival NFL playoff football.
"I had a bowl game my sophomore year in college, but I don't think it will be as intense as a playoff game in the NFL," he said. "I expect a fast game, a lot of competition out there. And hopefully we do a good job."
And what will be your approach, Keenan?
"Just play football," Allen said. "That's what it comes down to every week -- just a different team, different uniform."
January, 4, 2014
Jan 4
6:00
PM ET
CINCINNATI -- For the past month, I've been struck by something
Cincinnati Bengals
rookie running back
Giovani Bernard
said just after rushing for a career-high 99 yards in a home blowout win against Indianapolis.
"The biggest thing that I try to do is just [get] all-purpose yards," Bernard said to reporters after his personal record-setting performance. "It's not the rushing, it's not the receiving -- it's a combination of the two. That's something I've always wanted to concentrate on this entire season."
He could not have cared less about setting a personal high running the football. He was proudest of the career-high 148 yards he tallied both on the ground and in the air.
[+] Enlarge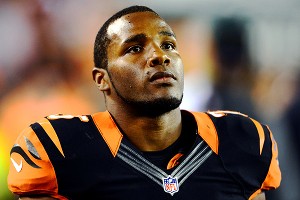 Andrew Weber/USA TODAY SportsGiovani Bernard hopes to impact Sunday's game against the Chargers as a runner and a receiver.
Bernard might be a running back by title, but he thinks of himself as much more. He's a pass-catcher, a route-runner, a pile-mover and an ankle-breaker all mixed into one. It's that combination that has the Bengals confident in his playmaking ability, and one that has helped him lead them to a division championship and a third-straight playoff berth.
The Bengals host the Chargers at 1 p.m. Sunday in the first round of the AFC playoffs.
"Yeah, he's pretty good," offensive coordinator Jay Gruden said. "He can do everything -- catch the ball, run the ball between the tackles, outside. We're fortunate to have him."
As we've outlined before, the Bengals are
more productive with Bernard on the field
compared to when the bigger, more power-running, short-yardage playing BenJarvus Green-Ellis is in the game.
Ahead of this weekend's matchup against San Diego, though, there's another reason for the Bengals to be thankful they have Bernard. When it comes to defending receivers out of the backfield, the Chargers were the league's worst team during the regular season. According to ESPN Stats & Info, they allowed an NFL-worst 8.7 yards per pass attempt to running backs. Bernard didn't account for many of those yards, though. Targeted twice, he caught just one pass for a 9-yard gain in the Dec. 1 game in San Diego. Still, the fact he can catch passes out of the backfield makes him a possible game-changer for the Bengals.
That day, the Bengals were more focused on running the ball than spreading it around using screen passes. Bernard and Green-Ellis led a 164-yard rushing attack that was the team's best of the season. Thanks to one
A.J. Green
reception and three subsequent Green-Ellis runs, the Bengals converted four first downs on a four-minute drive to end the game.
Such a rushing performance could be considerably more difficult for Cincinnati this week. The Bengals will be going against a Chargers defense that has linebackers
Jarret Johnson
and
Melvin Ingram
back. Both missed the first game, leaving big gaps at the defense's second level that Green-Ellis and Bernard were able to routinely expose.
The returns of Johnson and ingram coincided with comparatively better team performances against the run. Three of the past four teams the Chargers have played rushed for less than 100 yards, including the
Denver Broncos
, who had 18 in a loss. San Diego still isn't pleased with that performance from its run defense, so the Bengals could face hazardous rushing conditions.
For that reason, don't be surprised if the Bengals don't run as much as they did in the first meeting. Also, don't be surprised if they try to set up play-action and screen-catching opportunities for Bernard.
The goal for Bernard each week is 150 total yards. If 100 of those yards come in the air, that's fine by him. If 100 of them come on the ground, that's fine, too. So far, he hasn't reached 150. The closest he has come is 148, which he picked up against the Colts the week after the win against San Diego. It's one of three times this season he has gone over the 100-yard plateau in rushing and receiving.
In an effort to help predict how a 150-yard playoff performance might benefit the Bengals, I took a look back at the past five regular seasons and past four postseasons to see how other teams have performed when their running backs have totaled 150 yards rushing and receiving.
Since 2009, teams entering Saturday were 5-3 in the postseason when a ballcarrier topped the 150-total-yard mark. Four of those games belong to Houston's
Arian Foster
, who had 182 and 174 yards, respectively, in first-round wins against the Bengals the previous two postseasons.
Since 2009, teams were 176-86-1 in the regular season when a ballcarrier hit the 150-total-yard plateau.
Overall, the Bengals are 1-3 since 2009 when a back like Foster hits that mark against them. They are 2-3 overall when they have a back do it to another team. In 2009,
Cedric Benson
totaled more than 150 yards twice, including once in the playoffs.
Bernard Scott
had 151 total yards in Week 11 of that year. One season later, Benson had 163 and 150 against the Browns and Buccaneers, respectively.
All of this is to say that Bernard is right. He has to be focused on both running and receiving the football this postseason. And as a fresh-legged rookie who led all first-year backs in receiving, he ought to be among Gruden's primary options against the Chargers.

NFL SCOREBOARD
Thursday, 9/4
Sunday, 9/7
Monday, 9/8