NFL Nation:

2014 Wild Card Chiefs-Colts
January, 5, 2014
Jan 5
12:03
AM ET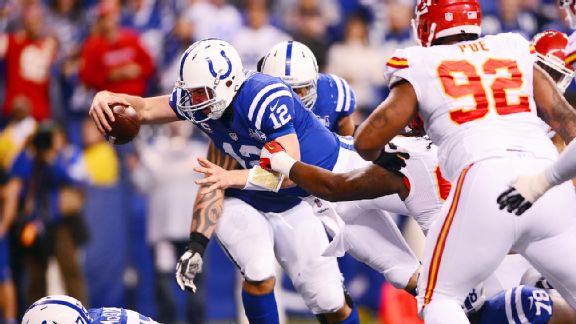 Andrew Weber/USA TODAY SportsColts QB Andrew Luck recovers a fumble to score a fourth-quarter touchdown from 5 yards out.
INDIANAPOLIS -- Indianapolis quarterback coach Clyde Christensen and backup quarterback
Matt Hasselbeck
, with the urging of offensive coordinator Pep Hamilton, gathered with starter
Andrew Luck
at the team hotel on the eve of their wild-card game against the
Kansas City Chiefs
.
This wasn't one these meetings where they gathered in a dark room to watch some more game film. It was more of a heart-to-heart talk between the quarterback coach, the veteran quarterback and the franchise player.
Christensen wanted to make sure Luck wasn't too amped up for his second career playoff game.
"Clyde compared it to the Indianapolis 500," Hasselbeck said. "Don't come out too fast and do something stupid early in the game that takes us out of the race. Ironically, we started well. Then things changed for a little bit."
The Colts looked like they were going to crash out early and have their season end in embarrassment at Lucas Oil Stadium. Luck, the kid who never gets rattled, lost some of his composure as the interceptions increased and the deficit grew.
Then he reverted back to the quarterback who all too often told his teammates not to think about losing because they wouldn't stop playing until the clock had all zeroes on it.
In what's become the norm for Luck during his young career, he shook off his three interceptions and did something that's happened only one other time in playoff history, leading the Colts back from a 28-point deficit to beat the Chiefs
45-44
.
"He's a second-year guy, so technically he's still a kid in the league, but he plays like a grown man," Colts linebacker
Robert Mathis
said. "As long as we have 12, we have a chance."
As crazy as it might sound, the fact Luck led the Colts to the come-from-behind victory isn't surprising. The Colts have won seven games in which they've trailed by double-digits in 34 games as Luck as their quarterback.
It's the 28-point deficit they came back from that's surprising. That's the second-largest comeback in playoff history. Luck finished 29-of-45 for 443 yards, four touchdowns and three interceptions.
He capped off the comeback when he took a step up in the pocket and found receiver
T.Y. Hilton
streaking downfield for a 64-yard touchdown with less than five minutes left in the game.
"He kept telling us, even at 38-10, 'We're going to win this game,'" offensive tackle
Anthony Castonzo
said.
Luck has never been one to show much emotion when things go wrong during the game. But there he was, slapping both hands on the ground as he lay there after one of his interceptions and slapping his hands together as he ran off the field after throwing his third interception.
That's how bad things were going for the Colts and their franchise player. They looked like they were on their way to another one-and-done in the playoffs.
"Yeah, I was disappointed in myself, angry," Luck said. "Really felt like I was letting the team down, especially after I think we got a little momentum on some of those, then I go up there and throw a pick and sort of set everything back. I was angry. You got to flush it. You got to forget about it."
You would have never known Luck made those mistakes when he told his teammates to stay calm because they still had a chance to win the game, despite the large deficit.
As crazy as it sounds, it was all about patience despite the 28-point hole.
"He's not giving you a bunch of bulls--- when he says that stuff," Castonzo said. "At no point does he not believe we're not going to win. He's led us on a lot of comebacks for a reason. The guy does not freak out."
There was some luck involved in this comeback. After running back
Donald Brown
fumbled, the ball bounced off of center
Samson Satele
's helmet, Luck picked it up and ran in from 5 yards out.
"I sort of set Donald up for failure a little bit there," Luck said. "It was a loaded box and I called a run. I was hoping Donald would do one [of] his amazing plays like he'd been doing all game. It didn't happen. Sort of saw the ball there and I think you revert back to playground whatever. Pick it up and try to score."
That was the indication that it was meant to be on this night for Luck and the Colts.
"Andrew kept saying, 'Stay with me, stay with me,'" Colts tackle
Gosder Cherilus
said. "He willed us to this win."
Or as long snapper
Matt Overton
put it, "An ESPN Instant Classic."
January, 4, 2014
Jan 4
11:30
PM ET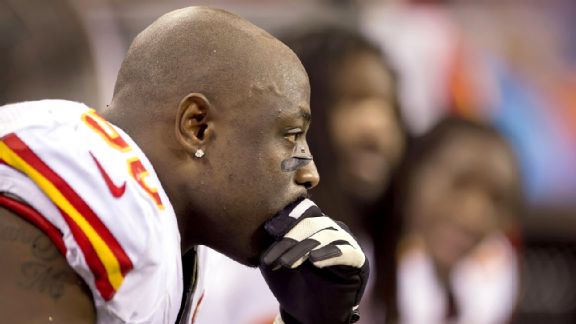 David Eulitt/Kansas City Star/MCTJustin Houston and the Chiefs are out of the playoffs after blowing a 28-point lead to the Colts.
INDIANAPOLIS -- If there was ever any doubt, there can be none now. The
Kansas City Chiefs
, who already owned the market on postseason heartbreak, heaped even more misery on their long-suffering fans Saturday, displaying a new way to lose.
Their defense, the one that carried them to a 9-0 start, collapsed in epic fashion in the second half Saturday in a wild-card playoff game against the
Indianapolis Colts
. The Chiefs held a 28-point lead early in the third quarter, and the defense, the one that created so much havoc early in the season, couldn't hold on.
The 45-44 playoff loss to the Colts was as devastating as any for a franchise steeped in playoff disappointment. If the Chiefs couldn't hold on with a defense that once strangled opposing offenses, will Kansas City ever win a playoff game?
To do that, the Chiefs will have to bring a defense far better than the one that allowed 372 yards and 35 points to
Andrew Luck
and the Colts in the second half.
"Sometimes, the game speaks for itself," coach Andy Reid said. "You don't have to say a whole lot."
He didn't have to. Reid's defense, a unit that once was on a record pace for sacks and didn't allow more than 17 points in the season's first nine games, now owns a dubious place in NFL playoff history.
Only the 1992 Houston Oilers wasted a bigger lead than the Chiefs' 28 points in a playoff game, squandering a 35-3 advantage to lose 41-38 in overtime to the
Buffalo Bills
in a wild-card game.
"It's hard to put into words, to lose a game we clearly had control over," linebacker
Derrick Johnson
said. "This doesn't come around much.
"We had the game won big-time. We'll take that, 31-10 at halftime, any day. You've got to pull it off. We didn't pull it off."
It's tempting to say everything the Chiefs accomplished over the first half of the season was a fluke, but that's too easy. The Chiefs played against plenty of struggling quarterbacks early in the season and their achievements were impressive, no matter the competition.
Just as real were their defensive failures against some of the league's better quarterbacks, such as
Peyton Manning
,
Philip Rivers
and Luck. The competition picked up and the Chiefs couldn't keep up.
Now they have to live with the second-biggest playoff collapse in NFL history, plus the fact that they scored 44 points in a postseason game and still found a way to lose.
"It's hard to comprehend right now," defensive end
Mike DeVito
said. "There was so much, so fast. All we can do right now is feel disappointed. As we go, we'll realize more about what happened."
The Chiefs' playoff losing streak now stands at eight games and 20 years. Kansas City hasn't won a playoff game since 1994, when
Joe Montana
and
Marcus Allen
led the Chiefs past the Oilers at the Astrodome.
During that eight-game playoff losing streak, Kansas City lost to the Colts following the 1995 season by missing three field goals.
The Chiefs also lost to Denver after the 1997 season in a titanic struggle between what were probably the NFL's two best teams.
They lost to Indianapolis again after the 2003 season, when they couldn't make the Colts punt.
Going back to 1971, the Chiefs lost in overtime to the
Miami Dolphins
in an epic battle on Christmas Day. Jan Stenerud, who later was inducted into the Pro Football Hall of Fame, missed three field goal attempts.
All of those games were bitter disappointments. But never had the Chiefs failed to hold a four-touchdown lead.
The Chiefs should have known how Saturday's game might turn out early in the fourth quarter when safety
Eric Berry
pried the ball away from Colts running back
Donald Brown
at the Kansas City 2. The ball bounced off the helmet of a Colts lineman and to Luck, who recovered the fumble and dove into the end zone for the touchdown that cut Kansas City's lead to 41-38.
They should have known how this playoff game might turn out when their offensive engine,
Jamaal Charles
, left the game for good with a concussion in the first quarter. Still, they managed 44 points, which should have been more than enough to secure a victory.
The loss of Charles was never bigger than on the first play of the fourth quarter. The Colts left backup running back
Cyrus Gray
open down the right sideline, but quarterback
Alex Smith
, in a rare mistake, overthrew Gray.
"Anytime you get an opportunity like that, you expect to hit it," Smith said. "The tough part is that all week with so many reps, and obviously with Jamaal getting all of those, it's something we never [practiced] with Cyrus. But you've still got to hit it, though. You don't get many opportunities like that."
As with any game decided by one point, the Chiefs will have a large selection of plays they can pick through to torture themselves with by playing the what-if game.
Thanks to a shoddy defense, they'll now have months to ponder all of them.
January, 4, 2014
Jan 4
8:10
PM ET
INDIANAPOLIS -- A few quick thoughts on the
Indianapolis Colts
' 45-44
victory
over the
Kansas City Chiefs
.

What it means
: The Colts made history. They went from looking like they were on their way to starting their vacation immediately after the game to pulling off the second-largest comeback in playoff history. The Colts were down 38-10 when quarterback
Andrew Luck
worked his magic and receiver
T.Y. Hilton
was on the receiving end of most of those passes. Luck shook off three interceptions to go 29-of-45 for 443 yards and four touchdowns. The Colts completed the 28-point comeback when Luck hit Hilton down the middle of the field for a 64-yard touchdown with less than five minutes remaining. Buffalo's 32-point, come-from-behind victory over the Houston Oilers in the 1992 playoffs is the largest.
Hilton plays big
: Luck deserves a lot of credit for bringing the Colts back -- and for why they fell behind -- but he got plenty of help from Hilton, his go-to receiver since
Reggie Wayne
was lost for the season with a torn ACL. Hilton finished with 13 catches for a franchise-playoff record 224 yards, including the game-winning 64-yard touchdown that put the Colts up 45-44.
Toler leaves the game
: Colts cornerback
Greg Toler
's day went from bad to worse when he left the game with a groin injury in the first half. Toler's bad game started when he missed tackling Chiefs receiver
Dwayne Bowe
twice on a 63-yard reception during Kansas City's second offensive series. Then former Colt
Donnie Avery
blew by Toler for a 79-yard touchdown on the third play of the second quarter. Toler left the game later in the quarter with the groin injury. Toler missed seven games during the regular season with a groin injury.
What's next
: The Colts will travel to Denver or New England next weekend, depending on the outcome of the Cincinnati-San Diego game Sunday.
January, 4, 2014
Jan 4
8:01
PM ET
INDIANAPOLIS -- A few thoughts on the
Kansas City Chiefs
' 45-44
loss
to the
Indianapolis Colts
:
What it means:
The 2013 Chiefs are among history's most infamous playoff teams. The Chiefs led 38-10 early in Saturday's third quarter before an epic collapse. The blown lead of 28 points is the second-biggest in NFL playoff history, behind the 32-point margin coughed up by the Houston Oilers against the
Buffalo Bills
in 1993. The Chiefs lost their eighth consecutive playoff game in a streak dating back 20 years.

Stock watch:
Quarterback
Alex Smith
set a franchise record for touchdown passes with four. The touchdowns went to four different receivers.
Joe Montana
held the old record of three, in Kansas City's most recent playoff victory, in January 1994 against the Oilers. But Smith lost a fumble in the third quarter with the Chiefs ahead 38-17, and it led to an Indianapolis touchdown. Wide receiver
Donnie Avery
left the game late in the first half with a concussion and caught only one pass, a 79-yard touchdown in the second quarter that gave the Chiefs a 17-7 lead, their first double-digit advantage of the game. They never led by fewer than 10 points until the fourth quarter. Outside linebacker
Justin Houston
had a sack and a fumble recovery in his first game since suffering a dislocated elbow Nov. 24 against San Diego. Nickel safety
Husain Abdullah
had two interceptions. After missing the potential game-winning field goal attempt in the final seconds of Sunday's game in San Diego,
Ryan Succop
made all three of his tries.
Concussion for Charles:
The Chiefs lost running back
Jamaal Charles
on their first possession with a concussion; they still scored a franchise record for points in a playoff game without him. His backup, rookie
Knile Davis
, scored on a 4-yard run in the second quarter and a 10-yard catch in the third quarter. Davis left the game with a knee injury in the fourth quarter, leaving
Cyrus Gray
and
Dexter McCluster
to finish the game at running back. The Chiefs also lost starting cornerback
Brandon Flowers
to a concussion. Houston injured his leg late in the game and did not return.
What's next:
The Chiefs lost five of their final seven regular-season games before collapsing against the Colts.