NFL Nation:

2014 Wild Card Saints-Eagles
January, 5, 2014
Jan 5
3:09
AM ET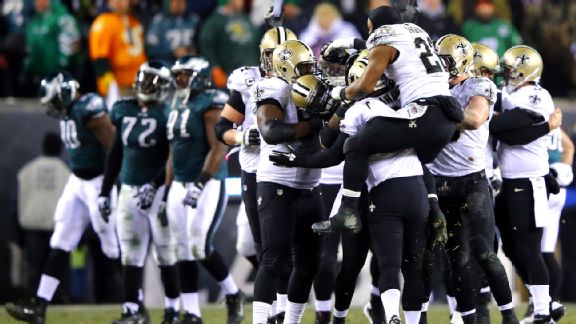 Al Bello/Getty ImagesThe Eagles had their chances but couldn't do the little things to beat the Saints.
PHILADELPHIA -- Quarterback
Nick Foles
warmed up on the sideline, waiting for another chance, for one more possession.
It never came. Instead of running onto the field to try to lead the
Philadelphia Eagles
to one more score, Foles watched the
New Orleans Saints
celebrate a
26-24 playoff victory
. Instead of regrouping for a playoff game against the
Carolina Panthers
next Sunday, Foles and his teammates will spend the offseason picking at the seams of a game they let slip away.
"It's tough right now," Foles said. "There are a lot of emotions and I'm holding it together. ... I'm hurting inside right now in my heart."
"They killed us slowly," running back
LeSean McCoy
said. "It was a terrible feeling. There was nothing we could do but watch."
By the time
Shayne Graham
's 32-yard field goal sailed through the uprights as time expired, there was nothing they could do. But for the 59 minutes and 57 seconds before that, there was plenty they could have done.
That's why these are the hardest games to lose, the ones in which a dropped pass here, a missed field goal there accumulate like individual snowflakes until a team's hopes are buried in an avalanche. On Saturday afternoon, the Eagles were improbable NFC East champions with a chance to do something special in coach Chip Kelly's first season.
By midnight, they were finished. Buried.
"It's just disappointing," Kelly said. "I don't think us winning the division or getting to the playoffs was a surprise to us. I just think everybody is really disappointed that we're not moving forward."
"I've never been out of the first round of the playoffs," left tackle
Jason Peters
said. "I felt like this is the year. But we got knocked out and we're at home now. That kickoff, the missed field goal, a couple drops, that sack -- there's a bunch of stuff that went wrong that's messing with me right now. Just got to get over it."
It will take some of them longer to get over than others. Peters is 31. He tore his Achilles tendon twice and had it surgically repaired twice. After missing the entire 2012 season, he returned this year and earned another Pro Bowl berth. He doesn't know how many more chances he's going to get.
Cornerback
Cary Williams
won a Super Bowl ring with the
Baltimore Ravens
last year. He was seething after losing this game, to this team, with so much at stake.
"I don't know whether it was the moment or what it was," Williams said. "But we've got to get better in that scenario, in these situations. We failed. We lost to a team that wasn't necessarily better than us. They weren't better than us, period."
Williams was in the middle of the single play that cost the Eagles most dearly. Foles hit tight end
Zach Ertz
for a 3-yard touchdown to give the Eagles a 24-23 lead with 4:54 remaining in the fourth quarter.
Shoot the final gun there and Foles' remarkable season is extended by the kind of fourth-quarter comeback that burnishes quarterbacks' reputations. Instead, the Eagles had to kick off.
Darren Sproles
took the ball 2 yards inside his own zone and somehow got through the Eagles' first wave of tacklers.
"He broke contain," Williams said. "I'm the safety valve there. I didn't want to dive, because if he steps out of my tackle, it's six points. I just wanted to get the man down, just give our defense a chance to get on the field and make a stop."
[+] Enlarge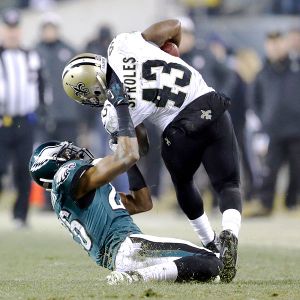 AP Photo/Julio CortezCary Williams' horse collar tackle on Darren Sproles proved costly -- it gave the Saints a short field on the game-winning drive.
Williams went high, tackling Sproles and drawing a penalty for a horse-collar tackle. The Saints got the ball at the Philadelphia 48. They ran the ball, converting three first downs and draining the clock until calling a timeout with three seconds left. There would be no time for Foles and the offense to get that one last chance.
"The game came down to us as a defense making a stop, and we knew it was going to come down to that," linebacker
DeMeco Ryans
said. "That is what the playoffs are all about. Whoever is on the field last has to stand up and make a play."
But it was all the plays before that created the situation:
Foles held the ball too long and took a sack that turned a makeable
Alex Henery
field goal try into a 48-yard miss.
Wide receiver
Riley Cooper
dropped a third-down pass in the third quarter with nothing but green in front of him.
Linebacker
Mychal Kendricks
slapped the ball from Saints tight end
Jimmy Graham
's grip, but a replay showed the fumble occurred a moment after Graham's knee touched the ground. Instead of a turnover, the Saints kept the ball and kicked a field goal.
Foles' pass to McCoy on third-and-6 in the red zone picked up 5 yards. Instead of a touchdown and a 21-20 lead, the Eagles kicked a field goal and trailed 20-17.
Those are the little loose threads that the Eagles will pick at when they reflect on this game. It didn't matter that they had exceeded expectations to get to this point. They had a chance to keep playing and they fell short.
"There was a missed opportunity tonight," Eagles owner Jeff Lurie said. "We were a dangerous team."
They will be a different team in 2014. Change is inevitable. All of them know that. And while there is every reason to expect good things from Kelly and Foles in the future, nothing is certain.
"It hurts whenever you lose a game that you know you should have won," center
Jason Kelce
said. "We all expected to do a lot better in the playoffs. As a player, the careers don't last very long. The opportunities you get in the postseason, you have to try to seize them. We didn't seize the day here."
January, 4, 2014
Jan 4
11:35
PM ET
PHILADELPHIA -- A few thoughts on the
New Orleans Saints
' 26-24
victory
over the
Philadelphia Eagles
in Saturday's NFC playoff opener, which sends them to Seattle for the divisional round next week.

What it means:
Can't win a big game on the road? Can't win out in the cold? The Saints finally made their counter-argument, making this one of the biggest victories in franchise history. It was their first road playoff win of all time, snapping an 0-5 skid. They also snapped a three-game losing streak on the road this year.
However, it won't be any easier to repeat that feat next Saturday at Seattle against the top-seeded Seahawks. The Saints' ugliest performance of the year came at Seattle on a Monday night last month, when they were routed 34-7. They'll need to bring the same run game and defensive effort with them next week that they brought to Philadelphia.
Stock watch:
Saints running back
Mark Ingram
improved his stock about as much as anyone possibly could in one game. After three somewhat disappointing seasons in New Orleans, the former Heisman Trophy winner delivered with a huge performance in one of the biggest games of his NFL career to date -- 18 carries for 97 yards and a touchdown. Fellow running back
Khiry Robinson
also ran eight times for 45 yards as the Saints relied on their run game as much as ever. Fittingly, they even ran out the final four-plus minutes to set up the game-winning field goal by
Shayne Graham
.
Game balls all around:
Who doesn't deserve credit for this win? The run game was huge. The defense was huge. Graham was huge. And
Drew Brees
was huge after bouncing back from two ugly interceptions in the first half. Last but not least, coach Sean Payton was huge for pushing all the right buttons all week long. (The Gatorade, Popeyes and sweatsuits worked! So did the game plan.)
Up next:
Obviously the Saints (12-5) will remain underdogs at Seattle next week. It would be huge for them to get cornerback
Keenan Lewis
back from the concussion he suffered in the second half at Philadelphia. The Eagles started picking on the Saints' secondary after that.
I absolutely think the Saints can play a much cleaner game at Seattle than they did the first time around. But whether that will be enough against the NFC's top team remains to be seen.
January, 4, 2014
Jan 4
11:23
PM ET
PHILADELPHIA -- A few thoughts on the
Philadelphia Eagles
'
26-24 playoff loss
to the
New Orleans Saints
Saturday night:
What it means.
Chip Kelly's impressive first season as coach of the Eagles ends with an erratic performance in a playoff loss. Kelly's offense was thrown out of rhythm all game by the Saints' defense and was never able to gets its uptempo, aggressive approach into gear. Quarterback
Nick Foles
' dream regular season ended with an inconsistent performance. Foles wasn't to blame for the loss, but he didn't deliver the heroics necessary to beat
Drew Brees
and the Saints. The Eagles can feel good about their progress from a 4-12 record in 2012 to a 10-6 record and a division title, but they also know they let a winnable home playoff loss slip away.

Game changer.
Foles threw an ill-advised pass to
Jason Avant
in the third quarter. Avant had to turn and jump and was an easy target for Saints cornerback
Keenan Lewis
. Lewis drilled Avant, knocking the ball loose. But Lewis also knocked himself out of the game with a head injury. Moments later, Foles threw a jump ball to
DeSean Jackson
, who had been held without a catch up until that point. The 40-yard gain kick-started the Eagles' comeback from a 20-7 deficit to a 24-23 lead.
Corey White
, the victim on that completion, committed a 40-yard pass interference penalty to set up the Eagles' go-ahead touchdown.
Happy returns.
Big special teams plays made a huge difference in the fourth quarter. Jackson, frustrated on offense much of the game, danced down the left sideline for 29 yards to give the Eagles good field position. They turned it into a field goal, closing to within 20-17. After the Eagles scored a touchdown to take a 24-23 lead,
Darren Sproles
got outside on the kickoff return. He might have gone the distance, but
Cary Williams
dragged him down from behind. The 39-yard return and 15-yard horse-collar penalty gave the Saints the ball at the Eagles 48 for their game-winning drive.
Stock watch.
Steady: Chip Kelly. Let's put it this way. Kelly coached a much better season than he coached in this particular game. There's no shame in getting outmaneuvered by a couple of veteran coaches like Sean Payton and Rob Ryan. But there's no denying that's what happened, either. The Saints couldn't get anything going in the first half. It took a field goal as time expired for them to get to six points. But they came out sharper and better prepared in the second half, building that 20-7 lead and then driving for the game-winning field goal in the final minute.
What's next.
The Eagles will go into the offseason knowing they have a coach and quarterback they can win with, and that is a huge step. They also know where their biggest needs are. The future is bright, even if the Eagles missed an excellent opportunity to do something special in this postseason.
January, 4, 2014
Jan 4
9:55
PM ET
PHILADELPHIA -- Points were hard to come by in the
first half
Saturday night, but two thrown interceptions by
New Orleans Saints
quarterback
Drew Brees
have swung the momentum. Here are a few thoughts on the action:

Picked off:
The problem that has plagued the Saints on the road all season crept up again -- twice. Brees committed two unforced errors with two interceptions. The first was a deep ball intended for
Kenny Stills
. The ball hung up in the air, and Stills couldn't locate it, but cornerback
Bradley Fletcher
did.
The second interception was more of a stunner. Brees tried to fire a short pass to receiver
Lance Moore
, but he threw it right into the waiting arms of linebacker
DeMeco Ryans
. That one was also more costly since the Eagles followed up with a touchdown drive.
Brees only threw 12 interceptions all season. But he threw two of them early in a Week 15 loss at St. Louis, and two in the Week 16 loss at Carolina. It's an ugly trend he can't afford to continue in the second half. ... A good reminder -- the same thing happened in the Saints' last playoff game at San Francisco two years ago, and Brees rallied back with a monster second half.
Defensive battle:
The Saints' defense, meanwhile, has been holding its own for most of this surprisingly low-scoring duel. The Eagles have only 122 yards. Dangerous running back
LeSean McCoy
has just 42. Saints Pro Bowl defensive end
Cameron Jordan
has been particularly good with a sack and a couple other stops in the backfield. And cornerback
Keenan Lewis
has remained stingy against big-play threat receiver
DeSean Jackson
, who has no catches.
But the Saints lost the big-play battle 1-0. They haven't forced any turnovers. And they allowed a 10-yard touchdown pass from
Nick Foles
to
Riley Cooper
when Foles had too much time to find an open man against a three-man rush.
Running strong:
The Saints have stuck with the run game even more than usual tonight, and it's been working well. They have 94 yards on 16 carries, including 41 on seven carries by
Mark Ingram
. The good news for them is that the score remains close, so they can remain patient.