NFL Nation:

2015 Super Bowl
October, 10, 2011
10/10/11
7:55
PM ET
NFL team owners will get a glimpse of Tampa Bay when they arrive for Tuesday's league meeting – in Houston.
[+] Enlarge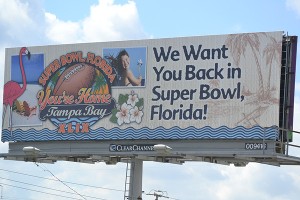 Courtesy visittampabay.com The Tampa Bay Host committee is hoping to sway 2015 Super Bowl voters with billboards on the interstate.
They'll see billboards shouting out Tampa Bay's desire to host the 2015 Super Bowl. The group in charge of Tampa Bay's presentation had two billboards installed between the highway leading from the airport to the hotel where the owners will be meeting.
Tampa Bay and Glendale, Ariz. (or the greater Phoenix area) are the two finalists for the 2015 game. But Tampa Bay may have an edge.
That's because Tampa Bay narrowly missed out on the 2014 Super Bowl, which was awarded to the New York area and will be played in New Jersey. The league did not announce the result of that vote. But Tampa Bay officials and members of the Glazer family, which owns the Buccaneers, have said they were told by other owners and league officials that Tampa Bay finished a very close second.
History has shown that's a good omen for Tampa Bay, which has hosted four Super Bowls. Back in the late 1990s, the league was voting on the site of the 2000 Super Bowl. Atlanta edged Tampa Bay in the vote, but Buccaneers owner Malcolm Glazer didn't take that news well.
The normally-quiet Glazer provided a very strong reminder to former Commissioner Paul Tagliabue and other owners of a promise that Tampa Bay would get a Super Bowl if a new stadium was built. Raymond James Stadium opened in 1998.
Tagliabue and the other owners quickly made an adjustment and went ahead and awarded the 2001 game to Tampa Bay.
April, 5, 2011
4/05/11
11:20
AM ET
Here's some more good news for Tampa Bay's
expected bid for the 2015 Super Bowl
, which likely will be voted on this fall.
After snow and ice played havoc throughout the week during this year's Super Bowl in North Texas, the NFL said it no longer will look simply at "most-likely worst-case scenarios.'' It will take into consideration events that aren't likely, like the Dallas area having snow and ice that didn't melt for days.
What happened in North Texas could help steer future Super Bowls back to warm-weather cities. Indianapolis previously was awarded the 2012 Super Bowl and New York/New Jersey got the 2014 game last year in a close vote over Tampa Bay. New Orleans already was awarded the 2013 game.
The Indianapolis Super Bowl will be played in an indoor stadium and that means the elements won't impact the game. But the North Texas Super Bowl also was played indoors and Super Bowls aren't just about the game. They're about the week leading into the game and that week was a disaster in the Dallas area.
We won't know for sure what role snow and ice will play in the Indianapolis Super Bowl week until it arrives. The same can be said for New York/New Jersey. But it's a pretty safe assumption it will not be balmy in Indianapolis or New York/New Jersey in February.
New Orleans should be pretty safe. February weather there can fluctuate anywhere from warm to a little chilly. But New Orleans rarely gets frigid weather and ice and snow storms are virtually unheard of.
But Tampa Bay, where February weather is pretty stable, seems to be in a perfect position to get the 2015 game.
I understand the league has used Super Bowls to help some venues get new stadiums, but I think that trend has gotten out of hand. I think the league should go to a rotation in which Super Bowls are played only in Miami, Tampa Bay, New Orleans and Arizona. If San Diego gets a new stadium, then put it into the mix.
The league hit its worst-case scenario in North Texas. Miami, Tampa Bay, New Orleans, Arizona and, potentially San Diego, all provide best-case scenarios when you're looking at weather for an entire week in February.
March, 23, 2011
3/23/11
10:15
AM ET
NEW ORLEANS -- The NFL labor situation is pushing back a lot of things and Tampa Bay's expected bid for the 2015 Super Bowl is one of them.

In past years, future Super Bowls sometimes have been awarded at the spring NFL owners meeting, like the one that concluded Tuesday, or at a lower-profile meeting in May. But the next city to get a Super Bowl will have to wait until the NFL's fall meeting, which usually is held in October.

Two league officials said the current plan is not to award the 2015 Super Bowl until this year's fall meeting. Tampa Bay narrowly lost out to New York last year in the bid for the 2014 Super Bowl, and many assumed that made the region the automatic favorite for the next available game.

I'm thinking that probably is still the case and it's just going to take a bit longer to happen. The nasty winter weather that impacted the Dallas area during this year's Super Bowl week probably made Tampa Bay's climate look better than ever. The next two Super Bowls are scheduled for Indianapolis and New Orleans.