January, 17, 2013
1/17/13
3:53
PM ET

Any
Buffalo Bills
fan with a pulse knows the team
desperately needs linebacker help
. For starters, Buffalo lacked toughness and was 31st against the run in 2012. Second, new defensive coordinator Mike Pettine will mix in more 3-4 alignments next season.
Most Bills fans are also aware that for weeks -- and perhaps months -- Notre Dame middle linebacker Manti Te'o has been linked as a possibility for Buffalo in April's NFL draft. Te'o, it was thought, brings physicality, instincts and natural leadership. Those are all traits the Bills could use on defense.
But
this week's bizarre story
about Te'o and an apparent girlfriend that never existed raises a lot more questions than answers. Was Te'o
the victim or perpetrator
?
Here is another important question: Should the Bills still consider Te'o with the No. 8 overall pick? That is where ESPN draft guru
Mel Kiper Jr. pegged Te'o
before this strange story became public. Buffalo is starting a new era under rookie head coach Doug Marrone, and drafting Te'o with the top pick in April would be an interesting first move.
Te'o was projected to be a top-15 pick before this week. But that can always change during this pre-draft process. Te'o will be perhaps the hottest commodity at next month's NFL combine. NFL scouts, executive and media will want to know the real story from Te'o behind this controversy.
The Bills will have their choice of a variety of top prospects with the No. 8 overall pick. Te'o was once considered a safe pick at the top half of the first round, but that may no longer be the case.
January, 9, 2013
1/09/13
3:32
PM ET
The
Buffalo Bills
made a quality hire for defensive coordinator Wednesday by nabbing Mike Pettine of the
New York Jets
. Pettine's 3-4 defenses have been strong in New York the past four seasons.
But a major quandary facing Pettine is whether or not he will run his 3-4 scheme in Buffalo, which currently has 4-3 personnel. Here is another big question: Would defensive end
Mario Williams
be happy playing outside linebacker?
Williams was recruited to Buffalo, in part, with the expectation of playing a 4-3 defensive end. The fact that Williams got to play next to defensive tackles
Kyle Williams
and
Marcell Dareus
was appealing to Williams. Of course, $100 million cemented his decision.
But Williams played outside linebacker before in 2010 with the
Houston Texans
. He actually played well before getting injured. Williams had five sacks in five games.
Would Williams be happy as an outside linebacker again in Buffalo? Williams is a natural 4-3 defensive end who would play out of position in Pettine's scheme. Or will Pettine sacrifice his scheme and run a 4-3 for his highest-paid player to remain in his natural position?
Pettine also has the option to run a hybrid 3-4 and 4-3 defense. I think that would make the most sense and is the best compromise. But that would still require Williams to play a percentage of snaps at outside linebacker next season.
April, 30, 2012
4/30/12
12:00
PM ET
The
New York Jets
had an unexpected luxury Thursday night when former North Carolina defensive end
Quinton Coples
and former South Carolina defensive end
Melvin Ingram
were both on the board at No. 16. Most expected to the Jets to take Ingram, who appeared to be a great fit in Jets coach Rex Ryan's 3-4 defense.

But New York took Coples instead. He has a ton of natural ability but
questions about his motor
. The
San Diego Chargers
happily took Ingram two picks later, and the development of both players will be something to keep an eye on.
Did the Jets make the right choice? ESPN draft expert Mel
Kiper Jr. weighed in

:
"The Jets surprised me when they went with Quinton Coples over Melvin Ingram in Round 1. To be blunt, I just think Ingram is the superior player -- and I have outside linebacker as New York's top need. Coples is a more natural fit as a 4-3 defensive end, and the obvious conclusion is Rex Ryan intends to move him inside. Still, I don't see him as a significant help in a need area -- the pass rush."
The Coples-Ingram debate will linger in New York for the next few years. Coples should have a chip on his shoulder to prove he was the right choice for the Jets over Ingram.
March, 14, 2012
3/14/12
6:09
PM ET
The
Miami Dolphins
are full of surprises in the first week of free agency.
Soliai
One day after trading Pro Bowl receiver
Brandon Marshall
, Miami retained another Pro Bowler -- defensive tackle
Paul Soliai
-- with a two-year,
$12 million contract
. It's an affordable contract for a quality player.
Many thought Soliai was all but gone after Miami failed to reach a long-term agreement with him for the past year. The Dolphins gave Soliai the franchise tag last year but weren't going that route again this offseason.
Soliai was on the open market for about 24 hours before Miami reached an agreement. He is the team's best run stuffer and will be the anchor in the middle of Miami's revamped defense. New Dolphins defensive coordinator Kevin Coyle has not confirmed if they will run a 4-3 or 3-4 defense next season.
October, 26, 2011
10/26/11
3:47
PM ET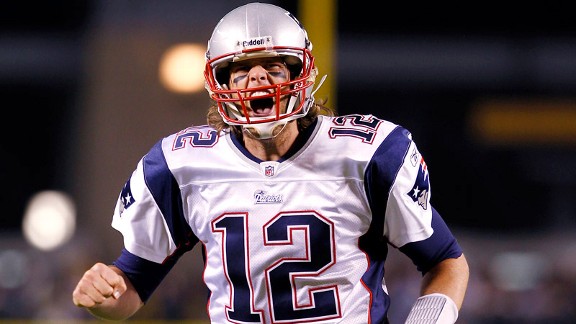 Joe Robbins/Getty ImagesTom Brady will be looking to improve his career record against the Steelers to 7-1 on Sunday.
This is not opinion. This is fact.
Tom Brady
owns the
Pittsburgh Steelers
. There is no simpler way to put it.
The
New England Patriots
' future Hall of Famer dominates the "Steel Curtain" defense like no other quarterback in NFL history. Brady beats Pittsburgh at Heinz Field. He beats Pittsburgh at Gillette Stadium. He owns the Steelers in the regular season and in the playoffs.
Brady is an impressive 6-1 all-time against Pittsburgh. He will look to add to that record Sunday when the Patriots (5-1) travel to meet the Steelers (5-2) in a possible playoff preview.
Brady is the one quarterback Pittsburgh's vaunted defense doesn't want to see on the opposing sideline. According to ESPN's Stats and Information, he's thrown for 2,008 yards and 14 touchdowns, with only three interceptions.
Brady also has a 104.8 career passer rating versus Pittsburgh and a 67.8 completion percentage.
"It's just a terrible matchup for the Steelers," Matt Williamson of Scouts Inc. explained. "Any time you design a defense or offense, you're going to have strengths and weaknesses. ... Their defense isn't a good fit for the Patriots. If you're just looking at the roster, you want to force the Steelers to play nickel. You want to take
Casey Hampton
off the field when he's healthy and replace him with
William Gay
. Hampton is a good player and Gay isn't. The Patriots have the weapons and the receiving threats to do that."
On paper, this looks like it will be a tough battle between New England's No. 1-ranked offense against Pittsburgh's third-ranked defense. But Brady's history with Pittsburgh proves that the battle may not be so tough after all.
Steelers defensive coordinator Dick LeBeau's zone-blitz scheme thrives off disguise and confusion. But Brady, 34, is so cerebral that he stays one step ahead of Pittsburgh.
[+] Enlarge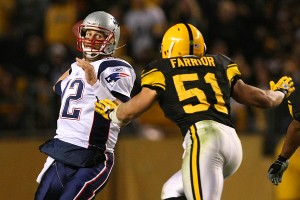 Jason Bridge/US PresswireAgainst the Steelers in 2010, Tom Brady was 30-of-43 for 350 yards and three touchdowns.
The most recent meeting in 2010 was a perfect example. Brady read Pittsburgh's defense like a book. He utilized short, decisive passes to carve up the Steelers and was 30 of 43 for 350 yards and three touchdowns.
Brady makes it look easy against Pittsburgh. Steelers head coach Mike Tomlin, now in his fifth season, has yet to beat Brady.
"He is just very good physically and mentally," Tomlin said this week. "He is very talented in both areas. He is tough to trick, he makes quick decisions, he has pinpoint accuracy and he has the arm to do the things he desires to do."
Schematically, Pittsburgh has a hard time adjusting to New England's multiple formations. For years the Patriots have used the spread offense to pick apart the Steelers' 3-4 defense. Other teams are starting to catch on. The
Green Bay Packers
did some of the same things to beat Pittsburgh in Super Bowl XLV this past February.
Pittsburgh's biggest strength is its front seven and its biggest weakness is cornerback depth. New England is able to dictate Pittsburgh's personnel groupings by putting three or more receivers on the field. Stud tight ends
Aaron Hernandez
and
Rob Gronkowski
often are moved outside the box and used as receivers. This forces Pittsburgh to go three- and four-deep at corner, while removing a linebacker or defensive lineman.
If Pittsburgh stays in its base defense, Patriots receivers like
Wes Welker
, Hernandez and Gronkowski could have a field day against far-less athletic linebackers
James Farrior
,
LaMarr Woodley
and
Larry Foote
.
If Pittsburgh takes its linebackers off the field in favor of extra cornerbacks like William Gay and
Keenan Lewis
, New England will have an easier time running the ball with its deep stable of running backs. The Patriots are tied for 10th in the NFL in rushing and average 4.6 yards per carry.
There are no easy answers for the Steelers.
"Both teams know each other well, so I don't think there will be a ton of surprises here," Patriots head coach Bill Belichick said this week. "It will come down to preparation, execution and decision-making on game day."
It also doesn't help Pittsburgh that Pro Bowl outside linebacker
James Harrison
will miss his fourth consecutive game with an eye injury. Getting to Brady is key, and Woodley (seven sacks) has been Pittsburgh's only consistent pass-rusher this year.
"I think [Harrison] is one of the top 10 or 15 players in the league, and now they're weaker at two positions," Williamson said. "
Lawrence Timmons
was a force on the inside. Now, he's disappeared on the outside. So they're much weaker there, and they're much weaker inside where Timmons used to be."
The key chess match in this game will be between Brady and Pittsburgh safety and reigning Defensive Player of the Year
Troy Polamalu
. Brady usually gets the best of Polamalu with his ability to make great pre-snap reads.
But Brady knows Polamalu is capable of making big plays at any time. Polamalu has 43 tackles and one sack this season.
"Troy is a phenomenal player," Brady said this week on WEEI radio in Boston. "I watched a bunch of his highlights with Coach Belichick yesterday in our film study. He's as good as he's ever been. He flies around the field. He's incredibly fast and instinctive. He covers a lot of ground out there. You have to keep your eyes on him on every play."
Giving the Patriots two weeks to prepare is bad news for opponents.
According to the Elias Sports Bureau, New England coach Bill Belichick is 8-0 after the bye since 2003. The Patriots have the second-longest active win streak following the bye, trailing the
Philadelphia Eagles
, who have won 12 in a row.
"New England adapts week-to-week to their opponent better than anyone in league on both sides of the ball," Williamson said. "Where I think the Steelers are more like 'We're the Steelers, and we're just better than you.'"
The Steelers have won championships. But they haven't been better than the Patriots for a long time.
It will remain that way until Pittsburgh solves the Brady conundrum.
June, 10, 2011
6/10/11
12:00
PM ET
»
NFC Underrated Players
:
East
|
West
|
North
|
South
»
AFC
:
East
|
West
|
North
|
South
A team-by-team look at the most underrated players in the division.
Cincinnati Bengals
[+] Enlarge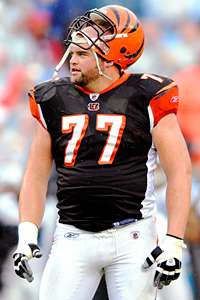 AP Photo/Mike McCarnAndrew Whitworth has become a team leader in Cincinnati.
Andrew Whitworth, left tackle:
Whitworth has quietly developed into one of the NFL's better left tackles, but you wouldn't know it because of the team he plays for. Whitworth rarely gives up sacks and has held up well against elite pass-rushers such as
James Harrison
in Pittsburgh and
Terrell Suggs
in Baltimore. Opponents speak highly of Whitworth, but he's never been to a Pro Bowl and rarely gets much attention outside Cincinnati. Whitworth also has taken over the important role of the Bengals' locker room leader after the departure of
Willie Anderson
.
Pittsburgh Steelers
Brett Keisel, defensive end:
When the beard is more popular than the player, you're definitely underrated. Last season, Keisel received more publicity than ever in his 10-year career for his playoff beard. The beard has its
own stories
, T-shirts and
Facebook page
, while Keisel the player remained under the radar. Because of Pittsburgh's 3-4 scheme, defensive ends for the Steelers will never put up gaudy stats or get the recognition they deserve. But Keisel, a former seventh-round pick, has been at the forefront of Pittsburgh's stout run defense for a long time. Keisel earned his first Pro Bowl nod as an injury replacement last season, although he missed the game because of the Super Bowl.
Cleveland Browns
Ben Watson, tight end:
The AFC North reception leader for tight ends last season wasn't
Heath Miller
,
Todd Heap
or 2010 first-round pick
Jermaine Gresham
. It was Watson, who caught 68 passes for 763 yards and provided the only consistent receiving threat for the Browns this past season. Watson is expected to be quarterback
Colt McCoy
's safety valve again in 2011. Cleveland's front office gets plenty of praise for last year's draft class. But the team also quietly hit on several free agents and trades. Watson was among a group of new contributors to Cleveland that included tailback
Peyton Hillis
and linebackers
Scott Fujita
and
Chris Gocong
.
Baltimore Ravens
Jarret Johnson, linebacker:
For years, Johnson has been the unsung player on a defense filled with big names like Suggs, linebacker
Ray Lewis
and safety
Ed Reed
. Johnson has been a full-time starter for Baltimore the past four years and is extremely durable. He's only missed one game in eight seasons. Johnson also has the versatility to do whatever the coaching staff needs in a given week. Johnson recorded 50 tackles or more in each of the past four seasons.
March, 24, 2011
3/24/11
12:00
PM ET
»
NFC Draft Watch
:
East
|
West
|
North
|
South
»
AFC
:
East
|
West
|
North
|
South
Each Thursday leading up to the NFL draft (April 28-30), the ESPN.com NFL blog network will take a division-by-division look at key aspects of the draft. Today's topic: schemes and themes.

Baltimore Ravens
Two of Baltimore's needs involve players to fit a certain scheme. Defensively, the Ravens are searching for a versatile pass-rusher who can complement Pro Bowler
Terrell Suggs
and play in both 3-4 and 4-3 defenses. Baltimore is one of the few teams that play a varying scheme. Suggs is the prototype, because he can put his hand in the dirt as a defensive end as well as stand up and rush the passer or drop into coverage. The Ravens have
reportedly shown interest
in several pass-rushers, including Purdue's
Ryan Kerrigan
and Georgia's
Justin Houston
.
Offensively, the Ravens need a speedy deep threat at receiver to plug into offensive coordinator Cam Cameron's vertical passing game. Baltimore wants to run an attacking-style offense that puts more pressure on the defense. But the team struggled to stretch the field with mostly possession receivers last season. If the Ravens can find a burner who can make the same impact
Mike Wallace
did for the Pittsburgh Steelers two years ago, it could take Baltimore's offense to the next level. One option could be Maryland receiver
Torrey Smith
.

Cincinnati Bengals
The Bengals are one of two Ohio teams switching to a West Coast offense this season, and that will impact their draft strategy.
For starters, Cincinnati has to draft a quarterback to fit the system, which is based on timing and accuracy. Franchise quarterback
Carson Palmer
wants out
and threatened to retire
. In his mind, he's not coming back and the Bengals have to plan accordingly. Cincinnati
has been linked
to Auburn's
Cam Newton
the most. But don't rule out Missouri's
Blaine Gabbert
, Arkansas'
Ryan Mallett
or other top quarterback prospects.
Depending on the future of veteran
Chad Ochocinco
, Cincinnati may also be in the market for a receiver. All indications are that the Bengals want to go younger at the position, which would make Ochocinco, 33, trade bait this offseason. Georgia receiver
A.J. Green
could be a possibility for Cincinnati at No. 4 overall.

Cleveland Browns
The Browns are in a similar situation to Cincinnati. A new West Coast offense under rookie head coach Pat Shurmur will emphasize the passing game, and Cleveland has lots of questions at receiver.
It's hard to envision Cleveland throwing the ball at least 55 percent of the time to its current group of receivers.
Brian Robiskie
,
Mohamed Massaquoi
and
Chansi Stuckey
struggled to get open consistently and make plays last season for rookie quarterback
Colt McCoy
.
Green could be that impact receiver for the Browns. But they have bigger needs, such as defensive line. The Browns are also switching to a 4-3 defense and are short on
defensive ends and tackles
. Filling one of those positions would make the most sense with the No. 6 overall pick. Teams like the Steelers (Wallace,
Emmanuel Sanders
) have proved that quality receivers can be found after the first round.

Pittsburgh Steelers
Pittsburgh's biggest need is at cornerback. Defensive coordinator Dick LeBeau specializes in getting pressure from his front seven. So the players in the secondary need to be physical and sure tacklers. One possibility could be Texas cornerback
Aaron Williams
, who fits that description.
Also, the Steelers are always in the market for 3-4 defensive linemen and linebackers, even when it's not a huge need. So don't be surprised if Pittsburgh adds more players to its front seven to stockpile for a couple of years and learn the system.
Offensively, the Steelers need help at tackle and guard. Many in Steeler Nation would love to see Florida's
Mike Pouncey
join his twin brother, Maurkice. But that's probably not going to happen unless the Steelers move up from the No. 31 overall pick.
March, 15, 2011
3/15/11
3:43
PM ET
BEREA, Ohio --
Cleveland Browns
president Mike Holmgren called an impromptu news conference on Monday. The purpose for Holmgren, who has brought instant credibility to an otherwise moribund franchise, was to assure Browns fans that the team was
heading in the right direction
despite uncertain times in the NFL.
[+] Enlarge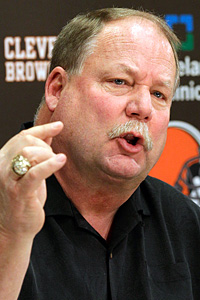 AP Photo/Amy SancettaPresident Mike Holmgren has hired GM Tom Heckert and drafted QB Colt McCoy since taking over in Cleveland last year.
Although he arrived in Cleveland just one year ago, Holmgren has a good feel for the city. There is always doubt about whether the Browns will ever get it together. The team is 64-128 since returning to the NFL in 1999 and has more head coaches (five) than winnings seasons (two) in that span.
With the NFL lockout, there is even more anxiety in Cleveland, which has a rookie head coach, a young quarterback and two new schemes to learn on offense and defense. But Holmgren has his head coach (Pat Shurmur) and quarterback (
Colt McCoy
) in place. So 2011 is expected to be a big year to determine whether the Browns are finally turning the corner.
Here are three reasons to be optimistic and pessimistic about Cleveland's chances:
Reasons to be optimistic
1. Strong front office
After failing with inexperienced leaders, Browns owner Randy Lerner made it a point to fill his front office with proven football people who have done the job at a high level before arriving in Cleveland.
Lerner scored a major coup with Holmgren, who had interest from other teams but chose the role of president with Cleveland. Once Holmgren was on board, he was able to get general manager Tom Heckert, who held the same role with the
Philadelphia Eagles
. Suddenly, Cleveland had a formidable tandem.
Cleveland's front office is by far the biggest reason to be optimistic about the Browns. This pairing provided early results by putting together a strong 2010 draft class and acquiring solid players such as tailback
Peyton Hillis
, tight end Ben Watson and linebacker
Scott Fujita
via trades and free agency.
"Tom Heckert is the real deal," Holmgren said. "The people that work with him, our personnel department, they do their jobs and they do them very well. If I put on my coach hat for a moment, that's a real encouragement to Pat and the coaches."
2. Young talent
The 2010 draft was a good proving ground for Heckert and Holmgren. The Browns landed three rookie starters in the first three rounds -- cornerback
Joe Haden
, safety
T.J. Ward
and McCoy. All three players potentially could be building blocks.
The Hillis trade with the
Denver Broncos
for former Browns quarterback
Brady Quinn
turned out to be a huge advantage to Cleveland. Hillis, 25, rushed for a career-best 1,177 yards and 11 touchdowns, while Quinn remains the third-string quarterback in Denver.
Cleveland began last season at a huge talent deficit and needs to continue improving through the draft and (eventually) free agency. The Browns own the No. 6 overall pick and have a chance to add another difference-maker, most likely on the defensive line or at wide receiver.
3. Easy schedule
One of the biggest perks of coming off a losing season is a manageable schedule. Cleveland, which finished third in the division at 5-11, has a relatively easy slate of opponents in 2011.
Nine teams on Cleveland's schedule have losing records from a year ago. Two additional opponents (the
Jacksonville Jaguars
and
Oakland Raiders
) were 8-8. That leaves only five games against playoff teams, and four are division matchups against the
Baltimore Ravens
and
Pittsburgh Steelers
.
If the Browns are to make a move up, this is the year to do it.
Reasons to be pessimistic
1. Too much change
Any time a team simultaneously breaks in a rookie head coach and new schemes on offense and defense, there are usually growing pains.
Last year I questioned
why the Browns would keep former head coach Eric Mangini if his philosophies were drastically different from those in the front office. There were bound to be clashes, and the Browns would have been smarter to start their new program a year earlier with everyone on the same page. Instead, the team essentially threw away a full season of transition.
With so much change, expect to see some struggles in the first year under Shurmur. Some weeks it could be poor execution of the West Coast offense, which is based on timing and precision. Other weeks it could be the defense, which hasn't run a 4-3 scheme in seven years.
This is why the Browns are one of the
most affected teams
during the lockout. They need all the offseason workouts and camps possible, and if the work stoppage goes into the summer, the Browns would really be up against the clock.
"I think it would be foolish to say that it's not different. It is different," Holmgren admitted. "Having said that, I am very, very impressed with our staff, and whenever we start playing again and start coaching again, we will get the team up to speed as quickly as anyone. I am confident of that."
2. Uncertainty remains at quarterback
[+] Enlarge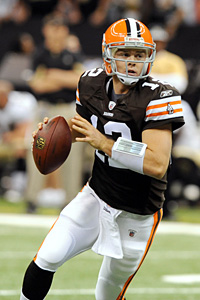 Chuck Cook/US PresswireThe Browns hope Colt McCoy develops into the long-term answer at quarterback.
Is McCoy the long-term solution at quarterback? This is the biggest question in Cleveland, and no one has a clear answer.
But the Browns are full-go in that direction and are working to build a West Coast offense around McCoy's biggest strength, his accuracy. McCoy, a third-round pick, exceeded everyone's expectations by starting eight games as a rookie. After a couple starts, it was clear he was the best quarterback on the roster.
McCoy was by no means perfect. There were times when he played like a rookie, particularly late in the year once teams got film on McCoy. He finished with 1,576 passing yards, six touchdowns and nine interceptions.
"McCoy, I don't know if he's the guy or not, but I agree with what they're doing to at least find out," said Matt Williamson of Scouts Inc. "I would surround him with more pieces, because he could be good fit in a West Coast offense."
The Browns are
flirting with this year's top quarterback prospects
such as Auburn's
Cam Newton
. But it appears to be nothing more than a smokescreen, and perhaps an attempt to increase trade value in the No. 6 pick.
Quarterback is the NFL's most important position. Therefore, if McCoy is not the answer, this could set the Browns back for at least another year or two.
3. Ravens and Steelers
If the Browns have any shot of turning around the franchise, they must first get past the Ravens and Steelers. Both rivals are consistently in the playoffs, and this year Baltimore and Pittsburgh are projected to be Super Bowl contenders.
Having two 12-win teams in the AFC North lowers the Browns' chances for a quick turnaround. During Monday's news conference, I asked Holmgren what it will take to narrow the gap with Pittsburgh and Baltimore.
"That's a good question, and I know it's one that people would like me to answer and be right about. I think when you are doing that though, you can't think too much about the other teams," Holmgren said. "Baltimore and Pittsburgh and Cincinnati were in the playoffs in recent history, it's a tough division. If I think too much about Baltimore and Pittsburgh, I am doing a disservice. I think what we have to do is see what we need to do to get better and keep building here, just keep getting better and better."
For a dozen years, Cleveland coaches and general managers have preached patience, only to produce more losing seasons and disappoint Cleveland's rabid fan base. In many ways, Holmgren is using the same message. But his lofty credentials should at least buy the time necessary to try to get Cleveland back on track.
"I wanted to give [Browns fans] a word of encouragement: Stay with us, this is going to work eventually," Holmgren said confidently this week. "The hard part is that I can't give you a time right now."
March, 7, 2011
3/07/11
11:00
AM ET
It was a somewhat surprising move last week when the
Cleveland Browns
re-signed linebacker
D'Qwell Jackson
to a one-year extension. Jackson had suffered back-to-back pectoral injuries the past two seasons, and with a new regime it appeared he was going to test the free-agent market.
But president Mike Holmgren and general manager Tom Heckert liked what they saw of Jackson when healthy and offered a
reported one-year deal
worth a max of $4.5 million. Now Jackson is in line to complete Cleveland's linebacker corps.
Here is an in-depth look at the Browns' projected starters in 2011:
D'Qwell Jackson, MLB
Experience:
six seasons
2010 stats:
N/A

Jackson
Analysis:
Jackson has a has a chance to shine in a 4-3 defense if he stays healthy. He has good football instincts, plays hard and is always around the football. In Jackson's last full year as a starter, he led Cleveland with 154 tackles to go with two sacks and three interceptions in 2008. Jackson is not big for a middle linebacker, so he struggled taking on guards and offensive linemen in the middle of a 3-4 defense. But a 4-3 will protect Jackson and allow him to fly to the football, which is what he does best. It will be key for the Browns to add quality defensive linemen, where the team is pretty thin.
Scott Fujita, OLB
Experience:
10 seasons
2010 stats:
51 tackles, 3.5 sacks, one interception

Fujita
Analysis:
Fujita had an underrated impact on the Browns last season. He brought experience, smarts and toughness to the defense. And as soon as Fujita went down in Week 10 with a season-ending knee injury, it became very noticeable as Cleveland's defense immediately went downhill the final seven weeks of the season. The Browns are counting on a healthy Fujita to bring those same qualities next season. He has a lot of experience playing in a 4-3 defense, so there won't be much of a learning curve.
Chris Gocong, OLB
Experience:
six seasons
2010 stats:
75 tackles, two sacks

Gocong
Analysis:
The Browns
made an offseason trade with
the
Philadelphia Eagles
last year for two late draft picks and got two starters in Gocong and veteran cornerback
Sheldon Brown
. Gocong was the lower-profile acquisition, but he was productive, starting all 16 games and recording 75 tackles and two sacks. Gocong is versatile and could probably play all three linebacker positions if needed. He did an admirable job in the second half of last season at inside linebacker, though it's not his natural position. Gocong should feel more at home at outside linebacker in 2011.
It's easy to see how Cleveland's front office believes all three players will benefit from the switch to a 4-3 defense. The Browns might add depth to this group in the draft, but it's unlikely Cleveland will go linebacker with the No. 6 overall pick. Defensive linemen are desperately needed up front to make this 4-3 scheme work.
January, 17, 2011
1/17/11
10:00
AM ET
Here are seven notes and observations from the divisional round of the playoffs:
[+] Enlarge

AP Photo/Gene J. PuskarJames Harrison had three of the Steelers' five sacks of Joe Flacco last Saturday.

Looking ahead to Sunday's AFC Championship Game, one of the biggest keys for the Pittsburgh Steelers will be rattling New York Jets quarterback Mark Sanchez. The New England Patriots (zero sacks) didn't get any pressure on Sanchez, which allowed the second-year quarterback to feel comfortable, get in rhythm and throw for three touchdowns. The Steelers only got one sack in their Week 15 loss to New York and need to do a much better job of pressuring. This past weekend the Steelers' blitz was relentless and sacked Baltimore Ravens quarterback Joe Flacco five times. Linebacker James Harrison led Pittsburgh with three sacks.

The Steelers didn't make any excuses after their loss to the Jets. But it is fair to point out that they were a banged-up team in the first meeting. Pittsburgh was missing two key members in starting tight end Heath Miller (concussion) and Pro Bowl safety Troy Polamalu (calf). Both injuries limited what the Steelers were able to do offensively and defensively. The Steelers will be much healthier in Sunday's rematch. Also keep an eye out for Pittsburgh defensive end Aaron Smith, who has a chance to return this week following triceps surgery last October.

The "Seven-step drop" wants to give kudos to Ravens Pro Bowl defensive end/linebacker Terrell Suggs for another monster playoff game against Pittsburgh. Suggs by far did the most talking last week but backed up every word by recording three sacks on Steelers quarterback Ben Roethlisberger. Suggs was unblockable at times and more than did his part for the Ravens in a losing effort.

Baltimore will hold the No. 26 overall pick in the first round of April's NFL draft. The Ravens have an excellent track record drafting late in the first round. Players such as Ray Lewis, Ed Reed, Todd Heap and Michael Oher were taken by Baltimore in the first round with picks No. 20 or higher. There are some areas Baltimore can improve its roster, and the AFC North blog will have more on that later today in the AFC North blog.

Although I'm not surprised, I do find it interesting new Cleveland Browns head coach Pat Shurmur wants to continue calling plays on offense. Shurmur called plays for two years in St. Louis, and offensive coaches tend to have the itch to control plays as head coaches more than defensive coaches. This is nothing new. Mike Shanahan and Andy Reid are some others offensive-minded coaches who call their own plays as head coach. But this could hurt Cleveland in terms of finding a quality and experienced offensive coordinator, because calling plays is the biggest perk. Whoever takes over will only draw up game plans for Cleveland.

Looking at their roster, I'm not sure the Browns can easily switch to a 4-3 defense next season. They spent the past five seasons building the team with 3-4 personnel. Cleveland will need to make a lot of offseason changes to its front seven to make this work. Everywhere Shurmur and Browns president Mike Holmgren have coached utilized a 4-3 defense. Therefore, it would be surprising if the pair's handpicked defensive coordinator doesn't run that scheme. With a new defense and a new West Coast offense being installed this offseason, Cleveland is in for a huge transition season in 2011.

If there will be changes on the Cincinnati Bengals' coaching staff this year, they are moving very slow to make their decisions. Bengals head coach Marvin Lewis and owner Mike Brown hinted at changes two weeks ago, and so far there's been nothing but silence coming out of Cincinnati's camp. Lewis and Brown have had their differences, and there's a strong chance they could have different views about the staff, as well. Stay tuned to see how this shakes out.
December, 21, 2009
12/21/09
9:13
PM ET

With the news
of Mike Holmgren agreeing to become the Cleveland Browns' president Monday, it's time to begin piecing together what the team will look like in 2010.
Besides determining a coaching staff and front office, one of the first questions is if Cleveland will keep its 3-4 defense.
The Browns have been a 3-4 team since Phil Savage and Romeo Crennel took over in 2005. The trend continued as current Browns coach Eric Mangini was hired this year. That's five consecutive drafts and free-agency periods dedicated to adding 3-4 personnel.
But looking back at Holmgren-coached teams with the
Green Bay Packers
and
Seattle Seahawks
, those clubs ran a 4-3 scheme and had a lot of team success.
So what happens to a player like
Kamerion Wimbley
, for instance? Can Wimbley put his hand down in the pros and be a full-time defense end, similar to what he did at Florida State? Or is he a 4-3 linebacker in the NFL?
But other key players like
Shaun Rogers
would not face nearly as many double teams going from nose tackle to one of two defensive tackles. "Big Baby" and other defensive linemen, such as
Corey Williams
, would probably welcome the move.
This will be something to closely monitor as it will impact Cleveland's draft plans and free agency.
An educated guess is Holmgren, who has complete control of the team, will move Cleveland to a 4-3 defense in 2010. His previous teams didn't run a 3-4 defense. So how could Holmgren feel comfortable picking the right players for that scheme?
July, 14, 2009
7/14/09
12:00
PM ET
Posted by ESPN.com's James Walker
After going 7-8-1 against the deep NFC East in 2008, the Baltimore Ravens, Cincinnati Bengals, Cleveland Browns and Pittsburgh Steelers should have a relatively easier interconference schedule this season against the NFC North.
But to turn a more manageable matchup on paper into reality on the football field, here are several keys for the AFC North:
1. Tame the Lions: No team wants to be the first to lose to the Detroit Lions, who went winless in 16 games last season. This is especially the case for the AFC North, which is expected to be very competitive. The Lions should be outmanned against every division team. The Steelers, Ravens, Browns and Bengals all could use an easy victory, because there won't be many on the 2009 schedule. Therefore, it's important for the AFC North to take advantage of its games against the lowly Lions.
2. Baffle Jay Cutler:
| | |
| --- | --- |
| | |
| | Byron Hetzler/US Presswire |
| | Former Denver quarterback Jay Cutler, now with the Bears, will face tougher interconference matchups this season. |
The former
Denver Broncos
quarterback put up some great numbers against relatively soft competition in the AFC West. Not only will Cutler face better defenses in his division, but the new
Chicago Bears
quarterback will meet two elite defenses this year in Pittsburgh and Baltimore. The Steelers and Ravens finished No. 1 and No. 2 in the NFL last season, respectively. Even the Bengals had the No. 12-rated defense. No defense in the AFC West finished in the top 24 teams in 2008. So to be successful, it's important for the defense-heavy AFC North to give Cutler a rude awakening in his first year with a new team.
3. Handle the "Williams Wall": The pending four-game suspension against Minnesota Vikings defensive tackles Kevin Williams and Pat Williams was put on hold last week. But the Browns, who play host to Minnesota in the season opener, were the only team affected by the decision. The Vikings play Baltimore in Week 6, Pittsburgh in Week 7 and Cincinnati in Week 14. So the best-case scenario is at least three AFC North teams will have to deal with the "Williams Wall" regardless. Running directly at the Williamses hasn't worked in the past. Stretching players to test the perimeter might be the best approach.
4. Contain Adrian Peterson: While we're on the subject of the Vikings, stuffing tailback Adrian Peterson will be a major challenge for the AFC North. Because of the Vikings' struggles at quarterback, many opponents stacked eight in the box in the past and the dynamic Peterson still found a way to have big games. This will be more even difficult if/when quarterback Brett Favre comes out of retirement to join the Vikings, making the team more balanced with a vertical passing game.
5. Take advantage of Green Bay's defensive transition: The Green Bay Packers are trying to make the switch this season to a 3-4 defense, which is no easy task. Just ask the Browns. Cleveland has attempted to implement a successful 3-4 scheme since 2005 with mostly poor results. Green Bay could have similar struggles in the first year under new defensive coordinator Dom Capers, and it's a potential opening for the four teams in the AFC North. The Browns, Ravens and Steelers all play 3-4 defenses, as well. So in many ways, playing Green Bay will have the familiarity of playing a division opponent.
6. Get off to a fast start
: There are some early matchups between the divisions
where the AFC North can set the tone against its NFC North counterparts. The Browns will play host to the Vikings in Week 1. In Week 2, the Steelers travel to play the Bears, and Cincinnati travels to Green Bay. These are three early, important games for six of the eight teams that will give one division an early advantage over the other.
7. Steal games on the road: It's natural to expect the AFC North to have the most success against the NFC North at home. But to truly win this year's interconference battle, it's going to take some teams in the AFC North winning on the road. Places like Lambeau Field and Soldier Field can be tough places to play, particularly late in the season when weather becomes an issue. But the division that takes more games on the road probably will come out on top.
Who benefits most?
Of the four AFC North teams, Pittsburgh stands to benefit most in these interconference matchups against the NFC North. Naturally, the Steelers are the largest target in the division as the reigning Super Bowl champions. But they also have the biggest disparity in strength of schedule -- going from the top-rated schedule last season to the No. 29-rated schedule this year. A major reason for this is the interconference switch from the NFC East to the NFC North, and Pittsburgh's talent level should give the Steelers the most favorable matchups.
March, 4, 2009
3/04/09
6:42
PM ET
Posted by ESPN.com's James Walker
The re-signing of middle linebacker Ray Lewis provided a much-needed sigh of relief for Baltimore Ravens fans. For the most part, the past week has been gut wrenching as Baltimore lost much of its talent to other teams.
| | |
| --- | --- |
| | |
| | Tom Szczerbowski/US Presswire |
| | Ravens linebacker Ray Lewis' re-signing makes Baltimore a favorite in the AFC. |
In many ways, the Ravens saved face Wednesday in free agency by retaining Lewis. The signing also puts Baltimore, which was one game away from the Super Bowl, back in the title hunt.
Allowing their emotional leader and 10-time Pro Bowler to leave for another team would have capped a disastrous first-week of free agency that included the loss of starting linebacker Bart Scott, safety Jim Leonhard and center Jason Brown. The Ravens also released former Pro Bowl cornerback Chris McAlister, and former defensive coordinator Rex Ryan took a head coaching job with the New York Jets.
By keeping Lewis, along with the solid, but not sexy, signings of veteran center Matt Birk and speedy cornerback Domonique Foxworth, suddenly Baltimore's run in free agency doesn't look so bad.
Baltimore's defense will continue to be tenacious under Lewis and stalwarts Terrell Suggs and Haloti Ngata. If Baltimore continues its trend of drafting well and quarterback Joe Flacco continues to improve, the Ravens will once again have high expectations in 2009. They will join teams such as the New England Patriots, Tennessee Titans, Indianapolis Colts and reigning Super Bowl champion Pittsburgh Steelers as early favorites in the AFC.
A few questions still remain for the Ravens.
Can Baltimore find a speedy receiver to complement Flacco's strong arm? Who will be the linebacker to replace Scott? What about depth at tight end?
Yet none of these issues are nearly as detrimental as trying to find another player to take the spot of Lewis. He would have been hard to replace on the field and in the locker room, making the three-year deal with Baltimore a smart move.
For the first time in a long time, people in Baltimore were doubting general manager Ozzie Newsome. With his recent moves Newsome is proving why he is well respected around the league as one of the best GMs in the NFL.

NFL SCOREBOARD
Sunday, 2/2
WEEKLY LEADERS