February, 22, 2014
Feb 22
8:00
AM ET
INDIANAPOLIS -- The
Green Bay Packers
would like to get back into the business of developing young quarterbacks like they did throughout the 1990s -- when
Ty Detmer
,
Mark Brunell
,
Matt Hasselbeck
and
Aaron Brooks
all came up through their system.
The problem is, this isn't the 1990s.
The rules of the collective bargaining agreement that was put in place following the 2011 lockout greatly reduced the amount of time coaches can work with players in the offseason, a time often set aside for individual and group instruction. For Packers' quarterbacks, that means four weeks have been shaved off coach Mike McCarthy's quarterback school.
Nevertheless, the Packers have come to the NFL scouting combine with one eye on finding a developmental quarterback prospect and hope to take four quarterbacks into training camp this summer.
"I think we definitely need four," McCarthy said at the combine, "So I'm hopeful that we can get a young guy in the draft."
The Packers have only two quarterbacks under contract for 2014 -- starter
Aaron Rodgers
and
Scott Tolzien
, who was signed to the practice squad last September and then promoted to the active roster after Rodgers broke his collarbone on Nov. 4. Tolzien has yet to go through an offseason in McCarthy's training program, having been with the
San Francisco 49ers
for his first two seasons.
Matt Flynn
was re-signed last November and became the fourth quarterback to start for the Packers last season, but his contract was only for the 2013 season.
"I thought Matt Flynn came in and did a number of good things," McCarthy said. "There's a lot of stability he brings to the quarterback room as far as the role that he needs to play and his role to the starting quarterback to help them scout and so forth, so Matt is obviously a good fit for our program. I thought he definitely gave us a shot in the arm when we needed it. Free agency is upon us, we'll see what happens."
Whatever happens, the Packers don't want to be stuck in the position they were in at the end of last summer, when the trio of
Vince Young
,
Graham Harrell
and B.J. Coleman all failed to win the backup job, forcing the Packers to sign veteran
Seneca Wallace
the week of the season opener.
That general manager Ted Thompson has drafted only one quarterback -- Coleman in the seventh round in 2012 -- since he took
Brian Brohm
(second round) and Flynn (seventh round) in 2008 would seemingly indicate that it's time to take another one.
"We're always looking," Thompson said. "Coach McCarthy's a quarterback guy. He likes to have a group, so you never stop looking, turning over rocks, that sort of thing."
February, 25, 2013
2/25/13
12:58
PM ET
Recent updates regarding
Alex Smith
's trade status do not include a couple key details: which team would acquire the
San Francisco 49ers
quarterback and at what price.
The
Kansas City Chiefs
have been mentioned consistently as a potential trade partner. That provides us with a starting point for projecting value.
Andy Reid is the Chiefs' new head coach. John Dorsey is their new general manager. Both were previously with organizations that participated in quarterback trades.
In 2011, Reid's
Philadelphia Eagles
sent
Kevin Kolb
to Arizona for cornerback
Dominique Rodgers-Cromartie
and a 2012 second-round draft choice.
In 2010, the Eagles sent quarterback Donovan McNabb to Washington for a 2010 second-round choice and a 2011 fourth-rounder.
In 2004, the Eagles traded A.J. Feeley to Miami for a 2005 second-round choice.
Those trades involved Reid's team parting with a quarterback. The Eagles did not acquire prominent quarterbacks by trade during his tenure with the team.
Those trades suggest Reid might value a viable quarterback as being worth a second-round choice, at least.
Other factors can affect the price, of course. In this case, the 49ers face an April 1 deadline for paying a $1 million bonus to Smith and guaranteeing his $7.5 million salary for 2013. That could make the 49ers a little more eager to complete a deal. It could empower the Chiefs or other teams to wait out San Francisco. However, teams serious about acquiring quarterbacks might prefer getting a deal done to risking the player for what could be a small gain in the end.
Dorsey, meanwhile, was with the
Green Bay Packers
for most of the past two decades. He also spent a short time with Seattle under Mike Holmgren. Dorsey was with the Packers when Green Bay traded quarterbacks Mark Brunell,
Matt Hasselbeck
and Aaron Brooks.
In 1995, the Packers got third- and fifth-round picks from Jacksonville for Brunell.
In 2001, the Packers sent Hasselbeck and the 17th overall choice in the draft to Seattle for the 10th overall choice and a third-round pick. Seattle spent the equivalent of
a high second-round choice
for Hasselbeck.
The 2000 trade involving Brooks netted a 2001 third-round choice from New Orleans. The teams also traded additional players. Green Bay landed linebacker K.D. Williams. The Saints got tight end Lamont Hall.
Based on precedent, the 49ers should be looking to get a second- or third-round choice from the Chiefs for Smith, should they do a deal with Kansas City.
San Francisco already owns a league-high 11 choices in the 2013 draft. The team figures to gain compensatory choices as well.
For those reasons, and because Smith has a mixed record in the NFL, a deal involving a conditional choice could make the most sense. In that case, the 49ers would be looking at a higher 2014 choice if Smith played well for his new team.
January, 29, 2013
1/29/13
1:23
PM ET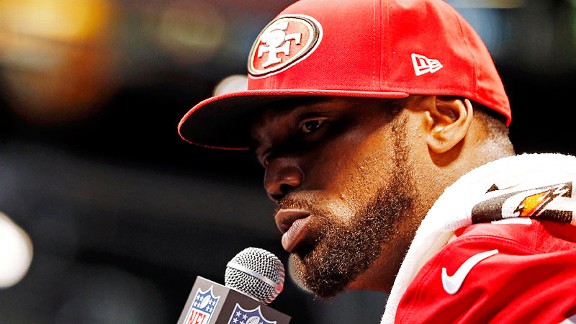 Derick E. Hingle/USA TODAY SportsThe 49ers' Randy Moss doesn't lack self-confidence during Tuesday's Super Bowl media day.
NEW ORLEANS -- One day after
San Francisco 49ers
coach Jim Harbaugh
took on President Barack Obama
, receiver
Randy Moss
challenged
Jerry Rice
's status as the NFL's greatest receiver.
Wait, weren't the AFC champion
Baltimore Ravens
supposed to be the big talkers during Super Bowl week? They're multiple-syllable underdogs at this point.
Moss stole the show at Super Bowl media day by declaring himself the greatest receiver of all time.
"I think I'm the greatest receiver to ever do it," Moss said. "Because I think back when Jerry was playing -- and no disrespect to Jerry Rice, because he's arguably the greatest -- but for me to be able to go out here and change and revolutionize the game from a single safety to a Cover 2 safety and dropping three guys deep and dropping four guys deep and still be able to make it happen? That is why I really hold my hat on that, that I really feel in my heart and in my mind that I am the greatest receiver to ever play this game."
If Rice had the greatest career of any receiver in NFL history, which seems indisputable based on longevity and raw numbers, Moss at his best was arguably the most feared.
Moss was faster. I think he was more athletic. If both receivers were to line up on opposite sides of the formation while in their prime, defenses would face a dilemma. I think they would fear Rice more on shorter and intermediate routes. I think they would fear Moss more on deeper routes.
Rice benefited from beginning his career under Bill Walsh and spending most of it with either
Joe Montana
or
Steve Young
throwing passes to him. That doesn't diminish his achievements, in my view.
Rice dominated. He reached 1,000 yards receiving 14 times. Moss did it 10 times. Rice scored at least nine touchdowns in a season 12 times. Moss did it nine times. Each had nine seasons with at least 10 touchdowns. Rice had four seasons with at least 1,500 yards. Moss had one. Rice had six seasons with at least 1,400 yards. Moss had four.
Moss also played with a couple of Hall of Fame-caliber quarterbacks in
Tom Brady
and
Brett Favre
, but the years he spent with them were exceptions, not the norm.
Brad Johnson
,
Randall Cunningham
,
Jeff George
,
Daunte Culpepper
,
Todd Bouman
, Spergon Wynn,
Gus Frerotte
,
Kerry Collins
, Andrew Walter,
Aaron Brooks
,
Matt Cassel
,
Vince Young
,
Alex Smith
and
Colin Kaepernick
have also thrown passes his way.
To this point, Rice's status as the greatest has been pretty much assumed. Those with a strong grasp of league history might acknowledge Don Hutson's achievements as unique. However, Rice is an overwhelming choice as the best receiver in NFL history.
An ESPN.com panel
featuring Raymond Berry, Boyd Dowler, Mike Holmgren, Ken Houston,
Warren Moon
,
Keyshawn Johnson
and Ted Thompson voted Rice first and Moss second in anonymous voting five years ago.
"Jerry Rice, he's so obvious, it scares me," Dowler said at the time.
April, 23, 2012
4/23/12
10:56
PM ET
The
San Francisco 49ers
twice lost close games against New Orleans in the Superdome when the Saints were
allegedly eavesdropping
on visiting coaches from 2002-2004.
Coincidence? Evidence of malfeasance?
"There's something missing here,"
said Bill Polian
, the ESPN analyst and former longtime NFL executive. "I don't know what kind of competitive advantage you can get."
The report by "Outside the Lines" cites people familiar with the Saints' game-day operations as saying Mickey Loomis, the Saints' general manager, had the ability to monitor opposing coaches from his private box during home games.
NFC West teams played three games at the Superdome during the period in question.
The 49ers suffered a 35-27 defeat at New Orleans in 2002 after the Saints outscored them 22-3 in the fourth quarter. They also suffered a 30-27 defeat there in 2004 after Aaron Brooks found Donte Stallworth for a 16-yard touchdown with 1:01 remaining. Also in 2004, the
Seattle Seahawks
claimed a 21-7 victory at New Orleans.
The NFL has already suspended Loomis, a former longtime Seahawks executive, for the first eight games of the 2012 season as punishment for his handling of the Saints' bounty situation.
The allegations against Loomis are damaging whether or not the Saints realized any in-game advantages.
"Mickey would have to know the verbiage of every other opposing team in order to translate it, and then he would have to do it instantly and find some way to communicate with his coaching staff and get it down to the field in time for it to be useful," Polian said. "That would be very difficult to do, in my opinion."
The Saints have strongly denied the allegations.
Steve Mariucci (2002) and Dennis Erickson (2004) were the 49ers' head coaches for the NFC West defeats in question. Erickson and Loomis worked together in Seattle years earlier.
Another NFC West alum, Jim Haslett, was the Saints' head coach at the time.
January, 9, 2012
1/09/12
9:15
AM ET
The
New Orleans Saints
are going to hear about their 0-4 road record in the playoffs. The record is misleading, but not necessarily irrelevant heading into their divisional-round game against the
San Francisco 49ers
at Candlestick Park.
A look back through those four defeats can provide some context:
The 0-4 road record sounds bad, and it is, but only two of those defeats came with Brees and coach Sean Payton on the New Orleans payroll. The Saints were much better offensively in 2011 than they were last season or in 2006. What will that mean Saturday?
November, 14, 2011
11/14/11
8:03
PM ET
The
Arizona Cardinals
' 2-0 record this season and 4-2 overall mark with
John Skelton
starting at quarterback has stirred debate over how the team should proceed once
Kevin Kolb
is healthy.
Coach Ken Whisenhunt announced no decision Monday. There would have been no advantage in doing so.
Kolb's toe and foot may or may not be healthy enough for him to play against San Francisco in Week 11. Either way, the team isn't likely to give up on Kolb after only seven games. Two inconsistent, but ultimately victorious, starts from Skelton do not compel a change. Skelton has shown enough to remain a factor in Arizona.
The Cardinals will be facing a 49ers defense more formidable than the ones Arizona faced in beating St. Louis and Philadelphia over the last two weeks.
Whisenhunt could always use Kolb's injury to give Skelton another start, letting the organization gather additional information on Skelton while Kolb's condition improves. Kolb could serve as the backup, coming off the bench only if needed. And if the Cardinals were to upset the 49ers with Skelton behind center, Whisenhunt would have a good "problem" to solve next week.
I've thought Skelton has appeared more comfortable than Kolb has appeared. He's been slightly better than Kolb, in my view, and his fourth-quarter touchdown passes have given him traction in the debate. But just as it's too soon to write off Kolb, it's too soon to suggest Skelton is the answer. But if you're really serious about arguing for Skelton, here's a gift from ESPN Stats & Information: Skelton has four touchdowns in seven attempts with no sacks in the red zone, while Kolb has three touchdowns in 19 attempts with four sacks.
For perspective, I've used
Pro Football Reference
to create a chart showing where Skelton fits among quarterbacks with similar experience since 1995. Each quarterback was in his first or second season of playing. Each was 22-24 years old at season's end. Each has started at least four games and attempted between 150-250 passes. Each has played 10 or fewer total games.
September, 30, 2011
9/30/11
1:31
PM ET
»
NFC Final Word
:
East
|
West
|
North
|
South
»
AFC
:
East
|
West
|
North
|
South
Five nuggets of knowledge about Week 4:
Nickel and dime:
The Saints fared great when they spread the field and emptied the backfield in their furious comeback against the Texans last week. It really took advantage of Houston's lack of cornerback depth. Jacksonville will face the same test.
Drew Coleman
was signed as a free agent to upgrade the nickel, and he'll need to play well against a receiving corps that gets Marcus Colston back. Fourth corner
William Middleton
will be on the field more too, especially if starting corner Derek Cox (doubtful, groin) is out. And linebackers will be tested in coverage against a team with a lot of weapons that likes to throw to running back
Darren Sproles
.
[+] Enlarge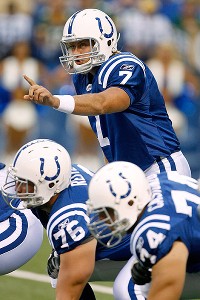 Brian Spurlock/US PresswireIn his third season in Indianapolis, QB Curtis Painter is expected to get his first start Sunday.
Curtis Painter time:
He will start for the Colts at quarterback on Monday night against the Bucs as
Kerry Collins
recovers from an apparent concussion suffered in the loss to Pittsburgh. Can Painter show some poise and put together a consistent effort? One thing that would really help his cause is being more accurate with
Reggie Wayne
. From 2008-10,
Peyton Manning
threw incomplete just 18.7 percent of the time he targeted Wayne. According to ESPN Stats and Info, Collins and Painter have combined to miss Wayne 39.3 percent of the time. You can't miss your primary target that often and have a successful passing game.
Steelers blitzes:
Pittsburgh's been great on defense without blitzing. The Steelers are allowing just 5.5 yards per pass attempt when sending four or fewer rushers, third-best in the league. But last year and so far this year,
Matt Schaub
is connecting on 71.4 percent of his passes when he's not blitzed, hitting for 8.2 yards per pass attempt. I'd expect Pittsburgh to bring more pressure to try to get Schaub out of rhythm. The Steelers have forced just one turnover this season.
First quarter points:
Three teams in the NFL have yet to score a first-quarter point this season. In Tennessee-at-Cleveland, we'll see two of them. If the Titans or Browns can find some early offensive rhythm, they'll get a big advantage. The Titans need to show some early intent, I think. While showing a determination to get
Chris Johnson
running, they would also be well served to call some plays that include tight end
Jared Cook
in the early part of the progression. He's got the potential to be a dynamic downfield matchup problem. With
Kenny Britt
out, it's time to start seeing it.
Ah, the memories:
The Saints' last trip to Jacksonville, for the last game of the 2003 regular season, was a memorable one. They trailed 20-13 when they completed a 75-yard miracle touchdown with no time left. The play featured a pass from
Aaron Brooks
and three laterals before
Jerome Pathon
scored. But
John Carney
's extra point went wide right, leaving the Saints with a 20-19 defeat and eliminating them from playoff contention. The Colts' last trip to Tampa Bay was Oct. 6, 2003. Indianapolis scored 21 points in the final 3:37 of the regulation to tie that game 35-35 before winning it on a
Mike Vanderjagt
field goal in OT.
December, 13, 2010
12/13/10
7:21
AM ET
With some help from ESPN Stats & Information and the media relations departments of the NFL, the Saints, Falcons and Buccaneers, it's time for some superlatives on New Orleans, Atlanta and Tampa Bay. Carolina doesn't qualify because superlatives have become a non-existent species for the Panthers this year.
The Saints reached the 10-win mark for the second straight year. The last time New Orleans had back-to-back seasons of double-digit wins was in 1991-92.
The Saints have scored 30 or more points in five consecutive games for the second time in franchise history. The only other instance was from Oct. 6 through Nov. 10, 2002, when New Orleans topped the 30-point mark against Pittsburgh (32), Washington (43), San Francisco (35), Atlanta (35) and Carolina (34). Yep, the good, old Aaron Brooks days.
New Orleans' Drew Brees has thrown at least one touchdown pass in 24 consecutive regular-season games, dating back to Week 4 of last season.
New Orleans safety Roman Harper forced his team-leading fifth fumble of the season in the first quarter Sunday. Harper is tied for fourth in the NFL in forced fumbles. He has 11 forced fumbles in his five-year NFL career. Harper also had a quarterback sack.
Tampa Bay quarterback Josh Freeman led the seventh fourth-quarter/overtime comeback victory of his career, five of which have come this season. He finished 15-of-25 for 266 yards, including a game-winning 41-yard touchdown strike to Kellen Winslow with 3:47 left in the fourth quarter. Freeman also added another 10 yards on the ground and a two-point conversion which gave the Buccaneers a seven-point lead. In the second half alone, Freeman was 11-for-16 for 214 yards and the score. With the 27th passing touchdown of his career, he passed Shaun King (26 from 1999-03) for the eighth-most passing touchdowns in team history.
Tampa Bay rookie Arrelious Benn caught four passes for 122 yards. It marked the first 100-yard receiving game of his career.
The Bucs are 7-2 in their last nine road games.
The Bucs averaged 7.0 yards per play against Washington. It was the first time all season the Bucs have averaged at least 7.0 yards per play.
For the second time in the past three seasons, the Falcons have posted 11 wins in a season. It is the first time in franchise history that the team has posted three straight winning seasons and 11 wins are tied for the third most in a single season in franchise history. The Falcons posted a franchise-best 14-2 record in 1998, went 12-4 in 1980 and posted 11-5 seasons in 2004 and 2008.
Atlanta quarterback Matt Ryan tied his career-high with his 22nd touchdown pass of the season. The third-year pro has thrown at least one touchdown pass in a career-best 12 consecutive games, and the Falcons own a 28-7 record when he finds a man in the end zone at least once. Since 2008, Ryan's 60 touchdowns rank fifth in the NFC.
The Falcons are the first NFC team with a 3,000-yard passer (Ryan), a 1,000-yard rusher (Michael Turner) and a 1,000-yard receiver (WR Roddy White) this season. The Houston Texans (Matt Schaub, Arian Foster, Andre Johnson) are the only other team to accomplish that feat in 2010.
Atlanta kicker Matt Bryant has made 13 straight field goal attempts.
March, 11, 2010
3/11/10
5:02
PM ET
TAMPA, Fla. -- I'm on my way to see a New York Yankees spring training game (weather permitting) tonight. But I had to pull over to give you a little update on
Jake Delhomme
.

Delhomme
The former Carolina quarterback visited the
Cleveland Browns
on Thursday, but, as we've been saying all along, there remains a real possibility of him staying in the NFC South. There
are reports
Delhomme's next visit will be to the
New Orleans Saints
.
We've even heard from a reliable source in New Orleans that coach Sean Payton was heard publicly praising Delhomme earlier today.
This one makes sense on a lot of levels. Payton tried to get Delhomme to Dallas when he was an assistant coach there. He also currently is in the market for a backup quarterback because
Mark Brunell
is a free agent or could be heading for retirement. Delhomme would be an upgrade over Brunell because he's younger. He also would be a good extra pair of eyes for starter
Drew Brees
and is a good guy to have in the locker room.
Then, there's Delhomme's history. He grew up in Louisiana and loves it there. He began his career with the Saints and was a fan favorite. That was back at a time when former coach Jim Haslett was obligated to "franchise'' quarterback
Aaron Brooks
because of his draft status. Delhomme never had a shot to compete with Brooks.
In the current climate, Delhomme also would be a backup because nobody's going to take Brees' job anytime soon. But Delhomme may be at a point in his life and his career where he can be content with that. Plus, he'd be back home.
We'll see what happens over the next few days.
March, 5, 2010
3/05/10
12:03
AM ET
With tonight's news that the
Carolina Panthers
are
parting ways
with
Jake Delhomme
, I think there is a chance Delhomme could stay in the NFC South.
In fact, I started to write that I could see Delhomme landing with any of the other three NFC South teams. But before I could post this item, ESPN's John Clayton called to tell me the Falcons have agreed to re-sign backup
Chris Redman
. So scratch the Falcons off that list.
But I still can see solid logic in the Buccaneers or Saints pursuing Delhomme. Let's face it, Delhomme's days as a starter are probably over. But he apparently still wants to play or else he simply would have retired. He's a competitor, a trait that makes it tough for some guys to accept backup roles.
But I think Delhomme is one of those guys that could handle it quite nicely. I also think he'd be an excellent mentor for any young quarterback. It wouldn't hurt another NFC South team to have a guy who could give them an inside look at Carolina's playbook.
Let's examine the scenarios with the Buccaneers and Saints:
Tampa Bay:
In a lot of ways, I think this could be the best landing spot for Delhomme. The Bucs still have
Byron Leftwich
, but there has been a lot of speculation he could be on his way out. If he goes, the Bucs need someone to help mentor franchise quarterback
Josh Freeman
and reserve
Josh Johnson
. Delhomme is a natural for that role and he also would bring leadership to a locker room that didn't have much of that last year.
New Orleans:
Backup
Mark Brunell
is a free agent and I'm not sure the Saints want to bring him back because of his age. Delhomme is no
Drew Brees
, but also is no
Aaron Brooks
. Delhomme is a guy who could fill in for a game or two because he's smart and he also would fit nicely into any locker room. Plus, Delhomme is a Louisiana guy. He started his career in New Orleans. That would be a nice place for Delhomme to finish his career.
December, 19, 2009
12/19/09
11:12
PM ET
NEW ORLEANS --
Drew Brees
just claimed sole possession of
the franchise record
for touchdown passes.
Brees just threw No. 121 since joining the Saints in 2006, breaking his tie with
Aaron Brooks
. Remember him?
October, 10, 2008
10/10/08
9:57
AM ET
Posted by ESPN.com's Mike Sando
Gary Plummer of the 49ers' radio team says the 49ers' defensive players aren't trusting one another, leading to big plays. He draws on personal experience in saying Eagles running back Brian Westbrook won't be effective if he plays through a rib injury. And he says the 49ers' defensive front gets pushed around when it plays a 3-4. Interesting stuff.
Matt Barrows of the Sacramento Bee quotes 49ers offensive coordinator Mike Martz in defense of tight end Vernon Davis. Martz says Davis helps create opportunities for teammates.
John Crumpacker of the San Francisco Chronicle says Davis is frustrated after catching only five passes through five games. Fellow tight end Delanie Walker also has only five catches.
Kevin Lynch of Niner Insider quotes Manny Lawson as saying the 49ers are simplifying their defense. Some of the coverages had gotten a little complicated, with cornerback Walt Harris playing safety and giving up that deep ball to Randy Moss.
Matt Maiocco of the Santa Rosa Press-Democrat says the 49ers' defense lacks an identity after five games.
Darren Urban of azcardinals.com says veteran Cardinals running back Edgerrin James is mentoring rookie Tim Hightower.
Also from Urban: Cardinals cornerback Eric Green busts on rangy rookie Dominique Rodgers-Cromartie for eating only mashed potatoes and cookies. "That's why he's 125 pounds," Green said. Rodgers-Cromartie weighs more than that, but he's about as skinny as NFL players come.
More from Urban: Former Cardinals offensive lineman Leonard Davis returns to the desert as a member of the Dallas Cowboys.
Dan Bickley of the Arizona Republic says it would be a shame for the Cardinals if Dallas fans packed University of Phoenix Stadium in Week 6.
Kent Somers of the Arizona Republic says the Cardinals are bracing for the Cowboys' ground game. "Big-boy pads" are needed.
Also from Somers: Do not expect Anquan Boldin to play against the Cowboys.
Scott Bordow of the East Valley Tribune says the Cardinals need to win some games before they complain about fans selling tickets, particularly in rough economic times.
Mike Tulumello of the East Valley Tribune says the Cowboys' circus is coming to town.
Clare Farnsworth of the Seattle Post-Intelligencer checks in with Seattle receiver Koren Robinson for a scouting report on Packers receiver Greg Jennings, a big-play threat with the potential to hurt the Seahawks' struggling defense.
Also from Farnsworth: Newly signed quarterback Travis Lulay was eating at a steakhouse in Missoula, Mont., when the Seahawks called.
Michael Steffes of Seahawks Addicts takes a look at the team's problems in pass coverage.
Frank Hughes of the Tacoma News Tribune quotes Seahawks safety Deon Grant as saying defensive players are trying to do too much instead of trusting one another.
Also from Hughes: Missing practice again means Matt Hasselbeck hasn't been able to develop a rhythm with an ever-changing group of Seattle receivers.
Danny O'Neil of the Seattle Times says the Seahawks aren't happy with their production in the return game.
Also from O'Neil: Seattle needs more from Pro Bowl linebacker Lofa Tatupu, who hasn't played for a losing team in 18 years.
Jose Romero of the Seattle Times suggests Robinson might make his 2008 receiving debut for the Seahawks against his former team.
VanRam of Turf Show Times says the Rams need a massive makeover on defense, with emphasis on linebacker, safety and cornerback.
Jim Thomas of the St. Louis Post-Dispatch says Jim Haslett expects to do a better job as a head coach in his second shot at the job. As Saints coach, Haslett said he erred in sticking with struggling quarterback Aaron Brooks when Jake Delhomme was on the bench.
Bill Coats of the St. Louis Post-Dispatch says second-year defensive lineman Adam Carriker is learning a new technique. He is playing less nose tackle and more 3-technique, which means he can focus more on getting up the field.
Also from Coats: Steven Jackson, on pace for 80 receptions, wants more production in the ground game.
Steve Korte of the Belleville News-Democrat also checks in with Jackson.
Also from Korte: New Rams tight end Daniel Fells has suffered from "some sort of a virus" this week.
NFL SCOREBOARD
Sunday, 2/2
WEEKLY LEADERS