November, 24, 2009
11/24/09
2:30
PM ET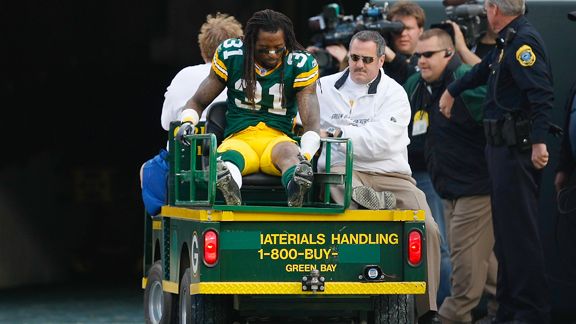 Scott Boehm/Getty ImagesLosing defensive back Al Harris hurts the Packers but Green Bay still has a shot at the playoffs.
It was only two weeks ago that some numbskull
suggested
Green Bay might have a tough time getting in playoff position during the second half of the season. Geez. Some people just don't think about what they say or write.
Because as we stand on the brink of Week 12, the Packers have given themselves an excellent chance to clinch a wild-card spot if they continue a winning pace. (I would define "winning pace" as winning more than you lose. For the Packers, that would mean a 4-2 finish and a 10-6 final record.)
It won't be as easy as it sounds, not when you consider they have only two home games remaining. It's possible that a 9-7 record could clinch a playoff spot, but let's be safe for the purposes of this discussion. In recognition of that strong assumption, let's consider four keys to the Packers' postseason run. (Four! Get it?)
1. Schematically cover for personnel losses on defense
The loss of cornerback
Al Harris
pushes the rest of the Packers' defensive backs up the depth chart.
Tramon Williams
is the likely starter, with some combination of
Jarrett Bush
,
Brandon Underwood
and newcomer
Josh Bell
all in the mix for the nickel. Navigating this issue will be the Packers' biggest challenge in making the playoffs.
All three players are relative unknowns in terms of coverage ability. It's great if one of them steps up. If not, however, defensive coordinator Dom Capers will have to implement some lineup creativity to get his best 11 players on the field.
That could mean leaving an extra linebacker on the field in some nickel situations. It might require finding a bigger role for backup linebacker
Desmond Bishop
. It could mean flooding the line of scrimmage with blitzers, if that's what Capers' remaining players do best.
From the moment he arrived in Green Bay, Capers pledged to craft a scheme around the strengths of his players. It's time for him once again to follow through.
2. Remaining disciplined with the "new" short-range offense
Over the past two weeks, the Packers have returned to the approach they used in 2007, emphasizing quicker passes, shorter routes and better balance with the run. In this case, the shift was a response to the limited pass protection they have offered quarterback
Aaron Rodgers
.
The development has been obvious the casual observer, but
Tom Pelissero of the Green Bay Press-Gazette
recently put a strong number behind it. In Sunday's 30-24 victory over San Francisco, 20 of Rodgers' 32 completions traveled within 4 yards of the line of scrimmage. And their biggest offensive play came off a simple 10-yard slant pass to receiver
Greg Jennings
, who turned it into a 64-yard touchdown.
"We know our strengths," Jennings said. "We know our weaknesses, and we have to play to our strengths. And our strength is getting the ball out of Aaron's hands and letting us make plays. … I think [the short game] is the best way to get the ball in any one of our hands. The last couple of weeks, that's been a huge emphasis -- the three-step game, the quick game, just trying to get the ball in each one of our hands and just get us out in space against the perimeter guys."
3. Win the right games
This might sound counterintuitive, but some of Green Bay's games will be more important than others. I'm not suggesting the Packers do anything other than try to win all of them. But we observers should keep priority and orderliness in mind when looking at their schedule.
In terms of tiebreakers and playoff seeding, division games are most important -- even if it has nothing to do with winning the title. Conference matchups rank next, followed by AFC games. So if I'm making a priority list of the teams I think the Packers need to beat to make the playoffs, it's going to look like this:
A. Detroit
B. Chicago
C. Seattle
D. Arizona
E. Baltimore
F. Pittsburgh
I ranked Seattle and Baltimore ahead of Arizona and Pittsburgh because they're home games. No tiebreaker applies to home victories, but any playoff plan should include winning your home games first.
4. Make a standard out of the special-teams performance we saw Sunday.
The Packers have had their share of coverage problems this season, and our friends over at
Football Outsiders
ranked their special teams last in the NFL through the first nine games of the season. But I thought the Packers put forth a mostly winning effort Sunday.
No one can be happy about Josh Morgan's 76-yard kickoff return in the fourth quarter. Moving past that play, however, the 49ers managed 18.7 yards on their other three kickoff returns and 2.3 yards on three punt returns.
Meanwhile, Williams' 27-yard punt return set up what turned out to be a key field goal at the end of the first half. And don't forget that
Derrick Martin
downed a
Jeremy Kapinos
punt at the 49ers' 2-yard line in the fourth quarter. On the next play, safety
Nick Collins
intercepted
Alex Smith
to set up the Packers' final touchdown.
You can't solve any problem overnight, special teams or otherwise. But if the Packers can minimize big returns and make some positive plays to balance them out, I think what they did Sunday would suffice in a playoff race.
October, 28, 2009
10/28/09
11:16
AM ET
Posted by ESPN.com's Kevin Seifert
I'll admit it: I was originally turned off by Green Bay mayor Jim Schmitt's decision to insert himself into the hype for Favre-Packers II this week. As you might recall, Schmitt
began soliciting
suggestions to "tastefully" commemorate
Brett Favre
's return to Lambeau Field in a Minnesota uniform.
Schmitt took to the ESPN airwaves this week, appearing on ESPN2's "First Take" to continue promoting the idea. In the video below, Schmitt says the common thread among Green Bay citizens is that "they like Brett Favre but they love the Packers."
Politicians rarely miss an opportunity for attention, but I suppose I'm fine with a mayor trying to steer the behavior of his citizenry when it's the subject to national interest in the sports world. Among the ideas he'll likely pursue, Schmitt said, is changing the name of a local "Minnesota Ave." to "Rodgers Dr." in order to honor current Packers quarterback
Aaron Rodgers
. Another has been for schoolchildren to write "12 reasons 4 staying in Green Bay" as a civic venture that plays off the jersey numbers for Rodgers and Favre.
Finally, Schmitt said he's planning some sort of stunt revolving around waffles, a dig on Favre's inability to make a decision. That's pretty funny, but I wonder if it's an appropriate message coming from a mayor's office.
So I'll turn it over to you: What's the best way for Green Bay citizens, Wisconsinites and Packer fans to treat Favre's return? Think in terms of the values and ideals you want to reflect and project.
I've got some strong thoughts on the matter, but I'll hold them for our usual Friday morning post, where I'll also compile a representative sample of your responses. Have at It.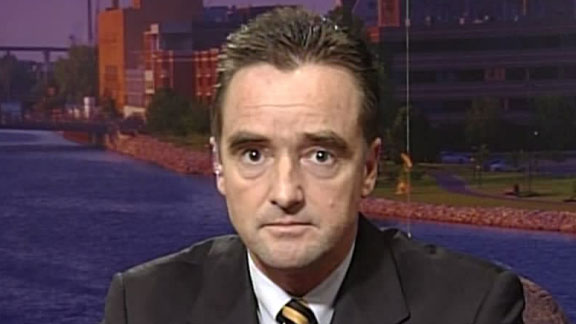 NFL SCOREBOARD
Thursday, 9/18
Sunday, 9/21
Monday, 9/22
WEEKLY LEADERS