September, 21, 2014
Sep 21
8:00
PM ET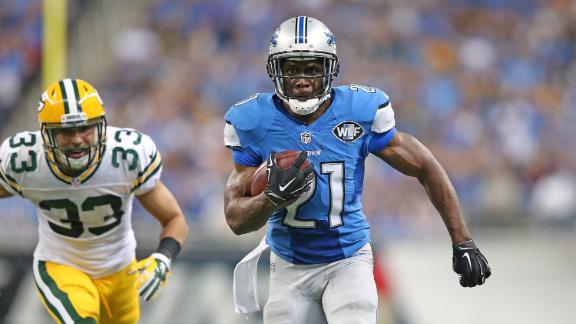 DETROIT -- It was just one play, one failed play, but in many ways it encapsulated everything that was wrong with the
Green Bay Packers
' offense in Sunday's
19-7 loss
to the
Detroit Lions
at Ford Field.
It was fourth-and-5 from the Lions' 20-yard line with 6:59 remaining.
Jordy Nelson
, the NFL's receiving yardage leader through the first two weeks of the season, found himself open up the right seam. It's a route he has run, and run successfully, hundreds of times. As Nelson took the route to the post, quarterback
Aaron Rodgers
saw him break free and fired what would have been a touchdown that could have at least given the Packers a chance at a comeback victory for the second straight week.
And the ball came up short and well behind Nelson.
Game over.
With the Rodgers-Nelson connection off -- Nelson had just five catches for 59 yards after combining for 18 receptions and an NFL-high 292 yards the first two weeks -- the Packers (1-2) had little chance given their lack of a running game and dearth of playmakers at the other skill positions.
The result was the lowest scoring output of a game that Rodgers started and finished -- and his second-lowest passing yardage total in such games -- since he took over as the Packers' quarterback in 2008, leaving it open to wonder what exactly is missing from what has been and what was supposed to be a prolific offense.
"There's a lot missing," said Rodgers, who completed 16 of 27 passes for 162 yards. "There's execution missing. We haven't been able to run the ball very well in any of the three games. We just haven't executed as well as we have in the past in the passing game."
Forget for now about the Packers' woeful running game, which totaled just 76 yards on 22 carries and featured a fumble by
Eddie Lacy
on his second carry of the game. That Rodgers & Co. could not shred a Lions' second-handed secondary which was missing starting strong safety
James Ihedigbo
and also had to play its fourth, fifth and sixth different nickel defensive backs of the season at various points on Sunday is perhaps most troublesome.
It showed that even a patchwork secondary can take away one player -- Nelson -- if it wants to and expose the lack of weapons around him. The Packers dropped at least three passes, one each by
Randall Cobb
,
James Starks
and
Jarrett Boykin
.
Cobb called his three-catch, 29-yard showing "embarrassing."
"I've got to figure out what it is that I can do to help and do more and give this team more," Cobb said.
Although the only points came on a 10-yard touchdown pass to
Andrew Quarless
in the first quarter, the Packers' tight ends have not come close to replicating the big-play threat that Jermichael Finley provided before his neck injury last season.
"We need to find a way to get those guys the ball when they're really trying to take Jordy away," Rodgers said. "Find a way to get Randall the football more, and we've got to run block better and we've got to run better."
Packers coach Mike McCarthy admitted that perhaps he stuck with an unproductive running game too long, saying he "maybe should have given [Rodgers] the ball completely earlier," but the normally accurate Rodgers missed his mark more than usual, so it might not have mattered.
Even before the missed fourth-down throw to Nelson, Rodgers overthrew Cobb on a roll-out pass on third down that killed the opening drive of the third quarter and then short-hopped a ball to Boykin on third down that ruined the next possession.
Counting the Nelson play, five of Rodgers' incompletions where underthrown, according to ESPN Stats & Information research. That came a week after six underthrown incompletions (the most of his career).
"We got what we wanted," Nelson said of the fourth-and-5 play. "We had an opportunity to make a play and just weren't able to connect on the throw. It's not an easy game. Sometimes we make it look easier than what it was, but today was not easy at all."

NFL SCOREBOARD
Thursday, 9/18
Sunday, 9/21
Monday, 9/22
WEEKLY LEADERS