October, 26, 2014
10/26/14
7:30
PM ET
TAMPA, Fla. -- The play began, as Mike Zimmer reminded
Anthony Barr
, with a mistake.
The
Minnesota Vikings
' rookie linebacker was in man coverage on
Tampa Bay Buccaneers
tight end
Austin Seferian-Jenkins
on Tampa Bay's first play in overtime, and when the tight end leaked out toward the sideline, Barr was too far inside to prevent him from making the catch. It was a similar route to what the Buccaneers had run on
Mike Glennon
's go-ahead touchdown pass to Seferian-Jenkins with two minutes left in the fourth quarter, and after the Vikings rallied to tie the game at 13, the Buccaneers had gone right back at Barr.
"Initially, I was a little upset with him," Zimmer said. "He wasn't being [wide in coverage] with the tight end enough, and he let him catch the ball. But now that it's over, I'm glad he did."
Barr
The game ended on that play because of what Barr did after he got beat. He put his right hand on Seferian-Jenkins' back, used his left hand to rip the ball out of the tight end's grasp, retrieved it from the turf and raced 27 yards for a game-winning touchdown that ended a three-game skid for the Vikings and served as another reminder of what a force the ninth overall pick in the draft already is, even if he doesn't have all the rough edges of his game smoothed out yet.
When he does? Barr stands a chance to be an absolute terror. He has recovered three fumbles in the last two weeks, and he recorded his third sack of the season to go along with eight tackles. He's just three years removed from playing running back at UCLA and is learning his responsibilities in a 4-3 defense after mostly rushing the passer as an outside linebacker in a 3-4 scheme with the Bruins. He wasn't able to start his career in Minnesota until a month after the draft, thanks to UCLA's quarters system that had Barr reviewing practice film with linebackers coach Adam Zimmer over Skype from thousands of miles away. But veterans in the Vikings' locker room raved about how quickly Barr has come to understand his assignments, and the play he made on Sunday showed the instincts of a player several years his senior.
"He knew he had help coming [in safety
Harrison Smith
]. You could see him," linebacker
Chad Greenway
said. "He knew the carrier was going to go down. I don't think he was concerned about that. He just made the play; it was exactly how you'd draw it up. Sometimes it's hard to get in there, but sometimes your hand just falls right."
Barr said he's getting more comfortable understanding concepts and routes as he drops back into coverage, though he might have more work to do there than he does against the run or rushing the passer. The Vikings are able to play with him learning on the fly, though, because of how much he already understands and how ferocious he already can be.
"His first time he came into practice, he knew all his assignments," Smith said. "He wasn't looking around all over the place, which is hard as a rookie. It's hard to come in and know what to do, and line up in the right spot, even. But the day he got here, he was doing things right. He's just getting better and better. ... His upside is as high as you can go."
June, 5, 2014
6/05/14
8:00
AM ET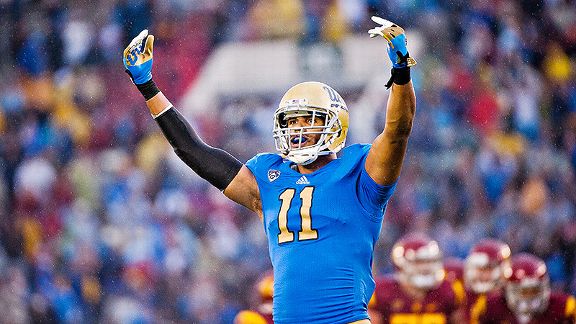 Jonathan Moore/Getty ImagesRookie linebacker Anthony Barr won't be able to work with the Vikings on a full-time basis until he graduates from UCLA later this month.
MINNEAPOLIS --
Anthony Barr
packs up the iPad the
Minnesota Vikings
gave him during their rookie camp, stakes out a spot in a UCLA campus library or in one of the football coaches' offices. He downloads the film from that day's practice, watching a team he doesn't yet feel part of and projecting where he'll fit. Several times a week, he'll plug his headphones and a microphone into his iPhone, so he can keep his hands free to run the iPad while Vikings linebackers coach Adam Zimmer talks through the film over the phone, telling Barr to imagine he is occupying the Vikings' strongside linebacker spot, rather than the player on the screen who will ostensibly be competing with Barr for playing time in training camp.
The ninth overall pick in the NFL draft can have only limited contact with his coaches and can devote only so much time to football while trying to manage the 20-credit load he's taking to finish a degree in sociology this spring. Barr had to miss several midterms in those classes in April while he was working out for teams before the draft, and he's hoping he'll be able to pass the courses without doing too much damage to his 3.0 GPA. Much of his attention, though, is on his employer 1,900 miles away.
"It kind of sucks," Barr said. "I want to be out there, but I'm not allowed to. I wish it was my decision."
This is how Barr is spending his final weeks of college, straddling the line between a degree he's trying to finish and a job he's technically not able to start, at least not completely. UCLA is on the quarters system, like three other schools in the Pac-12, and Barr won't be done with his classes until June 13. Thanks to a 1990 rule the NFL established with the help of the American Football Coaches Association, draft picks from schools on the quarters system are allowed to attend only one minicamp before their classes are done. Beyond that, they are prohibited from being on the field with their coaches, and three of the Vikings' top five picks -- Barr, Oregon State defensive end
Scott Crichton
and Stanford guard
David Yankey
-- are trying to catch up from two time zones west of Minnesota.
The Vikings are doing their best to keep the players on track -- Zimmer will make his second visit to Los Angeles on Friday, and offensive line coach Jeff Davidson will return to Stanford to work on installing the Vikings' scheme with Yankey -- but the system forces teams and rookies to be resourceful under some unique constraints. Barr's friend and former teammate, linebacker
Jordan Zumwalt
, is going through a similar process after the
Pittsburgh Steelers
drafted him in the sixth round.
"We're pretty thorough with it," Barr said. "It's been nice to have [Zimmer], so I don't feel like I'm kind of in the unknown and trying to step in when I get back. It's like I'm just one of the guys."
Barr took the winter quarter off from school while he prepared for the NFL scouting combine, but figured he would stay in school and finish his degree, rather than returning to get it later. That choice put him under the NFL's rule, which attempts to keep players focused on their studies while they're still technically in college. The rule was adopted long before the lengthy offseason programs teams now use, and Barr said it has left him wishing he had more control over how he's able to manage his time, rather than the league mandating he can only spend so much time on the phone and in meetings with Zimmer. He feels as though he's mostly up to speed on what the Vikings are doing, and probably will find a little leeway in the fact that the team's veterans are learning a new defense, too, but head coach Mike Zimmer has talked about how the Vikings have big plans for how they'll use Barr, and those plans will have to wait until minicamp and training camp to be installed on the field.
Barr plans to walk in a commencement ceremony at Pauley Pavilion on June 13, and he'll be on a plane for the Twin Cities the next day, getting to town a couple of days before the Vikings begin minicamp June 17. He hasn't had a chance to look for a house yet, and doesn't know where he'll be staying during the Vikings' three-day minicamp. "Hopefully they'll put me up somewhere the week I'm there," he said.
Those concerns, though, will be secondary to the Vikings' top pick finally getting to step on the field and start a career he's been preparing for through unusual circumstances.
"I'm looking forward to showing them who I am, how much I love the game and just making a good impression on them," he said.
February, 27, 2014
2/27/14
10:25
AM ET
MINNEAPOLIS -- If the
Minnesota Vikings
aren't able to land a quarterback with the No. 8 overall pick in the draft in May, one popular alternative is for them to take a linebacker -- possibly Buffalo's Khalil Mack or Alabama's
C.J. Mosley
-- who could help shore up the middle of their defense.
They might, however, have another option worth considering before then. The
Cleveland Browns
released linebacker
D'Qwell Jackson
on Wednesday, parting ways with the leader of their defense instead of paying him $4.1 million in bonuses on March 15.
Jackson is 30 years old, and reportedly already had interest from seven teams after the Browns cut him, so the Vikings would have to decide how much they'd want to pay for a linebacker entering his eighth season. They unsuccessfully tried a similar tack with former
Green Bay Packers
linebacker
Desmond Bishop
last year, though injuries were a major risk factor with Bishop while Jackson has been durable for most of his career. But Jackson, like Bishop, is well-respected around the league and might be worth a look from the Vikings, especially considering how much their new coaching staff already seem to know about him.
Offensive coordinator Norv Turner and quarterbacks coach
Scott Turner
were on the Browns' staff with Jackson last season, and though they wouldn't have coached him directly, they could vouch for his character and leadership abilities. Similarly, coach Mike Zimmer and linebackers coach Adam Zimmer wouldn't have game-planned against Jackson while they were in Cincinnati, but they'd at least have had two chances to watch him each season.
Jackson has been a solid tackler throughout his career, though he's historically not been the kind of linebacker you look to for a huge number of impact plays. The Vikings already have a linebacker like that in
Chad Greenway
, who turned 31 in January, and there's an argument to be made for younger, cheaper middle linebacker options like
Audie Cole
and
Michael Mauti
. But the Vikings defense suffered a leadership void when the team released
Antoine Winfield
last March, and Jackson could help provide some direction for a defense that figures to change dramatically under Zimmer this season. That alone might be enough for the Vikings to take a look at him.
January, 21, 2014
1/21/14
3:15
PM ET
MINNEAPOLIS -- The
Minnesota Vikings
will announce all of Mike Zimmer's coaching staff once it's finished, but we're starting to get some sense of how the group will look.

We know it will not include former offensive coordinator Bill Musgrave; Fox Sports reported on Tuesday that Musgrave has accepted a job as the Eagles' quarterbacks coach. That's not a big surprise, considering the Vikings had already replaced Musgrave with Norv Turner, but Tuesday's news rules out any chance of Musgrave returning to the Vikings in a smaller role.
The Vikings have defensive coordinator George Edwards reportedly in place, as well, and the
Minneapolis Star Tribune's Master Tesfatsion, who's at the Senior Bowl in Mobile, Ala., reports he saw Turner's son Scott
conducting the Vikings' meetings with quarterbacks -- which is a likely indicator the younger Turner, who was the Browns' wide receivers coach last season, will be on his father's offensive staff for a second season in a row.
Cincinnati Bengals
defensive backs coach Adam Zimmer, who worked for his father last season,
is also expected to join the Vikings' staff.
How many of former coach Leslie Frazier's assistants could stay on with Zimmer? According to a NFL source, wide receivers coach George Stewart and offensive line coach Jeff Davidson both have decent chances. Stewart, who is at the Senior Bowl this week, had developed a bond with rookie receiver
Cordarrelle Patterson
dating to last year's scouting combine, and he has worked with Jerry Rice and Terrell Owens in the past. The Vikings blocked Davidson from interviewing for a job with the
Atlanta Falcons
, which would seem to indicate they would like to keep him on Zimmer's staff.
There are bound to be plenty of questions about special teams coordinator Mike Priefer, who was accused by former punter Chris Kluwe of making homophobic remarks during the 2012 season. The Vikings are investigating the matter, and that investigation could help delay an announcement of the Vikings' coaching staff. Priefer is well-respected as a coach, but the Vikings might want to get the situation resolved before announcing a staff with or without Priefer on it.
The rest of the group is still waiting to see what decisions Zimmer makes, but the Musgrave move is at least an indication that the Vikings have given some coaches the chance to accept jobs elsewhere.
February, 4, 2010
2/04/10
2:54
PM ET
MIAMI -- Back during the regular season, we all heard a lot about how the
Cincinnati Bengals
rallied around defensive coordinator Mike Zimmer after his wife Vikki died suddenly in October.
The Bengals weren't the only NFL team impacted by that tragedy. New Orleans defensive assistant Adam Zimmer is the son of Mike and Vikki. He took a few minutes Thursday to discuss how the Saints' run to the Super Bowl has helped him deal with the loss.
"Obviously, nothing is ever going to replace mom, but at least something good happened this year,'' said Zimmer, who works primarily with linebackers and has been with the Saints since 2006. "That helped me put it in the background a little bit. When I'm working, it's a lot easier to keep my mind off of it. I'm sure after this game, it'll be a little harder because things will slow down and I'll have time to think.''
Zimmer said the Saints have rallied around him with lots of support.
"They've helped a lot,'' Zimmer said. "
Scott Shanle
's had me over when we've had time off.
Mark Simoneau
had me over for Christmas dinner and [assistant] Coach [Joe] Vitt had me over for Thanksgiving. They've been there for me. All the linebackers showed up for the funeral and that was really important to me when I saw them coming.''
Zimmer said he and his father also have leaned heavily on each other.
"We call each other every night now,'' Zimmer said. "He's texting me all the time now. He hardly ever even used texting before this year, but now he's texting me all the time. Whenever we need each other or need to talk, we give each other a shout. We've always been close, but this has brought us closer.''