March, 28, 2012
3/28/12
8:39
PM ET
A confusing judgment call favoring the
New York Giants
enabled their comeback victory over the
Arizona Cardinals
in Week 4.
Was Giants receiver
Victor Cruz
really down when he lost the football late in the game? A fumble in that situation likely would have killed the Giants' chances for a comeback.
Who knows, an Arizona victory might have changed the course of NFL history given that the Giants later sneaked into the playoffs with a 9-7 record, then won a Super Bowl title.
Would they have been a postseason team at all without that victory? Tough to tell, and irrelevant now.
[+] Enlarge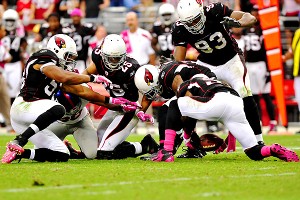 Chris Morrison/US PRESSWIREVictor Cruz was ruled down on this fourth-quarter play, nullifying a recovered fumble by Arizona in a game it lost 31-27.
But the issue relating to the Cruz play lives on. The NFL apparently had that situation and a few others from NFC West teams' games in mind when identifying officiating points of interest for the 2012 season.
Those points, distributed during the recently concluded NFL owners meetings in West Palm Beach, Fla, covered blows to the head, horse-collar tackles, sportsmanship/taunting, pre-snap movement, player alignment, runners declaring themselves down and deceptive substitutions.
I'll single out a few of them in relation to memorable plays from games involving NFC West teams.
Runners declaring themselves down
Memorable plays:
Victor Cruz's non-fumble at Arizona after referee Jerome Boger determined
Cruz had given himself up
, ending the play. Later in the season, the
Seattle Seahawks
'
Adrian Moten
and
Michael Robinson
sandwiched
San Francisco 49ers
returner
Kyle Williams
after Williams went to the ground untouched, then popped up. The league later
fined Moten
for a late hit. Referee Ron Winter penalized Robinson for a helmet-to-helmet hit, but the absence of an accompanying fine indicated the NFL did not fault Robinson for his behavior on the play.
The issue:
Were Cruz and Williams down? When is a runner down, anyway? And if they're obviously down, shouldn't officials blow their whistles?
Point of emphasis, from the NFL:
"Rule 7, Section 1, Article 1 states that the ball is dead and the down ended if, among other items, a runner 'declares himself down by falling to the ground, or kneeling, and making no effort to advance.' This sometimes leads to confusion when a runner goes to the ground and is slow to rise to his feet. Has he 'declared himself down,' in which case the covering official should blow his whistle and further defensive contact is prohibited? Or is he merely slow to get to his feet, for whatever reason, in which case a defender needs to touch him to end the down?
"The Committee does not believe that there should be any change in the rule itself, but believes that education of players, coaches, and officials should eliminate any ambiguity. The proper application of the rule, that a runner who goes to the ground untouched will be considered to have declared himself down if he does not make an immediate attempt to advance, will be emphasized to officials prior to the 2012 season."
Pre-snap movement
Memorable plays:
Referee Gene Steratore and crew flagged 49ers tight end
Justin Peelle
for a false start on a fourth-and-1 play against the
Washington Redskins
. Coach Jim Harbaugh disputed the call. The 49ers periodically used sudden movement by their tight ends, ostensibly to reset the formation. Cardinals defensive coordinator Ray Horton called the tactics "cute" (see final note
here
) after the 49ers drew the New York Giants offside.
The issue:
Were the 49ers simulating a snap or making a legitimate adjustment to their formations?
Point of emphasis, from the NFL:
The Committee reviewed video of pre-snap movement by offensive players and agreed that special emphasis should be devoted to acts that are clearly in violation of the existing rule for false starts. Prior to a snap, any quick, abrupt movement by an offensive player, or several offensive players in unison, which simulates the start of a play, is a foul.
"These acts include (a) a quarterback in shotgun formation thrusting his hands forward in an exaggerated manner when there is not a simultaneous snap, (b) abrupt movement of the ball by the center, (c) abrupt movement of the center's head or other body part, and (d) a quick abrupt shift by two or more players in unison. Non-abrupt movement that is part of normal pre-snap action will not be prohibited, including pointing and signaling among offensive players."
Deceptive substitutions
Memorable plays:
The 49ers tricked the
St. Louis Rams
with a touchdown pass to
Michael Crabtree
on a fake field-goal attempt. Crabtree went toward the sideline as if leaving the field, but he stayed on the field and was uncovered near the sideline. The play was
deemed legal
.
The issue:
Undetermined. I do not know whether the following point of emphasis applies to how the 49ers used Crabtree in this example. This one requires more investigation. I'll include the point of emphasis here, then follow up when I have more information. League officials are returning from the meetings Wednesday.
Point of emphasis, from the NFL:
"The Committee addressed the concern that some teams are abusing established substitution rules in a deliberate attempt to confuse opponents. Rule 12, Section 3, Article 1(k) of the Playing Rules clearly states that 'using entering substitutes, legally returning players, substitutes on sidelines, or withdrawn players to confuse opponents' is unsportsmanlike conduct. The Committee reminds clubs that this practice has no part in our game, and officials will be instructed to closely watch for violations of the rule.
"The Committee also reviewed the procedures for an offensive player who comes into the game wearing a number that does not qualify him for the position he takes. These players must report to the Referee, prior to entering the huddle. The Referee and Umpire will then report the same to the defensive team. This rule prevails whether a player is already in the game or is an entering substitute and whether it is a play from scrimmage, an attempted field goal, or a try after a touchdown. If a player fails to report his change in eligibility, it will result in a five-yard penalty for illegal substitution."
December, 12, 2011
12/12/11
7:13
PM ET
SEATTLE -- The
St. Louis Rams
' inactive list could favor the
Seattle Seahawks
' run defense.
The Rams will be without veteran defensive tackle
Fred Robbins
, who was questionable on the injury report and did not practice during the week. Robbins' absence means more playing time for
Darell Scott
and
Gary Gibson
.
Also inactive for the Rams: quarterback
A.J. Feeley
, quarterback
Tom Brandstater
, running back
Quinn Porter
, fullback
Brit Miller
, linebacker
Justin Cole
and guard
Kevin Hughes
.
Kellen Clemens
will serve as the backup quarterback to
Sam Bradford
.
For Seattle, linebacker
David Hawthorne
is active. The Seahawks' inactive list features quarterback
Josh Portis
, safety
Jeron Johnson
, cornerback
Kennard Cox
, linebacker
Adrian Moten
, guard
Mike Gibson
, guard
Paul Fanaika
and defensive tackle Pep Levingston.
December, 1, 2011
12/01/11
7:21
PM ET
SEATTLE -- The
Seattle Seahawks
will have middle linebacker
David Hawthorne
and cornerback
Richard Sherman
for their game against Philadelphia on Thursday night. Both players are active after missing practice time with injuries.
Inactive for Seattle: quarterback
Josh Portis
, safety
Jeron Johnson
, cornerback
Byron Maxwell
, linebacker
Adrian Moten
, tackle
Jarriel King
, tackle
Allen Barbre
and defensive lineman Pep Levingston.
Inactive for Philadelphia: quarterback
Michael Vick
, receiver
Jeremy Maclin
, cornerback
Dominique Rodgers-Cromartie
, tackle
King Dunlap
, guard
Julian Vandervelde
, defensive end
Phillip Hunt
and the recently signed
Greg Lloyd
.
Seattle has five wide receivers active despite placing
Sidney Rice
on injured reserve.
Deon Butler
, who suffered a career-threatening leg injury at San Francisco last season, is active for the first time this season.
Hawthorne's mobility will be a subject of interest in this game. Knee problems have bothered him at times during the season, including last week. The shortened week of recovery time could work against him.
September, 11, 2011
9/11/11
3:57
PM ET
HOUSTON -- Thoughts on the Texans'
34-7 rout
of the Colts at Reliant Stadium
What it means:
The Texans bolted out to a 1-0 start over the Colts last season, but this one was different. We saw what a good team can do against Indianapolis minus
Peyton Manning
. Houston sailed and the Colts struggled. It's hard to call any Houston game a turning point, but this is one we might look back to as a pivot point for control of the AFC South.


What I liked:
Matt Schaub
-to-
Andre Johnson
was virtually can't miss after an early interception of a pass that slid through Johnson's hands.
Derrick Ward
and
Ben Tate
both ran effectively.
Jacoby Jones
showed smarts and speed on a 79-yard punt return for a score. The Texans' new 3-4 defense found consistent pressure that made life very tough on
Kerry Collins
. End
Antonio Smith
was especially effective.
What I didn't like:
Collins was just shaky, handing away two fumbles in a short span early on, once on a sack, once on a fumbled snap. Unless the protection was perfect, he was messy and there were only a handful of snaps where the protection was perfect. Indianapolis' defense simply didn't show any ability to bottle up the run, and receivers consistently found space between defenders to collect Schaub's passes.
Who to worry about:
Colts linebackers.
Gary Brackett
suffered a shoulder sprain when he was tackled at the end of an interception return. The Colts played bad defense with him. Without him, they'd really have a hole.
Ernie Sims
suffered a knee sprain early in the game, which meant undrafted rookie
Adrian Moten
saw time in the nickel package.
One good thing about the Colts:
They didn't quit, showing some life in the second half even though they knew it was over.
Reggie Wayne
was in the middle of it.
Jeff Saturday
fought hard to recover Collins' third fumble at the bottom of a pile.
One bad thing about the Texans:
With
Arian Foster
(hamstring) already hurt, Ward left the game with an ankle injury. Tate and
Steve Slaton
provide nice depth, but any team down its top two running backs has questions.
What's next:
The Colts try to recover when they host Cleveland. The Texans try to keep things going in Miami. The rematch between Houston and Indy is at Lucas Oil Stadium on Dec. 22.
September, 3, 2011
9/03/11
6:41
PM ET
Check
here
for a complete list of the Indianapolis Colts' roster moves.

Surprise moves:
Tommie Harris
seemed to play well enough to stick, but the former first-round defensive tackle apparently wanted to be treated like the team's top defensive linemen and the team didn't like the attitude. Defensive end
John Chick
had solid games but couldn't get past
Jerry Hughes
. Undrafted rookie tight end
Mike McNeill
made it, as did four others who were not April selections: running backs
Darren Evans
and
Chad Spann
, linebacker
Adrian Moten
and safety
Joe Lefeged
.
No-brainers:
Veteran additions on defense made good impressions in the preseason and are sticking around -- ends
Jamaal Anderson
and
Tyler Brayton
and linebacker
Ernie Sims
.
Anthony Gonzalez
may be injury prone, but none of the other options at receiver is a better player.
What's next:
They've got only four defensive tackles in
Fili Moala
,
Antonio Johnson
,
Eric Foster
and
Drake Nevis
. It could be a spot where they look to add or upgrade on Foster. Offensive linemen
Mike Pollak
and
Jamey Richard
will have to prove they deserved to stick ahead of
Kyle DeVan
.

NFL SCOREBOARD
Thursday, 8/21
Friday, 8/22
Saturday, 8/23
Sunday, 8/24