NFL Nation:

AFC South Stock Watch
December, 22, 2010
12/22/10
2:14
PM ET
FALLING
1. Jacksonville's execution at a critical time
: Down four points in the third quarter, you can't go for it on fourth-and-1 in your own end and not convert. I didn't like Jack Del Rio's call. But fact is, if
David Garrard
snuck it, there was room, and if
Maurice Jones-Drew
didn't fumble the pitch he had room to convert it too.
2. The Texans' perspective
: Explain it away all they like, but the
Brian Cushing
-
Antonio Smith
on field scuffle looked horrible. It almost matched Bob McNair's weak praise of his team last week for the comeback against the Ravens. Never mind they lost in overtime. McNair shouldn't follow the instructions of his team's fans, but he also can't be that disconnected. And after he shared that enthusiasm about the team's direction, it rewarded him with a dud in Nashville.
3. Don Carey and Sean Considine, Jaguars safeties
: Angles, tackling and reliability have been an issue for the team from the safety position all season. In the Jaguars' biggest game of the year, the two starters were glaringly poor. Gene Smith couldn't fix all the personnel problems at once.
Courtney Greene
may be OK at one spot going forward, but this team needs to add at least two safeties in the offseason.
RISING
[+] Enlarge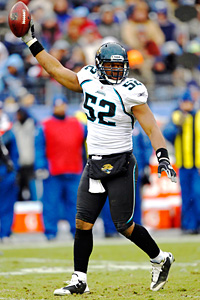 AP Photo/Paul SpinelliJaguars linebacker Daryl Smith is flying under the radar and making plays.
1. Daryl Smith, Jaguars linebacker:
He was all over the place against the Colts, and if it came in a win, I think it may well have been an AFC defensive player of the week worthy performance. Smith's backers have touted him as one of the most underrated players in the league. He was the best linebacker in the AFC South on Sunday.
2. Fernando Velasco, Titans center
: Subbing for
Eugene Amano
, who went on IR last week, Velasco got high praise from Jeff Fisher and was part of the team's best offensive line effort in recent memory. He's a strong guy who seemed ready to perform, just as he did in a spot start for
Leroy Harris
against Dallas. Velasco could be injecting himself into the mix for a front-line spot in 2011.
3. The Colts' run-blocking
:
Donald Brown
was our High Energy Player of the Week Tuesday, but we failed to give enough credit to the guys in front of him. It was a quality game plan which was well-executed and stopped the more powerful Jaguars. Holding up a couple times when the Jaguars needed only a yard was impressive work.
November, 17, 2010
11/17/10
12:26
PM ET
»
NFC Stock Watch
:
East
|
West
|
North
|
South
»
AFC
:
East
|
West
|
North
|
South
FALLING
1. The Titans' second-half adjustment and the Texans out of the gate:
In the Titans' last two games, losses at San Diego and Miami, the Titans have been outscored 39-14 in the second half. They are getting outplayed and outcoached after intermission and need to do better adjusting. The Texans, meanwhile, have fared poorly from the start in two of their last three games. They trailed both Jacksonville and Indianapolis 17-3 at the half.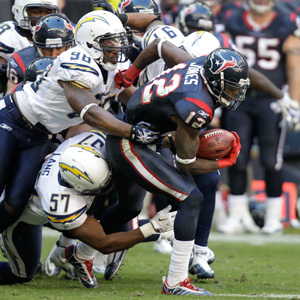 AP Photo/Eric GayReceiver Jacoby Jones has yet to show he can be a solid option at No. 2 for the Texans.
2. Jacoby Jones, Texans receiver:
He was supposed to challenge
Kevin Walter
for the No. 2 slot and be an explosive piece of the offense. But he had one catch for five yards in Jacksonville. His 25 catches have produced an average of 9.7 yards, same as running back
Arian Foster
. Last year that average was 16.2. And according to ESPN Stats & Info, he's got four drops in 38 targets.
3. Bo Scaife, Titans tight end:
His early fumble in the Titans' end set up the Dolphins offense and got a bad day started. He also had a drop.
Kerry Collins
and
Vince Young
threw to him nine times and his six catches gained just 51 yards. It's not his fault they are throwing short stuff to him, but he didn't feel like a threat with the ball in his hands. Surely on some of these plays
Jared Cook
could offer a more dangerous change up, no?
RISING
1. Role playing tight ends:
We're heard a lot about the contributions they could make, but we're finally seeing something out of Houston's
James Casey
and Jacksonville's
Zach Miller
. Casey's caught five passes for 66 yards in the Texans' last two games. And Miller had four catches for 79 yards, including a 52-yard touchdown in the win over the Texans.
2. The Colts' health:
I'm being a bit presumptuous here. But
Joseph Addai
said last week he was targeting the New England game. And in their weekly Tuesday announcement, the Colts ruled out only
Bob Sanders
. That means of a big group who didn't play against the Bengals, there is a chance for guys like
Austin Collie
,
Clint Session
,
Gary Brackett
,
Justin Tryon
and
Mike Hart
to be back. The team hopes for many happy returns in New England.
3. Andre Johnson, Texans receiver:
He's topped 100 yards in three of his last four games. While his ankle may still qualify as an issue, he's certainly found a way to play and play effectively with it. And the Texans and
Matt Schaub
need to keep feeding him. With Johnson and Arian Foster, the Texans have to find an offensive rhythm and score big knowing the defense won't do a lot.
November, 3, 2010
11/03/10
2:25
PM ET
»
NFC Stock Watch
:
East
|
West
|
North
|
South
»
AFC
:
East
|
West
|
North
|
South
FALLING
The Titans in the fourth quarter of close games:
They did well to pull away from Philadelphia with a 27-point fourth in what had been a close game. But against Pittsburgh, Denver and San Diego when they were in range, the Titans have not had the execution, ability or killer instinct to win.
Gary Kubiak's play calling:
I hear the explanations. Convert some third downs and stay on the field and they would have been balanced. But Kubiak outsmarted himself. The Texans ran all over the Colts the first time; the obligation is to make them show they can stop it before you turn to what you prepared for them stopping it. Also, you get into a lot more third-and-shorts if
Arian Foster
is running for 4 or 5 yards on first and second down.
Vincent Fuller, Titans defensive back:
The team's feisty full-time nickelback since 2007 was reduced to a role in the much less frequently used dime package. The Titans love
Alterraun Verner
, who'd been playing outside with
Jason McCourty
injured. With McCourty back, Verner started outside, and moved inside in the nickel, with McCourty taking his place.
RISING
[+] Enlarge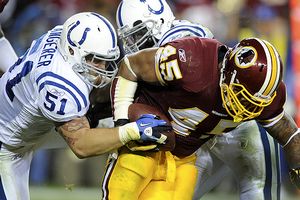 AP Photo/Nick WassPat Angerer has played his way into the Colts' starting lineup.
Pat Angerer, Colts outside linebacker:
He's a middle linebacker in their eyes, but he played so well filling in a couple of weeks ago for
Gary Brackett
that the Colts decided they needed to keep him on the field. Out went strongside starter
Philip Wheeler
, in went Angerer on Monday night. He didn't light up the stat sheet but Jim Caldwell sang his praises.
David Garrard, Jaguars quarterback:
The good is outweighing the bad to the tune of a 98.8 passer rating, the fourth best in the NFL. He put the Cowboys to shame on Sunday with a sterling performance. But here's a helpful hint: Don't say how the team you just beat up gave up -- it takes a little shine off of what you just did.
The Colts' backups:
We've covered it extensively (
here
and
here
), but the performances of tight end
Jacob Tamme
, running back
Mike Hart
and cornerback
Justin Tryon
were key in the Colts' win over Houston. They keep calling on the depth and it keeps giving the team what it needs.
October, 13, 2010
10/13/10
11:48
AM ET
»
NFC Stock Watch
:
East
|
West
|
North
|
South
»
AFC
:
East
|
West
|
North
|
South
FALLING
1. Kareem Jackson, Texans cornerback:
He got muscled by
Hakeem Nicks
on an early touchdown, a tough play for any corner. But Jackson looked to grow increasingly hesitant, getting blocked out of one big-gain screen and failing to stick with Nicks on a big change of direction on a 27-yarder. Ultimately, the Texans looked to minimize his role, though they lack a solid alternative and a hamstring injury to
Sherrick McManis
meant he wound up back with a good share of work.
2. Cortland Finnegan, Titans cornerback:
He has tremendous talent, but isn't playing up to his standards right now and admitted as much on his weekly radio show in Nashville. He gave up too many plays in Dallas and may have let the fines and discussion of whether he's feisty or dirty get in his head some. If he's not playing close to his best, Tennessee's defensive backfield isn't nearly as good as it can be.
3. Texans early special teams:
Two of the team's first three drives started too deep in Houston territory because of penalties against the kickoff return team by
Darryl Sharpton
and
Frank Okam
. And before either of those, when
Darius Reynaud
muffed a
Matt Turk
punt, the Texans could have had possession in the red zone. Instead they watched
Chase Blackburn
recover the ball at the 15-yard line.
Antwaun Molden
and McManis didn't seem to track the play as long as they should have and
Xavier Adibi
lost a race to the loose ball.
RISING
[+] Enlarge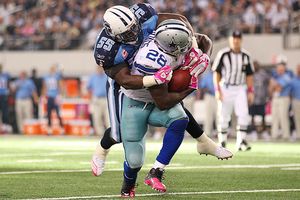 Matthew Emmons/US PresswireStephen Tulloch's career game in Week 5 helped the Titans beat the Cowboys.
1. Stephen Tulloch, Titans middle linebacker:
He was all over the place for the Titans at Cowboys Stadium with a career-high 15 tackles and a game-sealing interception late. He spent the offseason away from the team because he was unhappy about having to play for a restricted tender instead of getting a long-term deal. He's certainly doing fine work building his case for a contract.
2. Antoine Bethea, Colts free safety:
In many ways, he is the glue of the Colts defense. He's playing beside a third-string strong safety and along one corner,
Kelvin Hayden
, who has seemed off his game. I don't know that the Chiefs were ever going to score a touchdown. But Bethea eliminated one opportunity with a big, fumble-causing hit on
Jamaal Charles
with 1:07 left in Colts' territory.
3. Aaron Kampman, Jaguars defensive end:
In the win at Buffalo, Kampman had a tone-setting defensive effort with a team-high 10 tackles, four quarterback pressures, two tackles for losses and 1.5 sacks. The Jaguars are very happy with what they are getting from their big free agent addition, who's leading a young group.
September, 29, 2010
9/29/10
12:25
PM ET
»
NFC Stock Watch
:
East
|
West
|
North
|
South
»
AFC
:
East
|
West
|
North
|
South
FALLING
1. David Garrard:
A bad game and maybe he gets skipped a week. A game as bad as his against Philadelphia and he's really sinking. Granted, his protection wasn't good. But he can probably do more against the pressure that resulted in six sacks. He simply has to throw for more than 105 yards. Will
Trent Edwards
ultimately put pressure on Garrard?
2. Eugene Wilson:
In the loss to the Cowboys, he dropped a pick-6 in a game where the Texans desperately needed a big play from the defense. Wilson also didn't seem to be of great help to the young corners. He might not have had responsibility to help
Kareem Jackson
on the short
Roy E. Williams
catch that went for a 63-yard touchdown. Still, if he's so gimpy he can't pursue better than he did, he should sit and they should have a look at
Troy Nolan
.
3. Titans' interior offensive line:
Against the Giants, center
Eugene Amano
and right guard
Jake Scott
didn't seem to recover well from the line's poor game against Pittsburgh. The Titans don't need
Kevin Mawae
back, but jelling and communicating might still be taking some time for this gang. Scott got called for three penalties worth 20 yards.
RISING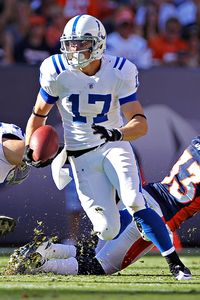 Doug Pensinger/Getty ImagesAustin Collie leads the NFL in receiving yards and receptions.
1. Austin Collie:
The guy had a superstar game in Denver with 12 catches for 171 yards and two touchdowns, showing a psychic connection with
Peyton Manning
. Some evaluators thought coming into the season that Collie had approached his ceiling last season based on his age (26 in November) and role. But he's proven he can be a top option for Manning and the offense.
2. Will Witherspoon:
Keith Bulluck
played for the Giants against the Titans. But given a choice between Bulluck and the player the Titans signed to replace him, Witherspoon seems the clear choice to me right now. He's a defensive spark for Tennessee at the linebacker level, and he's the guy who tipped Eli Manning's left-handed pass into the end zone to set
Jason McCourty's
interception in motion.
3. Jeff Linkenbach:
An undrafted Colts' rookie offensive tackle, he made his first start in Denver and did about
as well
as could be expected given the circumstances. Does he fill in for
Charlie Johnson
beyond that game? We'll get our first hint on Wednesday when we find out if Johnson (foot) can return to practice. Perhaps Linkenbach did well enough that the Colts try to allow Johnson to recuperate?
December, 15, 2009
12/15/09
11:09
AM ET
»
NFC Stock Watch
:
East
|
West
|
North
|
South
»
AFC
:
East
|
West
|
North
|
South
Falling
1. Brad Meester, Jaguars center:
While the Jaguars were ready and willing to deal with the ups and downs of rookie tackles this season, they expected their veteran interior offensive line to be a strength.
But Meester, a 10-year veteran, has dropped off. To his credit, he attempted to take the blame for a failed fourth-down quarterback draw that helped kill Jacksonville's chances in a crucial loss to Miami. Guard
Uche Nwaneri
said it was really
his
fault. Either way, Meester's not been good enough this season.
2. David Garrard, Jaguars quarterback:
In a huge game, Garrard hardly put his team on his back. In the loss to the Dolphins, he completed 11 of 26 passes for 139 yards. He absorbed three sacks and failed to throw a touchdown. It added up to a meager 59.6 passer rating.
He knew he wasn't very good. He tweeted what amounted to an apology: "You deserve better jag fans and you will get better from me. We still hold our own destiny in our hands."
3. LenDale White, Titans running back:
I don't think Jeff Fisher took any offense to White saying last week if he becomes a free agent and finds opportunity, he wants to be elsewhere next year. No one blames a guy for wanting to play.
White dressed but didn't play in a 47-7 blowout of the Rams. He's a victim of
Chris Johnson
's season. The Titans have an explosive feature back pushing for 2,000 yards, and maybe even the all-time single-season record. It doesn't seem the Titans will be inclined to steer carries elsewhere as Johnson swings for it.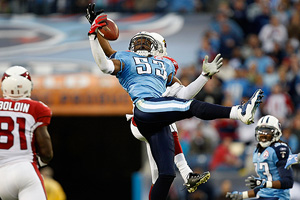 Streeter Lecka/Getty ImagesTennessee linebacker Keith Bulluck is making the most of his remaining time with the Titans.
Rising
1. Keith Bulluck, Titans linebacker:
In what might have been his second-to-last home game in a 10-season career with Tennessee -- he's heading for free agency -- Bulluck helped abuse rookie Rams quarterback
Keith Null
with two of the Titans' five interceptions.
Bulluck also was credited with a game-high 10 tackles, one for a loss, and had an additional pass defensed.
2. Andre Johnson, Texans wide receiver:
On a day where the Seahawks seemed to be willing to sleepwalk at Reliant Stadium, Johnson promptly made them pay for it.
He had a 64-yard touchdown catch on his team's first offensive play from scrimmage. Johnson recorded his 13th 10-catch, 100-yard game. He finished with 11 catches for 193 yards and 2 touchdowns.
3. Dallas Clark, Colts tight end:
Talk about production. Clark was spectacular in the red zone. He had three touchdowns -- one from 10 yards and a pair of 1-yarders -- in Indianapolis' 28-16 win over Denver.
On a day when the Colts were out of sync and won for the first time ever when
Peyton Manning
threw three interceptions, Clark made the most of his five catches for 43 yards.
December, 8, 2009
12/08/09
11:03
AM ET
»
NFC Stock Watch
:
East
|
West
|
North
|
South
»
AFC
:
East
|
West
|
North
|
South
Falling:
1) Nate Washington, Titans WR:
It was the injured
Justin Gage
, not Washington, who was the Titan in the bottom 10 of the league in catch percentage (44.9) heading into the weekend. But Washington's hands-to-helmet reaction showed he knew full well how much of a killer his dropped 65-yard touchdown pass from Young was in Indianapolis.
Washington was targeted a team-high 10 times, but had only four catches for 44 yards. He was signed as a free agent from Pittsburgh to be the team's deep threat, and while he leads the team with five touchdown receptions, his average is just 10.9 yards.
2) Gary Kubiak, Texans coach:
On Nov. 1 after a win at Buffalo, his team was 5-3. It has flat-lined since, dropping four in a row, all in the division. His job security is the chief topic of conversation in Houston.
And the halfback option pass called for
Chris Brown
at a crucial spot late in the loss in Jacksonville was a desperate attempt by a team with plenty of firepower when the quarterback has the ball in his hands.
3) Titans' fourth-down and short-yardage offense:
Young threw fourth-down incompletions aimed for
Kenny Britt
(an ill-advised fade from the 2) and
Lavelle Hawkins
in the red zone in the second half against the Colts.
The throw for Britt concluded a disastrous stretch that started as a first-and-goal from the 1 with a chance to pull within 24-17. Young fumbled a snap on a sneak but recovered, saw LenDale White's run for no gain turn into a 10-yard loss thanks to a hold by guard
Eugene Amano
and got only two yards on a pass to
Bo Scaife
before the failed fade.
Rising:
[+] Enlarge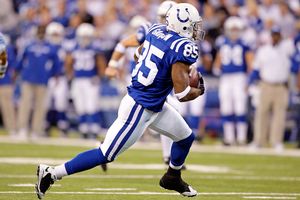 Andy Lyons/Getty ImagesPierre Garcon had a career day against the Titans.
1) Pierre Garcon, Colts WR:
As the Titans worked hard, and effectively, to limit
Reggie Wayne
, it was Garcon who took advantage of a matchup with
Nick Harper
. Garcon had 99 yards receiving in the first quarter.
He finished with six catches for a game- and career-high 136 yards. That was half of the Colts' receiving yardage in the win over the Titans.
2) Adam Podlesh, Jaguars P:
He dropped two of three punts inside the Texans' 20 yard line, averaging a 45-yard net on three punts and playing a big part in a very good field position day for the Jaguars.
His coverage team chipped in too, limiting Houston's
Glenn Martinez
to 13 return yards on three chances.
3) Colts' run defense:
They gave up 113 yards to
Chris Johnson
, so what is it doing here? Well, Johnson entered the game averaging 6.4 yards a carry and got only 4.2 a carry in this game.
And he had one run of at least 30 yards in all but two games. The Colts, who didn't let him break off anything longer than eight yards on Oct. 11, kept him at 11 yards or fewer on every carry this time around with linebacker
Clint Session
leading the charge.
December, 1, 2009
12/01/09
11:01
AM ET
»
NFC Stock Watch
:
East
|
West
|
North
|
South
»
AFC
:
East
|
West
|
North
|
South
Falling
The Jaguars' pass protection and David Garrard, Jaguars QB:
A 300-yard passing game for Garrard in San Francisco was more than offset by his two lost fumbles in the red zone on the Jaguars' first two possessions of the second half.
He was under fire all game. Sacked six times for 46 yards he also absorbed another six hits by the count of press box statisticians. Can he sense it all a bit better?
Matt Schaub, Texans QB:
With his team up 20-7 at the half, Matt Schaub not only couldn't do his part to finish off the Colts, but helped Indianapolis' comeback efforts.
After a solid first half, he threw for 132 yards with a TD, two picks and a 60.8 passer rating to go with two sacks and a lost fumble.
Josh Scobee, Jaguars K:
The big-legged kicker was hardly the reason Jacksonville blew its chance to improve to 7-4, but he didn't help much.
But on a day when the Jaguars couldn't find the end zone, a couple more field goals could have kept them in it longer and given them more time to come to life. Instead, he missed a 40-yarder wide left and hit the left upright with a 21-yarder.
Rising
Vince Young, Titans QB:
Is there anyone in the league whose stock is rising faster or higher? Young had a career passing game with 387 passing yards in the Titans' win over Arizona.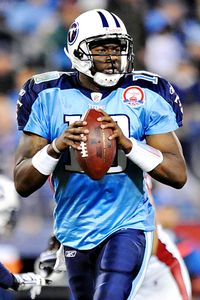 Jim Brown/US PresswireTitans quarterback Vince Young (10) passed for 387 yards against the Arizona Cardinals on Sunday. Tennessee defeated Arizona 20-17.
But it was the game's final drive that was the story, and could be a defining moment in his career. He marched Tennessee 99 yards in 18 plays and 2:37 to a winning touchdown on the game's final play, the third fourth down the Titans converted along the way.
Joseph Addai, Colts RB:
As part of the Colts' second-half comeback, he ran 15 times for 69 yards. Eye popping like
Chris Johnson
? No. More than good enough to supplement
Peyton Manning
and help power play-action? Yes.
In the Colts' last four games Addai's averaged 4.3 yards a carry, a number that's hardly as bad as his detractors would have you believe.
Brian Cushing, Texans LB:
He continues to fly around and deserved a better fate after a game-high 11 tackles and an interception of Manning.
As discouraging as the three-game losing streak has to be for Texans fans, surely they look at Cushing and see hope for the future.
November, 24, 2009
11/24/09
11:01
AM ET
»
NFC Stock Watch
:
East
|
West
|
North
|
South
»
AFC
:
East
|
West
|
North
|
South
Falling:

Brown
1.
Kris Brown, Texans kicker
: For the second time in the Texans' last two games, Brown had a chance to force overtime with a field goal within his range and failed.
Monday night at the end of the Titans-Texans game his 49-yarder was wide left from the start. Earlier he missed a 49-yarder wide right. Houston's counts on Brown to make those. Does Gary Kubiak lose some faith and play differently in the build up to late-game chances?
2.
Houston's rushing offense
: For some reason, the Texans thought a power back would have a better chance against the Titans than the shiftier
Steve Slaton
. Perhaps the fumble concerns linger.
But Brown only got 3.3 yards per carry on 11 touches, while Slaton was nearly a yard better on only five carries. In all, 17 carries and 57 yards are not enough to balance out the offense.
3.
Nick Harper, Titans cornerback
: Jeff Fisher won't allow a veteran starter to lose his job as the result of an injury. But Rod Hood had played awfully well after settling in as Harper's fill-in.
Despite interceptions in three consecutive games for Hood, Fisher went back to Harper Monday night.
Andre Johnson
promptly ran by him and beat him for a 12-yard touchdown on a fade route.
Rising:

Brackett
1.
Gary Brackett, Colts linebacker
: He's been blitzing more this season, but his big play in Baltimore came when he faked as if he'd pursue
Joe Flacco
, then dropped into coverage.
Flacco didn't see him as he aimed a short pass over the middle for
Ray Rice
, and Brackett hauled in a clutch interception.
2.
Rob Bironas, Titans kicker
: While Brown missed two great opportunities in a tight game, Bironas scored big at Reliant Stadium.
He nailed a 50-yard field goal in the third quarter and with 47 seconds left in the game his 53-yarder provided the Titans with the winning margin.
3.
Mike Sims-Walker, Jaguars wide receiver
: He's stayed healthy and established himself as the reliable No.1 receiver Jacksonville expected he could be.
While
Terrell Owens
had the flashier performance in the Bills-Jaguars game, it was Sims-Walker who caught the winning touchdown.
November, 10, 2009
11/10/09
11:01
AM ET
»
NFC Stock Watch
:
East
|
West
|
North
|
South
»
AFC
:
East
|
West
|
North
|
South
Posted by ESPN.com's Paul Kuharsky
Falling
1. Ryan Moats, Texans RB.
No. 1 riser a week ago flips all the way to No. 1 faller. The one thing he couldn't do against the Colts is the one thing he did -- lose a fumble. That it came right on the doorstep of a touchdown made it an even bigger sin.
However the Texans are coaching their running backs on ball security isn't working and they need to find a solution during their bye week.
2. Mike Pollak, Colts G.
Pollak had been sharing time with
Kyle DeVan
. But it's one thing to yield to a former afl2 player and another thing entirely to have him start in front of you, as DeVan did on Sunday against Houston.
Bill Polian said after the Colts beat San Francisco that someone on the interior had been run over a couple of times. There is little doubt who it was now.

3. Houston special teams:
Yes the coverage was good. But
Kevin Bentley
got a flag on a Texans punt,
Jesse Nading
was penalized on a Houston kickoff return and
Connor Barwin
was whistled on a kickoff return.
Penalties on special teams have hurt the Texans this season and the problem is far from solved.
Rising
1. Vince Young, Titans QB.
His supporting cast has been great, making defensive plays and actually holding on to passes and paving the way for
Chris Johnson
to go crazy.
But Young's done his part in the two wins since taking over for
Kerry Collins
, posting a 105.3 passer rating, which is 36.5 points better than his career rating coming into the season.
2. Clint Session, Colts LB.
In the team's first game since losing strongside linebacker
Tyjuan Hagler
for the season to an injury, Session was a big presence from the weakside for Indianapolis in its win over Houston.
Game statisticians credited him with a game-high 14 tackles and he snatched a key interception when Gary Brackett's blitz forced a bad throw by
Matt Schaub
.

3. Jaguars' defensive philosophy.
Give Jack Del Rio and defensive coordinator Mel Tucker credit, I suppose, for pulling out all the stops in an effort to maximize their defensive talent. But their 3-4 front wasn't productive in the pass-rush department.
A return to the 4-3 is the right move, and while it won't transform a group that's far from loaded, the defense was solid for a day with three sacks that upped the season total to eight.
October, 27, 2009
10/27/09
11:03
AM ET
»
NFC Stock Watch
:
East
|
West
|
North
|
South
»
AFC
:
East
|
West
|
North
|
South
Posted by ESPN.com's Paul Kuharsky
Falling

1. Sleep for Titans' coaches.
Jeff Fisher sent his winless team away for its bye weekend and told players to clear their heads. But Monday, Fisher and a few of his assistants spotted at the team's facility didn't look like they had been able to get work off their minds.
Such is life while coaching an underachieving team that hasn't found a way to win yet.

2. Frank Bush, Texans defensive coordinator.
The Texans had a 21-0 lead at intermission. But facing reserve quarterback
Alex Smith
, the former No. 1 overall draft pick who came off the bench, Bush's guys struggled to make adjustments and keep the lead safe.
Particularly troubling were the difficulties linebackers and safeties had in tracking 49ers tight end
Vernon Davis
, who managed to find room three times for touchdown catches.
3. Pierre Garcon, Colts WR:
It's nitpicking to choose anyone in the Colts' passing offense as falling. But Garcon has dropped off in his last couple of games.
Targeted 12 times by the NFL's most precise and exacting quarterback,
Peyton Manning
, in victories over winless Tennessee and St. Louis, Garcon hass hauled in just four of the throws.
Rising
1. Owen Daniels, Texans TE.
It's back-to-back appearances here for Daniels, but how can he be left off? His 123-yards receiving (on seven catches) in the win over San Francisco were the second-most of his career.
And his touchdown catch was his fifth of the season, which matches his career best. Plenty of quarterbacks around the league are jealous of
Matt Schaub
, who's got
Andre Johnson
and Daniels who rank first and tied for seventh, respectively, in AFC receiving yards.
2. Jacob Lacey, Colts CB
. The undrafted rookie out of Oklahoma State continues to earn the confidence of the coaching staff with good work weeks and had another strong showing in the Colts win in St. Louis.
Playing as the third cornerback, he had a 35-yard interception return for a touchdown to go with three tackles and a special-teams tackle.
3. Kris Brown, Texans K.
His 50-yard field goal in the fourth quarter was his longest of the season and his 17th field goal of 50 or more yards in his career.
Duane Brown's unnecessary roughness penalty just before the kick pushed it from a 35-yard attempt to a 50-yarder but Kris got Duane off the hook.
September, 22, 2009
9/22/09
1:10
PM ET

Posted by ESPN.com's Paul Kuharsky
Falling:
1. Michael Griffin, S, Titans:
He twice bit on a run fake allowing a dangerous Texans receiver to make a giant play. It was hard to understand his thinking and priorities and he didn't stick around after the game to explain or talk about his mistakes.
The Titans' secondary has been shaky and he's not alone. But heading into his third year, he should be communicating better and not making gigantic mistakes.

2. Jaguars defense:
Zero sacks and only one hit on Arizona quarterback
Kurt Warner
, who set a record with his completion percentage from a nearly spotless 24-of-26, 243-yard day with two touchdowns and a 131.2 passer rating.
If the Jaguars can't generate any pressure,
Matt Schaub
will be the next signal-caller to pick them apart.

3. Colts interior defensive line:
They were exhausted for how many snaps they had to play. But the Indianapolis tackles need to be more productive collapsing the pocket and stuffing the run when the ends draw attention as they did in Miami.
Ed Johnson
,
Antonio Johnson
,
Eric Foster
,
Raheem Brock
and
Daniel Muir
need to do more. The bulkier Johnson and Johnson are supposed to have more impact against the run.
Rising:
1. Dallas Clark, TE, Colts:
When
Anthony Gonzalez
went down in the opener, one of the common reactions was that the Colts would have to lean on their tight ends more to help offset the loss.
Clark was spectacular in Miami as the Dolphins concentrated on limiting
Reggie Wayne
. With seven catches for 183 yards he produced the fourth biggest game for a tight end since 1970. His ability to run after the catch was fantastic.
2. Andre Johnson, WR, Texans and Matt Schaub, QB, Texans:
A couple of early drops and missed plays last year at LP Field led to Johnson disappearing. This time against the Titans Johnson's early miscues seemed to make him more determined. Schaub rebounded in a big way -- he was "Falling" last week.
He was a nightmare for the Titans' secondary all day, and showed why the offense must flow thorough him. Schaub threw in his direction twice as much as anyone else, finding him 10 times for 149 yards and two touchdowns.
3. Chris Johnson, RB, Titans:
His 284 yards from scrimmage, the most for the franchise since 1961 and the 12th most in the league since 1970. Unfortunately for him and for the Titans, it came as part of a loss.
He did so much so fast that the quick production almost hurt the Titans' chances to establish an offensive rhythm. If he keeps it up, they'll happily adjust.

NFL SCOREBOARD
Thursday, 9/18
Sunday, 9/21
Monday, 9/22