NFL Nation:

AFC Stock Watch 2010 Week 10
November, 17, 2010
11/17/10
1:00
PM ET
»
NFC Stock Watch
:
East
|
West
|
North
|
South
»
AFC
:
East
|
West
|
North
|
South
FALLING
[+] Enlarge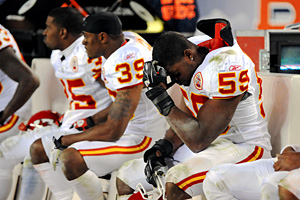 Ron Chenoy/US PresswireKansas City has now lost its past two games and are 5-4 after starting the year with three straight wins.
1. Kansas City Chiefs:
There is a lot of talk around the league that the Chiefs will be this year's version of the 2009
Denver Broncos
. That team, of course, started 6-0 before finishing 8-8. The Chiefs have lost back-to-back games (at Oakland and at Denver) and are now 5-4. They started 3-0 and led the AFC West for the first nine weeks of the season. They are now tied for first place with Oakland, which currently owns the tiebreaker. The Chiefs are not a lost cause, but if they want to make the playoffs, they must revert to their early-season form soon.
2. Kansas City run defense:
The Chiefs were a top-10 team in the NFL against the run most of the season. Yet, they were taken advantage of against Denver in the Broncos' 49-29 win on Sunday. The Broncos, who have the league's worst rushing game, had a season-high 154 yards on the ground. Being run over by Denver is not a good thing. Kansas City is now 13th in the NFL against the run.
3. Ryan Mathews, San Diego running back:
Mathews, the No. 12 overall pick in the April draft, is not having a terrible season. But he has not been able to get it going and has lost three fumbles in 87 carries. Mathews also has dealt with several injuries, including a recurring ankle injury that could affect his availability against Denver on Monday night. While he is averaging a respectable 4.4 yards per carry, his current injury status and ball-security issues are keeping him from flourishing.
RISING
1. Knowshon Moreno, Denver running back:
Moreno, the No. 12 pick in the 2009 draft, is coming off his best NFL game. He had 106 yards rushing (his first 100-plus yard game in the NFL) and added three catches for 50 yards. He also had a 23-yard touchdown reception in which he showed a rare physical prowess. Moreno has struggled and has been injured often since the start of his young NFL career. Sunday, he showed signs of being the player he was at Georgia.
2. Denver's offensive line:
One of the reasons why Moreno flourished was Denver's line. This was the unit Denver envisioned early in the season but it was held back because of injuries. Right tackle
Ryan Harris
is finally healthy and rookie
Zane Beadles
, who replaced Harris, is back at his natural left guard spot. After one game, this unit looks like it has a nice future together.
3. Hue Jackson, Oakland offensive coordinator:
One of the reasons Oakland's offense is enjoying great balance and explosiveness is Jackson, Oakland's first-season offensive coordinator. If Oakland keeps up its offensive surge, Jackson could be a hot head-coaching prospect in six weeks or so.
November, 17, 2010
11/17/10
1:00
PM ET
»
NFC Stock Watch
:
East
|
West
|
North
|
South
»
AFC
:
East
|
West
|
North
|
South
FALLING
1. William Gay, Pittsburgh Steelers cornerback:
When
New England Patriots
quarterback
Tom Brady
needed a big play, he often looked in the direction of Gay. The nickel cornerback was picked apart in New England's 39-26 victory. Rookie tight end
Rob Gronkowski
beat Gay three times for touchdown catches of 9, 19 and 25 yards. That's a lot of big plays allowed to a backup. The Steelers gave up a season-high 39 points, and 21 points were on plays against Gay.
2. Carson Palmer, Cincinnati Bengals quarterback:
Palmer continued his streak
of being unable to put together two good games in a row. He threw three interceptions in last week's loss to the
Indianapolis Colts
, and one was returned for a touchdown. This was Palmer's third multi-interception game this season. He only had three in 16 games last year.
3. Eric Wright, Cleveland Browns cornerback:
It was not a good Week 10 for AFC North cornerbacks. Wright was beat by
New York Jets
receiver
Santonio Holmes
in overtime on a routine slant play that turned into a 37-yard, game-winning touchdown in overtime. Wright was beat inside, but his lack of effort to make the tackle allowed Holmes to turn a short gain into a huge gain. Wright isn't physical but he's known for being decent in coverage. He was neither on that play.
RISING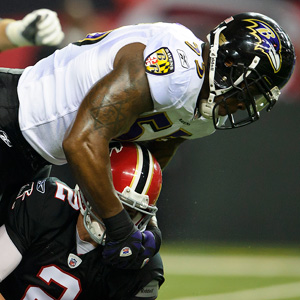 AP Photo/Paul AbellTerrell Suggs was a disruptive force against the Falcons, recording two sacks.
1. Terrell Suggs, Baltimore Ravens defensive end/linebacker:
People in Baltimore have been waiting for Suggs to have a dominant game, and it came in a big spot last week against the first-place
Atlanta Falcons
. Suggs put on a vintage performance with two sacks, four tackles and four additional hits on the quarterback. He was a disruptive force in Atlanta's backfield. Suggs posted his first multi-sack game of the season. The Ravens need help with their pass rush and hope this is the start of Suggs getting hot down the stretch.
2. Mike Wallace, Steelers receiver:
Wallace's stock was never down, because he's on pace
for career highs
in receptions, yards and touchdowns. But Wallace had his most productive game as a Steeler in a loss to New England. With No. 1 receiver
Hines Ward
knocked out of the game with a concussion, Wallace stepped up and caught eight passes for 136 yards and two touchdowns. He is increasingly becoming a favorite target of Steelers quarterback
Ben Roethlisberger
.
3. Chad Ochocinco, Bengals receiver:
Coming off a week where
Ochocinco lost his cool
and was briefly benched in front of a national audience on "Monday Night Football," Cincinnati's receiver bounced back against Indianapolis. Ochocinco looked energized and involved, catching seven passes for 86 yards and a touchdown. But the stats didn't tell the complete story. Several catches were very acrobatic and a reminder of how good Ochocinco can be when he's focused. Ochocinco also showed toughness by playing through a shoulder injury in the second half.
November, 17, 2010
11/17/10
12:26
PM ET
»
NFC Stock Watch
:
East
|
West
|
North
|
South
»
AFC
:
East
|
West
|
North
|
South
FALLING
1. The Titans' second-half adjustment and the Texans out of the gate:
In the Titans' last two games, losses at San Diego and Miami, the Titans have been outscored 39-14 in the second half. They are getting outplayed and outcoached after intermission and need to do better adjusting. The Texans, meanwhile, have fared poorly from the start in two of their last three games. They trailed both Jacksonville and Indianapolis 17-3 at the half.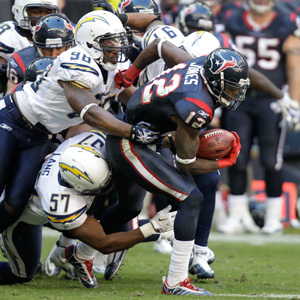 AP Photo/Eric GayReceiver Jacoby Jones has yet to show he can be a solid option at No. 2 for the Texans.
2. Jacoby Jones, Texans receiver:
He was supposed to challenge
Kevin Walter
for the No. 2 slot and be an explosive piece of the offense. But he had one catch for five yards in Jacksonville. His 25 catches have produced an average of 9.7 yards, same as running back
Arian Foster
. Last year that average was 16.2. And according to ESPN Stats & Info, he's got four drops in 38 targets.
3. Bo Scaife, Titans tight end:
His early fumble in the Titans' end set up the Dolphins offense and got a bad day started. He also had a drop.
Kerry Collins
and
Vince Young
threw to him nine times and his six catches gained just 51 yards. It's not his fault they are throwing short stuff to him, but he didn't feel like a threat with the ball in his hands. Surely on some of these plays
Jared Cook
could offer a more dangerous change up, no?
RISING
1. Role playing tight ends:
We're heard a lot about the contributions they could make, but we're finally seeing something out of Houston's
James Casey
and Jacksonville's
Zach Miller
. Casey's caught five passes for 66 yards in the Texans' last two games. And Miller had four catches for 79 yards, including a 52-yard touchdown in the win over the Texans.
2. The Colts' health:
I'm being a bit presumptuous here. But
Joseph Addai
said last week he was targeting the New England game. And in their weekly Tuesday announcement, the Colts ruled out only
Bob Sanders
. That means of a big group who didn't play against the Bengals, there is a chance for guys like
Austin Collie
,
Clint Session
,
Gary Brackett
,
Justin Tryon
and
Mike Hart
to be back. The team hopes for many happy returns in New England.
3. Andre Johnson, Texans receiver:
He's topped 100 yards in three of his last four games. While his ankle may still qualify as an issue, he's certainly found a way to play and play effectively with it. And the Texans and
Matt Schaub
need to keep feeding him. With Johnson and Arian Foster, the Texans have to find an offensive rhythm and score big knowing the defense won't do a lot.
November, 17, 2010
11/17/10
9:07
AM ET
»
NFC Stock Watch
:
East
|
West
|
North
|
South
»
AFC
:
East
|
West
|
North
|
South
FALLING
1. Brandon Marshall, Dolphins receiver:
Six games and counting without a touchdown reception for the splashy offseason acquisition. His frustrations are starting to boil over. Marshall caught one pass in the first half of Sunday's victory over the Titans. After his first catch in the second half he heaved the ball into the stands from Titans' 11-yard line, earning a 5-yard penalty for delay of game. He finished with three receptions for 34 yards.
2. LaDainian Tomlinson, Jets running back:
He's still performing well -- and much better than the skeptics figured -- but production has tailed from his torrid start through the first five or six weeks. Tomlinson hasn't scored a touchdown in three games and hasn't rushed for more than 57 yards or averaged more than 3.7 yards a carry in four games. For the first time all year,
Shonn Greene
outgained Tomlinson on the ground Sunday.
3. Shawne Merriman, Bills outside linebacker:
The Bills' waiver gamble isn't paying off. Merriman missed his first game with the Bills because he didn't have enough time to prepare for their Week 9 matchup against the Bears in Toronto. A week ago, minutes into his first Bills practice, he injured himself and couldn't play in Sunday's victory over the Lions. Bills coach Chan Gailey has all but ruled out Merriman for Sunday's game at Cincinnati, leaving the former star a maximum of six 2010 games.
[+] Enlarge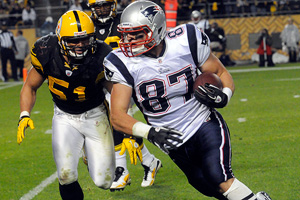 AP Photo/Tom E. PuskarRob Gronkowski stepped up in a big way against Pittsburgh Sunday night.
RISING
1. Rob Gronkowski, Patriots tight end:
In his previous five games, he had nine catches for 90 yards and one touchdown, taking a backseat to fellow rookie tight end
Aaron Hernandez
. On Sunday night, Gronk grabbed five
Tom Brady
passes for 72 yards and three touchdowns in a romp over the Steelers. His six touchdowns this year already have set the franchise record for rookie tight ends. Only six rookie tight ends have scored three in a game since 1960.
2. Anthony Fasano, Dolphins tight end:
We learned this week the Dolphins signed Fasano to a two-year contract extension. That's appropriate given his big game Sunday. He made five catches for 107 yards and a touchdown. The most receiving yards he had prior was 84 in the 2008 season opener. His TD was thrown by
Tyler Thigpen
, the Dolphins' new starting quarterback.
3. Mark Sanchez, Jets quarterback:
He seems to be making it up on the fly, but the kid is repeatedly winning games in ways you expect from great quarterbacks. Each of the Jets' past three victories was won dramatically at the wire. In Sunday's overtime thriller in Cleveland, he came back from a leg injury at the end of the third quarter to complete 14 of 21 attempts for 170 yards and a touchdown.