NFL Nation:

AFC Stock Watch 2010 Week 12
December, 1, 2010
12/01/10
1:08
PM ET
»
NFC Stock Watch
:
East
|
West
|
North
|
South
»
AFC
:
East
|
West
|
North
|
South
FALLING
Steve Johnson, Bills receiver:
A player can't fall much harder than Johnson did Sunday. He was riding a wave of national media attention for his breakout season and three-touchdown performance in Week 11. Against the Steelers, he dropped five passes, including a perfectly thrown 40-yarder in the end zone in overtime.
[+] Enlarge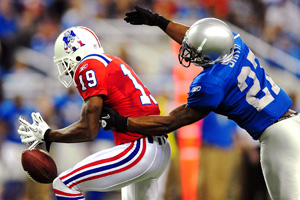 Andrew Weber/US PresswireBrandon Tate has not had a catch since Week 10 and was targeted just twice against Detroit.
Brandon Tate, Patriots receiver:
He's not getting on the field as much as he used to and dropped his best opportunity to make a play Thursday against the Lions. Tate, since scoring his first receiving touchdown against the Vikings in Week 8 to outperform
Randy Moss
, has three catches for 62 yards, and no receptions in his past two games.
Vontae Davis and Sean Smith, Dolphins cornerbacks:
Head coach Tony Sparano will not say what team rules they violated, but both were removed from the starting lineup Sunday in Oakland. They came off the sideline to play well, however.
Mark Sanchez, Jets quarterback:
Maybe he doesn't belong on the list, but I did bang the drum last week for him to receive MVP consideration. He had a ho-hum game for the first time in a long while. He did not throw for 300 yards or multiple touchdowns or conduct a winning drive in overtime. His 166 yards were his lowest output since Week 4.
RISING
Chad Henne, Dolphins quarterback:
According to a South Florida Sun-Sentinel report, Henne's season was all but over when he injured his left knee in Week 10. Turns out, he missed one game, and returned Sunday for one of his best pro performances. He completed 57 percent of his throws for 307 yards and two touchdowns with one interception to beat the Raiders.
Brad Smith, Jets Swiss army knife:
Smith took an end around 53 yards for a touchdown then returned a kickoff 89 yards for a touchdown, sprinting the final 40 yards or so without his left shoe on. He also had one reception for 23 yards.
Kyle Williams, Bills nose tackle:
His Pro Bowl-caliber season continued with two sacks against the Steelers. Williams, who's more penetrator than run-stopper, created havoc along the Steelers' offensive line and drew multiple penalties.
Devin McCourty, Patriots cornerback:
The rookie picked off two Lions passes in the second half, giving him five for the season. His third-quarter interception prevented the Lions from taking a two-score lead. His fourth-quarter interception kept the Lions from getting back into the game.
December, 1, 2010
12/01/10
1:00
PM ET
»
NFC Stock Watch
:
East
|
West
|
North
|
South
»
AFC
:
East
|
West
|
North
|
South
FALLING
1. Denver's defense:
The Broncos have allowed 100 points in the past three games and have allowed an NFL-high 323 points under first-year defensive coordinator Don Martindale. Denver allowed a total of 324 points last season under Mike Nolan, who departed after one season because he and coach Josh McDaniels mutually decided to part ways. McDaniels may have to look for another defensive coordinator.
2. Oakland's run game:
The Raiders' run game has gone flat during a two-game losing skid. Oakland had 16 yards on 12 carries in a loss to Miami on Sunday and it has 77 yards total in the past two games. Oakland has tumbled from No. 2 to No. 5 in the NFL because of the drought.
[+] Enlarge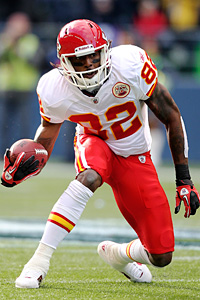 Otto Greule Jr/Getty ImagesDwayne Bowe has 32 catches and seven touchdowns in the past three games.
3. Oakland's quarterback situation:
Bruce Gradkowski
has re-injured a shoulder that kept him out five games. That means
Jason Campbell
may be the starter for an extended period, perhaps even for the rest of the season. If Oakland -- which has benched Campbell twice this season -- wants to pull him again, it will have to go to No. 3 quarterback
Kyle Boller
. Yes, it's a mess. It may not be a
JaMarcus Russell
-like mess, but it's clear the Raiders are heading back to square one at the position.
RISING
1. Kansas City's offense:
The Chiefs' offense is rolling. It has scored 102 points in the past three weeks. Quarterback
Matt Cassel
has thrown 18 touchdown passes and one interception in the past seven weeks. Running back
Jamaal Charles
is second in the NFL with 1,021 rushing yards and receiver
Dwayne Bowe
has 32 catches and seven touchdowns in the past three games. It's as if first-year offensive coordinator Charlie Weis never left the NFL.
2. San Diego's defensive scoring ability:
The Chargers' defense scored more than their offense did in a 36-14 win at Indianapolis on Sunday. Linebacker
Kevin Burnett
and safety
Eric Weddle
both returned interceptions off
Peyton Manning
for touchdowns. The San Diego offense scored one touchdown while settling for five field goals. It's a strange way to get to 36 points, but I'm sure San Diego will take it.
3. The race:
It should be a fun race to the finish in the AFC West. Kansas City has won two straight games and is in first place at 7-4. San Diego has won four straight games and is 6-5. Oakland is on the edge of the race at 5-6. I expect the Chiefs and Chargers -- who play Dec. 12 in San Diego -- to slug this out to the end and demonstrate that the division is getting better and becoming relevant in the NFL landscape again. These are two legitimate playoff contenders heading into December.
December, 1, 2010
12/01/10
12:45
PM ET
»
NFC Stock Watch
:
East
|
West
|
North
|
South
»
AFC
:
East
|
West
|
North
|
South
FALLING
Odds of Titans getting a third-down stop:
The Texans converted half of their 18 third downs, which led to nearly 40 minutes of possession against Tennessee on Sunday. In their last five games, the Titans have allowed conversions 55 percent of the time, an enormous number. Jeff Fisher's teams are usually able to respond to a point of emphasis. The Titans are failing at that here in a big way.
The Jaguars' ability to handle blitzes in big situations:
Playing with two backup tackles in a tough road game against a quality front, the Jaguars fared pretty well. But as I documented
here
, in their last chance to beat the Giants they fell apart and got burned badly by a pass rush that included one or two defensive backs.
The Colts' offensive line shuffling:
There is a long list of elements to what's been wrong with the Colts' offense in recent weeks. But there was no time for anything deep to develop for
Peyton Manning
who appears to be getting rid of the ball in record time and no matter who's taking the carries they can't run effectively.
Kyle DeVan
displaced
Jamey Richard
a while back and
Jeff Linkenbach
's been ahead of
Mike Pollak
at right guard for three weeks. Those changes don't seem to have improved things up front in the run or pass game.
RISING
[+] Enlarge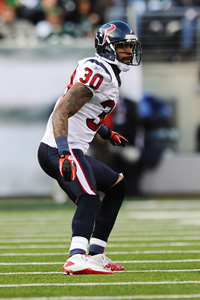 AP Photo/David DrapkinCB Jason Allen lined up across from Randy Moss, and the wideout caught just three passes last Sunday.
Jason Allen, Texans cornerback:
We won't pretend that he was a magic solution for the secondary. But the Titans hardly went after the recent waiver claim, who played ahead of
Kareem Jackson
and lined up across from an underutilized and ineffective
Randy Moss
. That Allen played a lot in a shutout can give the secondary a feeling that things have changed.
The Jaguars' offense on third down:
The Jaguars were 10 for 16 on third down against the Giants, a remarkable feat that could and probably should mean you win a game. They'll look to build on that Sunday in Nashville against a defense that's struggling terribly to get off the field on third down. (See the falling entry on the Titans' above.)
The Titans' intention to get the ball to Moss:
Why bring him in if you have no intention to use him at what he does best? Sure he's going to draw double-teams. But if Minnesota and New England looked away from him based on the coverage, he wouldn't have the best reception-per-touchdown number (6.2) in league history among players with at least 500 catches. If you throw a deep pick on third-and-long, it's the same as a punt.
December, 1, 2010
12/01/10
10:00
AM ET
»
NFC Stock Watch
:
East
|
West
|
North
|
South
»
AFC
:
East
|
West
|
North
|
South
FALLING
[+] Enlarge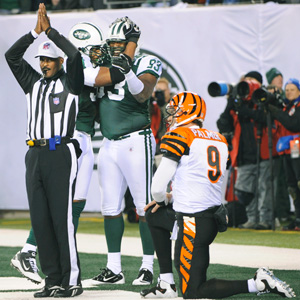 AP Photo/Bill KostrounIt's mostly been a season to forget for Bengals QB Carson Palmer.
1. Carson Palmer, Cincinnati Bengals quarterback:
We may be watching the last days of Palmer in a Bengals' uniform. After eight seasons with the team, Palmer has become very inconsistent and put up his fifth multi-interception game of the year in a loss to the
New York Jets
. Both picks against New York were awful throws into heavy coverage. He also recorded 135 yards and one touchdown. Not everything this year falls on Palmer. But his play has contributed to the team's many issues, which isn't good when you're considered the franchise building block.
2. Jake Delhomme, Cleveland Browns quarterback:
Browns coach Eric Mangini made a risky decision to go back to Delhomme last week, despite little proof that he's the right person for the job. The thinking was his familiarity would help against the
Carolina Panthers
, but it nearly backfired as Delhomme threw two interceptions -- including a pick-six -- in a 24-23 victory. Delhomme has one touchdown and six interceptions this season, while both
Seneca Wallace
and
Colt McCoy
have played more efficiently. McCoy is currently nursing an ankle injury.
3. Fabian Washington, Baltimore Ravens cornerback:
It's been a pretty dramatic fall this season for Washington. He began as the team's starting cornerback, struggled and was benched, then was inactive for the first time this season against the
Tampa Bay Buccaneers
. Corners
Lardarius Webb
,
Josh Wilson
and
Chris Carr
have played well the past couple of weeks, making it even tougher for Washington to earn his way back in the rotation.
RISING
1. Ravens/Steelers rivalry:
This is our favorite time of year when the Ravens and Steelers collide. In our view, this is the way football was meant to be played. It's no secret these two teams don't like one another and, as usual, there is a lot at stake. The winner will have the inside track to capturing the AFC North title and at least one home playoff game. The fact that Steelers quarterback
Ben Roethlisberger
didn't play in the first meeting and Baltimore won in Heinz Field only adds to this matchup.
2. Peyton Hillis, Browns tailback:
Hillis is clearly Cleveland's MVP this season. For the first time in his career, he's been the feature back for most of the year and he's proving his worth by leading the Browns in rushing (905 yards) and receptions (46). Hillis rushed for 131 yards and three touchdowns against the Carolina Panthers last week. He is the one constant threat on offense opponents have to account for every week.
3. Shaun Suisham, Steelers kicker:
There were a lot of questions surrounding the next kicker to replace
Jeff Reed
. But Suisham has done well with his opportunity in Pittsburgh. Suisham further endeared himself in the Steelers' locker room by nailing four important field goals, including the game-winner in overtime, against the
Buffalo Bills
. Pittsburgh will be playing in big games down the stretch and relying on the journeyman kicker.