NFL Nation:

AFC Stock Watch 2010 Week 15
December, 22, 2010
12/22/10
2:14
PM ET
FALLING
1. Jacksonville's execution at a critical time
: Down four points in the third quarter, you can't go for it on fourth-and-1 in your own end and not convert. I didn't like Jack Del Rio's call. But fact is, if
David Garrard
snuck it, there was room, and if
Maurice Jones-Drew
didn't fumble the pitch he had room to convert it too.
2. The Texans' perspective
: Explain it away all they like, but the
Brian Cushing
-
Antonio Smith
on field scuffle looked horrible. It almost matched Bob McNair's weak praise of his team last week for the comeback against the Ravens. Never mind they lost in overtime. McNair shouldn't follow the instructions of his team's fans, but he also can't be that disconnected. And after he shared that enthusiasm about the team's direction, it rewarded him with a dud in Nashville.
3. Don Carey and Sean Considine, Jaguars safeties
: Angles, tackling and reliability have been an issue for the team from the safety position all season. In the Jaguars' biggest game of the year, the two starters were glaringly poor. Gene Smith couldn't fix all the personnel problems at once.
Courtney Greene
may be OK at one spot going forward, but this team needs to add at least two safeties in the offseason.
RISING
[+] Enlarge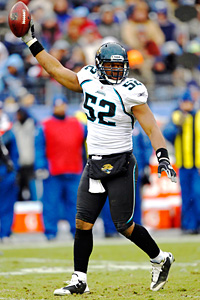 AP Photo/Paul SpinelliJaguars linebacker Daryl Smith is flying under the radar and making plays.
1. Daryl Smith, Jaguars linebacker:
He was all over the place against the Colts, and if it came in a win, I think it may well have been an AFC defensive player of the week worthy performance. Smith's backers have touted him as one of the most underrated players in the league. He was the best linebacker in the AFC South on Sunday.
2. Fernando Velasco, Titans center
: Subbing for
Eugene Amano
, who went on IR last week, Velasco got high praise from Jeff Fisher and was part of the team's best offensive line effort in recent memory. He's a strong guy who seemed ready to perform, just as he did in a spot start for
Leroy Harris
against Dallas. Velasco could be injecting himself into the mix for a front-line spot in 2011.
3. The Colts' run-blocking
:
Donald Brown
was our High Energy Player of the Week Tuesday, but we failed to give enough credit to the guys in front of him. It was a quality game plan which was well-executed and stopped the more powerful Jaguars. Holding up a couple times when the Jaguars needed only a yard was impressive work.
December, 22, 2010
12/22/10
2:10
PM ET
»
NFC Stock Watch
:
East
|
West
|
North
|
South
»
AFC
:
East
|
West
|
North
|
South
FALLING
1. Denver's coaching staff:
Interim coach Eric Studesville, who was the running backs coach under the fired Josh McDaniels, probably has no chance to be a candidate for the permanent job. The Broncos are 0-2 and have lost by a combined 46 points under Studesville. Don't expect defensive coordinator Don Martindale back, either. Denver has allowed an NFL-high 415 points. That means the Broncos will very likely have their sixth defensive coordinator in six seasons in 2011.
2. Kyle Orton's future in Denver:
Orton is a victim of circumstances. He has had a nice two-year run in Denver in a difficult situation. Still, his future with the Broncos is uncertain, even though he signed an extension through 2011 during the summer. The interim staff in Denver, with the agreement of ownership, is giving rookie quarterback
Tim Tebow
a chance to remain the starter for the final two games. If Tebow performs well, ownership could urge the new staff to give Tebow a chance to be the starter in 2011. Orton is a good player, but he may be the odd man out in Denver.
[+] Enlarge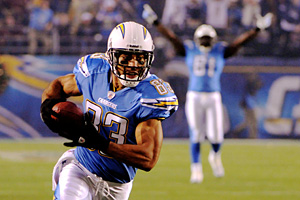 Kirby Lee/US PRESSWIREVincent Jackson caught three touchdowns during the Chargers' 34-7 victory over the 49ers on Thursday.
3. Raiders' playoff chances:
The Oakland Raiders' playoff hopes took a hit in Week 15 even though Oakland smoked Denver. The two teams Oakland is chasing -- Kansas City and San Diego -- both won. The 7-7 Raiders are not out of the race yet, but they are barely breathing. If the Chiefs defeat Tennessee on Sunday or if the Raiders lose to Indianapolis, Oakland's season of progress will end without a trip to the postseason.
RISING
1. Vincent Jackson, Chargers wide receiver:
Jackson showed the Chargers why is he so valuable as he caught three touchdown passes in an easy victory over San Francisco. After a long holdout, Jackson showed just how much of an effect he can have on San Diego as it pushes down the stretch. It may be enough for the Chargers to place the franchise tag on Jackson to keep him in San Diego in 2011.
2. Matt Cassel's popularity in Kansas City:
Cassel wasn't a popular figure in Kansas City a few months ago. Many Chiefs fans thought he was a determent to the team's chances for success and wanted the team to look for his replacement in the offseason. Now, after a tremendous two-month stretch and a gutsy performance in Week 15 (he led the team to a win 11 days after he had an appendectomy), it seems as if Kansas City fans realize they have a positive player at quarterback.
3. Kansas City's playoff dreams:
What seemed so unlikely four months ago is close to happening -- the Chiefs are nearing a playoff spot. This has a chance to be one of the more remarkable stories of the 2010 season. Kansas City won a total of 10 games in the past three seasons and the team wasn't expected to make this type of progress so quickly. Yet, the Chiefs are 9-5 and could secure the AFC West crown as soon as Sunday.
December, 22, 2010
12/22/10
12:10
PM ET
»
NFC Stock Watch
:
East
|
West
|
North
|
South
»
AFC
:
East
|
West
|
North
|
South
FALLING
1. Eric Mangini, Cleveland Browns head coach:
Mangini entered the 2010 season on the hot seat, and if he doesn't retain his job, we may look back at the past two weeks as a turning point. The Browns are 5-9 and looked listless in back-to-back losses to inferior opponents: the
Cincinnati Bengals
(3-11) and
Buffalo Bills
(4-10). Each team entered its game against Cleveland with two wins. The Browns also enter the next two weeks as underdogs against the
Baltimore Ravens
(10-4) and
Pittsburgh Steelers
(10-4). These are must-win games for Mangini, who needs to impress Browns president Mike Holmgren.
[+] Enlarge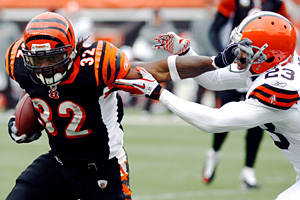 AP Photo/David KohlCedric Benson's 150 yards against Cleveland were the most he has had in a single game all season.
2. Browns' run defense:
Cleveland's defense, which has been scrappy all season, has lost its edge and physicality in recent weeks. The Browns have allowed 380 rushing yards against Buffalo and Cincinnati. Now some are wondering if Cleveland is
softening down the stretch
. Bengals tailback
Cedric Benson
had a big day against the Browns, which we will get to below.
A season-ending injury
to linebacker and defensive leader
Scott Fujita
hurts Cleveland. But the loss of one player is no excuse for continually getting pushed around.
3. Steelers' special teams:
For the most part, the Steelers have improved their kick coverage. But old problems showed up last week in a loss to the
New York Jets
. Pittsburgh allowed returner
Brad Smith
to take the opening kick 97 yards for a touchdown, which set the tone for the rest of the game. New York receiver
Jerricho Cotchery
also averaged 16 yards per punt return. In a close game, these hidden yards mattered.
RISING
1. Ray Rice, Ravens running back:
We've written
about
Rice's performance all week
. So there's not much to add. He had 233 total yards and two touchdowns in a win over the
New Orleans Saints
. The Ravens made it a point to get Rice the ball on the ground and through the air. He should continue to play a major role in the offense as Baltimore makes its postseason run.
2. Cedric Benson, Bengals running back:
The Ravens weren't the only team to go retro. Cincinnati also reverted back to its 2009 form by giving the Benson a heavy workload. He recorded a season-high 150 yards on 31 carries, which took Benson over the 1,000-yard mark for the second consecutive season. The Bengals broke their 10-game losing streak by running the football. Expect Cincinnati to try to keep that momentum going with Benson this week against the
San Diego Chargers
.
3. Carlos Dunlap, Bengals defensive end:
If Dunlap played for a better team, he would be getting more publicity for coming on late in the season. The rookie is hot, recording six sacks in the past four games. Dunlap entered the draft as a first-round talent but had questions about his consistency, which dropped him into the second round. The Bengals are pushing the right buttons with Dunlap, who has played hard in the past month.
December, 22, 2010
12/22/10
9:53
AM ET
»
NFC Stock Watch
:
East
|
West
|
North
|
South
»
AFC
:
East
|
West
|
North
|
South
FALLING
1. Tony Sparano, Dolphins head coach:
On a day ESPN's Chris Mortensen reported Bill Cowher is getting itchy to return to the sideline and has Miami ranked highly on his short list of preferred destinations, the Dolphins lost at home to the Bills and fell to 1-6 at Sun Life Stadium. Dolphins owner Stephen Ross predicted his team would play in the upcoming Super Bowl, and while that bit of bravado shouldn't be taken as some sort of guarantee, winning a single home game must embarrass him. With Bill Parcells no longer around to protect his protégé, what's to stop the starry-eyed Ross from mixing up his dull team?
2. C.J. Spiller, Bills running back:
The Bills' roster is loaded with contributors who were late-round picks or not drafted at all. Spiller, meanwhile, keeps struggling. Spiller was the ninth overall draft choice and the first back off the board. He ran nine times for 16 yards Sunday against the Dolphins, and that includes one carry for 12 yards. He has 248 rushing yards and is averaging 4.7 yards on 22 catches.
3. Dan Carpenter, Dolphins kicker:
He refused to make any excuses after Sunday's three-point loss, but there were two big reasons he missed four field goals. The Dolphins' offense didn't exactly set him up for high-percentage attempts, and winds gusted around 20 mph. Carpenter was wide right from 48 yards, short from 61 yards, wide left from 53 yards and wide right from 48 yards again. But Carpenter did go to the Pro Bowl last year. He can't miss
three
kicks from 53 and shorter.
[+] Enlarge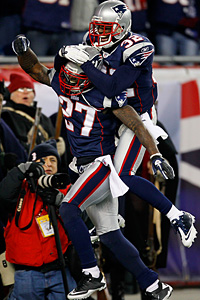 Jim Rogash/Getty ImagesOn Dec. 19, 2010, against Green Bay, Arrington grabbed his most famous interception to date -- running 36 yards and scoring a touchdown after the pick.
RISING
1. Chan Gailey, Bills head coach:
The Bills continue to win despite mounting injuries and a roster that seems to get greener by the week. Gailey called a game that allowed
Ryan Fitzpatrick
to move the ball with a seventh-round pick and three undrafted rookies at receiver. Buffalo's defense also is finding its way. ESPN Stats & Information noted the Bills went into Sunday having allowed an NFL-high 959 rushing yards up the middle, but they let
Ricky Williams
and
Ronnie Brown
gain 20 yards on nine carries.
2. Patriots cornerbacks:
Devin McCourty
and
Kyle Arrington
each had a strong game in Sunday night's victory over the Packers. McCourty continued his campaign for defensive rookie of the year with 10 tackles, two for losses and a sack. Arrington returned a third-quarter interception 36 yards for a touchdown.
3. Jets offensive line:
LaDainian Tomlinson
and
Shonn Greene
had been getting stopped cold for a while, and you couldn't have expected them to do much against the NFL's top-rated run defense. The Steelers went into Week 15 allowing 60.1 rushing yards a game. Tomlinson and Greene found enough room to combine for 89 yards.
Mark Sanchez
also ran for 15 yards, including a 7-yard bootleg touchdown.

NFL SCOREBOARD
Sunday, 12/28
WEEKLY LEADERS