NFL Nation:

AFC Stock Watch 2011 Week 11
November, 22, 2011
11/22/11
1:00
PM ET
»
NFC Stock Watch
:
East
|
West
|
North
|
South
»
AFC
:
East
|
West
|
North
|
South
FALLING
1. Jack Del Rio, Jacksonville Jaguars coach
: His damage control on Monday was better, but he had a terrible Sunday. When he says his coordinator Dirk Koetter makes the play calls, he appears to be throwing the assistant under the bus. He also appears not to have a good feel for the job. Allowing coordinators to do their thing is important. But it's not a violation of their freedom to do their jobs for a head coach to participate in a timeout discussion of what's to come. To claim that Koetter has complete autonomy is to distance yourself from important decisions. That's a weak strategy. Shouldn't the buck stop here?
2. Tennessee Titans defensive ends
: The Titans were excited about getting
Derrick Morgan
in the mix after losing him for his rookie year to a torn ACL, but he's made minimal impact and hurt an ankle in Atlanta. They moved
Jason Jones
from tackle to end to help beef up the outside, and he's not been a big presence.
Dave Ball
is hurt again.
William Hayes
flashed a week ago but clearly is not a staff favorite and killed the Titans with a fourth-down offside penalty against the Falcons. Production from the group has simply been insufficient.
3. Indianapolis Colts quarterbacks
: We will probably learn the team's verdict on the starting quarterback for the Carolina game on Wednesday. But does it matter much? I think
Curtis Painter
is better than
Dan Orlovsky
and should be the choice, but it's not much of a choice. The best-case scenario is that whoever is at quarterback makes a couple big plays to
Pierre Garcon
and
Reggie Wayne
and then plays mistake free. Even in that scenario, the Colts would need the sort of defensive effort to win that they don't seem capable of.
[+] Enlarge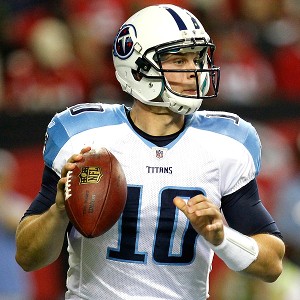 Kevin C. Cox/Getty ImagesJake Locker played well in relief of Matt Hasselbeck this past Sunday.
RISING
1. Jake Locker, Tennessee Titans backup quarterback
: He showed himself to be ready and able in relief work of
Matt Hasselbeck
. Offensive coordinator Chris Palmer put him in favorable situations -- working out of shotgun, throwing on the move, in position to take off running. He sailed a few throws but overall earned an "A" for being prepared, confident and effective. That said, the right move is to return him to the bench behind Hasselbeck. It's the kind of playing time and experience that's really healthy for Locker at this stage.
2. The perception of the AFC South as super-weak
: The Colts are winless. The Jaguars can't beat the bad Browns. The Titans are average. The Texans are a good team, but they are moving forward without their quarterback. Hasselbeck is the division's best quarterback now with
Matt Schaub
out, and although we need to see
Matt Leinart
, we know Painter and
Blaine Gabbert
are awful now. The AFC North and NFC South feel very good about drawing this division on their schedules this year.
3. Andre Johnson, Houston Texans receiver
: He's ready to return, and adding one of the game's very best receivers to the lineup should provide a jolt. Leinart's got to find him early and take advantage, too, of the attention the Jaguars are likely to devote to him, creating space and opportunity elsewhere. The Texans did great work with Johnson out of the lineup for six games with a hamstring injury. Getting him back for the first game without Schaub is a big, big deal. Someone asked me how long I thought it would take for Johnson to get back into the flow. I say three plays.
November, 22, 2011
11/22/11
1:00
PM ET
»
NFC Stock Watch
:
East
|
West
|
North
|
South
»
AFC
:
East
|
West
|
North
|
South
FALLING
1. Hue Jackson's patience:
The
Oakland Raiders
' first-year head coach complained publicly about the officiating in Oakland's win at the
Minnesota Vikings
Sunday. Monday, he spoke to the league about his concerns. The Raiders, who lead the league in penalties, were flagged 12 times for 117 yards Sunday. Several of the calls were questionable.
[+] Enlarge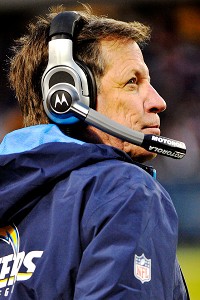 Rob Grabowski/US PresswireAfter a 4-1 start, Norv Turner can't seem to stop San Diego's five-game losing skid.
2. Norv Turner's time in San Diego:
If the
San Diego Chargers
don't somehow find a way into the playoffs, it will likely be the end of Turner's San Diego tenure. The Chargers have lost five straight games and have a 4-6 record. If San Diego finishes under .500 and out of the playoffs for the second straight year, the cry for Turner's firing will likely be too loud for ownership to ignore.
3. The Chiefs' momentum:
The
Kansas City Chiefs
have been a team of streaks all season and their streaky ways continued Monday night at New England. The Chiefs scored the game's first three points only to see the
New England Patriots
score the game's final 34. The Chiefs played very tough and very well through the middle of the second quarter before the Patriots took over. The Chiefs lost the first three games of the season, and then they won their next four games. Kansas City is now sitting on another three-game losing streak.
RISING
1. Tim Tebow's ball security:
Say what you wish about Tebow's accuracy problems, but the
Denver Broncos
' quarterback is not throwing the ball to the wrong uniform. Tebow has thrown just one interception in 125 passes attempts this season and he hasn't throw an interception in his past three games. That is a real positive step for a young quarterback.
2. Kevin Boss, tight end, Oakland:
Boss had five catches in the win over the Vikings. He previously had been targeted just 11 times this season. He and new Oakland quarterback
Carson Palmer
are building a nice rapport.
3. Von Miller's rookie of the year candidacy:
Denver's linebacker is getting better each week. He had 1.5 sacks in the Week 11 win over the Jets. Miller has 9.5 sacks in 10 games and has a chance to break Jevon Kearse's 1998 rookie record of 14.5 sacks. Miller, the No. 2 overall pick of the draft, has to be the favorite to win the award.
November, 22, 2011
11/22/11
1:00
PM ET
»
NFC Stock Watch
:
East
|
West
|
North
|
South
»
AFC
:
East
|
West
|
North
|
South
FALLING
1. Andy Dalton's interceptions:
The Bengals' rookie quarterback stumbled at times the past two weeks when the caliber of defense improved. Dalton has thrown five interceptions against Pittsburgh and Baltimore after getting picked off seven times in his first eight games. Not all of the turnovers can be put on the second-round pick. But fewer mistakes early would cut down on the fourth-quarter deficits.
[+] Enlarge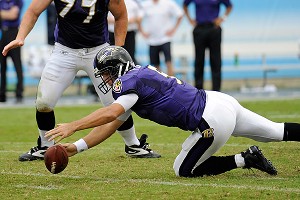 AP Photo/John RussellRavens quarterback Joe Flacco has 10 fumbles already this season, one shy of his career high.
2. Joe Flacco's fumbling:
The Ravens' quarterback is having more trouble holding onto the ball than ever before. Flacco lost the ball Sunday when he hit the arm of fullback
Vonta Leach
on what looked to be an eventual handoff to
Ray Rice
. This was his 10th fumble of the season, which is one shy of his career high that he set as a rookie. Flacco has now fumbled six times in the past six weeks.
3. Injuries to star players:
The Browns have already ruled out running back
Peyton Hillis
(hamstring) and aren't sure about the availability of backup
Montario Hardesty
(calf). The Steelers probably won't have their top pass-rusher, outside linebacker
LaMarr Woodley
(hamstring), for a third straight game. The Ravens could get back inside linebacker
Ray Lewis
(toe) but he likely won't be at full strength. And the Bengals could be facing another game-time decision with leading receiver
A.J. Green
(knee).
RISING
1. Colt McCoy's accuracy:
One reason for renewed optimism in McCoy has been his increased completion rate. He has connected on 72.5 percent of his throws the past two games (37 of 51) after completing 57.4 percent of his passes in his first eight games. This is the same quarterback who didn't complete half of his throws in three of his first five games. He's also had two completions over 50 yards the past two weeks.
2. Ravens' explosive plays:
Nearly half of Baltimore's offensive output in Week 11 came on four plays.
Anquan Boldin
scored the Ravens' first touchdown on a 35-yard catch-and-run. Rice had a 59-yard run (his second 50-plus yard run of the season) that led to a field goal in the third quarter. And
Torrey Smith
scored on a 38-yard grab in the fourth quarter and set up a second-quarter touchdown with a 49-yard diving catch. These are no longer your grind-it-out Ravens.
3. Favorable scheduling:
The Ravens and Steelers are getting some help from the NFL schedule-makers this week. The 49ers are having to make a cross-country trip on four days rest to play in Baltimore on Thanksgiving night. The Ravens will have an extra day to prepare on Wednesday while the 49ers are on a six-hour flight to Baltimore. The Chiefs are going against the Steelers after traveling from New England on a short week having played on Monday night. Pittsburgh is coming off two weeks rest because of its bye.
November, 22, 2011
11/22/11
1:00
PM ET
»
NFC Stock Watch
:
East
|
West
|
North
|
South
»
AFC
:
East
|
West
|
North
|
South
FALLING
1. The AFC East:
I noticed some division fans
didn't like my column
on the AFC East as a mediocre division. Yes, there are other struggling divisions. But I expected more from the AFC East, especially after the
Buffalo Bills
' hot start in September. But the past month has exposed the AFC East as weaker than expected. It's possible that only one team -- the
New England Patriots
(7-3) -- will make the playoffs. No other team has a winning record.
2. Bills:
I think most reasonable football observers expected the Bills to hit a rough patch at some point. Buffalo started off fast at 3-0. There was very little chance the surprising Bills could keep up that kind of pace. But the way Buffalo has lost the past three weeks is embarrassing. Several Bills players acknowledged as much in the locker room Sunday. Buffalo looks like the
Indianapolis Colts
lately. The Bills haven't bothered to show up in games, losing by a combined score of 109-26. Buffalo has a chance to rebound this week with a huge rematch against the
New York Jets
.
3. Jets' offense:
It's hard to point the
finger at one area
of New York's offense, because everything has been failing lately. New York's running backs are injured, the offensive line allowed eight sacks in two games and quarterback
Mark Sanchez
hasn't looked comfortable. Offensive coordinator Brian Schottenheimer also fails to get the most out of his talented skill players most weeks, and his play-calling at times is shaky. New York is in must-win mode for the rest of the year. The Jets have a lot of problems to clean up offensively, and it may be too late to make the playoffs.
RISING
1. Miami Dolphins' defense:
This is the defense Dolphins fans expected all season. Miami had the NFL's sixth-ranked defense last year but struggled during its 0-7 start. But the last few weeks, the Dolphins' defense is wreaking havoc again and putting the team in position to win games. Miami forced two turnovers and held Buffalo to 262 total yards and 0-for-12 on third-down conversions in a 35-8 victory. The Dolphins have allowed just 20 points the last three games.
[+] Enlarge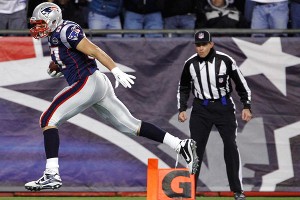 David Butler II/US PresswireRob Gronkowski added to his touchdown total with two more Monday night.
2. Rob Gronkowski, Patriots tight end:
At some point opponents will realize they have to defend Gronkowski around the end zone. "Big Gronk" caught two more touchdown passes in New England's 34-3 victory over the
Kansas City Chiefs
on Monday night. Gronkowski has 10 touchdowns this season and 17 touchdowns in the red zone since 2010, which leads the NFL. Gronkowski is emerging as one of the league's top tight ends. He has a great combination of size, athleticism and soft hands.
3. Matt Moore, Dolphins quarterback:
Moore's stock continues to rise after he led Miami to its third win in a row. Moore is playing consistent football and not making mistakes. His Total Quarterback Rating of 98.2 was the best in the
NFL for Week 11
. Moore still has a lot to prove to be Miami's long-term solution at quarterback. But at least he's making the conversation interesting.