NFL Nation:

AFC Stock Watch 2011 Week 13
December, 6, 2011
12/06/11
1:00
PM ET
»
NFC Stock Watch
:
East
|
West
|
North
|
South
»
AFC
:
East
|
West
|
North
|
South
FALLING
1. Buffalo Bills' defense:
Buffalo has lost five consecutive games, and the biggest reason is its inconsistent defense. The Bills can't stop the run or rush the passer. That leaves very little hope on game day. Buffalo had only one sack and allowed
Tennessee Titans
tailback
Chris Johnson
to rush for 153 yards and two touchdowns. Injuries to players such as defensive tackle
Kyle Williams
, linebacker
Shawne Merriman
and safety
George Wilson
have contributed to Buffalo's struggles. But the Bills need to make it a point in the offseason to add more depth and defensive playmakers.
2. New England Patriots' fourth-quarter defense:
I'm not going to make a huge deal about it, but the Patriots allowed 21 unanswered points in the fourth quarter to the winless Indianapolis Colts. It's clear the Patriots took their foot off the pedal. But Indianapolis is 0-12 and had
Dan Orlovsky
at quarterback. The Colts shouldn't score 21 unanswered points against anybody. Before Sunday's game, the Colts had scored 21 points or more just once in an entire game. The Patriots allowed that many points in one period.
3. New York Jets' passing offense:
There are times when the Jets' passing offense makes you scratch your head -- the quarterback misses throws or receivers will run the wrong routes and aren't on the same page. There has been a lot of that lately with the Jets, at least in the first three quarters. New York's passing game isn't waking up until the end of games, and that's saved the Jets in back-to-back weeks. Quarterback
Mark Sanchez
struggled against the
Washington Redskins
but saved his best throws for last. The Jets have little margin for error and need the passing game to be there consistently.
RISING
1. Miami Dolphins' running game:
The
Oakland Raiders
were completely run over by Miami. The Dolphins recorded 209 rushing yards and had great performances from two tailbacks.
Reggie Bush
had 100 yards rushing and rookie
Daniel Thomas
added 73 yards on the ground. Miami's offensive line dominated in the trenches. It even led to frustration by Oakland defensive lineman
Richard Seymour
, who hit offensive lineman
Richie Incognito
in the
face and was ejected
.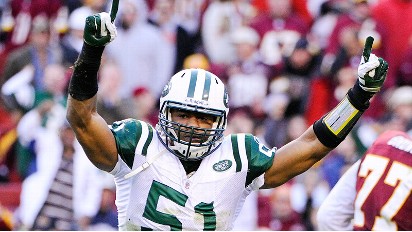 Howard Smith/US PresswireAaron Maybin has three sacks in the past two games for the Jets, whose signing of the linebacker after he was cut by Buffalo is paying dividends.
2. C.J. Spiller, Bills running back:
Spiller gets an unexpected and late audition to be the main running back in Buffalo.
Fred Jackson
's leg injury has the 2010 first-round pick in the spotlight. Based on Spiller's first two starts, he is making progress. He had his best game as a pro against Tennessee, running for a career-high 83 yards and a touchdown. Spiller could have done more. But Buffalo went away from the running game too early, despite Spiller's averaging 5.9 yards per carry.
3. Aaron Maybin, Jets linebacker:
"Mayhem" continues to get to the quarterback for the Jets. Maybin recorded his third sack in two games in Sunday's victory over Washington. Maybin, signed by the Jets in late September after he was released by the Bills, has quietly been a solid pickup for New York. Maybin's sacks are making an impact — he has five in New York's victories and just one in New York's losses.
December, 6, 2011
12/06/11
1:00
PM ET
»
NFC Stock Watch
:
East
|
West
|
North
|
South
»
AFC
:
East
|
West
|
North
|
South
FALLING
1. The Oakland Raiders' breathing room:
It was a costly trip to South Beach for Oakland, which suffered a 34-14 loss at Miami on Sunday and saw its lead in the AFC West evaporate. Oakland is now 7-5 and tied with Denver for first place. The Raiders were the only team in the AFC West to lose in Week 13. Entering the final quarter of the season, the Raiders are still in decent shape to make the playoffs as either a division winner or a wild-card team -- but there's no longer room for error.
2. Carson Palmer, quarterback, Raiders:
The Raiders traded for Palmer because they thought he'd be a difference-maker down the stretch. He was a detriment for much of Sunday's game. Palmer has been solid with Oakland, but he needs to bounce back from a sub-par performance if the Raiders are going to make a playoff run. Yes, he was missing some firepower and his line struggled at Miami, but Palmer needs to create more plays than he did Sunday.
3. Rivers' mistakes:
Suddenly, San Diego quarterback
Philip Rivers
' interception issues seem to have gone away. After throwing 17 picks in the season's first 10 games, Rivers hasn't thrown a single one in his past two. It is already the highest interception total of his NFL career, but it seems like he's getting the issue under control.
RISING
[+] Enlarge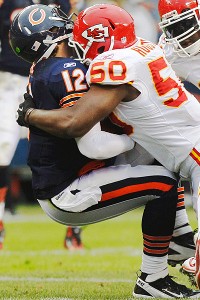 AP Photo/Nam Y. HuhJustin Houston had three sacks against Chicago and looks to be a draft steal.
1. The Denver Broncos' playoff chances:
After five games, the Broncos were 1-4 and looked like they were a contender in the
Andrew Luck
sweepstakes. However, with
Tim Tebow
at quarterback, Denver has won six of seven games, including its past five. Denver is now 7-5 and in solid shape in both the division and in the wild-card race.
2. Justin Houston, linebacker, Chiefs:
The third-round pick was dominant Sunday at Chicago, recording three sacks in a 10-3 victory. Considered a first-round talent, the University of Georgia product fell down draft boards because of character concerns. He appears to be a steal.
3. San Diego's offensive line:
This line has suffered eight different injuries and has three players on the injured reserve. San Diego played without three starters for much of Monday night's win over Jacksonville and it started
Jared Gaither
at left tackle, days after he was claimed off waivers. Still, this unit gave Rivers terrific protection. Rivers was not sacked -- a great effort by a makeshift group.
December, 6, 2011
12/06/11
1:00
PM ET
»
NFC Stock Watch
:
East
|
West
|
North
|
South
»
AFC
:
East
|
West
|
North
|
South
FALLING
1. State of Ohio's run defenses:
The Browns and Bengals gave up season highs in rushing yards on Sunday. Cleveland allowed 290 yards on the ground to Baltimore, a low point for the NFL's worst run defense. The Bengals' effort -- surrendering 146 yards rushing at Pittsburgh -- showed another crack in a once-stout run defense. Over the past four games, teams have averaged 120 yards rushing against Cincinnati.
2. Field goal accuracy:
This division features a returning Pro Bowl performer (the Ravens'
Billy Cundiff
), a kicker who is hitting 50-yarders at a record pace (the Browns'
Phil Dawson
) and another who had one miss in his first 11 games (the Bengals'
Mike Nugent
). But Sunday was an awful day for the division's kickers, and there was no long snapper to blame this time. AFC North kickers (Cundiff, Dawson, Nugent and the Steelers'
Shaun Suisham
) were a dismal 2 of 6 (33.3 percent). One was blocked (33 yards) and three veered wide right (34, 41 and 50 yards). The only one who was perfect was Dawson.
3. Andy Dalton's Rookie of the Year campaign:
The debate over whether Dalton or Carolina's
Cam Newton
should win the NFL Offensive Rookie of the Year award appears to be over. Newton's three rushing touchdowns Sunday gave him 13 for the season, which sets an NFL single-season record for quarterbacks. Dalton struggled at Pittsburgh, completing 45.8 percent of his passes for 135 yards -- both of which were his season lows for a full game. Newton should make room on his trophy case now.
RISING
[+] Enlarge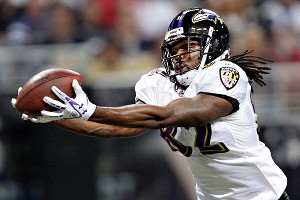 AP Photo/Tom GannamRookie Torrey Smith leads the Ravens with five touchdown catches through Week 13.
1. Ravens and Steelers' AFC North dominance:
Baltimore and Pittsburgh are once again the power players in the AFC North after routing their Ohio division rivals last Sunday. The combined score was 59-17. In 2010 and 2011, the Ravens and the Steelers have an 11-1 record against the Bengals and Browns. Since 2008, Baltimore and Pittsburgh have played in a total of 13 playoff games while Cincinnati has appeared in one (and Cleveland has none).
2. Rashard Mendenhall's touchdowns:
The Pittsburgh running back is on pace to fall well short of 1,000 yards, but he is still delivering around the goal line. Including playoff games, Mendenhall has scored 16 touchdowns in his past 17 games, including two in the demolition of Cincinnati. His 28 regular-season rushing touchdowns rank fifth on the franchise's all-time list.
3. Ravens' 2011 draft class:
While the Bengals' rookies have received most of the attention this season (and rightfully so), Baltimore's first-year players have been making a big impact in the team's pursuit of the AFC North title. First-round pick
Jimmy Smith
has two interceptions in his past three games. Second-rounder
Torrey Smith
leads the team with five touchdown catches and a 20.2-yard per catch average. And late fifth-round selection
Pernell McPhee
has been the overachiever of this class with six sacks.
December, 6, 2011
12/06/11
1:00
PM ET
»
NFC Stock Watch
:
East
|
West
|
North
|
South
»
AFC
:
East
|
West
|
North
|
South
FALLING
1. The Jaguars' ability to score points:
OK, it's not fair to say it's falling. It's been poor all season and showed no sign of improving. The Jaguars came back from a 10-0 deficit against San Diego on Monday night to take a 14-10 lead. But once San Diego got more than 20 points, the game was over –- the Jaguars haven't scored 21 points all season. And the Chargers were over 30 before the fourth quarter started on their way to
a 38-14 victory
. With
Blaine Gabbert
quarterbacking and
Maurice Jones-Drew
as the offensive centerpiece, this isn't a team that can make much of a charge from behind.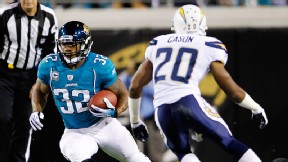 Mike Ehrmann/Getty ImagesThough Maurice Jones-Drew is solid, he doesn't much add to Jacksonville's quick-strike options.
2. The luck of Andre Johnson, Houston Texans receiver:
For the second time this season, Johnson went down while running without taking any contact, victim of a hamstring injury. Last time cost him six games. This time it's the other leg and doesn't appear nearly as serious. Although the Texans are calling him day-to-day, they could again be without their top weapon in the passing game. Absent Johnson, teams can load up to stop
Arian Foster
and
Ben Tate
, taking their chances against rookie quarterback
T.J. Yates
as he looks to less-threatening downfield weapons.
3. Offensive line play in Indianapolis
: The offensive line has actually played better much of this season than we could have reasonably expected, especially once the injuries started to pile up. Now it's struggling with penalties and giving up sacks. In New England, the line accounted for four of the Colts' five penalties with false starts and holding. With the minimal margin for error, they simply can't afford that. A hold that might save a hit it one thing, but a false start is the sort of undisciplined stuff that gets bad teams killed.
RISING
1. Gary Kubiak, Houston Texans coach
: He gave credit to offensive coordinator Rick Dennison and quarterbacks coach Greg Knapp for a sleepless week working to get Yates ready and teach two new backups the system. But Kubiak calls the Texans' plays, and Yates made a solid showing in his first NFL start. Jim Harbaugh might run away with coach-of-the-year honors for his work turning San Francisco around, but that seems only slightly more improbable to me than what Houston's doing considering its injuries. While defensive coordinator Wade Phillips gets a lot of credit for the transformation, here's a small bid for giving Kubiak his fair share.
2. Chris Johnson, Tennessee Titans running back
: He's here a second week in a row after a second big game in a row, and this one came after he lost weight because he was so sick in the days leading up to the team's trip to Buffalo. The Titans have waited and waited, and Johnson finally looks like he's back to the form that earned him a giant contract after his holdout this summer. To make a push for a wild-card spot out of a division the Texans are very likely to win, the Titans will need more big contributions and explosive plays from Johnson. Everyone was getting blame when it was bad, as coach Mike Munchak pointed out, everyone should get some of the credit now.
3. Taylor Price, Jacksonville Jaguars wide receiver
: A third-round choice by the Patriots in 2010 out of Ohio University, he didn't make a mark with receiver-needy New England. But the Jaguars are even more receiver-needy. They got him Monday with a waiver claim, and even if Price does nothing in the remainder of the season, he's a good piece to add to the mix for the upcoming offseason. The 90th overall pick by a team that drafts well is definitely worth a look, and even if the team really addresses the position in free agency and the draft, Price could have an opportunity to stick in Jacksonville.