NFL Nation:

AFC Stock Watch 2011 Week 2
September, 20, 2011
9/20/11
1:00
PM ET
»
NFC Stock Watch
:
East
|
West
|
North
|
South
»
AFC
:
East
|
West
|
North
|
South
FALLING
1. Todd Haley, Kansas City Chiefs coach:
Haley is reportedly on the hot seat after the Chiefs have looked as bad as any team in the NFL in the first two weeks. The Chiefs have been outscored 89-10. Haley was a coach of the year candidate last season when he led the Chiefs to a 10-6 record, but there has been talk he could be bounced during the season. His fall has been swift and hard.
2. The Oakland Raiders' decision not to re-sign Nnamdi Asomugha:
I know the Raiders couldn't retain all of their free agents, but they didn't make a huge push to keep Asomugha, one of the best defensive players in the league. He is now with the
Philadelphia Eagles
. The Raiders' defense betrayed them in Buffalo; the
Buffalo Bills
scored five touchdowns in the second half. Having Asomugha surely could have changed things.
3. The San Diego Chargers' pass defense:
A week after allowing
Donovan McNabb
to throw for 39 yards in the air, San Diego was ravaged by
New England Patriots
quarterback
Tom Brady
in Foxborough. Brady threw for 423 yards and completed a team record 23 first downs by the air. The Chargers' pass defense was no challenge for Brady.
RISING
[+] Enlarge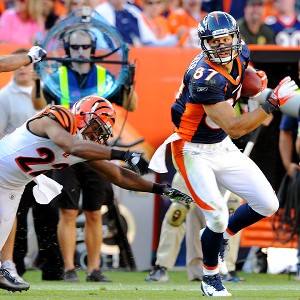 Ron Chenoy/US PresswireEric Decker had a breakout game with five receptions, 113 yards and two touchdowns.
1. The John Fox era in Denver:
The
Denver Broncos
are now 1-1 and are tied with Oakland and San Diego for first place in the AFC West. Fox got his first win in Denver when the Broncos outlasted the Bengals, 24-22. The Broncos were out of sorts and sloppy in Week 1. Fox has to feel good to right the ship and improve in running the ball and stopping the run (his staples) against the Bengals.
2. Eric Decker, Denver receiver:
The second-year receiver is a playmaker. He had five catches and two touchdowns in the Broncos' win. He had a punt return for a score in Week 1. Decker has the look of a player who can help the Broncos for years to come.
3. Jason Campbell, Oakland quarterback:
Campbell is showing improvement in Oakland. He threw for more than 320 yards at Buffalo and showed he can keep this team in games. If Campbell can continue to improve, Oakland will stick around all season.
September, 20, 2011
9/20/11
1:00
PM ET
»
NFC Stock Watch
:
East
|
West
|
North
|
South
»
AFC
:
East
|
West
|
North
|
South
FALLING
1. Joe Flacco, Ravens quarterback:
The fourth-year starter completed fewer than half of his passes at Tennessee, the first time that has happened in a game since a Week 2 loss at Cincinnati last season. When Flacco gets time in the pocket, he can make every throw. His biggest problem is handling pressure and making plays when the pocket collapses.
2. Bengals defense:
It's hard to justify giving up 100 yards to a backup running back and a backup wide receiver. Middle linebacker
Rey Maualuga
acknowledged he missed some tackles as he adjusts to being a middle linebacker. The Bengals are also missing cornerback
Johnathan Joseph
, who went to Houston in free agency. There's been a drop-off at that position with
Nate Clements
.
3. Domonique Foxworth, Ravens cornerback:
The Ravens were banking on Foxworth to be recovered fully from last year's knee surgery and take back his starting job. But he doesn't have confidence in the knee, the major reason why Baltimore is considering sitting him for a period. The Ravens remain committed to giving him time to bounce back even if he isn't living up to his $4.4 million salary.
RISING
[+] Enlarge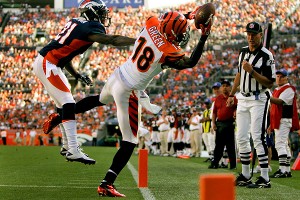 Justin Edmonds/Getty ImagesA.J. Green is quickly developing a rapport with quarterback Andy Dalton.
1. Andy Dalton-A.J. Green connection in Cincinnati:
This year's draft is already paying dividends -- the Bengals' second-round quarterback frequently is hitting their first-round wide receiver. Dalton completed 10 passes to Green for 124 yards in Denver, including one spectacular touchdown. A young quarterback develops faster when he has confidence that his targets will make plays.
2. Mike Wallace, Steelers wide receiver:
The most dangerous receiver in the division has jumped out to a stellar start, recording 100-yard games in the first two weeks of the season. Sure, he's a little off pace from his lofty goal of 2,000 yards this season (he's
only
on track for 1,864 yards). It'll be interesting to see how defenses attempt to slow him down because it won't be easy.
3. Evan Moore, Browns tight end:
He's caught defenses off guard in the past with his deceptive athleticism. But no one is overlooking Moore these days. He's gone from a player who was cut by the
Green Bay Packers
in 2009 to someone who is living up to a two-year contract extension. Moore became the first Browns tight end with a touchdown catch in each of the first two games of a season since Ozzie Newsome did it in 1979.
September, 20, 2011
9/20/11
1:00
PM ET
»
NFC Stock Watch
:
East
|
West
|
North
|
South
»
AFC
:
East
|
West
|
North
|
South
FALLING
1. Luke McCown, Jacksonville Jaguars quarterback
: Pick the synonym for awful and it fits his game against the Jets: dreadful, horrendous, ugly. Four interceptions got him pulled in favor of rookie
Blaine Gabbert
, and now the Jaguars' quarterback situation is up in the air. Whichever quarterback is in the huddle will be hoping for the return of tight end
Marcedes Lewis
(calf) and receiver
Jason Hill
(hip), who was unwise to question the hype surrounding
Darrelle Revis
in a week when he didn't even play.
2. The Colts' red zone offense
: With
Peyton Manning
at the helm, this is an area where Indianapolis typically excels. Last season the Colts scored touchdowns on 67.9 percent of their possessions that crossed inside the opponent's 20-yard line. But as part of Sunday's field-goal festival in the loss to Cleveland, the Colts moved four yards in six snaps in the red zone before kicking. Their lone red-zone touchdown came when the game had already been decided. Indianapolis' defense isn't good enough to make field goals stand up.
3. Pick a guy, Jacksonville Jaguars
: The receivers are certainly candidates, as they did little against the Jets on McCown's bad day. (And Hill embarrassed himself without even playing.) If safety
Courtney Greene
can be nudged out of the lineup for
Chris Prosinski
or
Dwight Lowery
, Greene may have made a case for the move with a poor game. And defensive end
Aaron Kampman
, who suffered a setback in his return from an ACL reconstruction, missed his second game and won't play Sunday. The defense misses his leadership for sure.
RISING
[+] Enlarge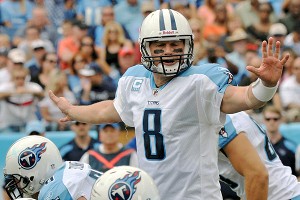 Jim Brown/US PresswireMatt Hasselbeck successfully orchestrated a win against a tough Baltimore defense.
1. Cortland Finnegan, Tennessee Titans cornerback
: Finnegan was excellent in the Titans' win over Baltimore with four tackles and three passes defended. He was consistently involved for Tennessee in a rebound effort that can't be underestimated. And with the praise Mike Munchak has offered Finnegan, it sounds like his play so far is the culmination of his leadership during the lockout and a solid camp that featured a short, failed walkout in a contract dispute.
2. Jacoby Jones, Houston Texans receiver/ punt returner
: He had an excellent catch on the sideline, tapping his feet to be in bounds, and three catches for 48 yards. His performance is a good contribution in an offense featuring
Andre Johnson
and
Owen Daniels
. He also chipped in with an early 40-yard punt return that helped set the tone. On a day the team was without
Kevin Walter
, Jones did his part to make sure the team wasn't lacking. Is he becoming more consistent?
3. Matt Hasselbeck, Tennessee Titans quarterback
: He keyed a solid offensive day against a Baltimore defense that teams struggle against. A week after he ended a disappointing loss in Jacksonville with a bad interception, he was very accurate. Though
Chris Johnson
couldn't get going, the other elements Hasselbeck counted on when he signed in Tennessee came through. He wasn't sacked and his pass catchers like
Kenny Britt
,
Nate Washington
and
Jared Cook
made plays for him.
September, 20, 2011
9/20/11
1:00
PM ET
»
NFC Stock Watch
:
East
|
West
|
North
|
South
»
AFC
:
East
|
West
|
North
|
South
Falling
1. Miami Dolphins:
The Dolphins (0-2) dropped their first two home games and now have to win on the road. Miami couldn't put it together for four quarters in a pair of losses to the
New England Patriots
and
Houston Texans
. The Dolphins are probably not as bad as their record. They lost to two of the top teams in the AFC. But this road game against the
Cleveland Browns
(1-1) is a must-win and a good measuring stick of where Miami stands.
2. Buffalo Bills' defense:
Buffalo's defense was lights out against the
Kansas City Chiefs
in Week 1. In Week 2, the
Oakland Raiders
' offense pretty much had its way with the Bills. The Raiders amassed 454 total yards in a 38-35 shootout loss to Buffalo. You had the sense in the second half that it would come down to who had the ball last with enough time to score. Oakland scored too quickly with a 50-yard bomb to receiver
Denarius Moore
with less than four minutes remaining. That led to
Ryan Fitzpatrick
's comeback drive for Buffalo.
3. New York Jets' running game:
Maybe I should give a pass to the Jets after thrashing the
Jacksonville Jaguars
on Sunday. But despite the blowout, the offensive line is still failing to open holes for the running backs. I watched the games against Jacksonville and Dallas. I'm seeing too many defenders penetrating and hitting backs early or at the line of scrimmage. Center
Nick Mangold
's high-
ankle sprain
also contributed to the falling stock.
Rising
[+] Enlarge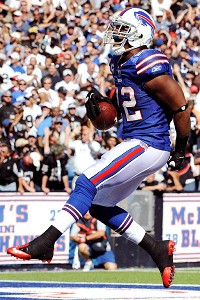 Richard Mackson/US PresswireFred Jackson leads the lead in rushing after a two-touchdown, 117 yards performance in Week 2.
1. Fred Jackson, Bills running back:
The NFL's leading rusher is unexpectedly in Buffalo. The Bills' offense, which uses a lot of spread and shotgun formations, has been very efficient running the football. Jackson rushed for 117 yards and two touchdowns against a pretty good Oakland front seven. Jackson averaged 7.8 yards per carry.
2. Tom Brady, New England Patriots quarterback:
It's kind of strange when 423 passing yards and three touchdowns only gets you the No. 2 spot. Brady's stock already is so high that we're expecting big numbers. After he threw for 517 yards and four touchdowns in Week 1, Sunday's game against the Chargers was only his second-best performance. Still, Brady is
on a monster pace
and is the early MVP favorite after two games.
3. Antonio Cromartie, New York Jets corner:
Cromartie had a nice, bounce-back game against Jacksonville. He used his great athleticism to help the Jets on defense and special teams. Cromartie recorded two interceptions, three tackles and returned a pair of kickoffs for 40-plus yards. New York needs to see more of the Week 2 Cromartie this season, not the Week 1 version who struggled against Dallas.