NFL Nation:

AFC Stock Watch 2011 Week 4
October, 4, 2011
10/04/11
1:09
PM ET
»
NFC Stock Watch
:
East
|
West
|
North
|
South
»
AFC
:
East
|
West
|
North
|
South
FALLING
1.
Bengals attendance:
The team followed up the smallest crowd for a home opener at Paul Brown Stadium with the smallest crowd (41,142) in the 12-year history of the place. That's over 20,000 empty seats in each of the first two home games of the season. Sure, this is the fans' way of protesting owner Mike Brown and the constant losing. But all this young team can see is a lack of support.
2.
Steelers run defense
: The NFL's top run defense from a year ago has plummeted to No. 22. In the Steelers' two losses, the defense has given up 170 yards rushing to the Ravens and 180 yards on the ground to the Texans. After allowing just one 100-yard rusher in a 50-game stretch, Pittsburgh has allowed two in the past four games. Has anyone seen inside linebackers
James Farrior
or
Lawrence Timmons
lately?
3.
Browns secondary
: This vastly improved group flopped in its first test against proven quarterback. Cleveland gave up 194 yards passing and three touchdown passes to Matt Hasselbeck -- and that was in the first half alone. Safety
T.J. Ward
didn't cover Titans tight end
Craig Stevens
on a 12-yard touchdown, and safety
Usama Young
took a bad angle at tight end
Jared Cook
on an 80-yard touchdown catch-and-run. To make matters worse, cornerback
Joe Haden
has a sprained knee.
RISING
[+] Enlarge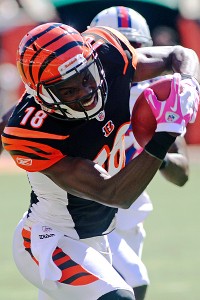 AP Photo/Tony TribbleCincinnati Bengals wide receiver A.J. Green already has 312 yards receiving this season.
1.
Bengals wide receiver A.J. Green
: The fourth overall pick of the 2011 draft is already making an immediate impact, recording two 100-yard performances in the past three games. Watching him leap up for catches -- like the 58-yard one on Sunday -- is like seeing flashes of a younger
Calvin Johnson
(even though Johnson is still young). He has six catches over 20 yards, which is tied for ninth in the NFL. And Green is doing all of this while learning on the job with rookie quarterback
Andy Dalton
.
2.
Ravens pass rush
: Baltimore has recorded 21 quarterback hits over the past two games because of its creative and risky blitzes. This pressure on quarterbacks has led to four defensive touchdowns the past two weeks, including a team-record three Sunday night against the Jets. This is a drastic turnaround from last season, when the Ravens had a franchise-low 27 sacks.
3.
Bengals defense
: For the first time since 1983, the Bengals defense sits atop the NFL rankings. Cincinnati has six new starters from a defense that finished 15th in 2010. The Bengals held the NFL's highest-scoring offense to 13 points (one touchdown was scored off an interception return) on Sunday and kept the Bills 158 yards below their season average.
October, 4, 2011
10/04/11
1:00
PM ET
»
NFC Stock Watch
:
East
|
West
|
North
|
South
»
AFC
:
East
|
West
|
North
|
South
FALLING
1. The Chiefs' standing in the Luck sweepstakes:
Kansas City's win over the
Minnesota Vikings
improved the Chiefs to 1-3 and knocked the Vikings down to 0-4. That means the Vikings are in the Chiefs' way of getting the No. 1 pick and the right to draft Stanford quarterback Andrew Luck. Of course, at this point, the Chiefs want to win as many games as possible. The Chiefs can further separate themselves from the No. 1 pick if they win at Indianapolis on Sunday.
2. Jason Campbell's accuracy:
Oakland's quarterback was efficient and careful with the football in the first three game of the season. He threw just one interception (on a Hail Mary at Buffalo) in those games. On Sunday against New England, though, Campbell threw two bad interceptions. The first was thrown right at New England safety
Patrick Chung
in the end zone. It was the turning point of the game.
3. Kyle Orton, Denver quarterback:
The Broncos keep on losing and the pressure is building on starting quarterback Kyle Orton. He threw three interceptions in a 26-point loss at Green Bay on Sunday. Denver coach John Fox has maintained that Orton gives them a better chance to win than
Tim Tebow
at this point. But the Broncos are 4-13 in Orton's last 17 starts. It's getting more difficult to believe that Orton gives Denver a fighting chance to win.
[+] Enlarge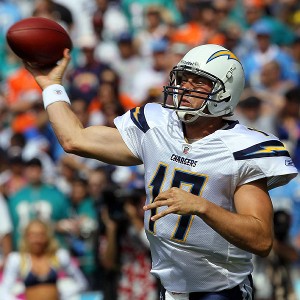 Stephen Dunn/Getty ImagesPhilip Rivers threw for 307 yards in the Chargers' win over Miami.
RISING
1. Philip Rivers' accuracy:
The Chargers quarterback did not throw an interception in a win over Miami on Sunday. Rivers threw six interceptions in the first three games of the season. His highest interception total for a season is 15. It seems like Rivers is on the right track again after a shaky start.
2. Matt Cassel, Kansas City quarterback:
Cassel had his best overall game since Week 16 of last season. He's been pretty bad since. However, Cassel, who showed some life in the second half of Week 3's game at San Diego, was solid in the Chiefs' first win. Let's see if his arrow can continue to point upward Sunday at Indianapolis.
3. Larry English, San Diego linebacker:
The No. 16 overall pick of the 2009 draft had five sacks in his first 26 NFL games. On Sunday, English had two sacks against Miami. If English, who has had issues staying healthy, can continue to show a pass-rushing burst, he could ward off the dreaded bust label.
October, 4, 2011
10/04/11
1:00
PM ET
»
NFC Stock Watch
:
East
|
West
|
North
|
South
»
AFC
:
East
|
West
|
North
|
South
FALLING
1. The secondary, Indianapolis Colts
: Safety
David Caldwell
dropped an end-zone interception that really could have influenced the game early on. The three cornerbacks who were on the field a lot struggled to locate pass-catchers and get them to the ground. Are
Terrence Johnson
,
Jacob Lacey
and
Chris Rucker
good enough to hold up against superior passing teams like New Orleans, Atlanta, Houston and New England coming up later on the schedule? It's a rhetorical question, and the answer right now is no.
2. Danieal Manning, Houston Texans special-teamer
: We're not knocking Manning the safety here. We're knocking the guy who blocked a Pittsburgh field goal attempt on the last play before halftime. He circled around and was one of a convoy of Texans following
Johnathan Joseph
as he scooped up the kick to run it back for a score, and Manning inexplicably shoved kicker
Daniel Sepulveda
in the back. There was no way the kicker was going to threaten the play, and Houston was very fortunate to survive the lost touchdown. So props to Manning on the block, but he's got to be smarter from there.
3. Linebackers, Jacksonville Jaguars
: The team poured money into the position in the offseason, and
Paul Posluszny
and
Clint Session
are good players. But Posluszny dropped a pick and
Daryl Smith
let
Drew Brees
guide him out of bounds on an interception return. The backers were repeatedly victimized by running back
Darren Sproles
, who averaged 10.9 yards a touch, and tight end
Jimmy Graham
, who caught 10 balls for 132 yards. The Jaguars need more from these guys against players like that.
[+] Enlarge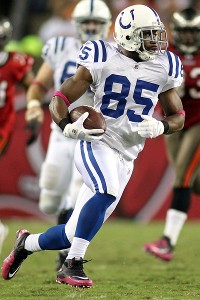 Marc Serota/Getty ImagesBoth of Pierre Garcon's receptions Monday night went for touchdowns.
RISING
1. Pierre Garcon, Indianapolis receiver
: He can be maddening with his drops -- he had one early against the Bucs. But the reason he's around is that he can change games with one play. He had two of them for the Colts Monday night, grabbing
Curtis Painter
passes and doing excellent work after the catch. They were the sort of explosive offensive plays Indianapolis has to have if it's going to be competitive.
2. Tight ends, Tennessee Titans
: Among the people the team has talked of needing to help fill the void without
Kenny Britt
,
Jared Cook
was a top name. If teams choose to cover him and attempt to tackle him the way the Browns did, look for him to put up monster numbers.
Craig Stevens
is regarded as more of a blocker, but he did well to catch a touchdown. If Cook, Stevens and
Daniel Graham
can continue to be counted as good targets for the accurate
Matt Hasselbeck
, there is a lot of cause for hope. Those guys complementing receivers
Nate Washington
,
Damian Williams
and
Lavelle Hawkins
are looking like a strong group.
3. Antonio Smith, Houston Texans defensive end
: He'll represent the entire defensive front here, which has been very good and which just overwhelmed the
Pittsburgh Steelers
' offensive line in Sunday's win.
Ben Roethlisberger
can be exceptionally tough to drag down, but Smith and the Texans ganged up on him for five sacks and really hit him with great regularity. The secondary is vastly improved, but life is a lot better back when a quarterback like Roethlisberger has little time to work.
October, 4, 2011
10/04/11
1:00
PM ET
»
NFC Stock Watch
:
East
|
West
|
North
|
South
»
AFC
:
East
|
West
|
North
|
South
FALLING
[+] Enlarge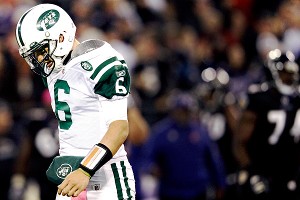 AP Photo/Patrick SemanskyMark Sanchez had a horrendous game against the Ravens -- coughing up the ball four times and throwing for 119 yards.
1. Mark Sanchez, Jets quarterback:
It's an easy choice when you set a record for the
lowest Total Quarterback Rating
. Sanchez had a forgettable game against the
Baltimore Ravens
. He was 11-for-35 passing for 119 yards, three lost fumbles and one interception. What's worse is that three of Sanchez's turnovers resulted in Baltimore touchdowns. The offensive line deserves a lot of blame as well. Still, Sanchez needs to do a better job of taking care of the football. The Jets will play the
New England Patriots
in a big AFC East game this Sunday.
2. Miami Dolphins on the road:
Remember when Miami was a good road team? That was something Miami was counting on after its 0-2 start at home. But that plan backfired after the Dolphins dropped back-to-back road games against the
Cleveland Browns
and
San Diego Chargers
. Now, Miami enters its bye week 0-4 and out of contention. The Dolphins have lost seven straight dating to last season. They're also 1-11 in their past 12 home games. With that combo, it's going to be hard for Miami to turn things around.
3. Buffalo Bills:
If Buffalo wants to be a serious contender, it needs to beat teams like the Bengals, especially when the Bills own a 14-point lead in the second half. Buffalo's offense shut down after intermission, and the defense couldn't make a big stop late. The good news is it's just one game. Buffalo remains in first place in the AFC East and tied for the best record in the AFC. But the Bills have to prove it in these next two games against the
Philadelphia Eagles
(1-3) and
New York Giants
(3-1).
RISING
1. Wes Welker, Patriots receiver:
As good as quarterback
Tom Brady
has been for New England, Welker has been just as good at receiver. The pair is putting up monster numbers. Welker is leading the NFL in receptions and receiving yards through four games. I'm surprised by how often Welker gets open every week. Yes, it's hard to double-team receivers from the slot. But you figure teams know by now where the ball often goes.
2. David Harris, Jets linebacker:
Harris was one of the few bright spots in New York's 34-17 loss to the Ravens. He recorded seven tackles and a pick six. Harris is a very good player who is somewhat underrated. He doesn't get mentioned as much as teammates
Darrelle Revis
,
Antonio Cromartie
,
Bart Scott
,
Calvin Pace
and others. But Harris is having a consistent season.
3. Stevan Ridley, Patriots running back:
Ridley, a rookie third-round pick, is proving to be a good find for New England. He's given the Patriots a nice, three-headed attack in the running game if
Danny Woodhead
(ankle) stays healthy. Ridley rushed for a career-high 97 yards on 10 carries against Oakland, which has a solid front seven. This is just the kind of production the Patriots need to take some pressure off Brady and keep the defense off the field.

NFL SCOREBOARD
Thursday, 9/4
Sunday, 9/7
Monday, 9/8