NFL Nation:

AFC Stock Watch 2011 Week 5
October, 11, 2011
10/11/11
1:00
PM ET
»
NFC Stock Watch
:
East
|
West
|
North
|
South
»
AFC
:
East
|
West
|
North
|
South
FALLING
1. Matt Turk, Jacksonville Jaguars punter:
Out of seven punts against the Bengals, one rated as good. At a crucial moment, he shanked a 22-yarder. There is a lot of talk in Jacksonville about his allegedly goading the crowd as he was booed, which I haven't seen yet for myself. The Jaguars will look at punters today, and Turk may not be on the team tomorrow. They thought getting a guy who historically could boom it would work well with their solid cover teams.
Kassim Osgood
and
Montell Owens
have been dinged up, however. Combine the weakened cover teams with a lot of bad punts, and an area that's supposed to be a strength becomes a weakness.
2. Chris Johnson, Tennessee Titans running back:
Four games in, he's clearly not the same guy right now. I don't need an 80-yard run every game, but he held out for playmaker money and got it, and so now it's past time to see him be that guy. Let's see him turn a 1-yard run into a 2-yard run with a spin and a dive that shows you some life, some spark, some want-to. The Titans are 3-2 with their most explosive player having gained 250 yards on the ground and looking flat. The Titans have made solving the run-game issues priority one for the bye week. But they've been talking about it for a good while with no change.
3. The Colts' entire defense:
It couldn't stop the run or the pass against Kansas City, allowing the Chiefs to storm back from a 17-point deficit to steal a win. The secondary beyond
Antoine Bethea
is an absolute mess. Receivers got separation or were able to overpower defensive backs to go get balls. Once they had balls they were able to run through defenders. The tackling was an absolute disaster. Coaches believe the guys they have can do better. What else can they say?
[+] Enlarge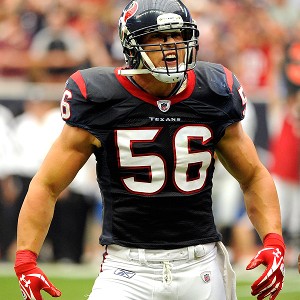 AP Photo/Dave EinselBrian Cushing has excelled in the Texans' 3-4 scheme.
RISING
1. Brian Cushing, Houston Texans linebacker:
The stretch where he played with blood rolling down his face from the bridge of his nose against the Raiders made for classic TV. He's been a great fit as an inside linebacker in Wade Phillips' 3-4 scheme and quieted questions about whether he can be the high-quality player he was as a rookie. Coming off of that season, he wound up with a suspension that carried over into his second year for a violation of the league's policy against performance enhancers, a penalty he challenged. He's playing well, which means we're not spending much time considering that question so much right now.
2. Curtis Painter, Indianapolis Colts quarterback:
With quality protection against a bad team, he delivered several very nice throws in the loss to the
Kansas City Chiefs
. He's not going to cover up all sorts of deficiencies on both sides of the ball the way
Peyton Manning
does. But this performance showed that he can deliver a winning effort, and even as the offense did pretty much nothing after halftime, Painter was not on the list of reasons the Colts fell to 0-5. Whether he can make that the case in games to come remains to be seen.
3. Jeremy Mincey, Jacksonville Jaguars defensive end:
The Jaguars' defensive shortcomings so far this season have largely been a result of the team's inability to rush the passer effectively. Mincey was explosive and disruptive against the
Cincinnati Bengals
on Sunday with a sack, four hurries and five tackles. If he can replicate the effort in upcoming games as the Jaguars get
Aaron Kampman
back in the mix, it could really do wonders for the rest of the defense.
October, 11, 2011
10/11/11
1:00
PM ET
»
NFC Stock Watch
:
East
|
West
|
North
|
South
»
AFC
:
East
|
West
|
North
|
South
FALLING
1. Complaining running backs:
Over the past week, the Browns'
Peyton Hillis
has questioned his future because he hasn't received a new contract, and the Bengals'
Cedric Benson
is voicing his frustration over a lack of carries. Isn't the AFC North supposed to be the rough and tough division and not the sensitive one? It's time to put the egos aside and focus on improving their games. Benson ranks 34th in yards per carry (4.0), and Hillis is 36th (3.6).
2. Browns' slow starts:
Maybe Cleveland found a way over the bye week to jump-start its team from the opening kickoff. The Browns have scored three points -- a 48-yard field goal, to be exact -- in the first quarter this season. Part of the problem has been quarterback
Colt McCoy
, who is averaging 32.5 yards passing in the opening period. The Browns can't keep getting in early holes, especially against the better teams in the league.
3. Ravens' special teams:
The Ravens surrendered a 107-yard kick return for a touchdown in their last game before the bye and they haven't gotten the same punch out of their kickoff returners since
David Reed
went down with a shoulder injury.
LaQuan Williams
was given the chance to take over the job but he's fumbled twice in as many games. Baltimore could turn to recently signed
Bryan McCann
for a spark.
RISING
[+] Enlarge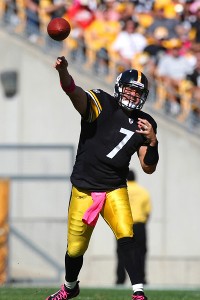 Jason Bridge/US PresswireBen Roethlisberger tied a team record by throwing five touchdowns against the Titans.
1. Bengals' fourth-quarter comebacks:
The fact that the Bengals have won three of their first five games has been a surprise. The impressive part is how they've won these games. All three victories have come with a game-winning drive in the fourth quarter. Cincinnati has won the past two weeks in the final two minutes of the game. These young Bengals are playing with confidence.
2. Steelers quarterback Ben Roethlisberger:
Sunday's performance will long be remembered by the number of touchdowns he threw while playing in pain. He tied a team record by throwing five touchdowns against a Titans defense that had given up four passing touchdowns all season. His sprained left foot might actually help Roethlisberger in the long run. Adjusting to a West Coast-style of three-step drops and quick passes, Roethlisberger was still effective as a passer and didn't have to take the hits.
3. Ravens cornerback Lardarius Webb:
Few envisioned Webb as a starter this year after he gave up the big pass to the Steelers late in the divisional playoff loss. But Webb is playing with more confidence and aggressiveness this season, which is what the Ravens want out of their corners in this new blitzing style of defense. Webb has responded with interceptions in his past two games, including a 73-yard return for a touchdown against the Jets.
October, 11, 2011
10/11/11
1:00
PM ET
»
NFC Stock Watch
:
East
|
West
|
North
|
South
»
AFC
:
East
|
West
|
North
|
South
FALLING
1. Kyle Orton, Denver quarterback:
This is two-fold. As Orton falls,
Tim Tebow
rises in Denver. There is virtually no way Denver will go back to Orton as the starter. He is 6-22 in his last 28 starts as the Broncos' quarterback, and Tebow -- much to the delight of the home crowd -- nearly brought the Broncos back from a 13-point deficit Sunday. Tebow's rise is Orton's fall.
2. The Chargers in the red zone:
San Diego has no problem moving the ball -- until the Chargers hit their opponent's 20-yard line. The Chargers have turned the ball over or had to settle for field goals in the red zone all season. They were 1-for-5 in the red zone in Week 5. The wasted scoring opportunities are going to hurt this team now that the schedule toughens unless the Chargers figure out their red-zone woes.
3. Talk that Kansas City coach Todd Haley is on the hot seat:
There were reports that Haley was on the hot seat after the Chiefs were beat by a total of 89-10 in the first two games. However, the Chiefs have won two straight games -- including coming back from 17-0 at Indianapolis on Sunday -- and they are fighting hard despite their spate of early-season injuries. Haley is a good coach and neither he nor his team will quit.
[+] Enlarge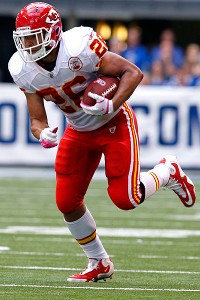 AP Photo/AJ MastJackie Battle gave the Chiefs a consistent running game in their win over the Colts.
RISING
1. Positive momentum in Oakland:
The Raiders are coming off arguably their most special regular-season win in history as they secured a win at Houston the day after the death of owner Al Davis. The Raiders are 3-2 and go home for three straight games against Cleveland, Kansas City and Denver. The Raiders have a real chance of being 6-2 at the midway point.
2. Jackie Battle, Kansas City running back:
It looks like the Chiefs have their top running option with
Jamaal Charles
out for the year. Battle had 119 yards on 19 carries in a comeback win at Indianapolis. The Chiefs love to run and they will give Battle plenty of options to duplicate his success after their Week 6 bye.
3. Darrius Heyward-Bey, Oakland receiver:
Heyward-Bey has put together two solid games in a row. He had a big touchdown Sunday at Houston and he had a team-high 99 yards on seven catches in the Oakland win. The No. 7 overall pick of the 2009 draft is starting to pay dividends.
October, 11, 2011
10/11/11
1:00
PM ET
»
NFC Stock Watch
:
East
|
West
|
North
|
South
»
AFC
:
East
|
West
|
North
|
South
FALLING
1. New York Jets:
There are reports of unhappiness and internal strife in the Jets' locker room. Three consecutive losses can do that to a team. New York's poor product on the field is driving Jets fans crazy. The offense is ranked 28th and the defense, although still talented, isn't what it used to be. There are no easy answers for the Jets. They can't seem to figure out their identity and put it all together. If New York can't get it right in time for its "Monday Night Football" game against the winless
Miami Dolphins
, it may be too late.
2. Buffalo Bills' defense:
Watching Buffalo's defense can be exciting and maddening at the same time. The Bills fly to the football and often make heady interceptions and force fumbles. But Buffalo's defense also gives up way too many yards. The Bills have allowed 450 yards or more in four straight games. It's amazing that they are 3-1 in those contests. Buffalo constantly walks the edge and usually comes out on top. But if the defense doesn't improve, being in close games every week may eventually catch up to the Bills.
3. Jets' third-down offense:
New York is 7 for 26 (21 percent) on third downs the past two games. That is a sure way to wear out your defense and lose games. The execution just hasn't been there most of the season.
RISING
[+] Enlarge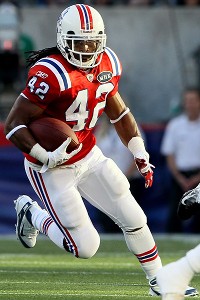 Elsa/Getty ImagesBenJarvus Green-Ellis has rushed for 24 touchdowns over the last two seasons for the Patriots.
1. New England Patriots running game:
Few people know this, but the Patriots' offense is sixth in the NFL in rushing. Quarterback
Tom Brady
and the Patriots' high-powered passing attack get most of the credit for their 4-1 start. But New England also is running the ball very efficiently.
BenJarvus Green-Ellis
,
Stevan Ridley
and
Danny Woodhead
have all contributed at different times. Balance on offense also has helped keep New England's struggling defense off the field in recent weeks.
2. Bills safety George Wilson:
The sixth-year safety is having the best season of his career. Wilson probably had the best game of his career Sunday in a win over the
Philadelphia Eagles
. He recorded 11 tackles, three passes defended and an interception. Wilson's steady leadership is one of the reasons Buffalo is tied for the best record in the AFC.
3. Bills running back Fred Jackson:
What more can we say about Jackson, who has been a regular in the "Rising" category of Stock Watch? Jackson had another great game, accounting for 196 total yards and one touchdown against Philadelphia. Jackson is having a career year and setting himself up well for a contract extension. He's rushed for 480 yards and five touchdowns in five games. Jackson is averaging 5.3 yards per carry.
NFL SCOREBOARD
Sunday, 2/2
WEEKLY LEADERS