NFL Nation:

AFC Stock Watch 2011 Week 9
November, 8, 2011
11/08/11
1:00
PM ET
»
NFC Stock Watch
:
East
|
West
|
North
|
South
»
AFC
:
East
|
West
|
North
|
South
FALLING
1. Browns scoring:
Here are the points scored by Cleveland in its past three games: 6, 10 and 12. So, technically, the scoring is rising but the results are still embarrassing. The Browns have dealt with injuries along the offensive line and at running back, but that's no excuse for ranking 29th overall in average points scored this season (14.9). Take away
Phil Dawson
's five field goals of 50 yards or longer in the past three games and the Browns have scored 13 points since Oct. 23.
2. Rashard Mendenhall's carries:
The
Pittsburgh Steelers
running back broke out for a season-high 146 yards against Jacksonville on Oct. 16. That didn't earn him an increased role in the offense. Mendenhall has received 13 carries in each of the past three games as the Steelers have relied heavily on the passing attack. He's on pace for a career-low 213 carries this season.
3. Browns run defense:
In a division that takes pride in stopping the run -- Baltimore, Cincinnati and Pittsburgh rank in the top 6 -- the Browns are the exception. Cleveland has allowed six 100-yard rushers in eight games, which explains the drop to the 30th-ranked run defense. Sunday, the Browns gave up three rushing touchdowns and watched two running backs reach 100 yards in the same game. These are not the results you want to see after investing two top picks in the front seven just seven months ago.
RISING
1. Belief in the Bengals:
In a span of a year, the Bengals have gone from having the second-fewest wins in the league (four) to having the most in the AFC (six, tied with Baltimore, Houston and Pittsburgh). The Bengals' five-game winning streak is their longest since 1988, the year the franchise advanced to the Super Bowl. Some remain skeptical because of Cincinnati's soft first-half schedule. The Bengals can prove themselves over the next two weeks against the Steelers and Ravens.
[+] Enlarge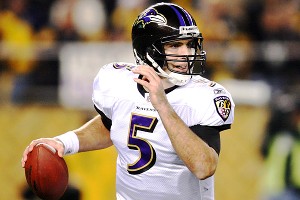 Charles LeClaire-USPRESSWIREBaltimore quarterback Joe Flacco is coming through in the second half for the Ravens.
2. Joe Flacco in the second half:
The Ravens quarterback is stepping up his game after halftime lately. In comeback wins over Arizona and Pittsburgh, Flacco has completed 65 percent of his passes for 394 yards and a passer rating of 92.5 in the second half. Flacco seemed to thrive in pressure situations in Pittsburgh, where he set a franchise record with 14 third-down conversions which included the 26-yard winning touchdown pass.
3. Steelers pass-rushers:
When
James Harrison
was sidelined for four games with an eye injury,
LaMarr Woodley
carried the Steelers' pass rush, recording 7.5 sacks in Harrison's absence. When Woodley missed Sunday's game with a hamstring injury, Harrison did the same, sacking Flacco three times. Imagine the pressure the Steelers will be able to apply on quarterbacks when both are on the field at the same time. Whom do you double team?
November, 8, 2011
11/08/11
1:00
PM ET
»
NFC Stock Watch
:
East
|
West
|
North
|
South
»
AFC
:
East
|
West
|
North
|
South
FALLING
1. The Chiefs' mojo:
The
Kansas City Chiefs
went from sky high to wondering what went so terribly wrong in a matter of six days. The Chiefs followed up a thrilling overtime win over the
San Diego Chargers
on Halloween night with a 31-3 home loss to previously winless Miami on Sunday. This was not a matter of the Chiefs being flat coming off a big win; they were just flat-out smoked, ending a four-game win streak.
[+] Enlarge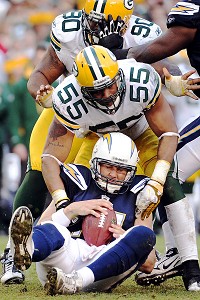 Harry How/Getty ImagesWhile Philip Rivers did have four touchdowns and amassed 385 yards, he also threw two costly interceptions.
2. Darrius Heyward-Bey's role with the Oakland Raiders:
The third-year receiver has developed into a solid player in the past month and he has been the Raiders' most reliable receiver this season after struggling in his first two. However, Heyward-Bey didn't play until the second half Sunday and had only one ball sent his way. He had no catches. Yet, newly signed 34-year-old receiver
T.J. Houshmandzadeh
played a bit. The long-term wellness of this offense will benefit more from the further development of Heyward-Bey rather than the stop-gap contribution from Houshmandzadeh.
3. Philip Rivers' ability to play a clean game:
It seems the concern over Rivers' play heightened after every game. Sunday, he threw three interceptions against Green Bay in a 45-28 loss. Two of the interceptions were returned for touchdowns and the third ended a potential game-tying drive in the final minute. Rivers has thrown 14 interceptions this season after throwing 22 in the past two seasons combined.
RISING
1. The intrigue in the division race:
We don't know yet if the AFC West is a good division, but it is tight. The second half of the seasons is set up for a serious race as Kansas City, Oakland and San Diego are all tied for first-place at 4-4. All three teams lost at home Sunday. Denver is still very much in the race at 3-5.
2. Tim Tebow's leash in Denver:
Whether he has been impressive as a pure passer or not, Tebow is 2-1 in three starts this season. The Broncos reportedly are not going to have a long leash on Tebow. But if the Broncos win, he will buy more time.
3. Willis McGahee's value in Denver:
McGahee was a big reason Denver won by two touchdowns at Oakland. McGahee had 163 yards on 17 carries, including second-half touchdown runs of 60 and 24 yards. It was his first game back after he missed a game with a broken hand. McGahee, 30, is by far outplaying third-year Denver back
Knowshon Moreno
, the No. 12 pick of the 2009 draft.
November, 8, 2011
11/08/11
1:00
PM ET
»
NFC Stock Watch
:
East
|
West
|
North
|
South
»
AFC
:
East
|
West
|
North
|
South
FALLING
[+] Enlarge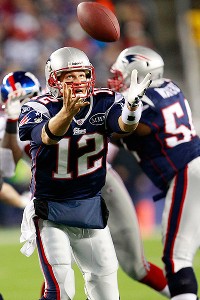 William Perlman/The Star-Ledger/US PresswireTom Brady hasn't been bad, he just hasn't been himself in the past two games.
1. New England Patriots:
The Patriots went 14-2 last season. They already have eclipsed last season's loss total after a two-game losing streak against the
Pittsburgh Steelers
and
New York Giants
. New England showed several flaws from the beginning, particularly on defense. But those flaws have been magnified the past few weeks, because Patriots quarterback
Tom Brady
hasn't been his usual self (we will get to that later). New England looks very beatable when Brady isn't throwing for 400-plus yards and four touchdowns. That's not a good sign, because the blueprint is out there for every team to follow. The Patriots need to find a way to adjust.
2. Ryan Fitzpatrick, Buffalo Bills quarterback:
Fitzpatrick is having a solid season. But according to the Total Quarterback Rating, no quarterback had a worst game than Fitzpatrick did in Sunday's loss to the
New York Jets
. He registered a measly 2.9 QBR after completing 15 of 31 passes for 191 yards, one touchdown and two interceptions. Fitzpatrick looked confused against New York's blitz and coverage schemes. He gets a chance to rebound against another tough defense this week in the
Dallas Cowboys
.
3. Tom Brady, Patriots quarterback:
Brady hasn't been bad. He just hasn't been Brady -- and that's a problem for New England. The Patriots rely on Brady too much. He needs to play great football every week, or New England is an ordinary team. Brady has thrown for six touchdowns and four interceptions the last three games. Those aren't bad numbers. But New England is 1-2 in that span, proving that Brady needs to do more.
RISING
1. The New York Jets:
The hottest team in the AFC East is the Jets. They have won three straight and picked up a pair of big wins over the Bills and
San Diego Chargers
in back-to-back games. New York deserves a lot of credit for picking itself up after a rough stretch of three straight losses. Now, the Jets can claim sole possession of first place in the AFC East with a win this week over the rival Patriots. It's a stunning turnaround for a Jets team that is going in the right direction in November.
2. Matt Moore, Dolphins quarterback:
Moore played his best game as a Dolphin -- and perhaps of his career -- in a 31-3 win over the
Kansas City Chiefs
. Moore completed 17 of 23 passes for 244 yards and three touchdowns. He registered the highest QBR of any quarterback in the league in Week 9. Credit Moore for coming into a tough situation and putting the previously winless Dolphins in a solid position. Miami has been competitve in its last three games but blew a pair of fourth-quarter leads before beating the Chiefs.
3. Kevin Burnett, Dolphins linebacker:
Burnett and Miami's defense have been criticized for not making enough plays this year. But that certainly wasn't the case against the Chiefs. Burnett led Miami with 12 tackles and recorded 1.5 sacks. Burnett and fellow linebacker Karlos Danby (11 tackles) were all over the field. This pair was expected to play at this level all year. Perhaps the performance against Kansas City will be a jump start for more good games.
November, 8, 2011
11/08/11
1:00
PM ET
»
NFC Stock Watch
:
East
|
West
|
North
|
South
»
AFC
:
East
|
West
|
North
|
South
FALLING
1. The Titans' ability to play 60 minutes:
They turned a 10-point lead into a 7-point loss Sunday at LP Field against the
Cincinnati Bengals
. Afterward they talked of their failures to execute and make plays. I hope they did a thorough dissection of why they couldn't do anything after intermission, because more incomplete efforts like that one will absolutely doom them as they prepare for three in a row against the NFC South.
2. Curtis Painter, Indianapolis Colts quarterback:
He had a couple performances that were good enough for a team to win with, but those seem like ancient history now. The Colts have a lot of issues and the defense is probably the biggest. But Painter was bad enough on Sunday in the loss to Atlanta to get pulled in favor of
Dan Orlovsky
late in the game. When your average per pass play is smaller than your rushing average, you've got major issues.
3. Expectations for the Jaguars on Sunday
: Scan the Colts schedule and look for the game they might win and a lot of people point to the one against the Jaguars at Lucas Oil Stadium. Jacksonville opened as field-goal favorites, and I don't know if that's insulting or not. But the Jaguars will hear a lot this week about how they may be susceptible to a winless division foe. Will they fall into the trap or puff out their chests and storm into town to prove that although they may be struggling themselves, they are at a different level than Indianapolis?
RISING
[+] Enlarge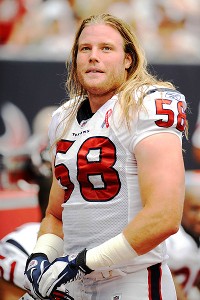 Jerome Miron-US PRESSWIREHouston Texans rookie linebacker Brooks Reed is playing well in his increased role.
1. Brooks Reed, Houston Texans outside linebacker
: There is no replacing
Mario Williams
. But Reed's the guy getting the playing time with the defensive ace lost for the season, and he's doing well. Against Cleveland he sacked quarterback
Colt McCoy
twice and was a big part of the active defensive front. He's a high-energy guy, a second-round draft pick who clearly fits into what the Texans want to do. He should continue to be a factor as he gets better, and because he didn't play a ton early on, perhaps any rookie wall issues will be postponed.
2. Cortland Finnegan, Tennessee Titans cornerback
: He was super active on Sunday in the Titans' loss to Cincinnati. He got his hands on balls, he forced quick throws as he blitzed. Finnegan's been a solid force for Tennessee all season. He's in a contract year, and he's a standout on a defense lacking another consistently impactful player.
3. The chances for the Colts to go winless
: For a stretch they were in games to the end. The losses to Pittsburgh, Tampa Bay, Kansas City and even Cincinnati were palatable. But the last three to New Orleans, Tennessee and Atlanta have been pitiful. If they were showing some signs of improvement, it'd be one thing. Although some people regard Sunday against Jacksonville the best remaining chance (see above), the Jaguars' defense may simply snuff out any chance of a breakthrough. I still think they win one almost by accident, but scan the schedule and tell me -- which one?